Tyga: nuova canzone con Chris Brown e mixtape gratis
Finalmente, dopo un paio di ritardi, Tyga ha tirato fuori fuori il suo mixtape gratuito. Il titolo è "Rawwest Nigga Alive" che è un gioco di parole con uno dei suoi soprannomi, ovvero T-Raww.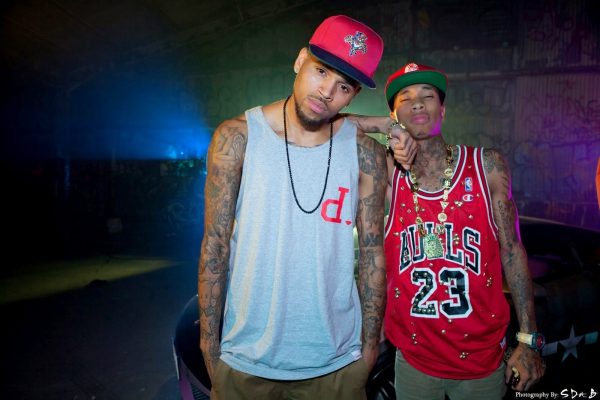 Il free download mixtape è un sequel di "Fuk Wat They Talkin About", un altro mixtape del rapper uscito ad agosto dello scorso anno. "Rawwest Nigga Alive" contiene 16 tracc, tra cui alcune già uscite precedentemente ovvero "Happy Birthday", "Dope'd Up" (accompagnata dal suggestivo video pieno di zombie) e il featuring "Baller Alert" con 2 Chainz e Rick Ross, uscito qualche settimana fa.
Ma non solo! Tyga si è riunito anche (ancora una volta) con Chris Brown, il suo compagno di "giochi" preferito. E come dargli torto… Infatti dall'ennesima collabo tra i due, anche questa volta è venuta fuori una grande canzone: "Rumorz".
Una traccia molto sentita dai due artisti, i quali affrontano faccia a faccia tutti i rumors che in questo periodo hanno dovuto subire. Infatti, ultimamente si è parlato spesso e con insistenza di Tyga: l'MC è stato accusato di essere stato a letto con la 14enne Molly O'Malia; più tardi voci di corridoio parlavano di un tradimento ai danni della ex Kyle Jenner con una modella brasiliana di nome Annalu Cardoso.
Nel branol'artista  affronta anche l'increscioso caso avvenuto nel lontano 2012: Tyga è stato accusato di non aver pagato una collana e un orologio, entrambi in diamanti e oro, dell'ammontare totale di 91 mila dollari. Il noto gioielliere Jason of Beverly Hills l'ha citato in giudizio chiedendo un risarcimento di 208 mila dollari!
Ecco i gioielli in questione:
Per quanto riguarda Chris invece, il rumor più recente è quello di aver colpito con un pugno una donna, Liziane Gutierrez, durante un party privato a Las Vegas. Ci teniamo a precisare che la donna in questione sembrerebbe essere una psicopatica che prova a gettare fango su tutti coloro che non cedono alle sue avance: basti pensare che aveva fatto lo stesso anche con Jason Derulo.
"Look at all these rumors, 
Surrounding me averyday
I just need some time, 
Some time to get away"
Così canta nel ritornello CB, dicendo che i rumors lo circondano ogni giorno e che ha bisogno di un po' di tempo per starne alla larga e non pensarci.
Il mixtape è veramente di un buon livello e contiene tracce che sarebbero degne di un vero album. Ascoltare per credere: cliccate qui se volete scaricare il mixtape!
Fateci sapere cosa ne pensate…