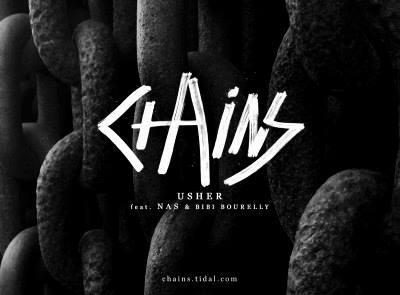 Usher, dopo la recente performance alla Casa Bianca per Obama, rompe il silenzio attraverso la piattaforma Tidal e non solo ci fa ascoltare nuova musica, ma scende in campo per una buona causa schierandosi contro la brutalità della Polizia statunitense!
L'intero progetto è caratterizzato sì dal nuovo brano intitolato "Chains", cantato in collaborazione con Nas e all'artista marocchina Bibi Bourelly, ma anche da un video interattivo disponibile esclusivamente su Tidal per una vera e propria esperienza da brividi che vi metterà di fronte alle vittime dell'ingiustizia razziale che sta macchiando di sangue la bandiera a stelle e strisce :  vi verrà chiesto di attivare la fotocamera del vostro pc o dispositivo mentre una strumentale solenne suona in sottofondo; attivata la fotocamera (che fungerà solo ed esclusivamente come riconoscimento facciale) si consiglia di non distogliere lo sguardo dal video, altrimenti quest'ultimo si interromperà. (Ovviamente potete ascoltare la canzone anche se sprovvisti di fotocamera)
La canzone affronta una tematica davvero delicata ma di fondamentale importanza per il popolo afro-americano, così l'artista grida al mondo intero : "E' tempo di rompere le catene dell'ingiustizia razziale!"
CLIKKATE QUI PER VIVERE QUESTA ESPERIENZA E ASCOLTARE IL NUOVO BRANO.
Probabilmente Usher presenterà per la prima volta live questo brano in occasione del prossimo mega-concerto TIDAL X 1020 (in streaming il 20 ottobre) che vedrà tra i performers anche Jay-Z e Beyoncé.
Usher donerà tutti i proventi ad un fondo amministrato da Harry Belafonte… onore quindi a questo grandissimo artista!
---
Rilasciato su VEVO il videoclip ufficiale del brano!
https://www.youtube.com/watch?v=slN1CEUhA-E
Testo
[Intro: Child]
With liberty and justice for all
J-j-j-justice for all?
[Verse 1: Bibi Bourelly (Usher) Together ]
I'mma get mine, you should get yours too
Shooting, shooting, shooting, man them boys always shoot
(American dream, American man too)
Shooting, shooting, shooting, watch them boys always shoot
(And I-I-I-I been so tired of being insecure
So tired of)
I've had enough running
Running, and running and running and running
(Running)
Running, and running and running and running and
(Running enough)
Just give it up
I don't give a fuck
I've had enough
Y'all give a fuck? No
Light it on fire
I've had enough
Running, and running and running and running
Running, and running and running and running and
[Hook: Usher & Bibi Bourelly]
You act like the change
Tryna throw me in chains
Don't act like you saving us
It's still the same
Man don't act like I made it up
You blaming us
Let's keep it one hundred
You gave the name to us
Nigga
We still in chains
We still in chains
We still in chains
We still in chains
We still in chains
We still in chains
We still in chains
You put the shame on us
[Post-Hook: Usher & Bibi Bourelly]
Now, now, now shame on us
Now
Now, now, now shame on us
Now, now, now
[Verse 2: Usher (Bibi Bourelly) Together]
Moment of silence
American school and we in church too (Don't shoot)
Shooting, shooting, shooting, we the prey
Always shoot (Prey)
I'mma be trill, you should be trill too
You don't even gotta talk we just shoot
And I feel so tired of being insecure
Just give it up
Don't give a fuck
Light it on fire
[Verse 3: Nas]
Yeah, yo check
I am Sugar Ray Robinson, Booker T. Washington
W. E. B. Du Bois, I'm the modern one
Yelling at Senators, Presidents, Congressmen
We got a problem that needs some acknowledgement
I am no prison commodity, not just a body you throw in a cell
For any reason, just to bother me
Just for your quota, so it's rest in peace to Sean Bell
Sleep in peace Eric Garner (Sandra)
Every street, every corner
Conspiracy, new world order
I spoke to Tamir Rice mom and she told me "be strong"
It won't be long 'til it's justice
They won't have votes but refuse the discussion
On how certain cops they shoot us for nothing
Revolution is coming
[Hook: Usher (Nas) Together]
You act like the change
(The land of opportunity)
Tryna throw me in chains
(The land of Unity)
Don't act like you saving us
(Brotherhood, trust)
It's still the same
(America)
Man don't act like I made it up
You blaming us
(You know)
Let's keep it one hundred
You gave the name to us
Nigga
We still in chains
(Hey so what up my nigga?)
We still in chains
We still in chains
You see these chains?
We still in chains
I can't see
We still in chains
The difference from how we used to be
We still in chains
We still in chains
You put the shame on us
[Post-Hook: Usher & Bibi Bourelly]
Now, now, now shame on us
Now
Now, now, now shame on us
Now, now, now
You put the shame on us)
[Outro: Usher]
We still in chains
We still in chains
We still in chains
We still in chains
We still in chains
We still in chains
We still in chains
You put the shame on us