WORK! 10 canzoni Pop ed R&B con la parola "Work"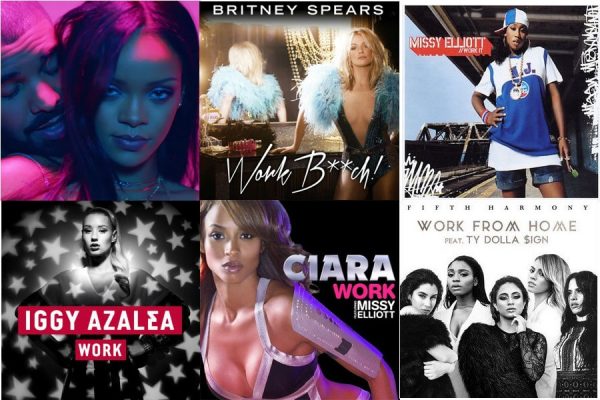 Ci sono delle parole davvero abusate nel musicbiz, solitamente fanno riferimento all'amore, ed al sesso. Uno dei termini più diffusi nei brani degli ultimi anni (ma non solo), é la parola "Work", che letteralmente tradotta significa lavoro o lavorare… ma che in gergo può avere anche dei riferimenti sessuali o semplicemente si riferisce al talento di una determinata persona nel fare qualcosa….
Se pensiamo a "Work It", potrebbe essere:
"to show people how attractive and talented you are" "fare vedere alla gente quanto attraenti e talentuosi si é"
Può essere riferito al twerk, ai movimenti, ad una camminata, ad un modo di atteggiarsi... Insomma la parola "Work" in musica non viene utilizzata con il suo significato originale. Sono davvero tantissime le stars che però hanno usato questa parola per incidere dei brani pieni di swag ed energia….
Partiamo da quelli più recenti:
Sebbene il singolo sia per nostro gusto personale qualitativamente al di sotto della media, Rihanna é tornata a ruggire grazie alla parola "Work", con questo singolo che da diverse settimane domina le charts americane. Si tratta di una collaborazione con Drake, che nel bene e nel male, é riuscita a diventare l'ennesimo tormentone di Rihanna, sarà forse per il ritmo ed il ritornello, ed il fatto che in pochi capiscano cosa dica in realtà Rihanna nel testo della canzone, all'infuori della parola "WORK" appunto…
Fifth Harmony feat. Ty Dolla Sign – Work From Home
Altra hit molto recente, che mostra la grande forza della famiglia Epic Records recentemente. Sono le Fifth Harmony, che per conto mio hanno creato una bella hit, ma che hanno pure scopiazzato ritornello e video musicale dal brano che vi proponiamo successivamente. Infatti nella clip le ragazze sono vestite da operaie edili, con pose sexy ed ammiccanti, proprio come aveva fatto (senza però ottenere lo stesso successo) la nostra Ciara….
Ciara feat. Missy Elliott – Work
Qualche anno fa, Ciara e Missy, univano ancora le loro forze per dare vita ad una uptempo R&B davvero sottovalutata, "Work" nella loro versione é una vera forza della natura, ed uno dei miei brani preferiti di Ciara. Purtroppo a quei tempi le charts non sembravano per niente "aperte" a queste tipologie di sound, ed i risultati non furono per niente esaltanti. Ancora oggi a me pare una track davvero esplosiva per i club, pochi pezzi possono vantare una produzione così potente.
Iggy Azalea é riuscita ad irrompere nel musicbiz con la hit "Fancy", ma ci aveva provato prima con "Work", che però ottenne un discreto successo, anche se a scoppio ritardato. Insieme a "Bounce" rappresenta la triade dei brani più fighi della rapper australiana. Il brano a differenza di quelli precedenti, parla proprio di "Lavoro", il duro lavoro che ha dovuto affrontare Iggy per raggiungere la fama, passando dalla sua migrazione negli Stati Uniti, ed i diversi buchi nell'acqua per accedere al mondo esclusivo della musica HipHop.
Mary J. Blige – Work That
Non posso dimenticare questa album track di female self-empowerment! La queen of HipHop Soul ha utilizzato anche lei la parola Work, in questo brano allegro e motivazionale di puro femminismo. "Work That", prodotta da Sean Garrett, é datata 2007, quasi 10 anni oramai son passati, ma rimane una canzone davvero da urlo, uptempo e catchy. Faceva parte di uno dei miei album preferiti della Queen, "Growing Pains", dal quale venne estratta la hit "Just Fine", e dove si trovava anche la sofferta canzone di amore tormentato "Roses". Un disco che dovete assolutamente andarvi a riascoltare.
Una Britney in declino con le vendite degli album? Può essere! Ma per quanto riguarda le hits, la Spears é sempre rimasta in pista. La sua collaborazione dance con Will.I.Am sfociò in una canzone che trattava la parola "Work", trattasi di "Work Bitch", che riuscì a diventare una delle hit favorite della comunità LGBT, ed una dancefloor ready hit. Inutile dire che per quanto diversa dal materiale dei suoi inizi di carriera, "Work Bitch" risultò l'unica scommessa vincente dell'accostamento tra il produttore e leader dei BEP, e la principessa del Pop.
J.Cole – Work Out
Cambiamo pianeta per trovare il magico HipHop di J.Cole. "Work Out" é fa parte del primo album capolavoro di J.Cole, che richiamava molto le sonorità HipHop OldSchool. Non faceva eccezione nemmeno questo splendido singolo, rilasciato nel 2011 ed entrato nella Top20 nella Billboard chart americana.
Kelly Rowland – Work
Da una hit all'altra! E facciamo uno step a qualche anno prima. Siamo nel 2007 e Kelly Rolwand riusciva a conoscere attimi di fama grazie ad un remix di un suo singolo. "Work" appunto, era un singolo tratto dal suo secondo album "Ms.Kelly", ma riuscì a diventare una hit internazionale grazie al remix creato per lei, a cura di Freemasons. Ancora oggi, insieme a "Motivation" e "When Love Takes Over", é tra i brani più rappresentativi della discografia di Kelly.
Tinashe – Watch Me Work
Torniamo in avanti con le lancette, per andare ad esplorare la discografia della giovane Tinashe, che con il suo album di debutto é riuscita a farsi notare dal grande pubblico. Uno degli sforzi più convincenti é certamente il singolo "Watch me Work", una uptempo R&B, con un sapore ed un ritmo che richiama i sound dei decenni passati, quelli gloriosi per la musica R&B. Tinashe vuole rendere attento il suo "daddy", su come se la sa lavorare …. "Watch Me Work"… é un pezzone, purtroppo sottovalutato.
Missy Elliott – Work It
Sebbene non abbia mai puntato sulla sensualità, Missy Elliott, la regina indiscussa della musica HipHop, nella sua discografia é riuscita a creare delle vere club banger, ed una canzone in particolare ancora oggi é riconosciuta come il suo capolavoro assoluto, e la sua più grande hit commerciale! Si intitolava "Work It", ed in pochi mesi attraversava tutti i club del mondo, ispirando ancora oggi grandiose coreografie, ed i ballerini hiphop di tutto il globo! Niente di meglio per concludere questa nostra lista a tema, sulla parola WORK!
Ecco la nostra Playlist su Spotify, dove ci potete seguire per altre playlist. Troverete queste canzoni ed alcune bonus track:
Con quale parola chiave vorreste vedere questa lista tematica?