10 notizie musicali annunciate ma rivelatesi del tutto false
Nei giorni scorsi abbiamo dato la notizia che "Bad Blood" sarà estratto come quarto singolo dell'album di "1989" di Taylor Swift. Il fatto che verrà pubblicato un remix ha fatto subito ipotizzare ad una nuova versione con Kanye West, il rapper con cui Taylor Swift, dopo anni di odio reciproco, si è riappacificata. In realtà Taylor ha però smentito seccamente il duetto remix con Kanye. La notizia quindi, a meno di clamorose sorprese, si è rivelata del tutto falsa. Questa vicenda mi ha fatto pensare come negli anni siano uscite tante di quelle notizie  rivelatesi assolutamente infondate. Spesso queste notizie hanno fatto impazzire i fans dei cantanti, finendo per deluderli visto che non si sono mai concretizzate. Altre volte è successo l'esatto contrario: si è tirato un sospiro di sollievo per la notizia falsa.
In questo post voglio  proporvi quindi 10 notizie uscite negli ultimi anni che si sono rivelate false. In via del tutto ironica però, vi presenterò queste notizie come se fossero vere.
Gennaio 2015. Katy Perry: singolo contro Taylor Swift nell'esibizione al SuperBowl
La rivalità tra Taylor Swift e Katy Perry sarà il topic principale dell'esibizione di Katy Perry al Super Bowl 2015. La cantante di "Firework" è infatti pronta a pubblicare un nuovo singolo intitolato "She's so Creepy" nel quale si scaglierà duramente contro la country-pop star Taylor Swift. La canzone è un'evidente risposta a "Bad Blood", il brano con cui Taylor attacca Katy Perry per la sua falsità. Insomma Katy è pronta a prendersi la rivincita davanti a oltre 100 mln di spettatori!
Gennaio 2013: Lady Gaga: nuovo singolo Ratchet con Beyoncè, Rihanna e Azaelia Banks
Lady Gaga sta preparando un ritorno pazzesco in vista del suo nuovo album "ARTPOP". Il primo singolo, apripista del CD, sarà "Ratchet" che vedrà una collaborazione più unica che rara con Beyoncè, Rihanna e la new-bie Azaelia Banks. Una super-collaborazione che non può che ricordare "Lady Marmelade" di Christina Aguilera, Pink, Mya e Lil Kim.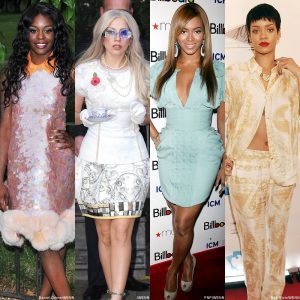 Novembre 2014: Ariana Grande e Jessie J reinterpreteranno la hit "The Boy Is Mine",
Squadra che vince non si cambia e così, Jessie J e Ariana Grande sarebbero pronte a rilasciare un secondo duetto a pochi mesi dalla pubblicazione di "Bang Bang". Le due cantanti duetterranno in "The Boy is Mine", hit portata al successo nel 1998 da Brandy e Monica. Saranno capaci Ariana e Jessie J di reggere il confronto con le due interpreti originali?
Luglio 2014: Beyoncè e Jay Z in crisi, lui si vede con Rihanna
Nonostante stiano girando l'America con il loro "On the Run Tour", Beyoncè e Jay Z sono sul punto di lasciarsi. I calci che la sorella di Beyoncè, Solange, dava a Jay Z qualche mese fa in ascensore, erano solo un preludio a tutto ciò che sarebbe successo. Beyoncè ha detto basta. Non sopporta più i continui tradimenti che il marito commetterebbe con la sua pupilla discografica: Rihanna. Se sul palco cantano insieme, fuori dal scene Beyoncè e Jay Z stanno mettendo a punto tutti i procedimenti legali che li porterà alla separazione. Hanno da spartirsi oltre un miliardo di dollari tra immobili, conti bancari e contratti pubblicitari.
Dicembre 2013. Kesha: il nuovo album s'intitolerà "Fearless"
Grandi notizie per i fans della cantante Kesha. Dopo il passo commesso con la "Warrior Era", la cantante è pronta a riscattarsi con nuovo CD. L'album, il terzo della sua traballante carriera,  si chiamerà "Fearless". Il titolo fa subito venire in mente il best seller album di Taylor Swift. Kesha avrà la stessa fortuna di Taylor?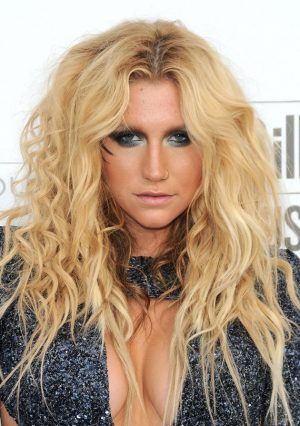 Maggio 2014: Madonna: duetta con Katy Perry in "Unapologetic Bitch"
Per il suo ritorno discografico, Madonna sta pensando di farsi affiancare da una delle cantanti di maggior successo degli ultimi anni: Katy Perry. La regina dei singoli USA potrà essere di grande aiuto nel fare trovare una hit alla regina del pop. Madonna è peraltro solita collaborare con gli artisti di maggior successo del momento: ricordiamo solamente Justin Timberlake e Timberland nel 2008 o Nicki Nicki Minaj nel 2012. La scelta di Katy Perry sembra peraltro una evidente mossa anti-Lady Gaga, già pesantemente ridimensionata dalla ARTPOP Era.
Agosto 2013: Taylor Swift e Jennifer Lopez duetto in arrivo
La performance di "Jenny From The Block" al "RED Tour" non rimarrà un evento isolato. Taylor Swift e Jennifer Lopez sono pronte a entrare in studio per un nuovo singolo. Il duetto farà parte dell'atteso nuovo album di J-Lo e ragionevolmente verrà ampiamente sfruttato per promuovere il CD della cantante di "On The Floor".
Agosto 2013. Katy Perry: duetto Adam Levine in "Elastic Heart"
Tra pochi giorni, Katy Perry pubblicherà il suo nuovo singolo "Roar", intanto stanno trapelando notizie su "Prism", il nuovo album della cantante. La notizia più clamorosa è il duetto con Adam Levine, cantante dei Maroon 5. Il brano s'intitolerà "Elastic Heart" e si candida ovviamente a diventare un singolo ufficiale dall'album.
Giugno 2013: Rihanna e Britney Spears di nuovo insieme nel brano "Running Blind"
Dopo il duetto del 2011 che ha permesso a "S&M" di raggiungere la No.1 della Hot 100, Rihanna e Britney Spears sono pronte a riunire le forze in un nuovo singolo intitolato "Running Blind", il brano farà parte del nuovo album di Rihanna atteso per fine novembre 2013, a solo un anno di distanza da "Unapologetic". L'autunno 2013 si preannuncia scoppiettante nell'ambito pop-RnB dato che sono attesi anche i ritorni di Lady Gaga, Katy Perry e Beyoncè.
Ottobre 2012. Lady Gaga: duetto con Lana Del Rey in Princess Die
Dopo aver piacevolmente sorpreso i fans cantando "Princess Die" durante il "Born This Way Ball Tour", Lady Gaga ha rivelato che la canzone farà parte del suo nuovo progetto discografico "ARTPOP". Ma non solo."Princess Die" è stata registrata in due versioni, una da solista e una in duetto con Lana Del Rey. La scelta appare del tutto comprensibile dato che la canzone appare effettivamente molto 'Lana Del Rey-oriented".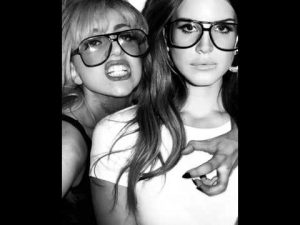 Ed è tutto falso! Ma è stato spacciato per vero! L'imperativo d'ora in poi è non credere più ai duetti annunciati!