10 Superstar: prima e dopo, come erano ai loro primi VMAs!
Come erano al loro primo VMA? Ecco alcune immagini di grandi star come Miley Cyrus, Katy Perry, Bruno Mars, ed altri, alla loro prima apparizione!
Il tempo passa, ed anche quelli che erano un tempo dei teen-idol, sono diventati oramai grandi! Ecco qua una piccola rassegna fotografica per vedere se, e come sono cambiate le star dalla loro prima apparizione ai VMA.
Miley Cyrus
Miley Cyrus nel 2008 aveva un colore di capelli diverso, era semplicemente acqua e sapone, insomma, un'altra ragazza, chiamata ancora Hannah Montana! Durante la sua ultima apparizione ancora in Bangerz Era, i suoi abiti sono cambiati, come pure il suo colore di capelli, e diventò una ragazza ribelle! Nella prossima edizione 2017 siamo certi che tornerà casta, vista anche l'immagine che sta proponendo nel nuovo singolo Younger Now!
PINK
17 anni per lei! La prima volta che Pink arrivò ai VMA fu nel 2000. La cantante da allora ha decisamente raffinato il suo stile, ma si sa, in quegli anni meravigliosi (anche musicalmente) ogni eccesso era lecito! Siamo certi che il 25 agosto si presenterà più bella che mai, ovviamente con tanta sobrietà in più…
Katy Perry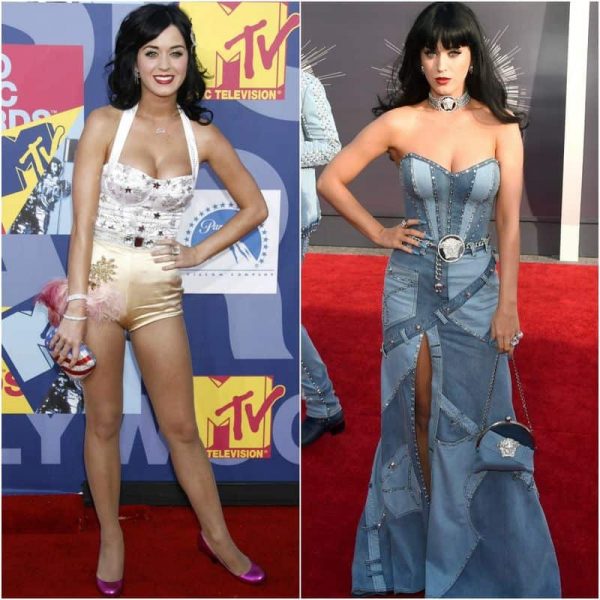 Zia Katy ha avuto diverse metamorfosi di stile, ma se si guarda questa foto, davvero poco é cambiato dalla prima all'ultima apparizione ai VMA! Presenterà il prossimo evento, e sicuramente proporrà il suo nuovo taglio corto, ed un'immagine completamente rivoluzionata rispetto al passato!
Bruno Mars
Da Crooner eleganterrimo, a ragazzo sciallato! Il suo nuovo album 24k Magic ha dato una svolta al suo stile, che ora pare essere più scanzonato e leggero! Non mancano mai però gli occhiali che fanno verso al mitico Ray Charles, e lui, a suo modo, ne é la rincarnazione nei tempi moderni!
Ed Sheeran
Nulla é cambiato per lui! Solito stile casual, anche troppo, di un ragazzo semplice che si contraddistingue per il suo bel colore carota! Nemmeno i numeroni sono cambiati, Ed rimane una certezza della musica Pop!
The Weeknd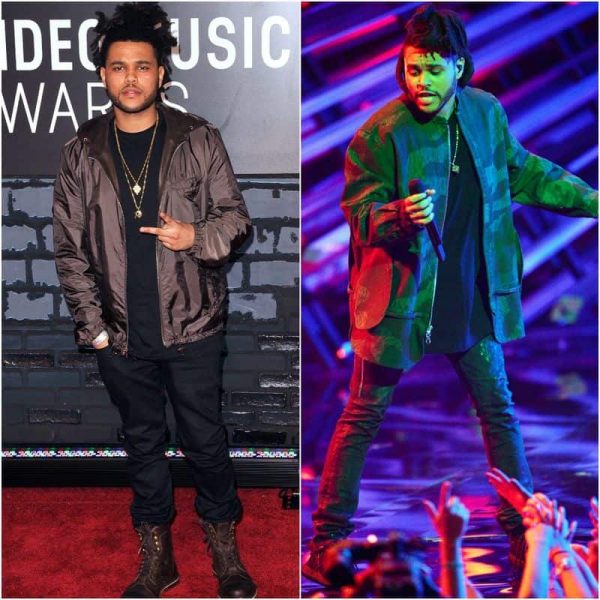 Altra metamorfosi mancata, ma c'è da dire che é da poco che la sua musica ha fatto centro nei cuori del pubblico Mainstream. The Weeknd ha sempre il suo "nido" in testa, ci sarà da aspettare un nuovo album per capire se qualcosa cambierà…
Ariana Grande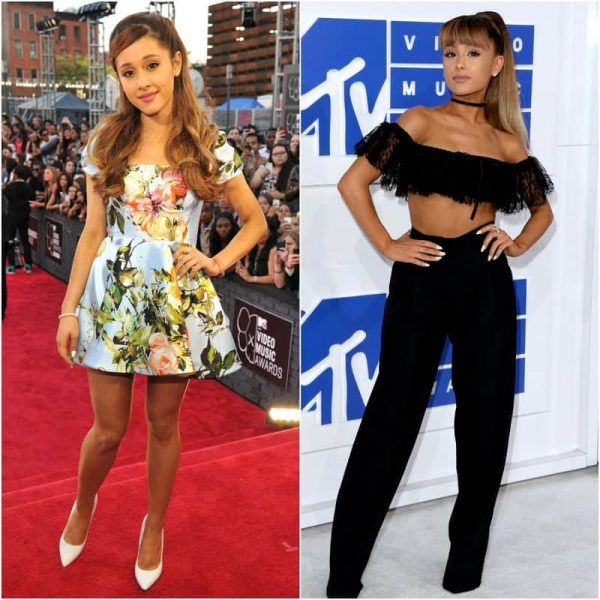 Cresce bene, benissimo Ariana Grande! Dalla ragazza acqua e sapone, il suo aspetto é diventato più sexy e più maturo! Musicalmente é inutile dirlo, é una delle poche star a portare in campo la sua voce al 100%, con ottimi risultati.
Fifth Harmony
Al prossimo VMA ne mancherà una, la discussa Camila Cabello, che ha voluto fare per conto suo. Le 4 rimaste sono pronte ad un nuovo capitolo, vedremo se riusciranno a bissare i successi del passato!
Halsey
Anche qua poco tempo é passato, era il 2015 quando fece la sua apparizione sul red carpet, e la sua immagine é praticamente rimasta immutata. Unica differenza, un bel po' di fama in più e un contrasto tra nero e bianco.
Taylor Swift
[td_smart_list_end]
Anche  qua assistiamo ad un cambiamento dalla ragazza country Pop, alla popstar internazionale con abiti firmati. La Swift faceva la sua prima apparizione nel lontano 2008, oramai 9 anni fa!
Il prossimo 25 agosto rivedremo ancora tutte le star nella loro metamorfosi!
Qual'é la star che é migliorata di più?