10 uomini e band che non hanno mai raggiunto la 1 in Billboard Hot 100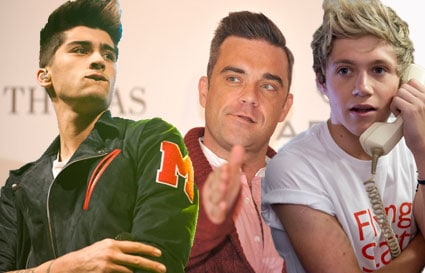 Dopo avervi proposto dieci nomi di donne che, pur avendo sfondato nel mondo della musica, non hanno mai raggiunto il vertice della Billboard Hot 100, la classifica dei singoli americana, (qui per leggere l'articolo), è ora di scoprire anche alcuni nomi di artisti maschili, nonché di band, che hanno questo stesso… "record". Ebbene, alcuni di loro non solo non hanno mai raggiunto la prima posizione, ma addirittura nemmeno la top 20. Questo nonostante nel mondo abbiano venduto milioni e milioni di album. Andiamo a scoprire di chi si tratta:
1. Robbie Williams (nessuna canzone in classifica)
Proprio così: Robbie Williams non ha mai spopolato negli States. Nonostante alcuni suoi dischi siano riusciti a smerciare anche 6 milioni di copie, queste son state tutte vendute nel territorio europeo, soprattutto in Inghilterra, dove Robbie ha ben dodici dischi alla #1 della Uk Chart e sette #1 nella classifica dei singoli. Ma negli USA? Tabula rasa.
2. Mika (Peak con Grace Kelly, posizione #57)
Quasi la stessa sorte è toccata a Mika. Il successo del cantante è circoscritto solo all'Europa, ma comunque, al contrario di Robbie, può vantare tre canzoni nella Hot 100, ovvero Love Today, Popular Song in collaborazione con Ariana Grande e Grace Kelly, che rappresenta il suo picco più alto nella classifica, avendo raggiunto la posizione #57.
3. Micheal Bublé (Peak con Haven't Met You Yet, posizione #24)
Il re del Natale per antonomasia, è un altro grande artista che non è mai riuscito ad avere una numero uno nella Billboard Hot 100. Anche lui però, nonostante ciò, è riuscito a vendere milioni di dischi. E proprio il suo Christmas è risultato il terzo più venduto di questo decennio, con ben 10 milioni di copie vendute. Per quanto riguarda i singoli invece, è Haven't Met You Yet a rappresentare il picco più alto per Michael nella Billboard Hot 100.
https://www.youtube.com/watch?v=1AJmKkU5POA
4. David Guetta (Peak con Without You e Turn Me On, posizione #4)
Uno dei DJ più famosi dell'ultimo periodo, David Guetta, si aggiunge alla nostra lista. David ha sfornato tantissime hit, sia come artista principale che come collaboratore, ma nessuna di queste ha mai raggiunto la prima posizione americana. Ma chissà che non ci riesca tra qualche tempo…
5. Will.i.am (Peak con Scream & Shout, posizione #3)
Se consideriamo la sua carriera con la storica band dei Black Eye Pease, allora Will.i.am non solo ha svariate #1 nella Hot 100, ma ha anche una delle hit più grandi di sempre, ovvero I Gotta Feeling. Purtroppo il suo successo da solista non è stato proporzionale a quello avuto con la band. Will.i.am infatti non ha mai raggiunto il vertice della classifica americana, fermandosi solo alla posizione #3 con la collaborazione con Britney Spears, Scream & Shout. 
6. Ed Sheeran (Peak con Thinking Out Loud, posizione #2) 
Neanche Ed Sheeran è riuscito mai in questa ardua impresa, ma dato che lui è ancora agli inizi della sua carriera, è probabile che ci riuscirà prossimamente.
7. Major Lazer (Peak con Cold Water, posizione #2)
Anche i Major Lazer, la band capitanata dal produttore Diplo, non sono riusciti ad avere una #1 in questa classifica. Il loro picco è però uno dei loro ultimi singoli, ovvero la collaborazione con Justin Bieber e MØ, Cold Water, che debuttò alla posizione #2 e non riuscì mai ad andare oltre.
8. Green Day (Peak con Boulevard Of Broken Dreams, posizione #2)
Per una delle più grandi punk/rock della storia è ben poca cosa non avere una #1 nella Billboard Hot 100. Ma se pensiamo che i Green Day con la loro Boulevard Of Broken Dreams abbiano mancato la prima posizione per un soffio, non possiamo che dispiacerci almeno un po'.
9. One Direction (Peak con Best Song Ever, posizione #2)
La boy band più famosa degli ultimi tempi ha venduto milioni di dischi, conquistato milioni di piccole fan, ma non ha mai sfornato un singolo in grado di regnare per almeno una settimana negli Stati Uniti. E se pensiamo che, pian piano, la band si sta sciogliendo, probabilmente questo non avverrà mai…
10. Depeche Mode (Peak con Enjoy The Silence, posizione #8)
Terminiamo con una band che ha fatto la storia, ovvero i Depeche Mode. Nel corso di ben 30 anni, la loro musica ha avuto un'influenza inimmaginabile, ma, nonostante anche abbiano venduto più di cento milioni di album, nessuno dei loro singoli ha mai raggiunto la vetta della Billboard Hot 100. Questo anche perché i loro singoli non sono radiofonici, ma almeno la soddisfazione di una top 10 ce l'hanno.