5 Brani che avrebbero dovuto essere estratti come singoli – Sesta Parte
Rieccoci anche questa settimana con la nostra rubrica riguardante i brani mai estratti dalle star come singoli ufficiali. Nell'articolo di oggi troviamo pezzi di note popstar internazionali, come Katy Perry, Nicki Minaj, Jennifer Lopez, Jessie J e Miley Cyrus: vediamo quali sono le canzoni in questione.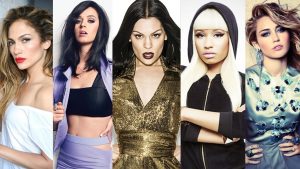 Invading My Mind (Love?) – Jennifer Lopez
Era il lontano 2011 quando Jennifer Lopez sfornò una delle hit più ballate degli ultimi anni: On The Floor. Trainato dal successo della traccia, nella quale la cantante si fece accompagnare da Pitbull, (esperienza che verrà ripetuta più volte in futuro), venne pubblicato il suo settimo album studio "Love?". L'album riuscì ad entrare nelle top 10 di mezzo mondo, senza però eguagliare i numeri record registrati dai primi album della cantante di origini portoricane.
Da "Love?" Jennifer Lopez riuscì ad estrarre altri 2 singoli, I'm Into You e Papi, i quali non riuscirono purtroppo a bissare il successo di On The Floor. Il progetto venne presto abbandonato per il vicino rilascio di un Greatest Hits Album, "Dance Again…The Hits" e del relativo primo singolo "Dance Again".
Noi crediamo però che JLO abbia fatto una mossa azzardata a non estrarre altri brani dal suo settimo album studio, in quanto vennero abbandonate possibili hit come (What Is) Love, Hyptonico, One Love e la potentissima Invading My Mind, brano electropop che venne composto e prodotto dal team RedOne, dalla stessa Lopez, e con l'aiuto di un'altra star del mondo della musica: Lady Gaga.
Il testo di Invading My Mind tratta di sentimenti che sopraffanno la donna, attaccandola, confondendola e invadendole la mente. Il pezzo venne apprezzato dalla critica, e anch'essa sostenne che sarebbe dovuto divenire singolo, nonostante ricordasse la ben più nota "On The Floor", solo con un ritmo più prominente.
Invading My Mind fu anche oggetto di controversie, in quanto si pensò che il brano, inizialmente creato per Lady Gaga stessa, venne ceduto alla Lopez solo per deviare le attenzioni dalla Germanotta, perché già sospettata di aver copiato una certa Rebecca Francescatti nella creazione di tracce inserite nel suo album, come avvenne con la famosissima "Judas".
Sarebbe riuscita questa traccia a ottenere gli stessi esiti del primo singolo? Prima di rispondere a questa domanda lasciatevi conquistare da questa traccia, la quale riuscirà letteralmente a invadere la vostra mente.
Two More Lonely People (Can't Be Tamed) – Miley Cyrus
Era il lontano 2011 quando una star della Disney, tale Miley Cyrus, si apprestava a fare il salto di qualità da regina dei teenager a vera e propria cantante.
Can't Be Tamed, l'album che avrebbe dovuto farla diventare una pop star ad ogni latitudine, non riuscì a scalare le classifiche come sperato, così come i singoli da esso estratti, Who Owns My Heart e la title-track Can't Be Tamed. (Da notare come negli States un album che nel 2011 vendeva 100'000 copie era considerato un mezzo flop, e come oggi quelle siano cifre molto buone per una first week americana)
L'album però risulta una perla electropop e sono diversi i brani che avrebbero meritato di diventare delle hit: primi fra tutti Can't Be Tamed e Who Owns My Heart. Entrambi singoli ufficiali, vennero accompagnati da video musicali molto ben fatti e rispettivamente adatti a promuovere i brani. Il video del primo venne aspramente criticato dalle varie compagnie genitoriali presenti negli Stati Uniti a causa di atteggiamenti a loro detta "troppo provocanti" per il pubblico a cui la canzone sarebbe rivolta (chissà cosa pensano della Miley odierna).
Oltre ai due brani sopra citati, sono molti altri quelli degni di nota: Liberty Walk, traccia d'apertura e perfetto singolo promozionale, Every Rose Has Its Thorn, cover del celebre brano omonimo di Poison e la magnifica Two More Lonely People, ed è proprio quest'ultima a nostro dire la hit mancata, vuoi perché un brano che cattura il pubblico sin dal primo ascolto, vuoi per gli argomenti trattati, per nulla banali o frivoli.
Two More Lonely People è una traccia pop-rock prodotta da Rock Mafia, già presenti come producer in diverse tracce dell'album (singoli compresi), in cui Miley ci racconta di essere giunta a una fase critica della relazione con il suo lui e di essere in procinto di decidere se vale la pena continuare a lottare per trascorrere la propria vita insieme al compagno o se essere "altre due persone sole".
Legendary Lovers (PRISM) – Katy Perry
Prism è l'ultimo album studio in ordine di tempo della nota popstar Katy Perry: l'LP venne rilasciato il 18 Ottobre 2013 e da allora riuscì a vendere oltre 4 milioni di copie a livello mondiale. L'album venne trainato dal celebre lead single "Roar", il quale riuscì a raggiungere le prime posizioni di oltre 14 classifiche musicali ufficiali, tra le quali quella Australiana, Statunitense, Inglese e Canadese, e a vendere oltre 10 milioni di copie.
Andando a sbirciare all'interno della tracklist di Prism, tra i brani non estratti ufficialmente dal team della cantante risaltano sicuramente By The Grace Of God, International Smile e la splendida Legendary Lovers.
Il brano venne scritto e prodotto dall'inseparabile trinomio Dr.Luke-Martin-Cirkut, già produttori di hit come Die Young (Kesha) e Where Have You Been (Rihanna), e da Bonnie McKee, nota artista pop che tornò lo scorso Maggio con un EP dopo 10 anni di pausa dalla sua carriera di cantante.
Musicalmente, il brano è una canzone che unisce il bhangra beat, stile musicale nato negli anni 80 dagli immigrati britannici, e la musica country in un brano electropop che sarebbe senza dubbio riuscito nell'intendo di diventare un singolo.
Il testo del brano combina una filosofia asiatica a più moderni temi a sfondo sessuale, per esprimere la passione eterna che la cantante e il suo amante potrebbero sperimentare, includendo al contempo altri temi (piuttosto astratti) come l'infinito e il karma amalgamati a personaggi storici come Cleopatra e (Romeo e) Giulietta.
Legendary Lovers, sebbene non sia mai stato promosso ufficialmente dalla cantante, riuscì ad entrare in diverse classifiche musicali, come quella Belga, Olandese e Sudcoreana.
Pensate anche voi che Katy abbia sbagliato a non estrarre questo pezzo come sesto singolo da Prism? O forse un brano del genere non sarebbe riuscito a catalizzare su di sé l'attenzione del pubblico
Excuse My Rude (Alive) – Jessie J ft. Becky G
Jessie J, nota popstar britannica divenuta famosa dopo il successo di canzoni come Price Tag, Bang Bang e Domino, ne ha fatta di strada! In seguito al rilascio del suo primo album studio, il quale ottenne diversi consensi dalla critica e riuscì a vendere oltre 1 milione di copie nel solo territorio inglese, Jessie cercò di bissarne l'incredibile successo con la pubblicazione di Alive, secondo LP della cantante anticipato da Wild, il relativo primo singolo ufficiale.
Alive non riuscì nell'intento forse a causa della cattiva gestione dell'intero progetto, forse per il mancato successo commerciale dei singoli rilasciati, ma nonostante ciò il disco contiene senza dubbio brani di buona fattura mai estratti ufficialmente come singoli, primo tra tutti la traccia numero 9: Excuse My Rude.
Excuse My Rude venne pubblicata come singolo promozionale il 12 Agosto 2013, a un mese di distanza dalla release dell'album, fornita del relativo lyrics video, il quale fece ben sperare nella possibilità di una prominente estrazione, ma purtroppo mai realizzata.
Il brano è un'unione tra rnb e hip hop, nel quale Jessie J non mostra appieno le proprie qualità vocali a favore di una base molto orecchiabile dal tono cupo. Excuse My Rude vede una Jessie molto sfacciata nei confronti del suo compagno, al quale spiega il motivo del suo atteggiamento rude e vile, arrivando a confessargli di provare odio nei suoi confronti. La traccia vede la collaborazione di Becky G, la quale dà senza ombra di dubbio al brano la giusta carica.
Sicuramente Excuse My Rude sarebbe riuscito a unire Regno Unito e Stati Uniti grazie alla collaborazione delle due, e molto probabilmente a dare la giusta spinta all'album in fase di pubblicazione. Purtroppo la scalata alle chart si fermò ben presto, riuscendo a malapena ad entrare nella classifica di Itunes Inglese.
Cosa pensate di Excuse My Rude? E' un semplice filler o avrebbe meritato il rilascio come singolo?
Marilyn Monroe (Pink Friday: Roman Reloaded) – Nicki Minaj
Era il lontano 2012 quando una ormai celebre Nicki Minaj decise di pubblicare il suo secondo album studio Pink Friday:Roman Reloaded, con il quale la rapper decise in parte di cambiare strada, proponendo un sound molto più dance-pop rispetto allo stile rap dei suoi brani precedenti.
L'album riuscì a catalizzare l'attenzione sperata grazie al buzz single Stupid Hoe, il quale fece scalpore per il testo piuttosto diretto e volgare e per l'eccentrico relativo music video, e alle numerose hit internazionali da questo estratte come Starships e Pound The Alarm, le quali riuscirono a diffondere il nome della famcee a tutto il mondo.
Dall'LP vennero estratti globalmente 5 singoli e registrati 7 video musicali e così il capitolo Roman Reloaded venne presto chiuso per promuovere The Re-Up, nuova release dell'album, in cui vennero aggiunte nuove tracce come la splendida Freedom e la potentissima The Boys.
Nicki Minaj in seguito alla release di Roman Reloaded, propose diversi sondaggi ai fan per scegliere i futuri singoli, e nella scelta tra Marilyn Monroe, Fire Burns, Young Forever e Gun Shoot, fu la prima a vincere e a rendere la rapper molto contenta dell'esito del sondaggio. In un'intervista con The Guardian disse chiaramente che il brano sarebbe presto diventato singolo, ma dopo 3 anni dal rilascio di Roman Reloaded della sua estrazione non se ne ha più avuto traccia.
Il pezzo è stato scritto da Nicki, Daniel James, Leah Laywood Ross Golan e Jonathan Rotem e prodotto dall'ultimo in collaborazione col team Dreamlab. In Marilyn Monroe l'artista si pone domande riguardo la propria relazione sentimentale, riprendendo al contempo diverse citazioni della stessa Marilyn. La traccia venne apprezzata anche dalla critica, che ringraziò Nicki per aver reso omaggio a un'icona del suo calibro.
Pensate che un brano del genere avrebbe meritato un suo spazio nelle playlist delle radio mondiali? Noi non abbiamo dubbi!
Che ne dite di queste tracce?