5 Canzoni Che Avrebbero Dovuto Essere Estratti Come Singoli – Quarta parte
Quante volte, ascoltando i nuovi singoli dei nostri beniamini, ci capita di chiederci perché vengano effettuate determinate scelte nell'estrazione dei singoli, talvolta a discapito di altri brani, contenuti nello stesso album, che alle nostre orecchie risultano veri e propri gioiellini.
In questo articolo ho pensato di riproporre alcuni brani che, a mio avviso, sono stati ingiustamente scartati nella scelta dei singoli di cantanti e rapper che hanno avuto successo negli ultimi anni.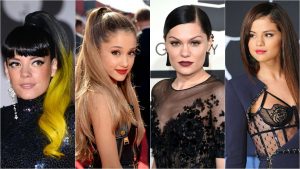 Seal It With A Kiss (Sweet Talker) – Jessie J
Cominciamo con "Sweet Talker", ultimo album studio della Britannica Jessie J che ha visto la luce poco più di un anno fa, trainato dal successo della hit Bang Bang.
All'interno dell'album troviamo diversi brani degni di nota che purtroppo non sono mai stati estratti, in primis questa Seal It With a Kiss: la traccia è una canzone soul/pop nella quale Jessie J si fa accompagnare dal trio hip hop De La Soul.
Il brano non tratterà certo argomenti impegnativi, a differenza di altri brani quali Masterpiece ad esempio, ma esce senza subbio dallo schema del "già sentito" e riesce a farci apprezzare appieno le doti di Jessie.
Silver Spoon (Sheezus) – Lily Allen
La britannica Lily Allen è ormai tra le pop star più famose per i contenuti impertinenti dei suoi brani.
Nel suo ultimo sforzo discografico, Sheezus, troviamo brani molto differenti tra loro, sia in quanto a genere musicale, sia per le lyrics delle tracce. Tra i tanti, Silver Spoon si è rivelata una sorpresa: il brano è una traccia pop prodotta da Kurstin e da Lily nella quale lei stessa racconta le sue storie di vita relazionate al benessere economico suo e della sua famiglia. Il titolo stesso, Silver Spoon, fa riferimento all'essere "figli di papà" e per questo motivo lei è da sempre stata al centro delle mire di giornalisti e della critica in quanto considerata una raccomandata.
Bang Dem Sticks (Title) – Meghan Trainor
Passiamo ora all'album di una Newbie: Meghan Trainor. La cantante lo scorso dicembre ha pubblicato il suo primo album studio "Title", in seguito al successo della sua prima hit mondiale "All About That Bass".
"Title" è stato uno degli album con più singoli estraibili, partendo dall'album track "Title", passando per brani come "No Good For You" per terminare con la potentissima "Bang Dem Sticks".
Il brano, prodotto da The Elev3n e dalla stessa Meghan, alterna parti rappate a parti cantate, sulle note di un brano con un'energia unica.
La traccia tratta del binomio Buon Amante/Tamburino, facendo spesso riferimenti piuttosto ambigui alle abilità che i due hanno in comune, riuscendo però allo stesso tempo a mettere in luce colui che suona il tamburo, soggetto che normalmente all'interno delle band viene sempre dimenticato.
Do It (For You) – Selena Gomez
"Do It" è uno dei nuovi brani presenti in "For You", greatest hits album di Selena uscito un paio d'anni fa.
La canzone in questione è stata scritta da Selena, Antonina Amato e Tim James, già autori di The Heart Wants What It Wants, e prodotta dai celebri Rock Mafia.
Il brano parla del desiderio di Selena di "farlo ogni singolo giorno", riferendosi al suo partner. Nonostante risulti piuttosto intuibile, il testo della canzone non esplicita mai a cosa è riferito quel "farlo".
La traccia è una power ballad molto piacevole, adatta alla vocetta di Selena.
Hands On Me (My Everything) – Ariana Grande 
My Everything è stato un album molto buono, nel quale ogni canzone avrebbe meritato un suo posto nelle radio e nelle classifiche di tutto il mondo. Tra tanti brani deliziosi, la scelta è ricaduta su un brano molto provocante, prodotto e composto da Darkchild, produttore noto per aver lavorato con artisti del calibro di Michael Jackson e Nelly Furtado. Il brano è forse uno dei più espliciti dell'album, nel quale Ariana incita tutti coloro che sono affascinati dal suo corpo a metterci le mani sopra, ma nulla più!
Dal brano emergono le doti vocali della giovane Ariana, la quale ha scelto di farsi accompagnare dal rapper A$ap Ferg, il quale dà senza dubbio un tocco in più ad un brano molto frizzante.
Voi che ne pensate? Hanno fatto bene a lasciarle come album-track o avrebbero dovuto gestire diversamente la scelta dei singoli? Quali altri brani hanno avuto la stessa sorte?
CLICCATE QUA SE VI SIETE PERSI I PRIMI CAPITOLI DI QUESTA RUBRICA