Adele: ecco quali canzoni ascolta quando si sente triste e depressa!
Adele: ecco quali canzoni ascolta la Diva quando si sente triste e depressa
Siete curiosi di sapere quali sono le canzoni preferite di Adele che parlano di amori finiti? People ha intervistato la regina indiscussa delle breakup songs e, nel corso della chiacchierata, ha domandato alla star di stilare una lista di canzoni strappalacrime dedicate ai cuori spezzati; l'esuberante cantante non si è tirata indietro e ha proposto una personale mini playlist sull'argomento, decidendo di lasciar fuori dalle scelte la sua discografia.
Adele ha anche confessato come supera le delusioni amorose:
"Mi deprimo per un momento, accetto il fatto di avere il cuore spezzato. Non lo supero velocemente. Non so se questo sia perché sembra che io sia veramente creativa solo quando sono momentaneamente depressa".
 Considerando il fatto che dai periodi in cui Adele si considera "momentaneamente depressa" sono state partorite perle quali Hello, Someone Like You e Turning Tables (per citarne alcune), la cosa non risulta poi così negativa, anzi…quasi quasi verrebbe da dispiacersi del fatto che si deprima troppo poco visto quanto tempo passa tra il rilascio di un album e l'altro.
Scherzi a parte, appurato il fatto che la diva non ascolta i suoi pezzi nei momenti di sconforto amoroso, scopriamo insieme quali sono le canzoni che l'accompagnano in quelle fasi non troppo felici.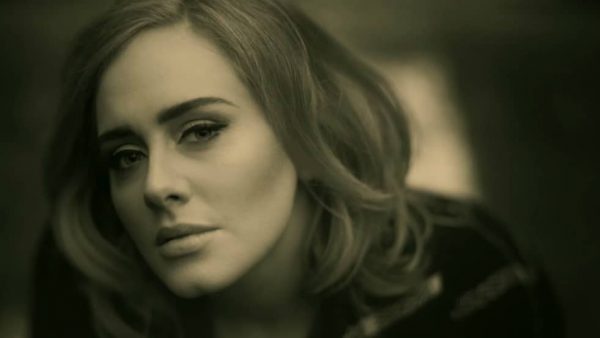 I CAN'T MAKE YOU LOVE ME – BONNIE RAITT
I Can't Make You Love Me, brano del 1991 della cantante country-blues statunitense Bonnie Raitt è la prima canzone che va a comporre questa classifica strappalacrime. E' tuttora il brano di maggior successo commerciale della Raitt, pezzo che la rivista Rolling Stones ha inserito nella classifica delle "500 miglior canzoni di tutti i tempi", alla posizione n.339.
Si tratta di una ballad soul voce-piano, molto semplice ma proprio per questo ancor più significativa, sicuramente perfetta da ascoltare in un momento deprimente, giusto per peggiorare un po' la situazione.
La stessa Adele ha inserito una versione del brano nel live album Live at the Royal Albert Hall del 2011, versione molto acclamata dalla critica.
"Morning will come and I'll do what's right, Just give me till then to give up this fight…and I will give up this fight" (La mattina arriverà e io faro ciò che è giusto, solamente dammi il segnale per finire questa lotta…e io finirò questa lotta".
AFTER THE STORMS – MUMFORD & SONS
Sign No More, primo album della talentuosa band inglese indie folk, chiude la versione standard con questa toccante traccia dal titolo After the Storms. Si tratta di una traccia molto introspettiva resa da un'ottima performance voce-chitarra, che aiuta a rendere il pezzo ancora più intimo e personale. La varietà strumentale che caratterizza lo stile del gruppo lascia qui spazio all'essenziale, tutto ciò che serve a questo brano per trasmettere al meglio il tema della delusione amorosa.
"But there will come a time, you'll see, with no more tears. And love will not break your heart, but dismiss your fears. Get over your hill and see what you find there, With grace in your heart and flowers in your hair." (Ma arriverà un momento, vedrai, senza più lacrime. E l'amore non romperà il tuo cuore, ma respingerà le tue paure. Sali in cima alla tua collina e guarda cosa trovi, con grazia nel tuo cuore e fiori nei tuoi capelli".
COSMIC LOVE – FLORENCE + THE MACHINE
Terza canzone che accompagna Adele nei momenti tristi è questo capolavoro della gruppo britannico indie rock Florence + The Machine, ultimo singolo estratto dal loro album di debutto Lungs, nonché uno dei pezzi più belli ed emozionanti della loro discografia. Il magico tocco dell'arpa e il timbro armonioso della bravissima Florence Welch rendono perfettamente l'atmosfera cosmica cantata nel brano.
Una composizione fine, potente, travolgente ed evocativa che tratta il tema dell'amore attraverso le metafore delle stelle, della Luna e dello spazio. Stile completamente diverso dai due titoli precedentemente nominati da Adele, Cosmic Love è una breakup song strappalacrime dallo stile magico e sognatore, non troppo deprimente dunque.
"No dawn, no day, I'm always in this twilight, In the shadow of your heart, And in the dark, I can hear your heartbeat, I tried to find the sound, But then it stopped, and I was in the darkness". (Nessuna alba, nessun giorno, sono sempre al crepuscolo. All'ombra del tuo cuore, e al buio, riesco a sentire il battito del tuo cuore, ho provato a trovare il suono, ma poi si è interrotto, ed io ero al buio).
THIS YEAR'S LOVE – DAVID GRAY
This Year's Love è un brano del cantautore britannico David Gray, tratto dal suo quarto album White Ladder (1998).Non molto conosciuta al di fuori dei confini inglesi, la traccia ha tuttavia ottenuto un successo strafosferico nell'UK singles chart, diventando uno dei maggiori successi di Gray.
Si tratta di una dowtempo pop folk perfettamente in linea con la tematica di questa playlist, ascoltandola e guardando il video non ci si stupisce che Adele l'abbia scelta.Gli amanti del cinema e delle serie tv probabilmente se la ricorderanno nella colonna sonora del film Wimbledon e in una delle puntate del celeberrimo teen drama Dawson's Creek.
Turning circles when time again, It cuts like a knife oh yeah, If you love me got to know for sure, 'cause it takes something more this time than sweet sweet lies" ( Cambiamenti di rotta quando il tempo ancora
ferisce come un coltello oh si, se mi ami, accertatene, perché stavolta ci vuole qualcosa in più che dolci dolci bugie).
NOT LIKE THE MOVIES – KATY PERRY
La regina delle breakup songs quando è depressa ascolta anche Katy Perry, cantante che non è proprio diventata famosa con questo genere di composizione strappalacrime. Il brano tanto apprezzato dalla star di Hello è Not Like The Movies, downtempo pop rilasciata come singolo promozionale dell'album Teenage Dream. Katy ha raccontato che questa fu la prima canzone che compose dopo l'Hello Katy Tour del 2009.
La popstar iniziò lavorarci su prima di incontrare Russell Brand (suo ex marito) e la completò quando già stavano insieme, quindi contiene sentimenti diversi ma del tutto personali, cosa che rende Not Like The Movies una canzone per lei molto speciale. Una ballata molto intensa ed intima, che ci ha permesso di ascoltare una Katy Perry inedita. Qui l'amore è confrontato con le storie a lieto fine del mondo cinematografico, scenari che nella realtà raramente si realizzano.
"If it's not like the movies, that's how it should be yeah, When he's the one i'll come undone, And my world will stop spinning, And it's just the beginning"
(Se non è come nei film, ecco è così che dovrebbe essere, quando è lui quello giusto io mi scioglierò ed il mio mondo si fermerà. E questo è solo l'inizio).
 ALL I COULD DO WAS CRY – ETTA JAMES
Questa lista termina con un classic della musica, un pezzo senza tempo della regina delle regine, la mitica Etta James. All I Could Do Was Cry è contenuto nell'album At Last!, disco del 1961 che conteneva, tra le altre, anche la celeberrima At Last, cavallo di battaglia della James, nonché una delle canzoni più belle di tutti i tempi. All I Could Do Was Cry è una coinvolgente composizione R&B da ascoltare e riascoltare, dotata di una performance vocale veramente da brividi.
Il pezzo si ispira alla storia di Etta con l'ex fidanzato Harvey Fuqua, che finì per sposarsi con una delle autrici del pezzo, Gwen Gordy, ragion per cui l'interpretazione della diva in questo brano è, a tratti, rabbiosa. Nella pellicola Cadillac Records, Etta James viene impersonata da Beyoncé e, tra le tante hit proposte, troviamo anche una magnifica versione di All I Could Do Was Cry.  Adele non poteva concludere la playlist con un brano migliore di questo.
"I heard church bells ring, I heard a choir singing, I saw my love walk down the aisle…On her finger he placed a ring" (Ho sentito le campane della chiesa suonare, ho sentito un coro cantare, ho visto il mio amore a piedi lungo la navata…Al dito le ha messo un anello).
https://www.youtube.com/watch?v=0vzIFrfvbh0
Adele dimostra gusti musicali molto vari e ampi, che ve ne pare di questa classifica?