Attacco di panico per Selena Gomez prima di esibirsi agli AMAs?
Esibizione a dir poco sottotono quella di Selena Gomez agli American Music Awards. Alcuni parlano addirittura di attacco di panico prima di salire sul palco.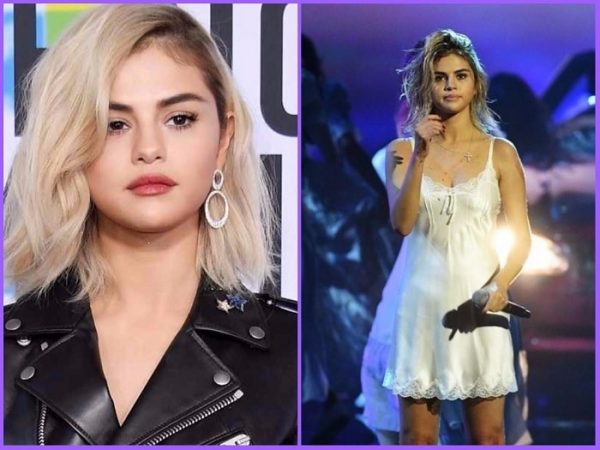 Gli AMAs andati in scena questa notte hanno più che mai evidenziato un dislivello generazionale a tratti pauroso. Se avete letto le nostre pagelle della serata saprete già che in particolare una performance ci ha fatti rimanere completamente senza parole, purtroppo in negativo. Stiamo parlando della prima esibizione live di Wolves, nuovo singolo di Selena Gomez con Marshmello.
Sebbene sia risaputo che Selena non abbia doti vocali memorabili, ieri più che mai era evidente che qualcosa non andasse. Nonostante l'imponente scenografia e una coreografia emotivamente molto forte, la ragazza non sembrava per nulla coinvolta nella sua performance, e non solo per il playback (tollerabile fino ad un certo punto); in generale c'era la sensazione di una presenza quasi forzata. Per non parlare della sua espressione a fine canzone, sconsolata, persa, avvilita. 
According to Billboard, Selena Gomez and Marshmello had the second best performance and the third best overall moment at the 2017 American Music Awards last night! #SELENAxAMAs #AMAs pic.twitter.com/Qe5g4BfZNv

— Selena Gomez News (@LifeWithSelG) 20 novembre 2017
Impossibile non notare questi particolari. Sui social, infatti, la cosa non è passata inosservata e nell'immediato post-esibizione tutti hanno cominciato ad interrogarsi sul perché di questa debacle. Una delle risposte che da qualche ora ha cominciato a farsi strada è quella che la Gomez avesse subito un attacco di panico poco prima che arrivasse il suo turno, disturbo che ha messo a serio rischio la sua presenza sul palco. Alla fine, però, la giovane avrebbe coraggiosamente scelto di provare lo stesso, questo il motivo del pessimo risultato finale.
It's being reported from various sources that Selena had a panic attack before her performance. CONGRATULATIONS TO SELENA FOR PUSHING THROUGH AND GIVING AN AMAZING SHOW! #WeAreProudOfSelena. #SelenaxAMAs  #AMAs pic.twitter.com/xUHoENN4Dt

— Shady Music Facts (@TheShadyFacts) 20 novembre 2017
There was a rumor that Selena had a panic attack during her performance, we don't know how true this is but could be why she looked sad throughout 😔.but no matter what we are grateful for everything she has done and #WeAreProudOfSelena. #SelenaxAMAs #AMAs. pic.twitter.com/6MDukNfSwO

— Selena Gomez News (@LifeWithSelG) 20 novembre 2017
Ovviamente non possiamo avere la certezza di ciò ma, se fosse vero, la cattiva riuscita prende ovviamente un'altra piega. Il canto e lo spettacolo vanno giustamente in secondo piano a favore di un problema grave che non va in alcun modo sottovalutato o deriso, anzi, tanto di cappello per aver deciso di esibirsi ugualmente per non deludere i tanti fans che aspettavano il suo ritorno dopo i gravi problemi di salute che l'hanno tenuta lontana dalle scene.
Vedremo se nelle prossime ore la diretta interessata chiarirà la questione.