Beyoncé vs. Jennifer Lopez: due icone a confronto, VOTA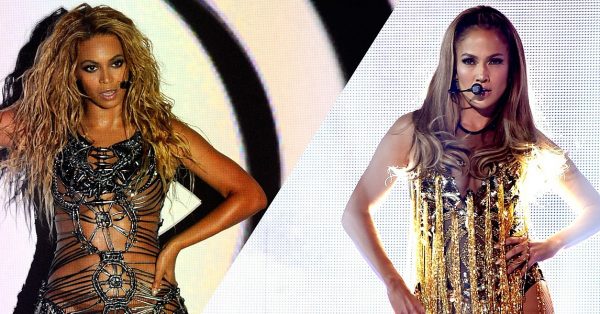 In questa rubrica settimanale, metteremo a confronto a due a due dieci fra i cantanti più in voga del momento, presenti sulle scene internazionali. L'intento è quello di analizzare le loro carriere ed i risultati da essi raggiunti finora.
Da star iconiche che hanno lasciato un'impronta indelebile nel mondo della musica a giovani promesse che, con il loro talento, tentano di accedere all'olimpo delle popstars. Alcuni di loro prediligono il genere R&B e urban, altri il pop e la dance, altri ancora il latin pop/rock.
Siete pronti a scoprire gli artisti in questione? Benissimo, cominciamo subito!
Jennifer Lopez vs. Beyoncé
Loro sono due leggende, due artiste iconiche, che hanno fatto la storia della musica degli anni 2000.
Entrambe con 10 album all'attivo, hanno lanciato nel corso della loro carriera delle vere perle dell'R&B e del genere urban. E' impossibile non conoscere le intramontabili "Get Right" e "All I Have" di JLO, o "Crazy In Love" e "Irreplaceable", di Beyoncé.
Con la loro energia e la loro carica adrenalinica, hanno fatto ballare milioni di persone durante i loro show ed i tour mondiali in cui si sono imbarcate, tanto che sono considerate tra le performer più talentuose in circolazione, dei veri e propri animali da palcoscenico. Non ci credete? Vi basterà guardare i due live di seguito per cambiare idea!
Jennifer Lopez – Get Right (live at NRJ Awards 2005)
Beyoncé – Run The World (Girls) (live Billboard Music Awards 2011)
Jennifer Lopez

E' il 1999 quando Jennifer Lopez, che vanta già la nomina di attrice latina più pagata di Hollywood, lancia il suo primo sforzo discografico: "On The 6". Nessuno si aspetta che la bella star riuscirà a sfondare nel mondo della musica ma, al contrario di ogni aspettativa, l'album ottiene un grande successo in tutto il mondo, vendendo la bellezza di 6 milioni di copie. Anche i singoli estratti diventano molto famosi, basti pensare a "If You Had My Love" (prima numero 1 nella carriera di Jlo) o alla dance track "Waiting For Tonight", la quale mette a ferro e fuoco la classifica americana.
Le soddisfazioni per la bella cantante continuano anche negli anni seguenti, con la pubblicazione di "JLO" (album che resta il più venduto nella sua carriera con oltre 12 milioni di copie ), "This Is Me… Then" (dal quale viene estratta l'indimenticabile "Jenny From The Block") e "Ribirth" trainato dalla smash hit e tormentone mondiale del 2005 "Get Right".
Nel 2007 Jennifer decide di lanciare sul mercato qualcosa di nuovo, che finora non aveva mai proposto ai suoi fans: un album interamente in lingua spagnola, dal titolo "Como Ama Una Mujer". Il disco debutta alla posizione numero 10 della Billboard Hot 200 e raggiunge la posizione numero 2 in Spagna e Italia e la numero 4 in Germania. Il primo singolo estratto, "Qué Hiciste", scala le charts europee, ottenendo discreti risultati anche in territorio statunitense. Ma i suoi massimi frutti li dà qui da noi, in Italia, dove arriva alla posizione numero 1 e rimane in classifica per 18 settimane.
Dopo quasi una decade di successi, all'improvviso, le cose per Jenny iniziano a cambiare. A qualche mese di distanza da "Como Ama Una Mujer", Jlo pubblica un nuovo disco in inglese: "Brave". Tuttavia, il pubblico stavolta sembra non sostenerla come prima e accoglie in modo molto freddo "Brave", che resta uno dei dischi meno venduti di Jennifer (non supera le 600 mila copie nel mondo!): un colpo davvero basso per una star del suo calibro.
La diva latina decide, allora, di allontanarsi per un pò dai riflettori. Tornerà solo nel 2011 sulle scene musicali, con un nuovo tipo di sound, che finora aveva sperimentato davvero poco: la dance music. Sotto l'ala protettiva di uno dei producer più richiesti e influenti, RedOne, in quell'anno la Lopez lancia "Love?" il quale raggiunge il milione di copie vendute e sforna la hit più grande della sua carriera: stiamo parlando della club banger "On The Floor", in collaborazione con Pitbull. Fra i brani più venduti di sempre, il singolo arriva alla posizione numero 3 in Billboard e alla numero 1 nella Global Track Chart. Le cose continueranno ad andar bene anche nel 2012.
Visto il successo ottenuto con "On The Floor", Jennifer decide di collaborare ancora una volta con RedOne e Pitbull, registrando una canzone scritta da Enrique Iglesias: "Dance Again". Il brano, grazie al ritmo ballabile e al messaggio di speranza e di positività che invia, mantiene il nome di Jennifer nei piani alti delle classifiche. Così, per celebrare la sua rinascita, nell'estate del 2012 Jlo si imbarca per la prima volta in un tour mondiale, proponendo al suo pubblico tutti i suoi successi del passato. La tournée porta buoni frutti: si conta che siano 1 milione i fans accorsi per vedere live la loro beniamina ai vari show in giro per il mondo! Nel frattempo, Jennifer Lopez lavora al suo decimo disco in studio, che uscirà due anni più tardi, nel 2014. Stiamo parlando di "A.K.A", un disco più sperimentale rispetto ai precedenti dove, a gran richiesta, la diva del Bronx mette da parte la dance per ritornare al suo sound originale: lo urban/hip hop. Sebbene sia di buona fattura e di qualità, "A.K.A" stranamente si rivela un enorme flop a livello commerciale. E' il peggior debutto di Jennifer in USA (dove vende solo 33 mila copie nella prima settimana) ed in U.K. , dove non va oltre la posizione numero 41. Anche i singoli estratti si rivelano un buco nell'acqua, fatta eccezione per "Booty". La uptempo dance-urban in collaborazione con Iggy Azalea, infatti, raggiunge la posizione numero 18 della Billboard e diventa disco di platino.
Nonostante gli alti e bassi della sua carriera ed il suo recente flop con "A.K.A", Jlo non ha affatto intenzione di mollare ed è pronta a tornare con un nuovo progetto musicale, anticipato dalla splendida "Ain't Your Mama".
Vincitrice dell'Icon Award (conferitole da Billboard nel 2014), ad oggi la pop star ha venduto 35 milioni di album e 45 milioni di singoli in tutto il mondo, ed ottenuto 4 number 1 hits nella clasifica Billboard:
"If You Had My Love" (6/12/1999);
"Ain't It Funny" (3/09/2002);
"I'm Real" (9/08/2001);
"All I Have" (2/08/2003).
Ciò che ha reso e che rende questa artista così popolare è la sua capacità di caversela un po' in tutti i generi musicali: dallo urban all'r&b, dal pop all'hip hop, dalla dance alla latin music passando anche per il country nel recente singolo "My House". E' per questo che nella maggior parte dei casi è sempre riuscita a creare album molto variegati.
Ma un'altra ragione per la quale il personaggio di Jlo è così amato e stimato è la sua grandissima umiltà. Benché sia divenuta una leggenda, è rimasta la stessa Jenny del quartiere, semplice e dall'animo generoso. Questo anche perché lei sa bene cosa significhi vivere nella povertà. E' cresciuta nel malfamato quartiere del Bronx e ha avuto un'infanzia non poi così felice a causa dei problemi economici della famiglia. Tuttavia, ha avuto la forza e la determinazione di combattere per una vita migliore, anche a costo di andare contro il volere dei suoi cari. Ha così rinunciato al college, che sua madre avrebbe voluto frequentasse, ed ha inseguito il suo sogno di ballerina. E' scappata di casa e non avendo all'inizio un posto in cui stare, dormiva nella panchina dentro il salone in cui si allenava. Insomma, i sacrifici non sono di certo mancati ma visto dove è arrivata ne è valsa davvero la pena!

Oltre ad essere un'ottima cantante, la Lopez ha anche una carriera di attrice di tutto rispetto. Fra i film più conosciuti in cui ha recitato ricordiamo"Shall We Dance?", "Quel Mostro Di Mia Suocera" e "Un Amore A 5 Stelle". Nel solo territorio statunitense i suoi film hanno incassato un totale di 2 miliardi di dollari. Inoltre, è entrata nel Guiness dei primati come attrice più energica e mantiene il record per aver avuto in USA, nella stessa settimana, il film "Prima o Poi Mi Sposo" e l'album "Jlo" alla numero 1.
Vita privata e gossip

Il personaggio di Jennifer Lopez è sempre stato presente nei magazine di gossip internazionali: causa princiaple la sua turbolenta vita sentimentale, che l'ha resa spesso oggetto di critica.
Nel corso della sua vita, Jennifer si sposa ben 3 volte. Il primo matrimonio è nel 1998 con il cameriere cubano Ojani Noa, ma non dura neanche un anno e provoca alcuni guai alla cantante. Dopo anni dal loro divorzio, infatti, Noa irrompe di nuovo nella vita di Jennifer e la minaccia di voler diffondere materiale pornografico di cui lei è la protagonista principale. Fortunatamente, Jenny ed il suo team impediscono che il disastro succeda, citando l'ex marito in tribunale e vincendo la causa.
Nel 2001 Jennifer Lopez sposa il ballerino Chris Judd ma anche stavolta non funziona. Dopo una difficile relazione di due anni con l'attore Ben Affleck (2002-04), Jenny sembra finalmente aver trovato l'uomo della sua vita: Marc Anthony. Poco dopo essere convolati a nozze, i due mettono al mondo i gemelli Max ed Emme. Sfortunatamente, nel 2011 (dopo sette anni insieme) divorziano. Inizia allora un periodo particolarmente buio per la cantante (di cui racconta nel suo libro "True Love") ma grazie all'arrivo di Casper Smart ben presto torna a splendere la luce nella sua vita.
https://www.youtube.com/watch?v=ge6ZXAq1vtc
All'inizio le cose fra i due non sembrano essere molto semplici. Tant'è che nel 2012 scoppia uno scandalo che vede protagonista il giovane coreografo: Casper viene accusato di aver tradito Jlo con un transessuale, durante una serata di svago in un pub. Da quel momento i rapporti fra i due si incrinano e Jennifer sembra intenzionata a non volerlo perdonare. Tutto cambia però nel 2015, quando i due ricominciano a frequentarsi. Oggi, pare abbiano completamente dimenticato il presunto scandalo e vanno molto d'accordo. Che sia la volta buona per Jenny? Solo il tempo lo dirà.
Beyoncé

La sua storia nel music biz è iniziata con le Desteny's Child nel 1997. Da allora ha racimolato un successo dietro l'altro e, nonostante lo scorrere del tempo e la nascita di nuove star del music biz, continua ad essere una delle cantanti più influenti dei nostri giorni.
Ma partiamo dal principio. E' il 1998 quando Beyoncé e il resto della sua girl band lanciano il primo album ufficiale di inediti, intitolato proprio "Desteny's Child". Premiato come miglior album r&b/soul dell'anno, il disco vende 1,5 milioni di copie a livello mondiale e sforna la prima hit del gruppo "No, No, No".
L'apice del successo arriva però con "The Writng's On The Wall" del 1999. Con 13 milioni di copie vendute a livello globale, diventa uno dei lavori più celebri delle Desteny's Child ed è proprio da qui che viene estratta la loro prima numero 1 "Jumpin' Jumpin'" e "Say My Name".
Il momento d'oro per la girl band statunitense prosegue nel 2001, con il lancio di "Survivor". Il disco si trasforma nel giro di poco tempo in un vero e proprio best-seller, racimolando ben 10 milione di copie (di cui 4 milioni nel solo territorio statunitense). A questo punto, i tre membri della band, elettrizzate e incoraggiate dalla grande fama ottenuta, decidono di prendersi una pausa e di concentrarsi sulle loro carriere da soliste.
Così, Beyoncé comincia a lavorare al suo primo album in studio: "Dangerously Love". Uscito nel 2003, il disco (ad oggi il più venduto della carriera da solista di Bee con 10 milioni di copie) non tarda a portarle grandi soddisfazioni. Debutta direttamente alla numero 1 della Billboard Hot 200 con oltre 300 mila copie nella prima settimana, regala alla cantante ben 5 grammys e la sua prima hit planetaria, "Crazy In Love".
Dopo aver pubblicato l'ultimo album con le Desteny's Child ("Desteny Fulfilled"), Queen B inizia le registrazioni del suo secondo disco di inediti, "Bday". Lanciato nel giorno del suo 25° compleanno, l'album regala a Beyoncé il grammy per miglior album r&b contemporaneo e il premio di Aritsta Internazionale agli American Music Awards. Non solo, ma nella sua riedizione, la star texana ha l'occasione di collaborare con una grande diva della musica latin, suo idolo: stiamo parlando di Shakira. Le due incidono la canzone "Beautiful Liar" che diventa uno dei tormentoni dell'estate 2007.
L'apice del sucesso di Beyoncé arriva nel 2008, con "I Am… Sasha Fierce". Si tratta di un progetto eccezionale che unisce all'interno le due anime che caratterizzano da sempre la diva texana: da una parte c'è l'anima prettamente r&b costituita da splenide ballads e slowjam romantiche; dall'altra parte c'è l'anima più "scatenata, energica e danzereccia", costituita invece da tracce urban. Con 7,5 milioni di copie, "I Am… Sasha Fierce" sforna anche delle grandi hit, come: "If I Were A Boy" e "Single Ladies (Put A Ring On It)".
Le cose continuano ad andare molto bene per Bee anche con i suoi tre ultimi visual album "4", "Beyoncé" e "Lemonade". Fra questi, il più celebre è sicuramente "Beyoncé" e parte di questo successo lo si deve anche alla sua uscita improvvisa, avvenuta all'insaputa di tutti nel dicembre 2013. In pochissime ore, il disco raggiunge la vetta nella classifica Itunes in molti paesi e, grazie al tour promozionale che segue la sua pubblicazione, si dimostra anche molto stabile nelle vendite.
Il regno di Queen B al momento non mostra segni di cedimento. L'unica pecca è che, lanciando ultimamente dischi molto sperimentali e poco commerciali, sembra non riuscire più a sfornare hit scala classifiche: soltanto "Drunk In Love", "XO" e "Best Thing I Ever Had" hanno ottenuto risultati soddisfacenti finora, anche se non lontanamente paragonabili a quelli ottenuti con i singoli di esordio.
A differenza di Jennifer Lopez, Beyoncé è sempre rimasta piuttosto fedele al genere che l'ha resa superstar: l'R&B. Soltanto adesso, con l'ultimo disco "Lemonade", ha voluto sperimentare nuovi tipi di musica, come il reggae ed il country. E il pubblico sembra aver apprezzato il gesto: tant'è che "Hold Up", traccia dalle influenze caraibiche, si appresta ad entrare nella top 10 della Global Track Chart.
Con oltre 64 milioni di album venduti (31 milioni se escludiamo quelli pubblicati con le Destiny's Child) e 45 milioni di singoli, 20 Grammy Awards vinti e 5 number 1 hits in Billboard ("Single Ladies", "Irreplaceable", "Check On It", "Baby Boy" e "Crazy In Love"), Beyoncé si è da poco imbarcata in una nuova avventura: il Formation World Tour, già sold-out in quasi tutte le sue tappe.
Come la collega JLO, anche Miss Carter si è lanciata nel mondo del cinema. Ha recitato infatti nel film "Dream Girls" (che le ha fatto ricevere due nominations al Golden Globe), "La Pantera Rosa", "The Fighting Temptations"… tuttavia (a parte alcune eccezioni) la sua carriera di attrice non le ha regalato tante soddisfazioni quante gliene ha date invece il suo lavoro di cantante.
Vita privata e gossip

Beyoncé è sempre stata molto riservata per quello che riguarda la sua vita al di fuori dei riflettori e questo le ha permesso di stare lontana dagli scandali.
Non ha avuto molti amori ma sempre relazioni stabili: si è innamorata per la prima volta a 12 anni e l'uomo con il quale stava insieme quando era ancora una bambina è rimasto al suo fianco per ben 7 anni, fino ai 19 anni di età. Purtroppo, con l'arrivo del successo, le cose fra i due si sono fatte più complicate e nel 2001 hanno rotto.
La fine della relazione ha stravolto molto la vita di Beyoncé la quale è caduta in una forte depressione, durata ben 2 anni. Nonostante il periodo d'oro che stava avendo in quel momento assieme alle Desteny's Child, Beyoncé non riusciva a vedere una via d'uscita al suo dolore e ha rivelato di avere perso per un pò persino la voglia di mangiare. Ma il tempo, si sa, è la miglior medicina, lui cura sempre tutte le ferite. Anche se, nel caso della cantante, più che il tempo la sua vera medicina pare è stato conoscere Jay-Z.  E' proprio grazie al rapper, divenuto oggi suo marito, che Beyoncé ha ritrovato la felicità. I due, nonostante i continui rumors che li vedrebbero in crisi a causa di alcuni tradimenti di lui (avvenuti con una certa Becky dai bei capelli), sembrano essere molto uniti e affiatati. In più, hanno messo al mondo una splendida figlia di nome Blue Ivy.
Voi quale tra queste due regine preferite?