Billboard Music Awards 18: Tutte le esibizioni, con commento e pagella!
Ecco tutte le performances dei cantanti ai Billboard Music Awards 2018, con il commento e la pagella! Da Janet Jackson ad Ariana Grande, passando per Dua Lipa e Christina Aguilera e molti altri.
Si sono da poco conclusi i Billboard Music Awards 2018! Quest'anno i nomi che si sono cimentati sul palco con delle loro performances live sono stati davvero di grande qualità.
Ma non solo, grande presenza di Donne, che sembrano davvero intenzionate a riprendersi il potere nelle classifiche, dopo diversi anni di dominio maschile.
Janet Jackson, Jennifer Lopez, Ariana Grande, Christina Aguilera, Demi Lovato, Camila Cabello, Dua Lipa, Kelly Clarkson, ed altri…
Tutti nomi davvero interessanti, che hanno davvero infuocato la serata, che per una volta non ha deluso le aspettative, in un momento di forte crisi per gli Show tipo Awards.
Ecco tutte le performances esibizioni con il relativo commento e voto pagella
1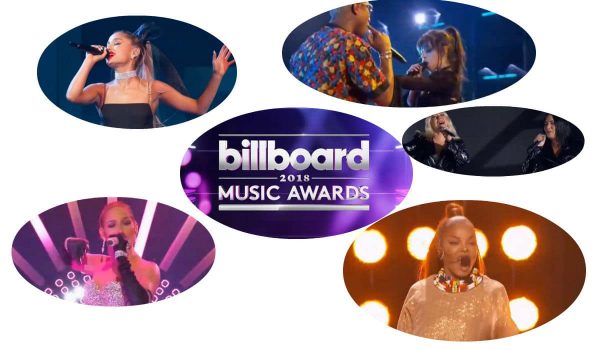 2

Janet Jackson

Janet Jackson si é messa sulla cattedra dopo 9 anni d'assenza nelle performances televisive.

La cantante ha fatto vedere alle ragazzine come si sta sul palco, e come si crea un vero show ad effetto! Stupenda la sua crew ed il rapporto splendido con i ballerini. Il risultato é a dir poco suggestivo.

Scelta discutibile quella di non portare un inedito. Vocalmente Janet é appara abbastanza affaticata, ma ha compensato con una presenza scenica da vera mattatrice.
Voto: 8/10
3

Salt-N-Pepa & En Vogue

Lo sapevate che senza le Salt'N'Pepa non avremo gente come TLC, Destiny's Child, Missy Elliott, Nicki Minaj, Iggy Azalea,Cardi B ecc.?

Le ragazze hanno portato al vera old-school sul palco ed a me personalmente mi hanno fatto salire i brividi! Bella l'entrata anche delle En Vogue, che per gli amanti della musica R&B di una certa età sono assolutamente note.

Un girl Power serio, ma davvero serio! In quegli anni anche lo stile era veramente tutt'altra cosa…
Voto 7.5/10
4

Christina Aguilera & Demi Lovato

Forse l'esibizione più attesa insieme a quella di Janet, Christina Aguilera é tornata sul palco con una canzone davvero perfetta. Si tratta di "Fall In Line", il duetto insieme a Demi Lovato, con un  testo tutto incentrato sulla questione femminile.

Le due hanno veramente creato una performance con i fiocchi, anche se a  tratti abbiamo trovato qualche sbavatura vocale qua e la.  Entrambe comunque vocalmente prestanti, ed in piena simbiosi per un'esibizione quasi perfetta
Voto: 8.5 / 10
5

Jennifer Lopez & DJ Khaled

Pazzesca JLO! Davvero un'animale da palcoscenico, pensate che proprio la sua carriera l'aveva iniziata come discepola di Janet Jackson nel video di "That's The Way Love Goes"…

La buona sucola non mente! Davvero una power performance con coreografie di grande impatto. Jennifer si dimostra ancora una volta una performer eccezionale, che lavora sodo e non si ferma mai!

Tutto buono, canzone catchy, ma forse un po' ripetitiva, certamente non a livelli di "Get Right" o "Jenny From The Block".
Voto 8/10
6

Camila Cabello & Pharrell
7
La meno dotata delle Fifth Harmony? Può essere, fatto sta che Camila é riuscita ad offrire una buona performance della sua hit Havana e del nuovo singolo Sangria Wine con Pharrell.
La ragazza si sta impegnando, e dimostra di avere la caparbietà giusta per farsi strada in questo musicbiz!
Scelte azzeccate le sue, e buone movenze, voce tutto sommato buona, ed impegno assoluto! Promossa anche lei…
Voto 7.5/10
John Legend
Che attitudine! Anche il buon John Legend é tornato sul palco dei BBMA, ed ha spaccato veramente! Il cantante ha portato sul palco buon umore, e classe, tanta classe.
Finalmente un po' di visibilità per la musica R&B in questa edizione, e lui, ne é un degno rappresentate dei giorni nostri.
Voto 7/5
Ed Sheeran

Ed non ha potuto presenziare ai BBMA, ma ciò nonostante, ha fatto man bassa di premi. Il cantante britannico si trovava in tour in Irlanda ed ha deciso di cantare proprio da li.
Non sono ossessionato da Ed, anche se va ammesso che si tratta di un grande songwriter ed uno dei miti di questa generazione. La performance a distanza é stata buona, ma non brillava nell'insieme di una serata dove c'era altro da vedere…
Voto 6.5/10
8

Ariana Grande

Ariana Grande si é occupata di aprire questa edizione, ed ha portato il suo nuovo singolo "No Tears Left To Cry"!

Certo, lei é davvero brava, e sa stare bene sul palco,non si può discutere la sua voce e la sua presenza scenica molto "mariah style".

Performance buona, peccato che la track, a differenza dei suoi precedenti lead singles, manchi di qualcosa, come se avesse un impatto minore rispetto a "Problem", tanto per citarne una.
Voto 7/10
9

Dua Lipa

Dominatrice britannica delle charts! Prima con "New Rules", poi con "One Kiss", insieme a Calvin Harris. Dua Lipa is "the girl to watch". E secondo noi ha offerto una buona performance ai questi suoi primi BBMA!
Voto 7/10
11
Sto ragazzo ha grande stoffa, lo diciamo da diverso tempo, ed é sicuramente uno dei fenomeni teen che apprezziamo di più!
Il canadese ha portato la sua "In My Blood", secondo noi la sua più bella canzone, ed una delle più belle di questo 2018!
Voto 7.5/10
12

Khalid & Normani

Altra performance buona é stata quella tra Khalid e Normani, che hanno portato sul palco il loro duetto. Lui un artista a tutto tondo che si farà sentire sempre di più anche alle nostre latitudini, lei invece una Fifth Harmony con il fuoco dentro, pronta per noi ad il suo lancio da solista.
Voto 7/10
13

Kahlid & Shawn Mendes

Qui si gioca sull'emotività! "Youth" di Shawn con Khalid ha commosso la platea, con la società americana ancora provata da una strage d'innocenti in una sparatoria scolastica. I due hanno davvero toccato il cuore, per noi promossi!
Voto 8/10
Zedd & Maren Morris
One hit wonder? Certo che questa canzone di Zedd sta andando fortissimo. Ovviamente però, nella serata, e confrontata con gli altri competitor sul palco, l'esibizione per noi é passata un po' inosservata.
Solito motivetto, e voce di Maren davvero simile ad altre!
Voto 6/10
14

Macklemore & Kesha

Anche qua discorso, bravi, ma c'era di meglio! Kesha e Macklemore hanno offerto anche loro una buona performance, ma non sappiamo quanto verrà ricordata in effetti.
Voto 6/10
15

Kelly Clarkson

Io lo dico da anni, Kelly é davvero una delle artiste più sottovalutate di sempre! Ed in questa serata, ha solo sottolineato la mia tesi! Non solo é stata presentatrice, umana e discreta, ma anche una vera mattatrice! Nella prima parte della serata ha mostrato tutta la sua versatilità e tutta la sua grande capacità improvvisando sul palco diversi brani famosi, e poi, bomba, con il suo singolo "Whole Lotta Woman", un pezzo di Woman Pride che non poteva mancare!

Davvero una grande, e promossa assolutamenteeee…
Voto 8.5/10
16

BTS

Il tifo maggiore l'hanno ricevuto loro! Sono il fenomeno coreano che sta tenendo banco negli States da qualche anno, e spaccano davvero il culo ai passeri quando sono sul palco.

Sono i BTS, una boyband k-pop, un fenomeno cult arrivato dall'Asia senza precedenti in America! Basti guardare come la folla si scatenava appena venivano citati durante la serata.

Hanno portato sul palco il fuoco, sono dei ragazzi portentosi, ma d'altronde sappiamo bene che il K-Pop é davvero un crogiolo d'ispirazione oggi come oggi.
Voto 8/10
Non ci sono bocciati, e questa é davvero una rarità! Per me questa edizione dei BBMA 2018 é stata una delle più belle da anni! Ha sicuramente battuto i più recenti Grammy Awards ed MTV VMA!
Uno spettacolo incredibile, secondo me dovuto anche alla forte presenza femminile! La musica Pop senza donne sarebbe una tristezza immensa, e le donne che sono salite sul palco si sono fatte valere davvero tutte!
Davvero una nottata splendida!
E voi chi promuovete? Chi avete preferito? E ci sono dei bocciati nella vostra lista?