Birdy – Beautiful Lies | Recensione CD
Quello che ci si aspettava da quest'album è stato ampiamente confermato: "Beautiful Lies" è da considerarsi a tutti gli effetti l'album della consacrazione di Birdy.
Birdy, pseudonimo di Jasmine Lucilla Elizabeth Jennifer van den Bogaerde, è una giovane cantautrice e musicista inglese, molto probabilmente tra le giovani più interessanti del panorama musicale insieme a Lorde. Nata Lymington nel 1996 da una famiglia di artisti,  Jasmine può contare su una madre speciale, un'importante pianista. E' da lei che ha preso questa grande passione per il pianoforte, tanto che ha iniziato a suonarlo all'età di 7 anni. A 8 anni già scriveva le prime canzoni, quando si dice bruciare le tappe…
Il nome d'arte Birdy nasce da un aneddoto della sua infanzia, in quanto i suoi genitori la chiamavano così perché quando mangiava apriva la bocca come un uccellino (in inglese bird-birdy). La sua carriera sul palco inizia alla veneranda età di…12 anni, quando vince, intonando un suo inedito, un talent show dedicato ai cantanti under 18. Da quel momento le si aprono i cancelli verso un successo che non tarda ad arrivare; nel 2009 si esibisce nel programma Pianothon, in onda su BBC Radio 3; successivamente registra una toccante cover di "Skinny Love" di Bon Iver.
Ha solo 14 anni nel 2011 quando "Skinny Love" viene pubblicata e debutta direttamente alla posizione 17 della UK Singles Chart, raggiungendo poi risultati incredibili in quasi tutta Europa. Il video della canzone viene girato da niente meno che Sophie Muller e tocca oggi i 100 milioni di visualizzazioni su YouTube. Ellen De Generes, sempre attenta ai talenti emergenti, la invita a cantare nel suo show, dove Birdy incanta milioni di spettatori e si fa conoscere dal pubblico americano.

Nonostante abbia a disposizione una grande quantità di brani inediti scritti da lei, il suo primo album, "Birdy", è composto da cover di pezzi più o meno famosi, ad eccezione di "Without A Word".Esce nel novembre del 2011 ed è accolto con ampi consensi dalla critica, che apprezza il genere e i gusti ricercati di questa giovanissima ragazza.Da "Birdy" vengono estratte "Shelter" (cover degli XX), la meravigliosa "People Help The People" (cover dei Cherry Gost) e "1901" (cover dei Phoenix).
Nei mesi che seguono la pubblicazione si susseguono varie proposte per la cantante: registra un brano per la colonna sonora di Hunger Games ("Just A Game"), incide con i Mumford & Sons "Learn Me Right", per il film d'animazione Disney "Ribelle – The Brave", canta all'apertura dei giochi paralimpici di Londra 2012 e riceve inviti un po' da ogni parte del mondo (in Italia la chiama Fazio nel 2013 come ospite internazionale a Sanremo). Registra il suo primo concerto tenutosi al Tabernacle di Londra e ne crea un disco live di 8 tracce, "Live In London".
I suoi ammiratori non aspettano altro che ascoltare i suoi inediti, le richieste vengono esaudite con la pubblicazione del suo primo album vero e proprio, interamente scritto da Birdy, "Fire Within", che vede la luce nell'autunno del 2013, anticipato dal meraviglioso lead single "Wings".  Contemporaneamente alla produzione del progetto collabora con David Guetta nel brano "I'll Keep Loving You" e partecipa alla colonna sonora del film tratto dal best-seller per ragazzi, "Colpa delle stelle". Nel 2015 esce la bellissima "Let It All Go" di Rhodes, co-scritta e co-cantata dalla ragazza.
Finalmente quattro mesi fa arrivano notizie concrete sul nuovo album, dal titolo "Beautiful Lies". Il 1° gennaio 2016 viene premierato il primo singolo, "Keeping Your Head Up", che ci fa apprezzare una Birdy diversa e più sofisticata. "Beautiful Lies", la traccia promozionale che prende il nome dal progetto, è invece un 'ritorno al passato'; mentre nuovamente sorprendente è il secondo singolo "Wild Horses".
Il 25 marzo è uscito "Beautiful Lies", e, dopo tanta attesa, finalmente abbiamo potuto ascoltare questo disco di cui ora vi proponiamo la recensione. Chi conosce la musica di Birdy resterà piacevolmente sorpreso dall'evoluzione artistica compiuta in alcune delle tracce. Ci troviamo di fronte, in quanto a tematica, ad un vero e proprio empowering album, con l'amore come tema centrale; le canzoni sono inni, i testi sono profondi e mai banali (ricordiamoci che sono stati tutti scritti da una ragazza di 19 anni); la parte strumentale, oserei dire, è un capolavoro ma anche quella vocale non scherza.

Lasciamo commenti e valutazioni alla fine e vediamo "Beautiful Lies" track by track:
GROWING PAINS: non si poteva chiedere inizio migliore! Questa traccia, scritta da Birdy e prodotta da Jim Abbiss ("Turning Tables" di Adele) è senza alcun dubbio una delle migliori dell'album. Una midtempo che presenta il perfetto bilanciamento tra un sound nuovo e coraggioso e la fragile sincerità che caratterizza Birdy.
Il brano inizia con una dolce melodia che richiama l'estremo oriente e che prosegue come base di tutte le strofe. Il pezzo decolla completamente nel ritornello, nel quale, con l'entrata in gioco della batteria, cambia completamente il ritmo; la melodia ne guadagna in potenza e sicurezza e il risultato è perfetto. Performance vocale impeccabile; è una Birdy inedita, che gioca con i vari registri del suo timbro.
Il testo parla della fine di una storia d'amore, ma lo fa in maniera positiva e costruttiva. La storia è finita perché forse era destino che finisse, e magari un giorno sempre il destino farà sì che le strade dei due innamorati si incontreranno nuovamente. "Maybe one day we'll fit back together, I'll pick up the pieces and we'll rearrange, Now we need to follow fate" (Magari un giorno staremo ancora bene insieme, io raccoglierò i pezzi e li riordineremo…ora abbiamo bisogno di seguire il fato).
SHADOW: l'inconfondibile melodia di un pianoforte ci introduce alla seconda traccia, scritta dalla cantautrice e prodotta nuovamente da Abbiss. Cambia decisamente il tono rispetto alla precedente, questa è la Birdy "tradizionale", quella delle downtempo emotive. Ascoltando la sua voce possiamo sentire quando abbia lavorato all'estensione dai tempi di "Fire Within".
"Shadow" vacilla tra un tono pacifico e uno leggermente malinconico, presentando dei picchi acuti degni di un'opera lirica. La traccia nell'insieme trasmette un senso di innocenza e purezza, Birdy è un talento limpido, come la sua voce. L'artista canta di una donna che si sente l'ombra (in senso buono) del suo innamorato, ovunque lui andrà lei ci sarà perché è l'unica persona che l'abbia mai fatta sentire importante. Brano intenso ed emozionante nella sua semplicità.
KEEPING YOUR HEAD UP: è il primo singolo del progetto ed è uscito il primo giorno dell'anno, come a simboleggiare l'inizio di una nuova era musicale per la cantante. Birdy si è occupata sia della parte compositiva che della produzione, in collaborazione con Steve Mac (Jess Glynne "Take Me Home", Ella Henderson "Glow"…). La mano di Mac si sente appieno e dà al brano un sound più grintoso e innovativo rispetto a quello a cui l'artista ci ha abituati in questi anni.
Il singolo inizia con una costruzione soft, per inoltrarsi poi in un crescendo che esplode in un ritornello potente ed ipnotico. Ad oggi è il pezzo più ritmato della carriera della giovane inglese, avrebbe avuto tutte le carte in regola per diventare una hit, ma ha riscosso invece un successo discreto. Il testo parla in un certo senso di rinascita e dell'importanza di avere qualcuno accanto che ti sorregga, che non ti lasci cadere e che condivida i tuoi dolori. Davvero un bel messaggio di amicizia/amore, raccontato attraverso l'uso delle metafore.
DEEP END: in questo brano c'è lo zampino di uno degli autori/produttori di Lana Del Rey, Justin Parker, che con Lana ha creato "Video Games", "Born To Die", "Ride", "National Anthem.  L'eleganza e l'emotività dei lavori di Parker si sentono sin dalle prime note di pianoforte. Questa è una vera e propria downtempo pop "alla Birdy", piano-voce, tanta intensità nella voce e nelle parole. Impossibile non rimanere incantati dalla sensibilità del suo strumento vocale, un timbro raro che trasmette emozioni anche senza volerlo.
Il testo è uno dei più belli e maturi dell'album, parla dell'insicurezza che comporta un sentimento e la prima strofa secondo me è una delle più significative e dice: "Someone told me that I'll want more, that I feel half empty, ripped and torn, they say there'll be plenty other hands to hold, now I wish they'd told me long ago" (Qualcuno mi ha detto che vorrò di più, che mi sento vuota, rotta, combattuta; dicono che è pieno di altre mani da stringere, ora vorrei che me l'avessero detto molto tempo prima).
WILD HORSES: eccoci arrivati al secondo singolo promozionale di "Beautiful Lies". Pezzo prodotto dal team TMS (Jessie J "Square One", Little Mix "DNA") e, anche qui, sentiamo il tocco di chi di hit se ne intende. "Wild Horses" è veramente un ottimo pezzo, uno dei migliori dell'album; intensa midtempo dal ritornello forte ed efficace che resta in testa al primo ascolto. Musicalmente parte lentamente nelle strofe (piano e percussioni) e prende aggressività nel ritornello, dove Birdy offre una performance vocale ancora una volta impeccabile.
Il testo parla di una ragazza stanca di rincorrere che, ad un certo punto, decide di fare retromarcia per prendere la propria strada, cosciente della sua forza e dei "cavalli selvaggi" che corrono dentro di lei. "I will survive and be the one who's stronger , I will not beg you to stay" (sopravvivrò e sarò la più forte, non ti pregherò di restare). Un brano di qualità (musicale e vocale) che cattura e che dimostra la versatilità di Birdy.
LOST IT ALL: Birdy ha scritto e prodotto questo prezzo, il che dimostra la ricercatezza dei suoi gusti musicali. La delicatezza della sua voce per arrivare al cuore degli ascoltatori non necessita di nient'altro al di fuori del suo fidato pianoforte, che per lei è un po' come una parte del corpo, essenziale. Downtempo davvero minimal, è spoglia di tutto se non del lato emotivo e delle sensazioni che trasmette. Performance vocale toccante, a tratti sussurrata.
Il testo parla d'amore e delle sofferenze che porta; anche quando uno dà tutto, questo per l'altra metà sembra non essere abbastanza, "If this is what dreams are made of, then I think that I've seen enough, Oh, I've given you all of my love, but it's still not enough" (Se questo è ciò di cui sono fatti i sogni, allora credo di averne isti abbastanza, oh, ti ho dato tutto il mio amore, ma ancora non è abbastanza).
SILHOUETTE: questa traccia va ascoltata e riascoltata; ci troviamo di fronte, senza alcun dubbio, ad uno dei veri capolavori dell'album, in ogni senso. Una downtempo pop, toccante e malinconica, degna delle più belle interpretazioni di una Lana Del Rey, ad esempio. In questa traccia troviamo drammaticità di una voce quasi spezzata dalle lacrime, l'intensità di un testo che a tratti sembra quasi odiare la vita, ma che in realtà è un vero e proprio auto-incitamento a lottare, combattere per sé stessi dopo aver trovato la consapevolezza di quanta forza interiore ognuno di noi ha, basta scavare.
La perfezione dell'interpretazione emotiva di Birdy toglie quasi spazio ad una base altrettanto meravigliosa, che rende la canzone non solo profonda, ma anche piacevolissima da ascoltare, con un ritornello assolutamente impeccabile. I cori finali sono la ciliegina sulla torta. 10 e lode a "Silhouette".
LIFTED: dover competere con "Silhouette" è un compito difficile, "Lifted" ha la fortuna di essere troppo diversa per poter essere confrontata con la traccia che la precede, e, nel suo, è un buon pezzo. Midtempo pop-folk che ricorda molto la Birdy di "Fire Within". I tamburelli e le percussioni nella base danno ritmo alla composizione e l'artista qui gioca molto con i vocalizzi, specie verso la fine, tanto da ricordare quasi un usignolo. E' un brano d'amore, un amore così profondo da esser capace a scacciare i cattivi pensieri e i demoni che vivono dentro la mente.
TAKE MY HEART: Per la seconda volta troviamo Birdy sia nella composizione che nella produzione. Sinceramente questo brano non convince, parte bene ma non sale mai, sembra sempre essere in procinto di dare il meglio ma a quel punto cala.
Un po' noioso nel complesso, troppo anonimo e monotono. Nulla da dire sulla performance vocale, sicuramente ottima; ciò che non mi convince è puramente un fattore melodico. Dal momento che Birdy ha anche prodotto la traccia è facile pensare che magari in questo ambito lei ha ancora un bel po' da migliorare, e certamente ha le carte in regola per farlo. L'ultimo minuto, prima sussurrato e poi corale, è la parte migliore del pezzo.
Il testo, parla d'amore e di bugie; è veramente ben strutturato e molto maturo, il modo di scrivere di Birdy è da vera veterana, tant'è vero che ha iniziato a 8 anni…
HEAR YOU CALLING: torna Steve Mac alla produzione, e i toni si fanno nuovamente più movimentati. E' una produzione inusuale nella quale Birdy sperimenta con gli effetti acustici del vocoder. Midtempo molto ritmata e fresca, questo sound è un terreno nuovo per l'artista, che dimostra comunque di reggere perfettamente. L'atmosfera è tra l'ipnotico e il magico, molto surreale il mix creato dalla strumentalizzazione, si discosta molto dalle tracce precedenti e si costruisce un mondo a sé.
Dalla base si intuisce che il testo non possa essere qualcosa di toccante o negativo, più che altro è un testo nostalgico che ricorda un periodo felice, un'estate perfetta passata da due innamorati che però ora non stanno più insieme. Birdy ricorda, e lo fa con nostalgia e affetto, non odio.
WORDS: una semplice downempo pop piano-batteria-voce. Carina nella sua semplicità; nulla di che le strofe, molto meglio il ritornello che ci permette di apprezzare l'intensità del timbro di Birdy, libero da tante costruzioni musicali e modifiche. "Words" parla d'amore; Birdy canta al suo innamorato che però pare provare sentimenti più deboli di quelli che prova lei, e questo la fa rimanere male. Lui le nasconde qualcosa, lei sa che probabilmente la vuole lasciare ma non è pronta a sentirlo dalla sua bocca.
"I have no words, I have no words to say If I can't change your mind" (Non ho parole, non so cosa dire se non riesco a farti cambiare idea). Ripeto, è una canzone carina ma non di quelle che ti fa venire voglia di ascoltarla a ripetizione.
SAVE YOURSELF: una perla, l'intensità e l'emotività che trasmette questa canzone è ciò che amo di più della musica di Birdy. E' una delle tracce più eleganti, ipnotiche e nello stesso tempo tetre dell'album. Una downtempo al pianoforte che risalta le doti canore della giovane inglese, risalta il suo timbro e le fa toccare delle note assolutamente impensabili, da soprano puro.
Questo brano è un motore di sensazioni, da ascoltare ad occhi chiusi con le cuffiette e lasciarsi trasportare dalle parole ma soprattutto dai suoni della voce. Uno spettacolo. E' un'ode a lasciare andare un amore che sta bruciando e fa male ad entrambi. Il testo, toccante, è cantato/recitato come una poesia. "Look at what we have become, empty hearts that spare no one, save yourself, my darling" (guarda cosa siamo diventati, cuori vuoti che non ricambiano nessuno, salva te stesso, tesoro mio).
UNBROKEN: altra downtempo di qualità, una delle migliori per quanto riguarda l'acustica e la parte melodica. Se dovessi confrontare "Unbroken" con altri lavori di Birdy direi che si presenta come un punto d'unione tra "Skinny Love" e "People Help The People". 
Il tono della canzone è quello della rassegnazione confortante che si prova a tornare a casa dopo la fine di un viaggio che non ha portato ciò che si sperava. "Many moons will lighten the way, and sure this night will follow a day, and everything you once loved remains, unbroken, unbroken, unbroken." (Tante lune illumineranno la strada, sicuramente questa notte sarà seguita dal giorno, e tutto ciò che hai amato rimane, intatto, intatto, intatto).
La performance vocale è impeccabile, ma è realmente un contenitore perfetto di talento, emozione e sentimento. Una canzone delicata che lascia il segno nel cuore dell'ascoltatore.
BEAUTIFUL LIES: brano uscito un paio di mese fa come traccia promozionale, scritto e prodotto da Birdy. Downtempo dal sound intimo basato sul connubio fra pianoforte e violino. Interpretazione intensa, valorizzata dal timbro particolare e dallo stile unico della cantante.
Il testo è di una bellezza rara, non cade nella banalità ma scava nella profondità delle figure retoriche e fa entrare in gioco l'immaginazione: "Cause I want to be forever, like smoke in the air, float like a feather going nowhere, lost in the silence" (Perché io voglio essere per sempre, come fumo nell'aria, fluttuare come una piuma che va lontano, persa nel silenzio). "Bellissime bugie" è il titolo dell'album e il titolo di questo pezzo, che racchiude in sé un po' tutto il filo conduttore tematico del progetto: amore sì, ma prima sé stessi.
Si chiude così, con 15 tracce, la versione standard. Molto spesso le deluxe edition come bonus tracks presentano scarti o versioni acustiche, in questo caso le tracce della deluxe meritano una menzione particolare, e vi invito a non tralasciarle. "Beating Heart" ha uno dei ritornelli più belli dell'intero disco; una chitarra acustica accompagna Birdy in "Winter", e il connubio è perfetto; che "Give Up" non faccia parte della versione standard è un sacrilegio!
Questa canzone è in assoluto tra le migliori non solo di "Beautiful Lies", ma dell'intera carriera dell'interprete, è una midtempo potente e incisiva, ottima in ogni punto di vista. Assurdo che non sia stata inserita tra le prime, veramente assurdo. "Start Again", prodotta da Abbiss, è la downtempo perfetta, e, ancora una volta, mi domando perché sia stata inserita come traccia numero 18. Tutto è fuori che una traccia 'in più'. L'avrei messa tranquillamente al posto di "Take My Heart". Chiude una bellissima versione acustica di uno dei gioielli di Birdy, "Wings", un bellissimo regalo per unire le due ere.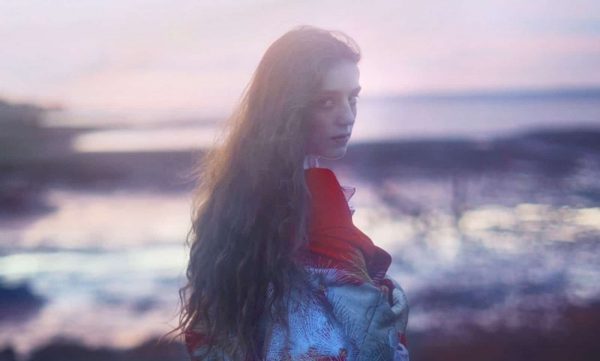 Siamo giunti alla fine anche di questa recensione. Se avete avuto la pazienza di leggere avrete sicuramente capito che, dal mio punto di vista, nel suo, questo album è assolutamente ottimo. Perché dico 'nel suo'? Perché ovviamente se uno si aspetta di trovare qui i tormentoni pop allora è tempo perso. Birdy è questa, potrà annoiare, ma questo è il suo genere, è il suo gusto musicale, è il suo mondo e lo è da sempre.
E' un'artista intelligente e musicalmente preparata, non è una di quelle che si fa influenzare dalla moda del momento, crea quello che il cuore le comanda. Questo nuovo progetto la consacra come giovane stella di un pop folk introspettivo e intimo.
Che sia un talento è innegabile, la sua immagine chiusa e misteriosa è lo scrigno di una voce da brividi e un modo di scrivere 'alla vecchia maniera'. Birdy rappresenta un'artista fuori dal tempo ma nello stesso tempo un qualcosa di incredibilmente attuale, come dimostrano le tracce più sperimentali come "Keeping Your Head Up" e "Hear You Calling". Con "Beautiful Lies" ha fatto un passo avanti, le sue composizioni hanno fatto un salto di qualità e la maturazione artistica si percepisce in quasi ogni traccia. E' un album adulto scritto da una giovane donna. 
Prezioso l'aiuto di produttori di spessore che hanno lavorato con gente del calibro di Adele e Lana Del Rey. I sound hanno guadagnato consapevolezza, Birdy ha guadagnato consapevolezza e, nel proporre delle melodie così ricercate, ha, in un certo senso, osato. Mi troverò sempre dalla parte degli artisti come lei, Artisti con la A maiuscola, nonostante la giovane età. Con Birdy parla la musica, parlano le note. Il resto è superfluo.