Brandy – Two Eleven | Recensione Album
"Two Eleven" è il titolo del sesto album di Brandy, una cantante R&B dalle doti canore uniche, nata artisticamente quando ancora era teen-ager e minorenne, nell'oramai lontano 1994. "Two Eleven" è collegato ad una data, l'11 febbraio, una data che per questa ragazza rappresenta due momenti forti, il suo compleanno, la sua nascita, e la scomparsa della sua madrina artistica e mentore Whitney Houston.
In questo inizio 2012 B-Rocka era infatti entrata in studio di registrazione per lavorare a questo attesissimo nuovo album, con una nuova etichetta ed un nuovo management, e proprio l'11 Febbraio di quest'anno l'annuncio della tragica morte della voce più incredibile che il mondo abbia mai conosciuto, quella di Nippy. Per questo motivo, ha spiegato Brandy, il titolo del disco è stato tutto un omaggio a questa magnifica presenza musicale che non c'è più.
Brandy, come tante altre artiste R&B d'eccellenza, dotate di grande potenzialità vocali, ha pagato come molti altri la crisi che attanaglia questo genere musicale. Lo scotto più evidente è arrivato con la release di "Human", un disco che successivamente la cantante ha definito troppo poco innovativo, e per questo fallimentare, ma che non era altro che una grande esposizione di buona musica, fatta prioritariamente di ballate classiche, che richiamavano agli anni '90. Il disco, a livello commerciale, nel 2008, fu accolto tiepidamente, e rispetto ad i numeri di inizio carriera di questa artista, fu un risultato alquanto imbarazzante.
Con "Two Eleven", uscito a metà ottobre, e a quattro lunghissimi anni di distanza, l'obiettivo prioritario è stato quello di ristabilire il nome di Brandy nel musicbiz, ed a livello creativo di portare qualcosa di innovativo, ma comunque fedele alle basi artistiche di questa vocalist.
Ma andiamo ad analizzare cosa ci ha portato questa volta Brandy a livello musicale con Two Eleven: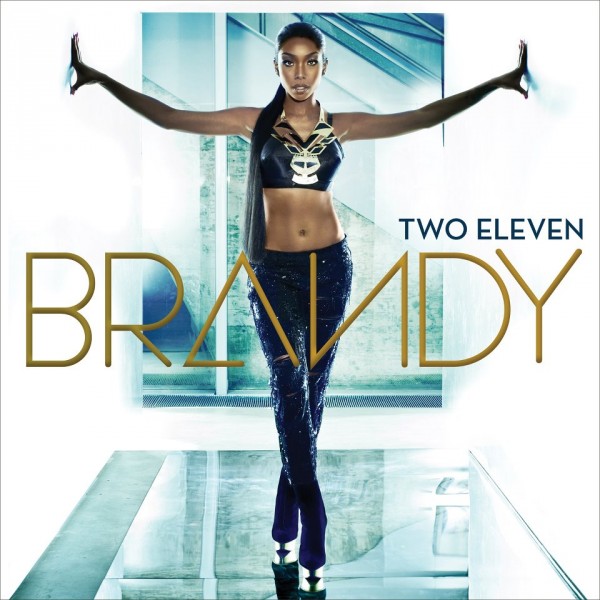 Il disco si apre e si chiude con degli "Intro" e "Outro", dove non appaiono vocals di B-Rocka, ma creano il giusto ambiente di mistero e swag per introdurci ed accompagnarci all'uscita di questo ascolto
2) Wildest Dreams: il brano è stato scelto come secondo singolo ufficiale di questo album. Prodotto da The Bizness e Sean Garrett, si tratta di una midtempo prodotta in maniera sopraffina, con un beat piacevolissimo, sul quale è stata cucita una storia nel testo, molto personale e legata alle vere sensazioni che sta provando la cantante in questo periodo. "Wildest Dreams" parla della persona perfetta, e Brandy canta la sua incredulità per aver trovato un uomo che non avrebbe immaginato nemmeno nei suoi sogni più selvaggi. Dall'inizio alla fine del brano sentiamo forte il coinvolgimento della cantante, che come in tutti i suoi album disarma per la sua grandissima tecnica vocale e la sua precisione, oltre che per un timbro prezioso, unico e particolare. Un brano che con gli ascolti cresce, che coinvolge, forse però incapace di attirare l'attenzione in questo periodo musicale. La scelta di questo brano come secondo estratto si è rivelata da subito molto rischiosa, e sebbene la canzone stia ancora salendo nelle chart, per sostenere le vendite del disco, il management avrebbe dovuto puntare su qualcosa di meno rischioso, e più affine alle radio Urban di oggi.
3) So Sick: altra midtempo prodotta da Sean Garrett, questa volta con l'aiuto del geniale Bangladesh, che hanno fornito la chiave a B-Rocka per tornare all'apice delle Urban Charts con la traccia numero 8. Ipnotica e di classe, in questo brano Brandy parla di un amore malato, in un tira e molla tra piacere, pazzia e dolore. Bellissimi vocal runs di B-Rocka in questo pezzo, che le valgono il titolo di "vocal bible" che molti media le hanno attribuito. Anche qua si nota grande cura per la produzione, che va ad unire la tradizione R&B con delle sonorità istruite ed essenziali. Uno dei brani che preferisco.
4) Slower: Curiosità di questo brano è la presenza di Chris Brown tra gli autori, che dimostrano la versatilità del cantante R&B, che vuole fare di più nel musicbiz. La produzione è invece stata affidata a Switch, DJ e produttore House Britannico, che ha conferito la modernità al pezzo, senza snaturare Brandy buttandola nella musica dance. Il pezzo a livello di produzioni è pazzesco, un collage affascinante di sonorità, tuttavia appare al mio orecchio poco immediato, ed alcuni exploit vocali di Brandy mi ricordano veramente molto il periodo Afrodisiac, con le sue unreleased collegate. Buonissima album track, molto poco probabile come singolo, ma B-Rocka ci ha abituati a dire "Never Say Never".
5) No Such Things As Too Late: e veniamo ad una slowjam, e che slowjam. Rico Love e Jim Jonsin insieme hanno creato tra i brani R&B più interessanti negli ultimi anni, ed anche questa volta questo duo produttivo ha creato un brano d'eccellenza per la signora Norwood. Cadenzato da un beat lento e poco invasivo, questo brano lascia tutto lo spazio a Brandy per tirare fuori la sua grande voce, che arriva con impatto fortissimo all'ascoltatore, coinvolge, abbraccia, da i brividi longo la schiena. Controllo, delicatezza, e tecnica si fondono alla perfezione, senza strillare, senza strafare ne diventare vocalmente pesante e volgare, il timbro di B-Rocka in "No Such Things As Too Late" ti accarezza e ti coccola. Sicuramente tra le slowjam pure questa è quella che mi ha conquistato. Buttare fuori una slowjam di questi tempi, per di più a tema romantico, sarebbe un passo veramente rischioso, ma con una voce del genere ci si potrebbe provare.. in attesa di tempi migliori, quando le ballads e le slowjam potranno tornare a regnare nelle Charts mondiali.
6) Let Me Go: se parliamo di R&B innovativo, pensiamo anche a "Let Me Go", traccia numero 6 del disco, prodotta anch'essa da quei pazzi Bangladesh & Garrett. Siamo in campo uptempo R&B, incalzante, stonata, quasi confusionaria, questo brano spiazza ai primi ascolti, ma conquista poi per uno swag potentissimo, per il suo essere fuori dagli schemi. Si passa da ritmati ritornelli ripetitivi ed incisivi, a parti più lente e vocali dove Brandy affascina, in un brano meno casto, e che ci introduce alla parte più sensuale di questa artista. Visto il grande riscontro ottenuto da traccia 8, e la somiglianza nella produzione, questo pezzo ha il vero potenziale per diventare club e radio banger in Urban. Promosso, eccellente, anche se ci sono voluti diversi ascolti per capirla, e questo spesso è tipico di un geniaccio come Bangladesh, grande pioniere, da ricordare per le produzioni sopraffine insieme a Kelis.
7) Without You: altro brano tra i miei preferiti di "Two Eleven". Si torna tranquilli per questa romanticissima ballata d'amore! "Without You" risulta banale come titolo, e forse anche nel testo e nel concept, ma non per gli splendidi arrangiamenti, e per la grande prestazione vocale che ha spalmato Brandy su questa canzone prodotta da Harmony Samuels. Sempre in crescendo, questa canzone è pura intensità, ed è già stata citata dal management come possibile singolo tratto da questo album. Squisitezze per le orecchie che si sentono sempre più raramente.
8) Put It Down feat. Chris Brown: in pochi all'inizio avrebbero scommesso su questo "primo singolo", ed invece "Put It Down" per ora si è dimostrata una delle canzoni R&B regine del 2012. Ha toccato la vetta alla 1 della Airplay Urban chart americana, ha cominciato solo ora a battere la porta verso le radio Pop, ed ha avuto il suo peak in R&B chart ad una impressionante numero 3 di Billboard. Rischiosa, provocante, e sensuale, questa canzone ha ottenuto un successo non immediato, ma costante, ed ha sicuramente il merito di aver fatto riabbracciare Brandy ed i suoi fans R&B che l'avevano parzialmente abbandonata in "Human". Una sorta di inno, molto femminile, tutta da ballare, ci hanno regalato anche un video davvero notevole, ed i risultati sono arrivati.
9) Hardly Breathing: i nostalgici di "Human" possono attaccarsi a questa canzone. Prodotta da Rico Love, ricrea le atmosfere di quel disco a mio modo di vedere. Si parla di sofferenza in amore, in delle lyrics preziose, Brandy fatica a respirare per un distacco per una storia che non funziona. Man mano che la canzone di evolve nel tempo, cresce il beat ed il ritornello incisivo che entra in testa. Vocalizzi anche qua vicini alla perfezione, che coinvolgono in una spirale irresistibile. Buona album track, non abbastanza per diventare singolo a mio modo di vedere, visti anche i risultati di "Human".
10) Do You Know What You Have: e veniamo alla pietra misteriosa di questo album. Secondo gli insider anche questo brano sarebbe in lizza per diventare terzo singolo, ed avrebbe tutto il favore delle radio Urban. Prodotta da Mike WiLL Made It, è una di quelle tracce R&B sicuramente sofisticate, con Brandy che tira fuori nuovamente la sensualità, chiedendo al suo uomo se si rende conto di quello che si ritrova tra le sue mani. Rimane per me una vera incognita, tra i brani di questo album è tra quelli che mi ha meno coinvolto, ma chi lo sa, potrebbe essere anche un successo per le radio Urban di questi tempi.
11) Scared Of Beautiful: veniamo ad una perla scritta dall'acclamatissimo Christopher Breaux in arte Frank Ocean, nuova superstar della musica R&B contemporanea. Per Brandy ha voluto lasciare "Scared Of Beautiful", una canzone originale e piena di signicati, che esce dal seminato anche dal lato di produzione. "A volte arrivi in un punto della tua vita dove hai paura di essere grande, eccellente, hai paura delle tue bellezze. Hai timore della parte più bella di te, e parlando con te stesso trovi la forza per ritirare fuori quella parte che temi. La canzone che mi ha offerto Frank mi ha colpito, perchè riguarda da vicino un punto preciso della mia vita. In questo brano si possono rispecchiare molte persone che come me, hanno passato un periodo molto buio e confuso nella propria vita". Con queste parole Brandy ha descritto questa collaborazione con il nuovo poeta della musica R&B. Un concept inesplorato, delle lyrics fuori dal comune, insomma, un brano importante di questo disco.
12) Wish Your Love Away: un album futurista con agganci al passato, ed anche queste sonorità orientali contenute nella produzione di traccia 12 mi fanno ripensare ad album d'eccellenza del passato di Brandy. Questo brano per la sua produzione mi aggancia in particolare alla "Full Moon" Era di questa cantante. La produzione retrò infatti è stata curata dal grande Mario Winans, ed ne esce la classic Brandy di fine '90 in questa "Wish Your Love Away". Brano piacevole, non adatto ai giorni nostri, ma un piacevole pacchetto regalo rievocante i fasti di quel disco, trainato da pezzi come "Full Moon" e "What About Us?"
13) Paint The House: altro brano di grande eccellenza, sia nella produzione che nelle lyrics, prodotto da Love. Metaforicamente Brandy si ritrova a ricostruire e a ridipingere una casa, utilizzare i colori giusti per ricordare l'eccellenza e la bellezza di un amore. Intimo ed ispirato, questo brano sottolinea meno di altri la grande voce di Brandy, ma ne enfatizza la grande capacità di fare atmosfera, con quel caratteristico timbro leggermente grattato e fumoso. Pezzo molto classoso che la catapulta da ragazza a vera signora della musica R&B.
14) Can You Hear Me Now?: uno dei pezzi più suggestivi che mi hanno colpito dal primo ascolto. Il brano "Can You Hear Me Know" è arte, il suo beat trasmette inquietudine, mistero, una magia oscura e sinistra. Ti coinvolge da subito, ti ipnotizza, e ti catapulta in un mondo parallelo. Brandy adatta perfettamente la sua voce a queste atmosfere oniriche, quasi come stesse decantando una formula magica da vera strega. Impossible immaginarlo come singolo, ma gran vanto avere una produzione così coinvolgente in questo CD. Ottimo lavoro.
15) Music: una ode di Brandy al suo grande amore per la musica, dove B-Rocka va nell'ambito della musica R&B più classica dei decenni passati, e si trasforma in una diva d'altri tempi. Eccellente nella sua esecuzione, questo brano si stacca con molta evidenza da tutte le altre produzioni del disco, e si capisce che non ha alcun fine "commerciale". Signorile, di classe, sembra di sentire una delle antiche dive di questo genere. Io personalmente mi sono lasciato molto coinvolgere dal brano, perchè rivivo quotidianamente questa passione per la musica grazie a questo progetto sul web, e non di rado, mi è capitato di pensare che il mio unico vero amore, fedele e costante, sarà la Musica.
16) What You Need: Chiude l'album "What You Need", una prova muscolare sempre curata dall'imprevedibile Bangladesh alla produzione. Sonorità anche qua alternata tra momenti vocali dolci e beats cattivi e martellanti. Molto molto esplicite le lyrics di questo inno alla sottomissione, al sesso, che mostrano la faccia più conturbante della cantante originaria del Mississippi. "Sono in cucina nella tua posizione preferita", un vedo peccato che il brano non sia stato confezionato in versione più "lunga", perché nel testo è proprio provocante ed originale…
Tracciamo l'arringa finale per questo album di comeback di Brandy. La cantante ha avuto un periodo tumultuoso con le etichette discografiche, i primi tre album furono infatti pubblicati con la Atlantic, mentre con "Human" si è trovata nelle braccia della Epic (prima che fosse ri-fondata), che fece cadere il progetto dopo solo 2 singoli estratti. Nel 2012 B-Rocka ha firmato invece con RCA, che vanta nella sua scuderia altri nomi importanti della musica R&B, come la collega Monica, Chris Brown, Miguel, e via dicendo.
Il nuovo management sicuramente ha creduto molto di più in lei, lo si denota dall'orientamento di questo album, molto più grintoso, innovativo e rischioso rispetto al precedente del 2008. Con "Put It Down" Brandy ha ristabilito la sua immagine nella musica R&B, dopo 4 anni di assenza, che ai giorni nostri sono puro veleno da un punto di vista commerciale, con molti artisti che pubblicano quasi ogni anno, o ogni paio d'anni un nuovo lavoro.
Purtroppo le vendite però sembrano andare sulla stessa linea del precedente album, ma certamente questa volta B-Rocka ed il suo management sono una cosa sola, ed è innegabile che il vociare e le critiche su questo disco sono state decisamente più presenti e positive.
Un disco innovativo, sofisticato, nel complesso molto uniforme, che non tradisce la vera natura artistica di questa ragazza. Innegabile che con i tempi che corrono di vacche magre, sia sotto l'aspetto delle vendite in generale, sia per l'evidente crisi del genere, non ci si possa aspettare grandi risconti a livello commerciale, tuttavia sono convinto che a livello artistico questo disco rappresenti una vera evoluzione per l'artista, e che si possa benissimo affiancare ad una serie di album, mai deludenti, ma che hanno sempre sofferto purtroppo di qualche "sfortuna", sotto l'aspetto di management, timing, e risorse.
"Two Eleven" diventa incomprensibile se siete appassionati di dance-pop usa e getta, ma è uno degli album R&B 2012 meglio prodotti e vocalmente appaganti, che non può mancare nella vostra collezione di dischi se amate le belle voci, la tecnica, ed il talento! Insomma, un disco di buona fattura, ma dedicato solamente a chi ha l'orecchio per capirlo.
Anche Brandy, come Beyoncé, Trey Songz, Miguel, Frank Ocean, Monica, Melanie Fiona, ed altri, si schiera in quella fascia di artisti che non vogliono compromessi, e che non si fanno contaminare dalle tendenze dance-pop, pur consapevoli che i numeri della Urban non son più quelli di un tempo. Chapeau a tutti questi artisti!
Speriamo ora che B-Rocka non attenda più 4 anni per un nuovo album, ma penso che la "lezione" di vita le sia servita, e siamo lieti che con questo progetto abbia potuto tornare a creare e splendere.
R&B Junk Rating: 4/5
Il disco è disponibile su I-Tunes, anche in Italia.
Ecco qua un'analisi del vocal range e delle note contenute in questo disco: