Britney Spears – Circus (Recensione CD)
CD della settimana: Britney Spears – Circus, recensione CD!
Sesto album per la principessa del Pop! Britney Spears oramai ci accompagna con la sua musica da ben 10 anni, e dopo 10 anni ha già pubblicato 6 dischi ed un Greatest Hits! Sono certo lontani i tempi del bubble gum Pop dei fine novanta che l'hanno incoronata principessa della musica più commerciale…, tuttavia con Circus tramuta ancora una volta la musica Pop, e ne diventa l'incontrastata trend-setter, grazie anche ad un ventaglio di producers da sbavo!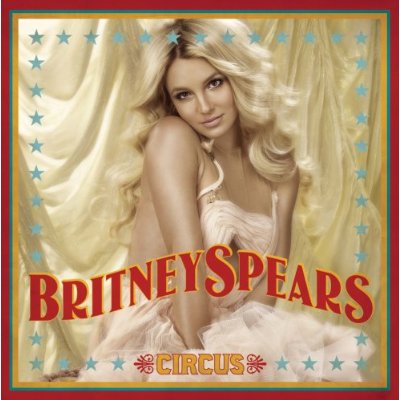 "Circus" arriva in un periodo molto meno turbolento rispetto al precedente "Blackout"… che era di certo un CD fortissimo, ma con la completa assenza di promozione da parte della cantante, a causa di problemi personali. Ora il management della star è tornato a controllarla al 100%, tuttavia non sappiamo realmente quanto sia felice questa ragazza.. di certo sarà pane per i suoi fans rivederla sul palco e magari in un tour!
Apre le danze la contagiosa "Womanizer" che ha segnato il ritorno alla numero 1 della Hot100 americana, non succedeva dal singolo di debutto "Baby One More Time"… in più il pezzo ha veramente un ritornello che prende e rimane in testa! La sua permanenza in testa alla classifica americana però si è limitata ad 1 settimana… vista la forte concorrenza di Beyonce, TI e Katy Perry che sono in lotta per il primo posto!
"Circus" è stata selezionata per diventare il secondo estratto! Si tratta di una uptempo alla quale sarà collegato un video musicale che dovrebbe segnare il ritorno a "coreografie" serie, un dance-video! La canzone è prodotta da Dr.Luke, famoso per aver portato alla ribalta Kelly Clarkson e per aver collaborato con Avril e le Sugababes… ! Vedremo questo nuovo singolo dove si piazzerà nella chart, di certo uno dei pezzi più forti ed incisivi del disco!
Il pezzo migliore del disco? "If U Seek Amy" unisce un beat innovativo e divertente, con un testo anch'esso fuori dal comune e un sound fatto tutto per la Spears, non a caso il produttore è Max Martin che l'ha portata a diventare la principessa grazie al sound dei primi due dischi…, proprio lui ha firmato i grandi successoni di fine novanta della Britta… e qua i malinconici ci si tufferanno volentieri!
Traccia 3, potrebbe essere il terzo singolo, sto parlando di una confortante ballad intitolata "Out From Under" e forse uno dei pezzi più preziosi in questo nuovo disco! Dico confortante, perchè la completa assenza di slow songs nel precedente "Blackout", mi aveva un po' innervosito! Questa canzone ha dietro un'ottima produzione, e devo dire che la voce della Britta sembra essere ritornata un po', una canzone che ti coccola con le sue sonorità e con la tenue voce della Spears, sempre nei suoi limiti vocali!
Danja produce "Kill The Lights" traccia no. 4 del disco, il pezzo è molto convincente… ha un beat che prende sin dal primo ascolto, però a tratti mi sembra molto un rip di "Speakerphone" della Minogue… il ritornello di certo… ! La Kylie con il suo X, flop negli USA, ha però ispirato diverse produzioni correnti del momento….
Tamarro-futuristica-dance è "Shattered Glass", un pezzo con una forte presenza di bassi, prodotta in maniera eccellente da Dr.Luke, lo stesso producer di "Circus" e di altri pezzi forti del disco. Penso che questo pezzo possa avere grande esito in Europa… è un po' la "Don't Stop The Music" di questo disco…! Bellissimo il break-down al 2:25 della canzone…
"Unusual You" ha delle sonorità cupe, è una sorta di midslowtempo, non ha secondo me l'appeal giusto per calzare sulla Britney da Hit, ma di certo arrichisce questo progetto, nel suo modo d'utilizzare la voce mi ricorda molto Madonna in questo pezzo…
"Blur", "Radar" e "Rock Me In" hanno tutte le carte per essere le poco occultate album filler (tradotto "riempi-album") di Circus… nessuno di questi pezzi mi lascia qualcosa.. e una "Radar" spudoratamente ripresa dal vecchio CD "Blackout" e semplicemente ri-registrata con una produzione solo leggermente diversa!
"Mmm Papi" è una canzone che riprede delle sonorità anni '60, è una canzone piuttosto idiota… potrei tanto collegarla a "If U Seek Amy", ma assolutamente meno efficacie…!
Molto Blackout è "Mannequin", ha delle sonorità portate all'estremo, tra l'artistico ed il confusionario… anche un po' inquietante, non posso molto apprezzare questo tentativo di spinta.. forse perchè sono ancora leggermente tradizionalista!
"Lace & Leather" invece mi piace, la voce di Britney è la voce di Britney, ha un sound deciso, ma non invasivo come certe superproduzioni del disco, che a volte forzano troppo la mano! Anche qua sento a tratti l'anima Madonnara che si sta impossessando dello stile della Britta!
"My Baby"! Avete presente "Everytime" del CD In The Zone.. ecco fate un bel copia ed incolla! Chitarra acustica e voce di Britney..! Si tratta di una dolcissima ballata, dove Britney utilizza il suo timbro vocale debole come la fiamma di una candela! Io onestamente sono più propenso a voci più "corpose", tuttavia posso pensare che ai fans della principessa del pop, questo pezzo possa piacere e possa far commuovere!
"Phonography" è assolutamente una chicca, produzione grandiosa tra The Clutch e Bloodshy and Avant, è inclusa come bonus-track, ma secondo me ha veramente tutte le carte per essere un singolo, a dir poco disarmante il percoso di questa canzone… veramente Britney, volenti e nolenti, sta segnando la strada della musica Pop, i producers tengon il loro miglior beat solo per lei…
"Trouble" mi pare il sequel di "Get Together" di Madge, giustamente è stata messa come bonus. "Amnesia" anch'essa messa secondo me ingiustamente come bonus, il testo è molto carino! Stesso discorso per la splendida "Quicksand"! Mi chiedo veramente perchè le abbiano messe tutte come bonus.. di certo potevano buttarle dentro al posto di rifiuti come "Blur" e "Rock Me In"… 
Il CD è significativo per un ritorno di Britney alle slow, in "Blackout" mancavano assolutamente dei pezzi più tranquilli. La principessa del pop inoltre sembra aver in parte recuperato anche il suo "focus" sulla carriera… anche se per me mancano ancora diversi passi per farla diventare una ragazza equilibrata ed in pace con se stessa.
Sono piuttosto contrariato con un determinato atteggiamento beffardo e schifato da parte delle radio, penso a quelle italiane, questo "schifare" Britney…! Penso che questi muri devono essere buttati giù, perchè volenti o noltenti questa ragazza è da 10 anni sulla cresta dell'onda, e si sta delineando passo a passo per diventare la nuova regina della musica Pop. È molto facile fare soldi parlando di Britney nell'ambiente mediatico, poi quando si tratta della sua musica tutti si voltano e quasi si "vergognano" di parlarne…! Io stesso sono ipercritico su di lei, ma non posso negare che lei è la grande realtà nella musica Pop, ha conquistato i teenies di oggi dopo 10 anni di carriera... e non è cosa da poco in un mondo del musicbiz estremamente veloce!
Se paragono questo lavoro ad "Hard Candy" di Madonna, posso osare a dire che l'allieva sembra aver superato la maestra, mentre Madonna reclutava sound da producers già molto battuti, la Spears segna un nuovo solco nell'evoluzione della musica Pop sia con "Blackout" che con "Circus"! 
Stiamo a vedere come riuscirà a piazzarsi con una buona promozione, nelle vendite, io penso che il prodotto possa raggiungere vendite più alte di "Blackout", ma dubito che la prima settimana di vendite sarà superiore alle 400 mila copie negli Stati Uniti! Ancora Britney non piace ad una grande fetta di ascoltatori "adulti", quello che ha fatto la differenza per artiste come Beyonce o Alicia Keys che al contrario hanno di certo maggiore credibilità per persone dai 25-30 in su!
Produzione imponente, ed una Britney "trend-setter" nel suo genere Pop, ma sempre di musica pop estremamente commerciale si tratta, le vere emozioni le provo per altri dischi e non per questo, bello assolutamente da ascoltare per la magia dei suoni ed i beat robusti e vigorosi!
R&B Junk rating:
Ecco la tracklist di Circus:
1. Womanizer
2. Circus
3. Out From Under
4. Kill The Lights
5. Shattered Glass
6. If U Seek Amy
7. Unusual You
8. Blur
9. Mmm Papi
10. Mannequin
11. Lace And Leather
12. My Baby
13. Radar (Bonus)
14. Rock Me In (European Bonus Track)
15. Phonography (European Bonus Track)
16. Amnesia (Japanese & UK Bonus Track)