Bruno Mars, svelato il prossimo singolo da "24K Magic"

Aggiornamento
Dopo il successo di "That's What I Like", che peraltro continua a perdurare, Bruno Mars ha deciso di estrarre come nuovo singolo un brano che ci aveva presentato in anteprima già qualche mese fa, ossia "Versace On The Floor".
Ecco la copertina del singolo: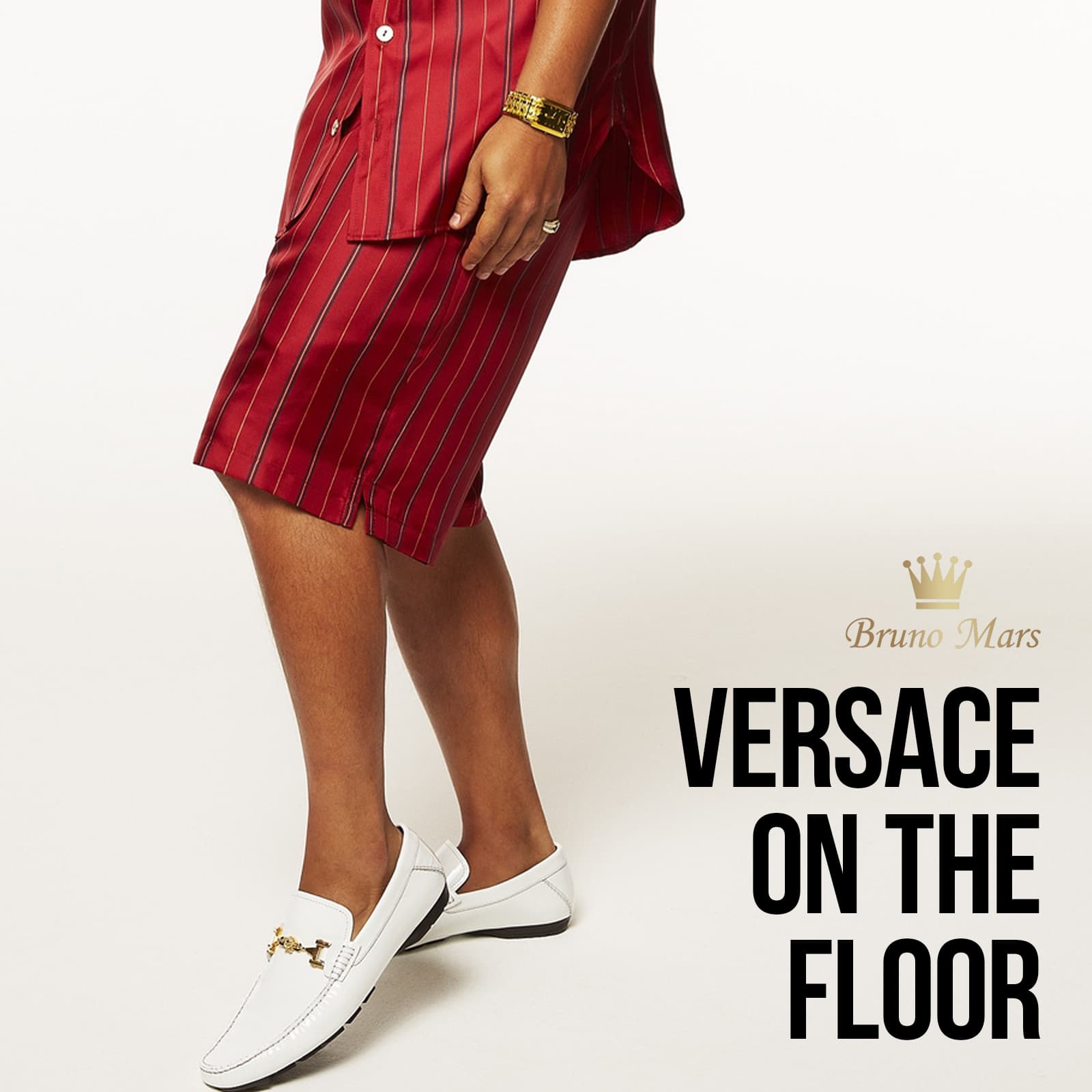 ---
Sono davvero pochissimi gli artisti di oggi che possono contare su grande voce e su uno stile unico. Tra i maschietti, uno degli esponenti del genere R&B Pop e Soul più luminosi in questo senso é senza ombra di dubbio Bruno Mars.
Un Bruno Mars che ha firmato insieme a Mark Ronson uno dei duetti più di successo di questi ultimi anni, nel tormentoso "Uptown Funk", un brano che seppure inflazionato, risulta essere ancora oggi tra i più brillanti esperimenti musicali ancorati al passato, che hanno ottenuto enorme esito tra il pubblico mainstream.
Ma Bruno Mars, può contare su una versatilità eccezionale, e su una voce incredibile e caldissima, che traspare chiaramente nelle ballads e nei brani downtempo. Per intenderci il Bruno Mars che ha illuminato il mondo con "Grenade" uscito oramai nel lontano 2010!
Proprio seguendo questo filotto, anche nel prossimo album di Bruno, anticipato dalla scoppietante uptempo in pieno new jack swing anni '90, ci saranno delle ballate, una di queste sarà "Versace On The Floor", uscita solo alcune ore fa nel web.
Una vera e propria BOMBA,  assolutamente da inchinarsi. Il pezzo é cantato quasi fosse un inedito del leggendario Stevie Wonder, e fa venire i brividi alla schiena! Un ritorno in grande stile alla grande musica, ad un certo tipo di produzioni davvero raffinate! Non sorprende infatti, che Bruno é l'unico che nel suo prossimo disco di inediti potrà contare sulla presenza di Queen Beyoncé, e sua Maestà di Gran Bretagna, la signora Adele!
Cosa dire, dal funk, alle uptempo scanzonate, alle ballad, sembrerebbe che questo Bruno sia davvero l'unico, a livello di talenti, a potersi lontanamente avvicinare al tanto compianto Michael Jackson, e non me ne vogliano i fans di Justin Timberlake, Usher, Chris Brown (che però sono superiori nel ballo), e The Weeknd.
"Versace On The Floor" é pura goduria per le orecchie, specialmente per un inguaribile nostalgico come me, racchiude stile, classe, sensualità ed un timbro vocale profumato di mille colori.
Davvero una botta allo stomaco, in senso positivo. Voi cosa ne pensate di questo inedito?
Sarà lui il dominatore delle vendite natalizie 2016?
Testo
Let's take our time tonight, girl…
Above us all the stars are watchin'
There's no place I'd rather be in this world
Your eyes are where I'm lost in
Underneath the chandelier
We're dancin' all alone
There's no reason to hide
What we're feelin' inside
Right now!
So baby let's just turn down the lights
And close the door
Oooh I love that dress
But you won't need it anymore
No you won't need it no more
Let's just kiss 'til we're naked, baby
Versace on the floor
Oooh take it off for me, for me, for me, for me now, girl
Versace on the floor
Oooh take it off for me, for me, for me, for me now, girl
I unzip the back to watch it fall
While I kiss your neck and shoulders
No don't be afraid to show it off
I'll be right here ready to hold you
Girl you know you're perfect from
Your head down to your heels
Don't be confused by my smile
'Cause I ain't ever been more for real, for real
So just turn down the lights
And close the door
Oooh I love that dress
But you won't need it anymore
No you won't need it no more
Let's just kiss 'til we're naked, baby
Versace on the floor
Oooh take it off for me, for me, for me, for me now, girl
Versace on the floor
Oooh take it off for me, for me, for me, for me now, girl
Dance
It's warmin' up
Can you feel it?
It's warmin' up
Can you feel it?
It's warmin' up
Can you feel it, baby?
It's warmin' up
Oh, seems like you're ready for more, more, more
Let's just kiss 'til we're naked
Versace on the floor
Hey baby
Take it off for me, for me, for me, for me now, girl
Versace on the floor
Oooh take it off for me, for me, for me, for me now, girl
Versace on the floor
Floor