Buon compleanno Madonna! Ecco 5 cantanti che l'hanno imitata!
Madonna! Ecco 5 cantanti che l'hanno copiata ed hanno preso ispirazione da lei
Oggi una delle cantanti più celebri della musica Pop, che è riuscita a fare la storia della musica grazie a successi immortali, video controversi che hanno sfidato la morale religiosa e sessuale della società occidentale e sound innovativi che è riuscita a lanciare e sdoganare al grande pubblico, compie ben 60 anni, pur non dimostrandoli davvero. Ovviamente parliamo della grande regina del Pop Madonna!
La famosissima popstar, che incominciò la sua carriera da solista nell'ormai lontano 1982 con il suo singolo Everybody, riesce a mantenersi da 34 anni a questa parte sulla cresta dell'onda non soltanto grazie al suo grande estro creativo (che l'ha spinta sempre a sperimentare nuovi generi e a reinventare se stessa), ma anche al fatto di essere uno dei punti fermi nelle vite di moltissime persone, tra la sua musica sempre carica di sfumature e la sua immagine provocatoria di artista Pop a tutto tondo.
Tra le persone che hanno considerato Madonna un punto saldo e una grande ispirazione non potevano ovviamente mancare le altre popstar!
Le cantanti Pop venute dopo di lei hanno spesso sentito molto forte il legame con lo stile di Miss Ciccone, a volte temendo o subendo paragoni proprio con lei nei momenti della loro massima popolarità e influenza nel panorama musicale e a volte viste come degne eredi del suo trono di Regina del Pop riconosciutole tanto dal pubblico quanto dalla critica. Oggi, per celebrare le 60 candeline che Madonna spegnerà, parleremo proprio di 5 cantanti che l'hanno riconosciuta come una delle loro maggiori ispirazioni della loro musica e della loro immagine artistica. Scopriamo insieme chi sono!
Britney Spears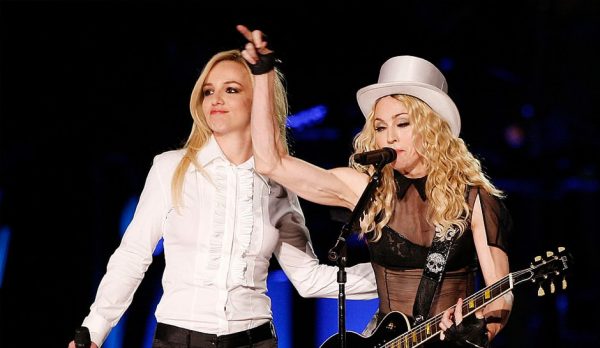 La cantante che più ha segnato il panorama musicale degli anni Duemila con i suoi successi, il suo carisma ma anche con la sua vita privata segnata da alti e bassi: Britney Spears, ha spesso affermato di essere stata influenzata da Madonna.
Nelle prime interviste rilasciate da lei ai tempi dell'Era Britney (album per cui la popstar della Louisiana cominciava ad essere accostata a Miss Ciccone per sound e testi più maturi rispetto al passato) la cantante di Baby One More Time aveva affermato che Madonna era stata una delle sue maggiori ispirazioni della sua infanzia, un modello a cui lei stessa guardava immaginando in futuro di poter essere come lei. In effetti, tra critica e pubblico, molti hanno sempre riconosciuto un certo legame tra le due artiste, non solo per successo e carisma di entrambe, ma anche per influenze e atmosfere musicali che Britney ha tratto proprio da Madonna, divenuta sua amica dopo lo scandaloso bacio saffico scambiatosi sul palco dei Video Music Awards del 2003.
Britney non ha mai fatto mistero di aver collaborato con William Orbit (producer che ha creato uno dei lavori più celebri e rinomati di Madonna, Ray of Light) per riottenere le stesse atmosfere del noto disco (sodalizio che, purtroppo, non è riuscito a entrare in nessun cut finale degli album della Spears se non per Alien, bellissima track iniziale di Britney Jean), di aver inciso alcuni brani ispirati proprio al grande repertorio della sua amica e modello di vita (possiamo ricordare nel suo Femme Fatale esempi come Inside Out o Criminal, che ricordano a detta dei critici le atmosfere delle ballad di Music e American Life della Ciccone) o di aver addirittura tratto lezioni di spiritualità da lei (il video di Someday è stato ispirato secondo alcuni critici agli insegnamenti della Kabbalah che Britney aveva imparato da Madonna).
Oltre che dai successi e dalla sua influenza nel mondo del Pop, sicuramente Britney ha ottenuto il soprannome di principessa del Pop anche dalla continua ispirazione alla celebre Madonna. Performer di primo livello, un personaggio in grado di mangiarsi letteralmente un palco, e di tenere incollati alle tastiere tantissime persone per le vicende di gossip che la riguardavano.
Rihanna
Rihanna nel corso della sua pluridecennale carriera costellata di grandi successi ha spesso parlato di come Madonna fosse un suo idolo e la sua maggiore ispirazione.
In un'intervista che la popstar rilasciò per il sito DigitalSpy nel 2011, Riri affermò non solo di voler diventare nella sua carriera una Madonna dalla pelle nera, ma anche di ammirarla soprattutto per i suoi notevoli cambi di immagine e di direzione musicale intrapresi nel corso degli anni e di come era rimasta una vera forza della natura. Parole di grandissima stima professionale per Madonna da parte di Rihanna, stima che, molto spesso, è diventata anche citazione della Regina del Pop in diversi video e brani della popstar barbadiana.
Per cosa Rihanna ha preso ispirazione da Madonna? Un po' sicuramente nelle reinvenzioni del suo stile intercorse tra diverse Ere discografiche, ma poi senz'altro per lo stile di molte canzoni di uno dei suoi album di maggior successo, ossia Good Girl Gone Bad. Questo disco, infatti, ha spesso ricevuto paragoni con la prima Madonna, in modo particolare per il celebre singolo Don't Stop The Music (il cui refrain alla critica e al pubblico ha parecchio ricordato quello di La Isla Bonita, brano di Madonna uscito nel 1987 riconosciuto come precursore del Latin Pop anni '90).
Una piccola chicca per i fan delle due cantanti: ricordate le scene del video di Umbrella in cui si vede Rihanna nuda e coperta da una sorta di vernice argentea? Da quello che sembra ad un occhio attento, la popstar ha pienamente omaggiato Madonna, che ben 14 anni prima (ossia nel 1993) si era cosparsa di vernice argentea nel video della sua Fever, una delle sue tracce più innovative.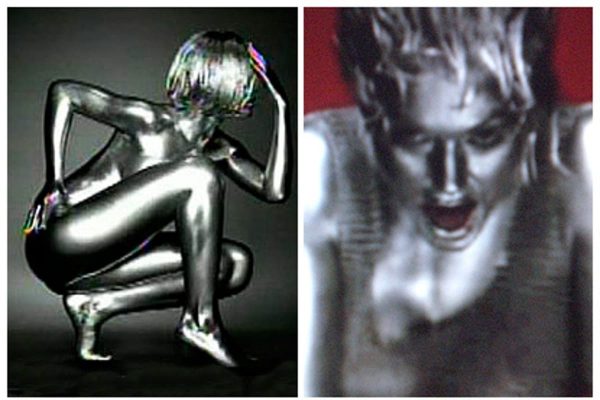 Lady Gaga

La cantante Pop che però ha sempre più smaccatamente fatto capire al pubblico di essere ispirarsi a Madonna è stata Lady Gaga. La popstar newyorkese ha spesso ribadito quanto la grande icona della musica avesse influito su di lei, fin dai tempi di The Fame (nel quale ringraziò proprio Madonna per la grande ispirazione che le aveva dato per comporre il suo primo album).
La Germanotta aveva confermato in un'intervista del febbraio 2011 di essere nel mondo del Pop per rivoluzionare la musica proprio come aveva fatto Madonna 25 anni prima, affermando anche che non ci fosse davvero nessuno al mondo ad essere una fan più accanita e amante di Madonna di lei. La stessa Regina del Pop ha apprezzato, ricambiando lei stessa la grande stima artistica e rivelando di vedersi rispecchiata in lei. La grande ispirazione di Madonna su Lady Gaga ha portato la popstar di Poker Face non soltanto a seguirne le orme con direzioni simili (cambio d'immagine ad ogni nuova Era, testi che lanciano controversie sul sesso e sulla religione), ma spesso anche sulla strada dell'imitazione.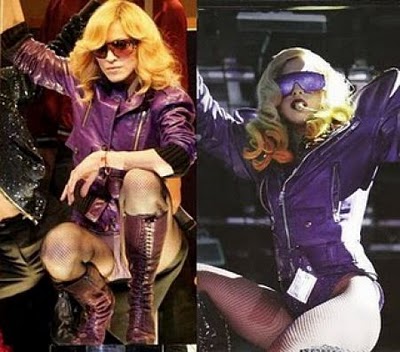 Cosa Lady Gaga avrebbe imitato di Madonna? Parecchi look (uno su tutti il reggiseno con le coppe a forma di cono che si ritrova un po' rivisitato in Alejandro, oppure la coda di cavallo che ricordava il Blond Ambition Tour), alcuni video (tra quelli per cui Gaga viene accusata troviamo ancora Alejandro, che ricorda molto alcune scene di Vogue, Express Yourself e Justify My Love) e anche alcune canzoni: Dance in The Dark e Scheiße contengono alcune lyrics in cui il parlato di Gaga è molto simile a quello di Madonna in Vogue, ed ancora il brano Artpop ha ricordato a molti nella base musicale la sperimentalissima Bedtime Story, traccia che era stata scritta per Madonna dall'eclettica cantante islandese Bjork).
Il caso più eclatante, però, è rimasto sempre quello di Born This Way, che ha trovato critica e pubblico unanimi nel vedere un vero e proprio plagio della hit di Madonna del 1989 Express Yourself (cosa che, tra l'altro, ha segnato per la stessa Gaga un lungo periodo di ostilità rivoltale dal fanbase di Madonna). Lady Gaga è stata accusata di "aver copiato" anche da altri artisti e fanbase.
Miley Cyrus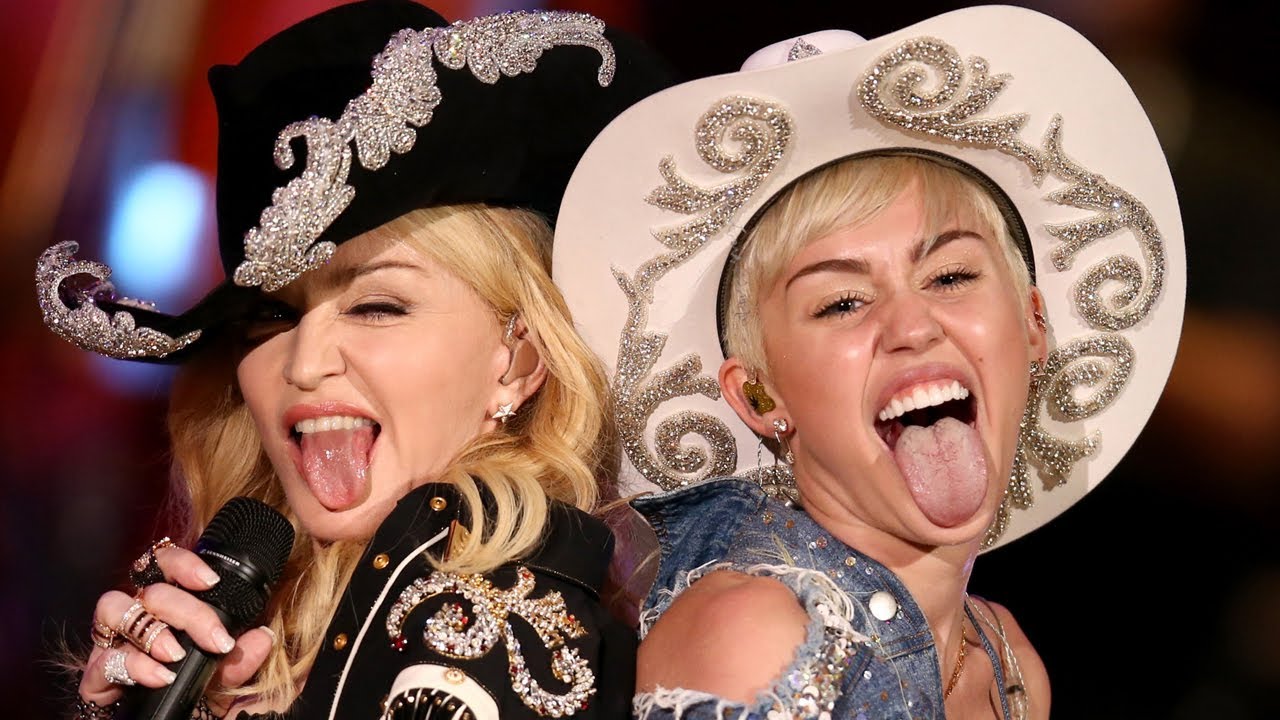 Regina delle controversie come delle critiche negli scorsi anni, l'ex stella della Disney Miley Cyrus non ha mai fatto mistero di essere stata ispirata dall'icona del Pop per eccellenza, nonostante abbia confermato che l'artista che più l'ha influenzata nel corso di tutta la sua carriera è stata Britney Spears.
Già dal 2008, quando la popstar del Tennessee vestiva ancora i panni di Hannah Montana ed era in uscita con il suo secondo album in studio Breakout, Miley aveva affermato in futuro di voler diventare la nuova Madonna, seguendo le sue orme soprattutto nella continua reinvenzione di se stessa in qualsiasi attività avesse intrapreso (cosa che, come abbiamo visto anche con le altre cantanti, sembra proprio ciò che ha ispirato di più come peculiarità della Regina del Pop). Per lei l'ispirazione della grande popstar è a volte andata anche al di là della semplice imitazione.
La critica e il pubblico spesso le ha accostate non per lo stile musicale ( piuttosto diverso, influenzato dal Country e dall'Hip Hop per la Cyrus, mentre più dall'Elettronica e dalla Dance per la Ciccone), quanto più per momenti molto simili delle loro carriere (l'esempio più calzante deriva dalla loro volontà di rivoluzione dei costumi sessuali, affrontata da Madonna attraverso il libro Sex e l'album Erotica, mentre da Miley sviluppata attraverso l'Era Bangerz, con video scandalosi e un tour mondiale censurato in parecchi Paesi), l'affinità nella ricreazione di look e sound sempre nuovi e diversi rispetto al loro passato ma anche per l'enorme peso mediatico e la grandissima aura di influenza e ispirazione per il grande pubblico di fan che le segue.
Come molto spesso è avvenuto nel corso della longeva carriera di Madonna, l'ispirazione è stata ricambiata da un saldo legame di amicizia: Miss Ciccone, infatti, non ha mai negato di ammirare la Cyrus e di stimarla sul piano artistico e umano, tanto da voler duettare con lei in occasione dell'MTV Unplugged di Miley (cantando un medley di Don't Tell Me e We Can't Stop) e da volerla come guest star del video di Bitch I'm Madonna.
Gwen Stefani
Chiudiamo la nostra lista di oggi con una cantante che nel panorama Pop è riuscita ad affermarsi non soltanto come lead singer del suo gruppo, ma anche come solista, incidendo uno degli album più influenti dello scorso decennio, ossia Love. Angel. Music. Baby. Stiamo ovviamente parlando di Gwen Stefani, che ha visto in Madonna uno dei modelli di ispirazione e di vita durante tutta la sua carriera.
La celebre cantante di Hollaback Girl, in merito alle accuse rivoltele sull'aver copiato la regina del Pop (specialmente a ridosso della sua prima Era discografica da solista), si era difesa affermando che lei, come quasi ogni popstar venuta dopo di lei e ogni persona della sua età, aveva subito il suo influsso e il suo impatto nella cultura Pop. La famosa cantante dei No Doubt, infatti, ha spesso seguito le impronte di Miss Ciccone, e, in questo caso, non soltanto dal punto di vista del look, ma anche da quello musicale.
Il primo album da solista di Gwen, il già citato Love. Angel. Music. Baby., è stato paragonato dalla critica ai primissimi lavori di Madonna per il suo sound molto vicino all'Elettronica anni '80 (in modo particolare per la forte ispirazione allo stile di Madonna e Like a Virgin ravvisabile in brani come Luxurious, per molti simile a Material Girl, The Real Thing o Cool, nel cui video la Stefani sfoggiava un look vicino a Marilyn Monroe, stessa icona che Madonna ha più volte omaggiato nel corso della sua carriera). Le influenze madonniane di Gwen spesso sono state riconosciute anche nel lavoro con gli stessi produttori, in modo particolare Dallas Austin e Nellee Hooper (due collaboratori di Madonna durante l'Era Bedtime Stories che crearono proprio l'inconfondibile stile di L.A.M.B.).
La cantante di Rich Girl, inoltre, non ha dimenticato una delle sue più grandi ispirazioni di sempre neppure nel suo secondo album da solista The Sweet Escape, soprattutto in track come Fluorescent e nel singolo 4 in The Morning, singolo paragonato alla celebre ballad Crazy for You del 1985.
Queste sono state le nostre scelte in merito alle cantanti più ispirate da Madonna, anche se la lista davvero potrebbe essere infinita e destinata ad allungarsi in futuro, visto l'enorme impatto che la celebre cantante ha avuto negli anni sul mondo della musica, sulla società e sulla cultura popolare.
Secondo voi, chi può avere il merito di entrare a far parte di questa rosa di nomi? Fatecelo sapere nei commenti!