Calum Scott & Leona Lewis live con "You Are The Reason" a GMA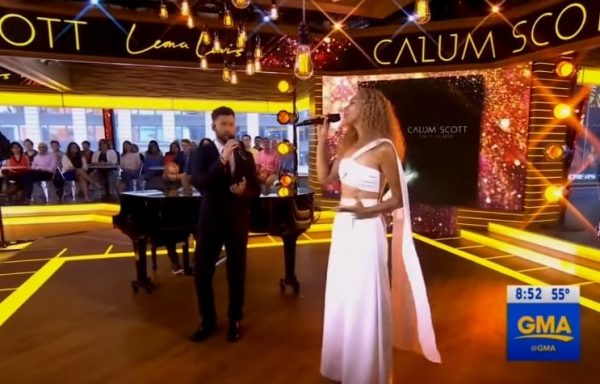 Nonostante siano passati mesi dalla pubblicazione del loro duetto, Calum Scott e Leona Lewis sono volati a New York per promuoverlo sul palco di Good Morning America, celebre show mattutino.
Perfetti ed intensi come sempre, i due cantanti hanno conquistato i telespettatori a tal punto che poco dopo l'esibizione You Are The Reason ha scalato la classifica iTunes, sfiorando addirittura la top10 (ora è alla #21).
Una piccola e meritata soddisfazione per i due britannici, che insieme formano davvero un mix vocale da brividi:
---

Calum Scott e Leona Lewis insieme in studio di registrazione, ecco il video di You Are The Reason (Duet Version):
---
Calum Scott, reso celebre dalla partecipazione a Britain's Got Talent nel 2015, ci regala un duetto meraviglioso.
Lo scambio di messaggi social intercorso tra Calum Scott e Leona Lewis in questi giorni lasciava pochi dubbi, il loro duetto era in arrivo. Ecco infatti la romantica ballad You Are The Reason (Duet Version). 
Calum Scott ha scelto di riproporre il suo singolo aggiungendo il tocco magico di Leona Lewis, per un risultato ancor più emozionante del già meraviglioso originale, del quale il cantante disse qualche mese fa:
"Ho scritto questa canzone per ringraziare quelle persone che rendono migliore la nostra vita, semplicemente perché ne fanno parte"
A seguire l'audio ufficiale:
Che dire, ultimamente tra gli artisti vanno tanto di moda le "duet version", Ed Sheeran docet…e se questi sono i risultati non potremmo esserne più felici!
---
Testo
[Verse 1]
There goes my heart beating
Cause you are the reason
I'm losing my sleep
Please come back now
[Verse 2]
There goes my mind racing
And you are the reason
That I'm still breathing
I'm hopeless now
[Chorus: Calum Scott, Leona Lewis & Both]
I'd climb every mountain
And swim every ocean
Just to be with you
And fix what I've broken
Oh, cause I need you to see
That you are the reason
[Verse 3]
There goes my hands shaking
And you are the reason
My heart keeps bleeding
I need you now
[Verse 4: Calum Scott and Leona Lewis & Both]
If I could turn back the clock
I'd make sure the light defeated the dark
I'd spend every hour, of every day oh
Keeping you safe oh
[Chorus: Calum Scott, Leona Lewis & Both]
I'd climb every mountain
And swim every ocean
Just to be with you
And fix what I've broken
Oh, cause I need you to see
That you are the reason
You are the reason
[Outro]
I'd climb every mountain
And swim every ocean
Just to be with you
And fix what I've broken
Cause I need you to see
That you are the reason