Carly Rae Jepsen – E•MO•TION | Recensione CD
Carly Rae Jepsen è una cantautrice canadese arrivata al successo mondiale grazie al tormentone del 2012 'Call Me Maybe', singolo che ha superato l'incredibile cifra di 12 milioni 500 mila copie vendute, collezionando ad oggi oltre 766 milioni di visualizzazioni su YouTube e diverse certificazioni nei mercati musicali più importanti: disco d'oro in Francia e Spagna, disco di platino in Australia, Canada, Germania, Italia, Inghilterra e Stati Uniti, nonché 2 MTV Europe Music Awards vinti nelle categorie Best MTV Push Act e Best Song. Dopo questo enorme exploit, Carly non è più riuscita a replicare tali successi e si è vista affibbiare il temutissimo titolo di "one hit wonder".
Le cose sono leggermente cambiate lo scorso Agosto 2015, mese in cui viene pubblicato il suo terzo studio album 'E•MO•TION', dal quale finora sono stati estratti i singoli 'I Really Like You', 'Run Away With Me' e 'Your Type'. Nonostante non abbia ancora raggiunto numeri di vendita tali da permetterle di affermarsi definitivamente come artista di livello mondiale, questo disco s'è fatto ben notare negli Stati Uniti, in Canada, in Inghilterra, ma sopratutto in Giappone, mercato dove ha incontrato il suo maggior successo. L'aspetto più importante di quest'era è stata però l'accoglienza ricevuta da parte delle riviste del settore, che per la prima volta hanno dedicato a Carly delle ottime recensioni, definendo E•MO•TION "uno dei migliori dischi pop del 2015".
Da parte nostra, la recensione di quest'album arriva a mesi di distanza dalla sua pubblicazione non a caso… nelle ultime settimane, infatti, s'è parlato molto di questo LP in giro per il web, inserito dai suoi fan e da alcuni critici tra i grandi esclusi dalle nomination dei Grammy Awards 2016 e anche noi siamo del parere che meritasse di essere nominato almeno nella categoria Best Pop Album.
Il concept di 'E•MO•TION' sono gli anni '80: ascoltandolo infatti risalta chiaramente l'intenzione dell'artista di creare un album che fosse interamente ispirato al pop di quegl'anni, intenzione più che riuscita, visto che quel tipo di sound lo ritroviamo in tutti i brani che lo compongono, rappresentando quindi il filo conduttore del progetto, che risulta omogeneo, ben studiato e prodotto e con un'identità precisa e definita.
Ma andiamo nel dettaglio ed analizziamo tutte le tracce.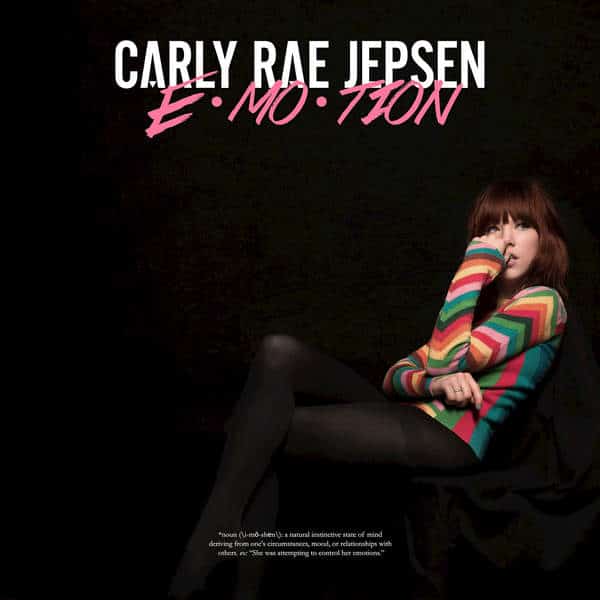 1. Run Away With Me
Carly ci dá il benvenuto nel migliore dei modi con 'Run Away With Me', il secondo singolo ad essere estratto dall'album. Sublime produzione pop, caratterizzata dalla melodia di una tromba e da un'incalzante ritmo che coinvolge e conquista l'ascoltatore, questa canzone è una bellissima dichiarazione d'amore, che tutti vorremo ci dedicassero, in cui l'artista canta al suo partner una delle frasi più romantiche che si possano dire: "Scappa via con me".
Per tutta la durata del pezzo c'è un mood positivo, ma allo stesso tempo malinconico, in cui la voce di Carly dá l'impressione di non avere certezza di quale sarà la risposta del suo uomo e che questa lettera a cuore aperto sia un tentativo per promettergli amore eterno e conquistarlo così per sempre. E' per questo che la traccia ci carica di una fanciullesca e genuina voglia di amare, di vivere i nostri sentimenti senza pensare a quelle che potrebbero essere le eventuali conseguenze.
Oltre ad essere tra le migliori tracce del disco, lo consideriamo uno dei migliori singoli pubblicati quest'anno, una perla rara del 2015.
2. Emotion
Se andassimo ad ascoltare i dischi dei nostri fratelli e delle nostre sorelle, cresciuti negli anni '80, troveremmo pezzi come questo. 'Emotion', traccia che dá il titolo all'album, ci riporta indietro a quegl'anni: la base, lo stile, la tematica ed il modo in cui viene affrontata e perfino l'utilizzo della voce sono tipici di quel decennio iconico ed il tutto coincide alla perfezione con l'intenzione che Carly aveva per questo progetto, non poteva esserci quindi title-track più azzeccata.
In questo brano l'atmosfera si fa più sexy, matura, consapevole e Carly chiede al suo amante di "pensare a lei nelle sue fantasie"… Tornano alla mente vecchi pezzi di alcune Icone del pop che hanno scritto la storia di quel periodo, una su tutte Kylie Minogue.
Lo stile della produzione va a braccetto con il testo e con l'interpretazione: Carly si concentra sull'importanza dell'emozione e nel contempo canta in un modo spensierato, lasciando trasparire la totale assenza di preoccupazioni nella sua mente, una leggerezza che le permette di elevarsi ad un sommo livello di benessere fisico e mentale. Ed è questo l'effetto che il brano ottiene anche sull'ascoltatore, rapito completamente da questo connubio di elementi.
3. I Really Like You
Frizzante, leggero, spensierato, 'I Really Like You' è stato il primo singolo estratto da quest'album. Criticato per lo stile effettivamente troppo infantile, che ricorda il suo vecchio ed unico grande successo 'Call Me Maybe', abbiamo trovato comunque azzeccata la scelta di Carly di optare per questo come singolo di ritorno, era lo "specchietto per le allodole" che le serviva per richiamare l'attenzione su di se, per dire al pubblico "Sono quella di Call Me Maybe e sono tornata" e difatti ci è riuscita.
Buon successo in diversi mercati importanti (anche in Italia), grazie a questo pezzo si è tornati a parlare, nel bene e nel male, di lei. Anche qui abbiamo un sound tipicamente anni '80 (che quindi si amalgama bene al resto dell'album, nonostante sia nettamente inferiore a livello qualitativo), catchy e dal ritornello ripetitivo e martellante, studiato per essere passato dalle radio. Pensiamo sia da prendere per quello che è, un divertente pezzo pop senza grandi pretese. Risulta comunque un grandissimo passo in avanti rispetto al passato dal punto di vista vocale: già in studio i miglioramenti di Carly si sentono eccome.
L'ascoltatore capisce di trovarsi davanti ad una canzone pop come tante e desidera semplicemente che questa traccia lo faccia divertire e lo liberi dai pensieri negativi, effetto che viene raggiunto sicuramente, per quanto non si tratti di nulla di diverso o di migliore di tante hit recenti. Il brano è dunque una creazione fatta apposta per essere singolo: commerciale e d'impatto, ma non certo un capolavoro. A noi, di sicuro, UNA traccia del genere non dispiace, anzi.
4. Gimmie Love
Dopo la parentesi scanzonata di 'I Really Like You', con 'Gimmie Love' si torna a fare sul serio e lo si fa in grande stile. Squisita produzione pop con influenze dance, questa è una delle migliori tracce dell'album, che se venisse estratta come singolo potrebbe fare una gran bella figura nelle classifiche, sopratutto europee. La base è semplice, ma attraente, contagiosa e riesce perfettamente a donare all'ascoltatore la voglia di ballare, nonostante possegga anche un piglio abbastanza introspettivo.
Ma l'elemento che colpisce di più è il cantato: Carly utilizza la voce in maniera delicata e molto sensuale, dando al pezzo un'atmosfera irresistibilmente sexy, senza risultare mai volgare. Un crescendo di sensazioni infettive sono provocate da un'aura quasi mistica adottata dall'artista, che in questa canzone sospira ad un ipotetico amante di "darle amore", presumiamo anche nel senso carnale del termine, visto il mood ed alcuni dettagli del testo.
In tutto ciò, interpretazione, testo e produzione collaborano in un mix esplosivo che non potrà lasciarvi indifferenti. Se era un'evoluzione più lussureggiante ciò che volevate da Carly, direi proprio che l'artista è riuscita ad accontentarvi…
5. All That
Elegante, raffinata e sicuramente non per tutti, 'All That' è la traccia più sperimentale di quest'album. Pezzo con marcate influenze soul, esso ha bisogno di più ascolti per essere compreso, ma sopratutto di un orecchio allenato, che può quindi apprezzare il sound che si rifá alla black music degli anni '70/'80.
Con questo brano Carly ci mostra le sue notevoli doti di produttrice, spaziando con successo in un campo musicale forse troppo adulto e strutturato e quindi difficile da riproporre, senza rischiare di commettere errori. L'esperimento risulta più che riuscito ed è la prova della grande cultura musicale di questa giovane cantautrice. Slow jam di sopraffina fattura, sembra suonare da un vecchio vinile.
Anche qui, a stupirci è soprattutto l'interpretazione dell'artista, la quale riesce ad apparire matura ed incredibilmente sensuale conservando un'irresistibile aura di raffinatezza. Carly sembra sedurci in questo suo piccolo capolavoro e per farlo non ha neanche bisogno di essere maliziosa: a lei basta infatti ammiccare leggermente e sfruttare gli aspetti giusti della sua voce: il resto, su una produzione così ben fatta e deliziosamente retrò, vien da sé. A livello testuale, l'argomento è simile a quello del brano precedente.
6. Boy Problems
Seppur ben prodotta, 'Boy Problems' è il primo "momento down" dell'album. L'idea generale era buona, ma poteva essere sviluppata meglio. Il pezzo così com'è risulta alquanto anonimo, insipido e viene completamente oscurato dal resto del disco.
Bella la base, ma il cantato è troppo piatto per tutta la durata del brano, non "esplode" in nessun momento e non coinvolge particolarmente l'ascoltatore, annoiandolo. Carly appare svogliata e spenta in questa canzone ed a pesare sono anche le piccole modifiche apportate sulla sua voce, che perdendo la naturalezza che contraddistingue il resto del disco risulta completamente inadatta a far parte di questo progetto.
L'impressione data all'ascoltatore è quella di un tentativo fallito di ricreare "I Really Like You". Ebbene, è QUESTA l'esatta definizione di canzonetta pop senza arte né parte e sinceramente ne avremmo fatto volentieri a meno in questo disco. Non c'è nulla di rilevante nemmeno nel testo, ispida ricostruzione di un banale litigio tra fidanzati. L'unico elemento che salviamo in questa traccia così adolescenziale è la chiusura a dissolvenza, fattore che fa percepire ancora una volta l'ispirazione 80's di Carly.
7. Making the Most of the Night
Scritta e prodotta da Sia ed in seguito riarrangiata da Carly, 'Making the Most of the Night' è LA miglior traccia dell'album. E' un esempio di canzone pop perfetta: la base è prepotente, incalzante ed infettiva, prodotta in maniera magistrale e la melodia è un'energica esplosione che spicca fin dal primo ascolto, convincendo e conquistando completamente.
Il sound è davvero particolare ed incalzante, uno di quelli che coinvolgono l'ascoltatore dal profondo, lo strattonano e lo obbligano a ballare negli attimi più concitati, mentre lo posseggono con fare quasi onirico non appena l'atmosfera sembra farsi un po' più calma. La firma di Sia, da sempre sinonimo di garanzia in fatto di produzioni di alta qualità, si sente, ma si fa notare anche il contributo di Carly, che ha modificato il pezzo adattandolo al sound anni '80 dell'album, facendo un ottimo lavoro.
Il testo va anche questa volta a braccetto con l'interpretazione: il cantato è energico, prorompente, mentre il testo vuole infondere sicurezza e si trasforma in un inno motivazionale, con cui Carly rassicura l'ascoltatore con il piglio deciso del classico soggetto caratterialmente forte, che vorrebbe trasferire nell'altro un po' del suo carisma. Questo è stato per noi uno dei migliori brani proposti nel 2015 e ci aspettiamo che venga estratto come singolo, perchè sarebbe davvero un enorme, imperdonabile peccato se ciò non avvenisse. Davvero notevole e di grandissimo spessore, questa canzone potrebbe rappresentare una svolta nella carriera di Carly.
8. Your Type
Dopo 'Making the Most of the Night' continuano i "pezzi da 90" di quest'album. 'Your Type' è il terzo ed ultimo singolo estratto finora, anch'esso caratterizzato da una radiofonica base pop anni '80, ma che ha come punto di forza il testo. La canzone parla di una situazione in cui tutti, prima o poi, ci siamo trovati e nella quale tutti ci rivediamo: Carly racconta di essere innamorata di un ragazzo che non ricambia con la stessa intensità il suo interesse.
Non sono il tipo di ragazza per te e non pretenderò di essere quel tipo di ragazza che tu definiresti più di un'amica
recita il testo, una triste dichiarazione in cui Carly "sventola bandiera bianca", arrendendosi di fronte ad un amore impossibile. Il sound collabora nel raggiungere l'obbiettivo previsto dal testo, creando un'atmosfera a tratti incalzante e a tratti malinconica: questo è il risultato del particolare modo in cui i synth tipici degli anni '80 vengono sfruttati in questa occasione, ma anche di un cantato dolce, delicato e fortemente incentrato sul comunicare quelli che sono i sentimenti dell'artista, che vuole dimostrare sia a se stessa che all'ascoltatore di aver capito di non poter fare nulla per risolvere la situazione. Carly accosta carattere e delusione in questa traccia ed il risultato è fenomenale.
Molto bello anche il video, in cui l'artista interpreta una Cenerentola moderna, un'emergente che ha come unica possibilità di esibirsi quella offertale da un locale alquanto squallido, mezzo vuoto, che non rende giustizia alla sua sensibilità ed alla sua emotività, ma appena inizia a cantare una magia avviene (nella sua immaginazione): quel luogo, così ostile e lontano dalla sua personalità, si trasforma in una discoteca piena di persone che ballano e condividono i suoi sentimenti, facendola sentire una star. Magia che, come accade a Cenerentola allo scoccare della mezzanotte, svanisce una volta finita l'esibizione.
9. Let's Get Lost
Secondo "momento down" dell'album, 'Let's Get Lost' è una canzone pop che si lascia ascoltare, ma niente di più, fatta eccezione per delle belle incursioni nella base di un sax, che le conferiscono un'atmosfera jazz, morbida, ovattata, motivo per il quale la preferiamo a 'Boy Problems', primo "momento down" del disco che abbiamo incontrato qualche traccia fa.
Anche in questo caso l'idea era buona, ma doveva essere sviluppata meglio ed anche questa volta subentra un po' di noia, dovuta dalla struttura piatta della melodia, che manca di coraggio, "non sale" e quindi non coinvolge. Anche qua il problema è lo stesso rispetto al precedente momento di down: un cantato poco sentito, poco coinvolgente e che lascia dunque che la produzione prenda un sopravvento eccessivo sulla voce, senza che quest'ultima riesca a far arrivare bene il testo (incentrato sulle emozioni di una persona che trova il vero amore, dopo che per tempo non ha creduto che ciò fosse possibile) al cuore dell'ascoltatore.
La situazione migliora però notevolmente solo nel bridge, parte in cui l'artista riesce ad utilizzare al meglio il suo strumento e le sue doti interpretative, lasciando percepire all'ascoltatore la sensazione di sorpresa e stupore che il testo vorrebbe comunicare. In definitiva, non ci sentiamo di bocciare completamente la traccia, come nel caso del "momento down" precedente, in quanto qui la produzione risulta comunque ottima ed incisiva ed alla fin fine è presente almeno in un attimo, in cui la voce di Carly riesce ad interpretare al meglio quanto cantato.
10. LA Hallucinations
Questa 'LA Hallucinations' è la traccia più "fuori dal coro" dell'album (e dal titolo lo si poteva intuire). E' quella che si discosta maggiormente dal resto del disco, pur mantenendo un sound che sa di datato, è una produzione con forti influenze electro-dance, che ricordano quelle di artisti unici in questo genere come Robyn e La Roux, dalle quali è molto probabile che si sia ispirata per questo brano. Il ritmo è trascinante, particolare ed infettivo, e collabora con dei riuscitissimi cori per catturare completamente l'attenzione dell'ascoltatore.
Anche a livello interpretativo, in questa traccia troviamo una Carly diversa rispetto ai brani precedenti: in questa traccia percepiamo infatti carattere e determinazione, in misura maggiore rispetto perfino alle tracce migliori del disco. Anche il timbro di Carly qui ci appare diverso, più sporco e meno limpido, quasi come a volerci comunicare che l'artista che incontriamo in questa tracia è molto diversa rispetto a quella che domina nel resto del disco.
Carly vuole apparire come una "finta femme fatale", come una parodia del personaggio della ragazza consumista e materialista, della persona montata che mette da parte i sentimenti, in favore del denaro e della bella vita. Dall'interpretazione capiamo chiaramente che quanto descritto dall'artista è anche a sua avviso un atteggiamento sbagliato ed è ciò a far sembrare la canzone una sorta di parodia. Per quanto diversa dal resto, questa traccia non risulta dissonante, anzi.
11. Warm Blood
Ipnotica, suggestiva ed estremamente affascinante, 'Warm Blood' è una pietra preziosa di quest'album. Particolare produzione alternative-pop con prepotenti influenze elettroniche, questo pezzo è caratterizzato da synth aggressivi e ripetitivi, che risaltano su una base minimal ma di ottima fattura. Si tratta di un'atmosfera onirica e suggestiva come poche, che riesce a conquistarci grazie ad un crescendo del beat che va in controtendenza con l'utilizzo limpido della voce da parte della cantante e con il testo, il quale parla di una persona che dopo aver raccontato tante bugie decide di rivelarsi per quella che è davvero.
Singolare il modo in cui Carly utilizza la voce: calda, avvolgente, sussurrata, ma a tratti sofferente, sembra a volte un lamento. Qui apprezziamo perfino le modifiche apportate attraverso autotune, le quali sono funzionali a raggiungere le emozioni che Carly vuole generare con questa traccia. Quando l'autotune è utilizzato in maniera intelligente, si rivela semplicemente uno strumento capace di impreziosire la canzone e questo è sicuramente quel caso.
Abbiamo apprezzato moltissimo l'atmosfera lugubre, dark e misteriosa di questo pezzo, che consideriamo sia il suo punto di forza. Un'altra traccia sperimentale davvero ben riuscita, un'altra sorpresa che non ci aspettavamo di trovare in un suo disco.
12. When I Needed You
L'album si conclude con il terzo ed ultimo "momento down", l'unica traccia che ci sentiamo di bocciare completamente. In realtà la traccia non è neanche così malvagia nelle strofe, che anzi colpiscono come il resto dei brani inclusi nel disco, tuttavia nel ritornello di 'When I Needed You' torna quella melodia infantile tipica del precedente album di Carly che, in questo caso, è davvero troppo da sopportare, che rovina tutto e rende il pezzo fastidioso ed irritante.
Interpretata con fare eccessivamente adolescenziale e con un testo ancora più teen nel suo modo di analizzare una storia d'amore finita, il brano risulta eccessivamente bambinesco nel contesto in cui è stato inserito. Insopportabili gli "youuuu" che seguono ad ogni ritornello e neanche un bridge abbastanza carino riesce a farci riprendere dalla pessima fattura dei ritornelli: qua perfino i synth anni '80 risultano così stucchevoli da sembrare creati per un pubblico di undicenni ed il tutto si rivela di una qualità davvero infima rispetto alle tracce precedenti.
Nell'edizione International Deluxe di 'E•MO•TION' si trovano anche le tracce 'Black Heart', 'I Didn't Just Come Here to Dance', 'Favourite Color', 'Never Get to Hold You' e 'Love Again'. Bocciamo la prima e la terza e segnaliamo invece le altre 3, che a nostro avviso avrebbero potuto far parte della tracklist della standard edition dell'album, al posto dei tre "momenti down" incontrati sopra. In questo caso il disco sarebbe stato perfetto.
In definitiva, a noi 'E•MO•TION' pare un progetto ben coeso, ben interpretato e molto ben strutturato. Un grandioso salto di qualità rispetto al disco precedente, sia per la scelta di assumere uno stile ben preciso e di analizzarlo da ogni possibile sfaccettatura, che per le qualità interpretative che sono state messe in mostra dall'artista, un tempo abbastanza limitata da questo punto di vista, ma che grazie ad anni di studio può finalmente esprimere tutte le sue potenzialità.
Un difetto del disco è invece la presenza di alcune tracce decisamente infantili, pezzi che proprio sembrano dei pesci fuor d'acqua nonostante il sound rimandi comunque agli anni '80 e che ci ricordano troppo il disco precedente, riuscendo dunque ad evocare uno spettro negativo nel pieno di un contesto di ottima qualità, che negli altri momenti sembra invece riuscire a sotterrarlo del tutto. Noi non consideriamo 'I Really Like You' una di queste tracce (si tratta semmai di una fermata intermedia, necessaria affinché Carly potesse introdurre questo nuovo aspetto di sé), ma incriminiamo soltanto le 3 tracce che vi abbiamo segnalato nella recensione: quale più quale meno, si tratta comunque di imperfezioni che guastano il prodotto finale.
Sulla base di tutto ciò, tenendo conto dei pro e dei contro, abbiamo deciso di assegnare all'album la seguente valutazione: