Cherish – The Truth (Recensione CD)
Le Cherish sono 4 sorelle di Altlanta che hanno debuttato alcuni anni fa con un CD intitolato "Unappreciated" (leggete qua la vecchia recensione) che raggiunse lo status Gold negli Stati Uniti. Sono conosciute negli USA per la Hit "Do It To It" e per lo slow Jam "Unappreciated" entrambi estratti dal primo disco.
Del loro primo disco io mi innamorai subito, sono giovani e fresche ed hanno delle voci molto belle, ci sono dei pezzi che ancora oggi ascolto molto volentieri, e posso senza dubbio dire che ho un debole per loro come girlgroup, le prediligo alle Danity Kane (troppo Pop per il mio palato), e ad altre neo-band femminili.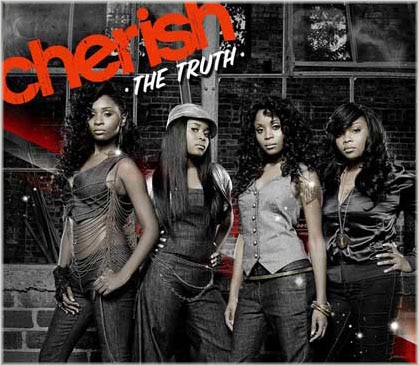 Il nuovo album si chiama "The Truth" e appena l'ho ascoltato sono rimasto perplesso, mi aspettavo di più e subito ho avuto l'idea si trattasse di un regresso dal loro primo CD, ma poi, man mano che l'ho ascoltato e riascoltato, posso senza dubbio dire che si tratta di un'ottimo CD R&B, e mi auguro possa fruttare alle ragazze un'altro successo.
Il disco apre i battenti con "Killa" una uptempo di quelle da club, forse poco longeva, infatti prende ai primi ascolti ma annoia molto facilmente, la canzone è stata inclusa anche nella colonna sonora di Step Up 2, e pertanto per vie traverse è anche arrivata in Italia (se aspettiamo Radio, Canali TV, e Discoteche possiamo anche crepare qua…). Il pezzo doveva esplodere nelle Chart americane, ma è stata una hit da metà classifica purtroppo.
"I Ain't Trippin" è un'altra canzone bella up, ed è sicuramente la migliore di questo genere nel disco, è veramente contagiosa, e non si riesce più a smettere di ascoltarla, fresca ed estiva spero verrà scelta come terzo singolo del CD, merita veramente!
Terza traccia del CD è "Amnesia" che l'attuale secondo singolo, il video è stato girato da Benny Boom, il pezzo come gran parte dei loro pezzi è stato scritto da loro, giusto per farvi capire quanto siano valide queste ragazze… è una ballata, anche un po' malinconica, ed è assolutamente un grower, certo dovete essere estimatori di R&B al 100% per apprezzarla!
"Notice" scende un po' di livello, non è male ma non penso verrà scelta come singolo, anche qua si parla di una mid-slow tempo, ma piuttosto anonima.
"Framed Out" è il club banger del disco, beat graffiante e ottimi effetti, vale un po' il discorso di "Killa" piace molto all'inizio, ma non penso possa essere molto longeva. Ad ogni modo nel CD ci sta, e anche in un club la passerei di continuo…!
"Before You Where My Man" è un'altra canzone midtempo, beat un po' infantile, ma non dimentichiamoci che non sono grandi ste ragazzine (1984, 1986, 1988), il pezzo però ci sta bene nel disco.
"Superstar" questa è assolutamente una grower, quando l'ho ascoltata le prime volte la switchavo subito, poi l'ho ascoltata un paio di volte per poterne fare la recensione, ed ora non ne posso fare a meno, si tratta di una canzone che parla di essere una "superstar" per il proprio uomo, anch'essa scritta da loro, semplice, molto genuina, e sicuramente ottima canzone d'amore! Mi piace mi piace! Bel voto per questa song.
"Only One" altro pezzo un po' insignificante, la canzone mi ricorda qualcosa di E=MC2, ma non saprei dire cosa.. forse il beat, boh, ad ogni modo parla di fiducia di coppia!
"Love Sick", beat molto raffinato, mi piace, moderna, midtempo anche questa.
"Damages", la canzone inzia con la voce di un Gremlins che dice dei versi a muzzo… è molto strana come song, mal digerita, non centra nulla con lo stile delle Cherish.. boh.. forse avrei preferito "Shoe Fanatic" al posto di sta roba…
"Like A Drum" ecco una delle regine incontrastate di questo album, forse la canzone più bella in assoluto che io abbia sentito delle Cherish, è forte coinvolgente, giocano da dio, perfette, con le voci a coro, eccellente il beat, si tratta di una midtempo un po' slow, fenomenale, spero la casa discografica sia abbastanza intelligente da non lasciare una tale canzone nel CD, e di realizzarla come singolo! Semplicemente stupenda! Qua mostrano veramente gran parte del loro potenziale…
Trovo che tutt'ora questo girlgroup sia troppo sottovalutato, io le adoro, e sono felice di trasmetterle in Italia! Spero che il Disco verrà rilasciato anche da noi, perchè io lo comprerò sicuramente, vale la pena, sostenere queste nuove artiste, quelle che meritano veramente.
Dunque nel completto un CD completo e di ottimo livello, è puro R&B, con una tinta fresca e giovanile, chiaramente studiato per un pubblico di Teens! Ma veramente da coltivare ste ragazze. Di certo non rappresenta un upgrade ad uno status maggiore, ma speriamo trovino un manager presto che le valorizzi le differenzi, e le faccia diventare delle nuove "scusate se oso" Destiny's Child. Hanno tutte le carte in regola!
R&B Junk rating:
[ratings]
Ecco la tracklist del CD:
1.Killa (Feat. Yung Joc)
2.I Ain't Trippin'
3.Amnesia
4.Notice
5.Framed Out
6.Before Your Were My Man
7.Superstar
8.Only One
9.Love Sick
10.Damages
11Like A Drum