Chris Brown – F.A.M.E. (Recensione CD)
F.A.M.E. è il quarto studio album di Chris Brown. Il cantante ha alle spalle due album, i primi due, di grande successo, entrambi certificati doppio platino in USA. E un terzo album, Graffiti, che ha venduto pochissimo (319 mila copie in USA), probabilmente a causa delle vicende personali che hanno coinvolto il cantante.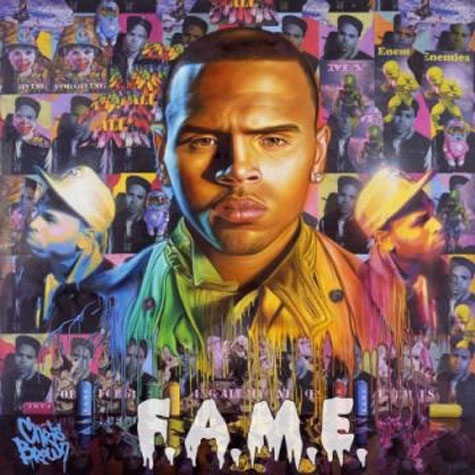 Con questo nuovo progetto Chris Brown cerca di voltare pagina e di rilanciare la sua carriera musicale alla vecchia gloria.

Partiamo dalla scelta del titolo F.A.M.E. "Fame" significa fama in inglese, ma la parola è anche l'acronimo di Forgiving All My Enemies e Fans Are My Everything. Il primo significato ("perdonando tutti i miei nemici") testimonia la volontà da parte di Chris di gettarsi tutto alle spalle e di mostrare la sua maturità. A chi si riferisce Chris Brown? A tutti quelli che hanno boicottato la sua musica a causa delle sue vicende personali (stazioni radio, critici, media). La seconda interpretazione invece testimonia la riconoscenza che il cantante virginiano nutre nei confronti dei suoi fans, ben consapevole di aver ottenuto questa seconda chance proprio grazie alle persone che in tutti questi mesi non lo hanno mai abbandonato.
Passiamo ora all'analisi dell'album da un punto di vista musicale. Per niente omogeneo e monotono, F.A.M.E. si presenta come un raggruppamento di canzoni che non hanno quasi niente in comune tra di loro, esclusi i messaggi contenuti nelle liriche. Per quanto riguarda lo stile, l'album contiene un po' di tutto: pop, pop dance, pop'n'b, R&B, urban street syle, tinte rock in certi punti. Già in Graffiti, che però aveva un'organizzazione decisamente più unitaria, Chris Brown si era proposto di sperimentare nuovi generi musicali, ma è con F.A.M.E. che questa scelta si concretizza pienamente. La maggior parte delle liriche sono state composte dallo stesso Chris Brown, che si dimostra ancora una volta un ottimo songwriter.
Veniamo ora alle canzoni:
1 – Deuces
Originariamente contenuta nel mixtape "Fan Of A Fan", è una midtempo Urban rappata/cantata in collaborazione con Tyga e Kevin McCall e prodotta da quest'ultimo. Segna il ritorno di Chris nei piani alti delle classifiche USA, il pezzo ha riscosso moltissimi consensi ed ha ottenuto una nomination ai Grammy. E' una vera e propria perla nella discografia di CB! Liriche aggressive, il brano sorprende perchè per la prima volta Chris sembra non voler chiedere scusa ma al contrario rivendica la sua dignità, il suo diritto di andare avanti e di trovare la felicità.
2 – Up 2 You
Prodotta dagli Underdogs, la seconda traccia dell'album è una ballata R&B, un classico di Chris Brown, potrebbe tranquillamente essere un brano di Exclusive, il suo secondo studio album. La canzone è orecchiabile, mi ha colpito fin dal primo ascolto per la sua dolcezza, e come ho detto prima sembra quasi di tornare indietro nel tempo.. F.A.M.E. è un mix di generi musicali, ma per quanto mi riguarda su questo tipo di brani Chris ha una marcia in più!
3 – No Bullshit
Prodotta dai Tha Bizness, sexy slowjam che come Deuces era già presente in due dei precedenti mixtape pubblicati lo scorso anno (In My Zone;Fan Of A Fan), ma grazie al successo ottenuto è stata inserita nella tracklist dell'album. Intro al piano e atmosfere soffuse, liriche esplicite, forse anche troppo..il tutto condito da un videoclip bollente! Il brano è assolutamente promosso. Sicuramente di grande impatto per il suo pubblico femminile.
4 – Look At Me Now
Prodotta da Diplo, AfroJack ed i Free School, è il secondo singolo estratto da F.A.M.E., ed è il primo pezzo contenuto in un album dove Chris reppa. Dopo il primo estratto dance-oriented Chris torna alle origini con questa supervincente uptempo Urban, che vanta la collaborazione di due dei nomi più importanti della scena Hip-Hop: Busta Rhymes & Lil Wayne. Sicuramente questa traccia è la più originale contenuta in questo album che, a dirla tutta, non è lodevole di originalità. Beat essenziale e ripetuto, il pezzo si riduce ad un loop di 4 battute, incisivo ma allo stesso tempo estremamente semplice, sound molto ricercato con influenze asiatiche nel beat, la voce suadente di Chris e il rap velocissimo di Busta e Wayne rendono queso pezzo qualcosa di unico nel suo genere. Lodevole il tentativo di ritornare al vero hip hop, dato che ormai ci troviamo in un periodo in cui i rapper sono costretti pur di vendere a servirsi delle basi di David Guetta.
5 – She Ain't You
Nuovo brano prodotto dai Free School, in questa traccia è stato utilizzato un campionamento di "Human Nature", uno dei brani più belli di Michael Jackson tratto dall'album Thriller del 1982. Chris Brown ha da sempre considerato Michael Jackson la sua massima fonte di ispirazione. Tuttavia il brano in alcuni punti si riduce quasi ad una cover, peraltro a nessuno conviene tentare di paragonarsi vocalmente a Michael Jackson. Ci aspettiamo sicuramente molta più originalità da parte di Chris.
6 – Say It With Me
Prodotta da Harmony, la strofa ricorda molto le produzioni timbalandiane nel beat, mentre il ritornello ha un qualcosa che riporta alla mente le sonorità della dance anni 70 (specialmente quel "Say It With Me" ripetuto più volte), per quanto mi riguarda uso fuori luogo ed eccessivo dell'autotune che rovina la voce di Chris, riducendola ad una sorta di "verso" in alcuni punti del brano.
7 – Yeah 3x
è il singolo che ha dato il via a questa F.A.M.E. era, si tratta di una potente uptempo Pop-Dance che è diventata in breve tempo una hit mondiale. Yeah 3x è un inno al divertimento, che segue la moda euro dance del momento. Sebbene Chris sia stato uno dei primi ad aprire la strada verso la via della pop dance con la sua Forever, adesso arriva decisamente in ritardo. Inoltre DJ Frank E, che ha prodotto il brano, di certo non brilla per la sua originalità. Tuttavia questo è un pezzo che funziona nelle vendite, e questo è assolutamente da non sottovalutare.
8 – Next 2 You
Veniamo al tanto atteso duetto con Justin Bieber, prodotto dai The Messengers! Ecco più che Chris Brown feat. Justin Bieber sembra Justin Bieber feat. Chris Brown XD Oggettivamente il brano appartiene al repertorio e allo stile di JB, e si sente..risulta più un tentativo di sfruttare la popolarità di Bieber che un vero e proprio esperimento artistico. Ci saremmo aspettati una canzone ben diversa, magari una bella uptempo. Il testo e la melodia sono troppo teen..quindi per queste ragioni da un lato è bocciata, e non perchè sia brutta, ma non è una canzone adatta ad un artista come Chris..forse sarebbe stato più giusto inserirla nel prossimo album di Justin! Tuttavia la canzone ci piace, è piacevole e orecchiabile, e potrebbe fare bene in classifica. Davvero riuscita l'unione delle voci dei due cantanti, seppure così diverse.
9 – All Back
Il pezzo è prodotto da Timothy Bloom. Senza dubbio è la ballata più bella di tutto l'album. Si cambia ancora stile musicale, qui ci troviamo davanti ad una ballata pop, i suoni sono molto meno elettronici, e la chitarra e gli urletti di Chris nella parte finale contribuiscono a dare quel tocco rock al brano, molto emozionante. Chris sfodera tutta la sua voce nel ritornello, vorrebbe far tornare tutto indietro perchè "You never miss the good things till is gone"..è un potenziale singolo!
10 – Wet The Bed feat Ludacris
Prodotta da Big C, in questa midtempo Chris Brown collabora con uno dei rapper più ricercati del momento: Ludacris. Anche in questo brano come in No Bullshit Chris Brown ricrea un'atmosfera davvero sexy, Ludacris aggiunge parecchio al brano. Per quanto mi riguarda canzone un po' troppo esplicita, forse in questo brano Chris si è lasciato un po' prendere la mano.

11 – Oh My Love
Prodotta da Harmony. Questo pezzo lo ADORO! All'interno del brano troviamo sapientemente mescolate diverse sonorità, l'inzio è molto R&B, fino ad arrivare al bridge (la mia parte preferita) dal ritmo sempre più martellante, il canto di Chris diventa quasi un rap, per poi trasformarsi nel ritornello in una canzone dal sapore della disco anni 80! è tutta da ballare, orecchiabilissima e affatto scontata.
12 – Should've Kissed You
Amo questa canzone, non c'è niente da fare a me Chris fa impazzire sui brani romantici! La canzone è una ballata Pop che parla della difficoltà di esprimere quello che realmente si prova alla persona amata per paura di rovinare tutto..e a chi di noi non è mai successo? Non mi dispiacerebbe se venisse estratto come singolo, anche se questo difficilmente potrebbe accadere dato che non ha le potenzialità per diventare una hit. Resta uno dei brani migliori all'interno di F.A.M.E.
13 – Beautiful People

Chiude la Standard Edition questo brano House prodotto dal DJ italiano Benny Benassi. Un brano perfetto per le discoteche, climax nel bridge che esplode nel chorus con dei bassi potentissimi. Il testo è uno spensierato invito a lasciarsi andare e scoprire la propria bellezza interiore "Your beauty it's inside you don't let 'em bring you down no". Impossibile rimanere fermi ascoltando il pezzo, che potrebbe fare benissimo in Europa e in Italia!
14 – Bomb (feat. Wiz Khalifa)
Il primo brano della Deluxe Edition è una frizzante uptempo Urban prodotta da Free School che vanta la collaborazione del rapper emergente Wiz Khalifa. Lo vedrei benissimo come singolo per l'estate! Super catchy quel "Bomb-Bomb-Ba-Bomb-Ba-Bomb-Bomb". La canzone è fresca e vivace, azzeccatissimo il rap di Wiz Khalifa che aggiunge appeal e vibe al brano, uniche pecche il solito eccessivo uso dell'autotune sulla voce di Chris e il testo un pò troppo volgare per i miei gusti..Sicuramente uno dei pezzi migliori dell'album ed il motivo principale per acquistarne la versione deluxe.
15 – Love Them Girls (feat. Game)
Il pezzo è prodotto da Polow Da Don, ed è l'ennessima collaborazione tra Chris e il rapper Game dopo "Wait" in Graffiti e "Nice" in Exclusive. Anche qui autotune è la parola d'ordine, ma il pezzo si salva in corner per il beat ricercato e dal sapore asiatico.
16 – Paper,Scissor, Rock (feat. Big Sean & Timbaland)
Mmm questa traccia prodotta da Timbaland sarebbe stata una bomba se fosse stata inclusa in Exclusive, adesso sa sicuramente di già sentito, non acquisterei la Deluxe per questa canzone qua! Brano senza infamia e senza lode..meglio passare oltre..
17 – Beg For It
E per concludere è il turno di questa sexy midtempo! La tastier synth all'inizio e alla fine del pezzo da un tocco di magia e romanticismo, a cui fa da contrasto il testo sensuale (ma non volgare). Il pezzo scorre piacevolmente, tra i miei favoriti del disco!
Nel complesso F.A.M.E. è un disco fresco, vincente, sicuramente uno tra i migliori album di Chris Brown e che potrà consentirgli finalmente di riconquistare la fama ed il successo che merita per il suo innegabile talento. Sicuramente concepito per un riscontro commerciale ma non per questo non valido dal punto di vista artistico. Chris Brown ha sicuramente molti album in cantiere dove potrà essere più innovativo, ma quello di cui ora ha bisogno per tornare in carreggiata sono effetivamente le vendite. F.A.M.E. contiene le diverse sfaccettature del cantante: sono presenti le sue origini R&B ma anche pezzi adatti ad un pubblico urban e al mercato europeo. Chris Brown, pur non avendo una voce potentissima compensa con la sua creatività, il suo timbro particolare e la sua abilità come entertainer, sicuramente è un ragazzo da continuare a tenere d'occhio ed uno dei grandi nomi della musica nel prossimo futuro.
R&B Junk rating: 3.5/5
– a cura di Davide e Clara –