Chris Brown live al Just Cavalli a Milano: ecco come è andata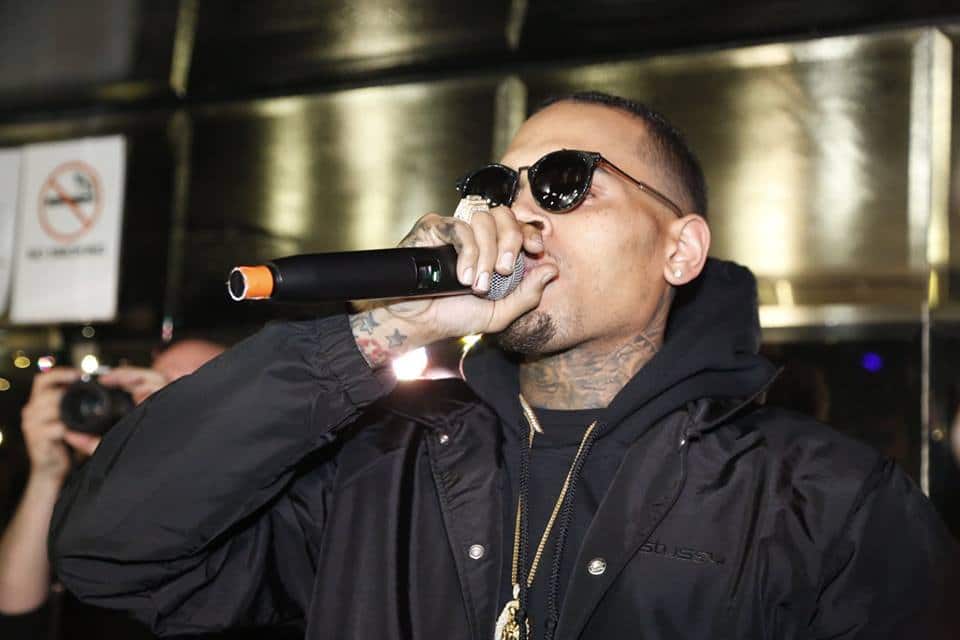 Noi di RNBJunk non potevamo assolutamente perderci la primissima data live aperta al pubblico di Chris Brown in Italia. Il cantante era già stato ad esibirsi a Milano sabato 27 febbraio, in occasione della sfilata e dell'afterparty organizzati dal noto stilista Phlipp Plein (GUARDA QUI). A molti sostenitori italiani di Chris non andava bene che dopo ben 11 anni di attesa, il loro idolo fosse venuto in Italia solo per un evento al quale i fan non potevano prender parte. Pronta è stata la risposta del management dell'artista: dapprima la promessa di una data italiana nel prossimo tour mondiale di CB, poi una nuova data in discoteca, aperta al pubblico questa volta, nel noto ed esclusivo ristorante/nightclub/discoteca Just Cavalli, di proprietà dello stilista Roberto Cavalli, sempre a Milano lo scorso 5 marzo.
Non sono mancate polemiche per questa scelta da parte di alcuni, poichè l'evento è stato organizzato in fretta e furia, senza lasciare molto tempo per organizzarsi, ed inoltre l'ingresso è stato fissato a 100 euro (mentre per le prenotazioni tavoli si è parlato di cifre tra 1500 e 5mila euro). Come se non bastasse, c'era anche il rischio che il Just Cavalli attuasse una selezione della clientela all'ingresso, come in genere è solito fare, trattandosi di un club esclusivo, perciò non era neanche garantito l'accesso.
In realtà le cose sono andate diversamente, non vi è stato alcuno stop all'ingresso per chiunque volesse vedere l'artista, e la discoteca si è resa disponibile nel garantire l'ingresso a tutti i fan di Chris, accorsi da diverse parti d' Italia (maggiormente da Milano e dal Nord, per ovvie ragioni).
Non si tratta di una location molto grande, un bellissimo club ma di certo non un palazzetto, ed ancora una volta si è fatto il possibile per far sì che proprio tutti potessero vedere Chris, anche riempiendo lo spazio al massimo delle proprie capacità. Ottima la gestione dell'evento da parte del Just Cavalli, grazie al quale siamo riusciti a godere finalmente della presenza di uno degli artisti più quotati nello scenario urban.
Si è fatto attendere Chris. Il cantante in genere arriva nelle discoteche che lo ospitano in un range di tempo tra l'una e mezza e le due e mezza. Al Just Cavalli è arrivato dopo le 3 del mattino. Nel frattempo, il pubblico si è lasciato intrattenere da musica in tema con le serata, successi urban di oggi e di ieri sapientemente mixati, e che hanno scaldato la pista nell'attesa dello special guest della serata.
Appena Chris ha preso in mano il microfono è stato subito fuoco: l'interprete con una grandissima grinta ha iniziato a cantare sulle note di brani sparsi della sua discografia, da singoli, a pezzi presi da mixtape, passando per collaborazioni con altri interpreti ed inediti. Lo show è durato per circa un'ora e mezza. Il pubblico era in delirio, e tentava spesso di superare il cordone umano della security, cosa prontamente evitata dall'impeccabile team di sicurezza della discoteca. L'evento si è svolto senza incidenti di percorso ed in assolute condizioni di sicurezza per tutti. Buona è stata la risposta del pubblico, con davvero tanta gente che ha affollato il locale, nonostante i prezzi non fossero forse alla portata di tutti.
Mancavano forse i fan più "matti", più che altro si trattava di sostenitori abbastanza tranquilli, amanti dell'urban e curiosi, sicuramente Chris è abituato ad un entusiasmo ancora più sopra le righe. Ovviamente c'era più partecipazione quando Chris performava pezzi come "Loyal", "With You", "Deuces", "Post To Be", "Ayo", "Strip", "Holla At Me", "Back To Sleep", "Liquor", "Picture Me Rollin", "Beautiful People", "Show Me", "Fine China", "Wrist", "New Flame", "Bitches N' Marijuana", meno quando si trattava di inediti e di collaborazioni purtroppo non molto conosciute in Italia.
Sebbene Chris non si sia esibito con così tante canzoni come nelle altre discoteche (sicuramente gli accordi presi con il Just Cavalli erano differenti, infatti si temeva persino che Breezy si sarebbe esibito solo per 20 minuti), lo spettacolo è durato per un tempo più che soddisfacente. Inizialmente Breezy si trovava dietro la consolle, e per chi si trovava nelle ultime file del pubblico, nonostante la poca distanza, non era facilissimo vederlo. Anche l'artista voleva una maggiore interazione con il pubblico, e così dopo qualche brano, è salito sul muretto della postazione consolle. E menomale.
Chris nonostante apparisse visibilmente stanco (bastava guardarlo negli occhi) da tutte queste date che lo vedono continuamente spostarsi senza sosta in Europa da circa due settimane, ogni giorno in un Paese diverso, ci ha regalato uno show veramente energico. Ha interagito molto con il pubblico, anche se sembrava sempre un po' nel suo mondo, incitava il pubblico ma raramente rispondeva direttamente ai gesti della gente. In molti si chiedono se fosse sotto l'effetto di qualche sostanza, ma da quello che abbiamo potuto vedere, Chris ha fumato solo semplici sigarette, quindi potrebbe trattarsi solo di stanchezza e stress.
Il cantante si è trattenuto nel locale per circa mezz'ora dopo la fine dello show, a bere, fumare e parlare con belle ragazze, nel frattempo ha anche interagito con alcuni fan, stringendo loro la mano, sorridendo e salutando. Verso le 5 ha lasciato il locale con la sua crew, scortato dalla sicurezza. Non sono mancate le aspiranti groupies, che provavano a fare colpo sui suoi amici pur di avere una chance col cantante, e la scena è stata davvero comica quando alcune ragazze hanno urlato agli uomini della sicurezza di lasciarle passare all'uscita della discoteca, perchè loro "erano con Chris".
Seguendo Chris Brown da molti anni ormai, devo dire che poter essere in grado di vederlo dal vivo e così da vicino è stata un'esperienza fantastica. Lui è davvero dotato di un carisma travolgente, un interprete in grado di attirare l'attenzione con semplici gesti, oltre che con la bravura.
Quello che ci auguriamo è che Breezy possa tornare a trovarci più spesso, sia in discoteca che con una vera e propria data del tour, in modo tale che tutti i fans possano avere la possibilità di godere dell'intrattenimento proposto da questo talento incredibile.
Vi lasciamo a video e foto della serata! 
Amazing live And performance of international singer from USA:MR CHRIS BROWN 🎙🎙💣💣#aboutlastnight #justcavalli #liveshow #specialguest #crisbrown #topparty #milan #amazingshow #TeamBreezy @chrisbrownofficial 🎉🎉🎉🎙🎙💣💣💣
#aboutlastnight #saturday #liveshow #chrisbrown #AYO #beautifulsong #amazinglive #TeamBreezy @chrisbrownofficial 💣💣🎉🎉🔝🔝🔝😉😉😉 Un video pubblicato da Paolomorbi (@paolomorbi) in data:
#chrisbrown #openshow #5march2016 #specialshow #milan #justcavalli #topparty #crazyman #TeamBreezy @chrisbrownofficial 🔝🔝😉😉🎉🎉🎉💣💣💣💣🎙🎙🎙
🎤🎤Il sogno diventa realtà😍😍😍#IoNonCeLaFaccioADormire#Chrisbrown#tonight#IlGiornoPiuBelloDellaMiaVita#orapossomorireinpace#teambreezy#wrist#DavantiAMe#ioStoMale#breezy#live#royalty @chrisbrownofficial @chrisbrownmusica
🔝🎤Bitches N Marijuana🎤🔝🙈 #teambreezy#vicinissimo#Chrisbrown#justcavalli#@chrisbrownofficial Un video pubblicato da Erika Garavaglia (@erikagaravaglia) in data:
https://www.youtube.com/watch?v=0jvc4FJMOsc