Demi Lovato canta Cool for the Summer e Neon Lights da JImmy Kimmel
A quanto pare Demi Lovato ha capito che se vuole ottenere una nuova hit i cui risultati si avvicinino a quelli di "Heart Attack" deve mettersi sotto con la promozione. Ora che la sua "Cool for the Summer" sta andando davvero bene negli USA ed è ritornata in top 10 su iTunes grazie all'effetto VMA, Demi sembrerebbe intenzionata a sostenere al meglio questo suo nuovo progetto.
Forte di una sensualità che riesce ad essere sempre meno artefatta e di una voce che, per quanto inadatta alle note basse (e dunque ad un brano del genere) sembra abituarsi sempre di più di performance in performance, Demi si è finalmente recata in uno dei principali show statunitensi: quello di Jimmy Kimmell.
Qui, con un abito che esalta al massimo la sua ritrovata forma fisica, la Lovato ci ha dato dentro con quella che ritengo essere la miglior performance del pezzo.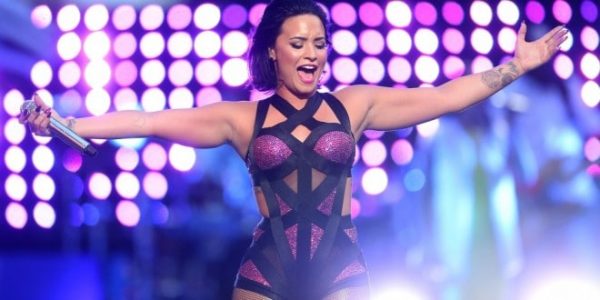 In questa occasione, ho finalmente visto una Demi davvero energica e sicura di sé, capace di eguagliare la performance proposta in studio e di porsi sul palco in maniera che tutto non risulti finto e costruito. La sua voce per la prima volta è riuscita a reggere le note basse che dominano in questa traccia, le quali avevano messo in luce i talloni della cantante d'Achille nella promozione australiana.
Ebbene, confrontando questa performance con quelle proposte in precedenza, direi che a questo punto la scelta di aspettare per promuovere negli States è stata giusta.
Chissà come avrebbe reagito il pubblico americano vedendo che colei che un tempo mangiava i palchi con pezzi complessi come "Skyscraper" oggi cade su un brano semplice come "Cool for the Summer". Ma per fortuna questo non è successo.
Vi posto di seguito questa performance, che ne dite? Hot or Not?
---
Oltre a "Cool for the Summer", Demi ha cantato anche "Neon Lights". A mio avviso questa esibizione è stata ancora più forte dell'altra, e forse anche superiore ad altre performance del brano eseguite in passato. Come sempre ottimi ritornelli, in cui Demi può mostrare il meglio di sé con il registro alto.
Eccovi la performance: