Demi Lovato e Selena Gomez: si odiano di nuovo per colpa di Taylor Swift?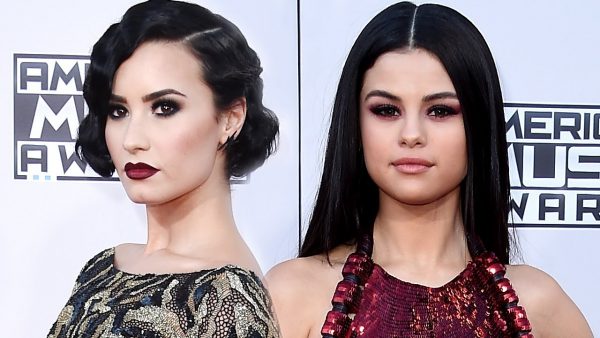 Sono ormai lontani anni luce gli anni in cui Demi Lovato e Selena Gomez si definivano migliori amiche, giravano insieme video buffi e facevano andare d'amore e d'accordo i rispettivi fanbase. Determinata sicuramente più dalla circostanza e da fini mediatici che da sincero affetto, quest'amicizia si è allentata sempre di più una volta finito l'impegno delle due star nella Disney, forse anche per via della rivalità creata dai media e dai rispettivi produttori discografici, sempre pronti a farle ritornare esattamente negli stessi periodi per fomentare i fanbase e far accrescere di conseguenza le vendite di entrambe.
Nonostante l'anno scorso le due avessero fatto impazzire i social postando un selfie insieme (ennesima mossa promozionale?), successivamente nulla ha sembrato più unire le due popstar, anzi tra le due è sorto un forte elemento divisore: Taylor Swift. Un tempo amica di entrambe, se da un lato Taylor ormai si porta la fedele cagnolina Selena al guinzaglio in qualunque evento si presenti, i rapporti fra Taylor e Demi si sono guastati per motivi che non ci è dato sapere.
E così, se 2 anni fa la Swift invitava anche l'interprete di "Heart Attack" in tour (destino volle che Demi non potette partecipare per via della morte di suo padre avvenuta proprio in quei giorni), adesso Demi la attacca pubblicamente in seguito al caso Kesha, definendola persona buona solo a sbattere i soldi in faccia per risolvere i problemi (SCOPRI DI PIU' QUI), definizione che ha fatto arrabbiare gli Swifties di tutto il mondo. In questa situazione, appare ovvio che nelle vicende di stanotte fra Taylor Swift e Kim Kardashian (Scopri cosa è successo QUI) Demi e Selena si siano schierate in maniera opposta.
Dal canto suo, Selena ha provato nel suo piccolo a difendere l'amichetta del cuore sentenziando che "la gente dovrebbe usare la sua voce per altri scopi", ma facendo questo si è beccata una marea di insulti online, facendo addirittura nascere un'hashtag diventato trendtopic: #GotosleepSelena. Chiaro segno di come questa volta l'opinione pubblica si sia schierata contro la Swift e contro chiunque "osi" appoggiarla…
There are more important things to talk about… Why can't people use their voice for something that fucking matters?

— Selena Gomez (@selenagomez) July 18, 2016
Truth is last thing we need right now is hate, in any form

— Selena Gomez (@selenagomez) July 18, 2016
This industry is so disappointing yet the most influential smh

— Selena Gomez (@selenagomez) July 18, 2016
Di contro, Demi non si è espressa chiaramente su come la pensa, per una volta ha evitato di impelagarsi in maniera diretta in questioni che non le riguardano, ma ha comunque fatto capire il suo pensiero mettendo un like ad un post pro Kim, un gesto che le ha fatto arrivare principalmente approvazioni dalla rete, fan di Taylor e Selena esclusi.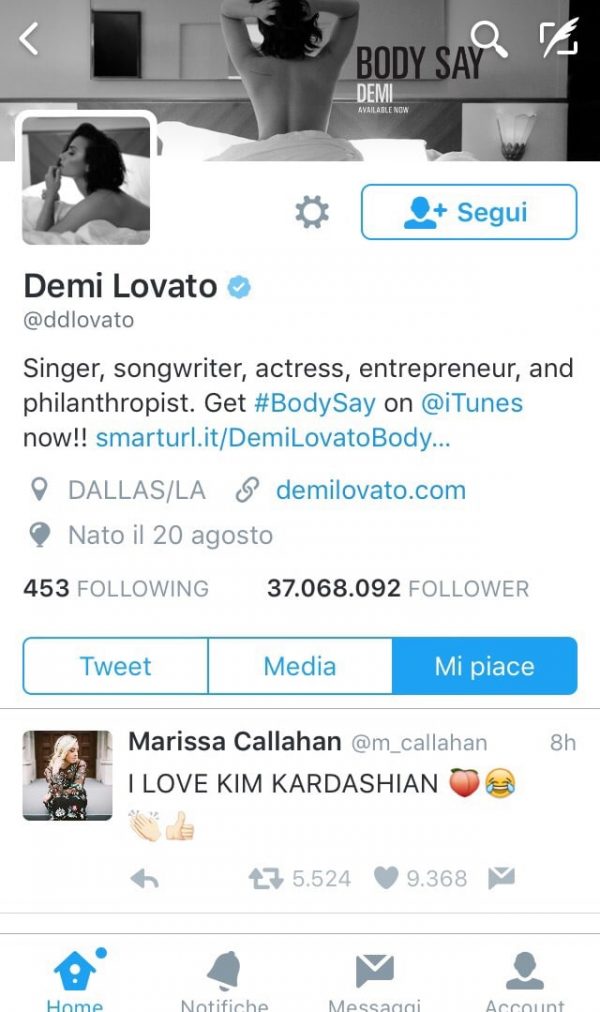 Questa differenza di vedute evidentemente avrà causato un battibecco privato fra le cantanti e attrici, e così a partire da questa notte le due hanno smesso un'altra volta di seguirsi sui social. Una scelta che sta facendo discutere ed ovviamente sta mettendo di nuovo i due fanbase uno contro l'altra, dunque preparate i popcorn: ci sarà da divertirsi nei prossimi giorni!