Drake ha ricevuto un importante riconoscimento!
Questo weekend sarà pieno di impegni per Drake! Nella sua Toronto infatti si svolgerà l'"All Star Weekend", la partita delle stelle, l'evento più spettacolare dell'anno per la pallacanestro americana, dove i campioni migliori provenienti dalle diverse squadre della lega, daranno spettacolo con gare di abilità e una partita tra di loro.
Drake, essendo il cittadino più conosciuto e famoso della metropoli, sarà sicuramente presente in ogni singolo momento dell'evento. Inoltre, proprio ieri, ha partecipato attivamente sedendosi come allenatore sulla panchina di una delle due squadre, formate da VIP, che si sono affrontate in un match amichevole. L'attore comico americano Kevin Hart era l'allenatore della squadra rivale.
Domenica, potremmo anche vederlo sul palco adibito nel palazzetto dove si svolgerà la partita più importante, a regalarci una performance live nel periodo di pausa della gara. Ma è soltanto una mia supposizione…
Quello che è invece è certo, è che ad arricchire questo momento di onnipotenza del rapper, è stata una cerimonia di uguale importanza e prestigio.
Il sindaco di Toronto John Tory aveva infatti già annunciato che Drake avrebbe ricevuto nella giornata di ieri le chiavi della città.
"Drake è il più grande campione di Toronto: nella sua musica, nel suo essere mentore coi talenti locali, nella sua presenza sulla scena mondiale", ha detto Tory in un comunicato ufficiale. "Lui rende le persone felici con loro stesse e la loro città, e ha fatto puntare gli occhi del mondo su Toronto. Merita un nostro riconoscimento della nostra città e il nostro orgoglio, sono onorato di dargli le chiavi della città."
Questo il tweet di due giorni fa del sindaco:
E questo ieri, poco prima dell'evento: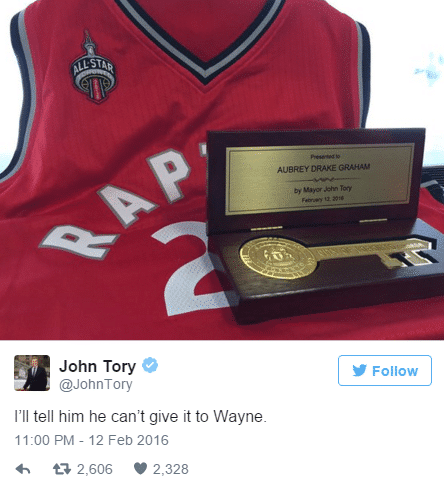 Il sindaco, prima della partita sopra citata, il "Celebrity Game", ha consegnato le chiavi onorarie all'artista.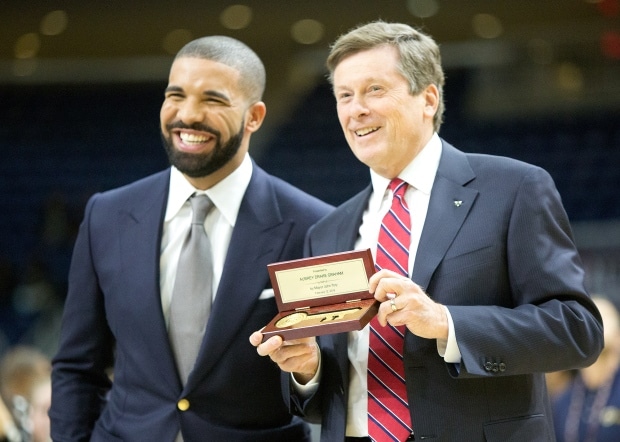 "E' uno dei momenti più importanti della mia vita, se non il più importante. Voglio soltanto dire grazie alla città che mi dà supporto e amore incondizionato" ha detto Drizzy durante la consegna. "Non smetterò mai di amare questa città, non smetterò mai di rappresentarla".
Tory ha replicato dicendo che lui ispira le persone: "Promuovi la città. Sei devoto alla città. Ami la città".
Poi, scherzosamente, ha detto: "Queste non sono trasferibili. Nemmeno a Lil Wayne", riferendosi al verso del brano "Summer Sixteen", dove Drake rappa così: "I might get a key to the city and give it to Wayne".
Ecco il video della cerimonia, trasmesso da una tv americana:
Il rapper si è aggiunto alla lista di very important people che hanno già avuto l'onore di ricevere le chiavi di Toronto: Nelson Mandela, Celine Dion, The Rolling Stone, Tiger Woods e Muhammad Ali.
Drake non è l'unico rapper che riceverà in questi giorni le chiavi della sua città natale. Proprio oggi, infatti, Kendrick Lamar riceverà le chiavi di Compton.