Florence + The Machine – How Big, How Blue, How Beautiful | Recensione CD
Il panorama musicale odierno è quanto mai complesso: possiamo trovare grandi dive del passato che fanno fatica a rimanere a galla, talentuosissime nuove proposte che falliscono miseramente la scalata al successo e ancora star senza particolari doti che grazie a delle hit vengono osannate come divinità. In uno scenario del genere, risulta quindi difficile creare una propria immagine, avere un proprio stile e arrivare al pubblico senza perdere la propria essenza. Fortunatamente, ciò risulta solo difficile, ma non impossibile.
La londinese Florence Welch è infatti riuscita in questa impresa: con la sua band, i Florence + The Machine, ha raggiunto non solo il cuore del pubblico, ma anche quello della critica, grazie alla sua incredibile voce e al suo stile ormai unico. La band ha fatto il suo debutto nel 2009 con l'album Lungs, seguito nel 2012 da Ceremonials, fino ad arrivare al loro terzo album di inediti, How Big, How Blue, How Beautiful, pubblicato nella prima metà del 2015. La maestosità del disco ha portato la band ad avere diverse candidature ai Grammy Awards e, come i precedenti dischi, l'album ha venduto più di un milione di copie, cifra tutt'altro che scontata guardando i tempi d'oggi e, soprattutto, il genere prodotto dalla band, ovvero l'indie rock.
Con How Big, How Blue, How Beautiful Florence allo stesso tempo si innova rimanendo però la stessa. Lo stile dell'album infatti ricorda tanto i ritmi di Ceremonials, che erano però più cupi e mistici. Nel loro ultimo lavoro  la band ha inserito suoni allegri ma allo stesso tempo nostalgici, ritmi pieni che non lasciano nessuno spazio all'immaginazione, accompagnati da melodie che fanno sognare ad occhi aperti. Il tutto si fonde con la straordinaria voce di Florence, che dimostra quanto sia potente soprattutto nelle ballate.
L'album, canzone dopo canzone, racconta un'incredibile storia d'amore, fatta di incredulità e crudeltà, voglia di mollare tutto e desiderio di ricominciare, speranza di dimenticare e realizzazione che quei sentimenti, seppur provati per l'uomo sbagliato, non svaniranno mai.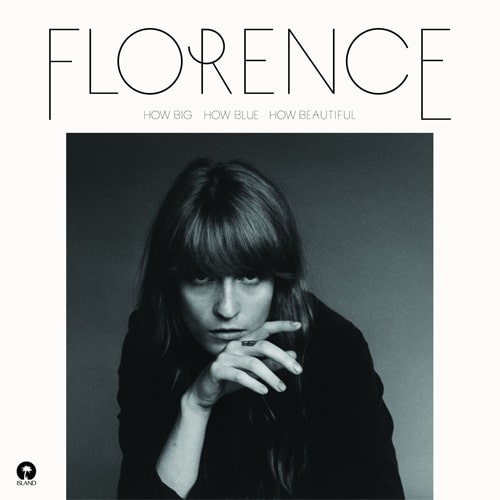 Ship To Wreck
Il disco parte in quinta con una potentissima up-tempo, scelta poi come secondo singolo. Un'esplosione di suoni, allo stesso tempo armonici e irruenti, fanno da apertura alla prima traccia del disco, Ship To Wreck. Immediatamente, l'ascoltatore viene immerso nel mondo dei Florence + The Machine, così forte e potente, così trascinante. La traccia continua con il suo ritmo veloce e incalzante fino ad arrivare al ritornello dove, dopo una piccola pausa, si ritorna all'esplosione iniziale, questa volta accompagnata dalla potenza vocale della cantante, che riesce ad aggiungere emozioni a qualcosa che sembrava essere già perfetto. L'unica "pausa" è nel bridge, dove per un po' l'atmosfera si calma per poi ripartire ancora con l'ultimo ritornello, per terminare dopo poco con un finale deciso e conciso.
Il testo di Ship To Wreck è molto metaforico e abbastanza difficile da comprendere. L'artista non riesce a capire il motivo per cui si è appunto imbarcata in una tale relazione amorosa, così turbolenta. Ecco quindi che la cantante si chiede se "abbia costruito questa barca solo per naufragare". L'intensità del ritmo è quindi paragonabile al turbinio di emozioni provate dalla cantante, in balia dell'amore incondizionato.
2. What Kind Of Man
Il clima sembra essersi calmato. Dopo la furia di Ship To Wreck, una calma apparente sembra appartenere alla seconda canzone, What Kind Of Man. Una base minimal accompagna le parole di Florence per buona parte della prima strofa finché pian piano, al potenziarsi della voce della cantante, si aggiungono altri strumenti. Prima la batteria, poi la chitarra e ancora le trombe, uniti in un unico suono omogeneo dai cori, intervengono una dopo l'altra a completare quella melodia che inizialmente sembrava così scarna.
La chitarra e la batteria, insieme a Florence, sembrano voler esprimere la rabbia nei confronti di un uomo del genere, incapace di amare come tutti gli altri. Allo stesso tempo però, le trombe, che fanno da sfondo agli altri strumenti, conferiscono grandiosità alla canzone, nonché a quella storia d'amore che ci sta venendo raccontata ora, così diversa da tutte le altre e a tratti anche crudele.
3. How Big, How Blue, How Beautiful
Il disco prosegue con la magnifica title track. L'inizio ricorda quello di What Kind Of Man: lento, povero, dove la voce è l'unico elemento su cui ci si sofferma. Ma, al contrario della traccia precedente, dove l'arrivo degli altri strumenti era irruento e feroce, in How Big, How Blue, How Beautiful si ha un crescendo più pacato, e, tra violini e trombe, l'atmosfera si fa divertente e allegra, ma allo stesso tempo solenne.
La mid-tempo procede senza troppi cambi di tonalità e per tutta la durata della canzone ci sembra proprio di percepire, con la bocca e con la mente, il sapore di quei baci, l'immensità dei paesaggi, le emozioni indescrivibili, fino ad arrivare al finale. Un assolo di trombe, flauti e tutti gli altri strumenti a fiato, ci accompagna per quasi due minuti alla scoperta di quei paesaggi "così grandi, così blu, così belli". E basta chiudere gli occhi per ritrovarsi lì, in quei posti di cui poco prima ci ha parlato Florence. Il ritmo così solenne ci abbandona piano piano, diventando più cupo e triste.
4. Queen Of Peace
Come se la traccia precedente non fosse mai finita, Queen Of Peace si apre con una grande intro di strumenti a fiato, pronta a rasserenare i nostri animi dopo le precedenti up-tempo. Ma ecco che la batteria pone fine a quella serenità, rivelandoci la vera identità della canzone: una up-tempo che pian piano incalza sempre di più, fino a rapirti completamente con il ritornello. Una voce calda e piena fa da protagonista ad una base musicale ricca ed emozionante.
Il testo racconta di questa famiglia reale che impazzisce e si perde nel dolore, causato dalla sofferenza, dall'inseguimento di traguardi effimeri. Le strofe, incentrate proprio su queste vicende, sono cantate, come suggerisce il titolo della canzone, con una certa calma e tranquillità, che viene invece persa nel ritornello, dove la voce di Florence esplode insieme alla base musicale, perché l'impazienza si fa sentire e il suo amore, ormai incontrollabile, la fa uscire pazza.
5. Various Storms & Saints
Prima vera ballata del disco, Various Storms & Saints ci concede una pausa da tutti quei ritmi così diversi ascoltati precedentemente. Ancora una volta ci troviamo ad ascoltare una semplice base musicale accompagnata a tratti dallo strimpellio di alcune corde, ma questo è tutto ciò che serve a Florence per creare un brano unico nel suo genere, che lasciato cantare ad altri risulterebbe quanto mai noioso e ripetitivo. La sua calda voce , accompagnata dai cori in sottofondo, riesce ad emozionare, a coinvolgere l'ascoltatore, a renderlo partecipe di quei sentimenti e di quelle emozioni.
Il testo sembra affrontare una storia d'amore ormai finita da tempo, che vede però reazioni diverse dai due amanti. Mentre la cantante è riuscita ad andare avanti con la propria vita, ad affrontare quell'aria piena di tormente e santi, la sua controparte non riesce ad abbattere il monumento della memoria nella sua testa. La canzone diventa quindi l'occasione per infondere coraggio e forza all'innamorato, ormai solo, perso dopo la fine di questa relazione diventata indelebile.
La canzone raggiunge un altissimo picco alla fine, dove Florence, con un potente acuto, riesce ad esprimere contemporaneamente quanto fosse inevitabile la fine della storia ma anche la rabbia e la tristezza per aver dovuto abbandonare a se stesso l'amante. Andando avanti con l'ascolto delle tracce, si capisce come in realtà è stata lei stessa ad essere stata lasciata sola: Various Storms & Saints diventa quindi un'immedesimazione da parte di Florence in colui che riesce a ricominciare da capo senza alcun problema.
6. Delilah
Dopo l'emozionante ballata, il disco ritorna alle melodie più allegre e spensierate grazie a Delilah. La protagonista di questa canzone ritorna ad essere l'autrice, innamorata di qualcuno che forse, prima o poi, la chiamerà. Ma, aspettando che quel qualcuno dia sue notizie, Florence continua a vivere, ballando, cantando, quasi in preda a delle visioni.
Nel profondo però, quella chiamata resta ancora attesa. È inutile improvvisarsi felici, cercare di dissimulare l'importanza di quell'amore. Quel "Holding On For Your Call", ripetuto incessantemente per tutta la durata della canzone funge da promemoria: qualsiasi comportamento, qualsiasi azione, qualsiasi distrazione non riuscirà ad allontanare i pensieri da quel chiodo fisso, quella chiamata così attesa.
La traccia parte piano, come una mid tempo, fino ad arrivare ad una pausa creata dall'irruzione di alcune note al piano. Subito dopo la melodia riprende, allegra, felice, in cerca di eliminare qualsiasi pensiero negativo dalla mente. Questo ritmo viene mantenuto per metà canzone, quando, verso la fine, diventa più duro e ruvido, proprio quando viene realizzato il fatto che niente potrà mai togliere dalla mente quella chiamata.
7. Long & Lost
Con Long & Lost ritorniamo di nuovo ad ascoltare una canzone più lenta e pacata rispetto alle precedenti up tempo. Ancora una volta non abbiamo altro che delle semplici note ad accompagnare la voce di Florence, che per quest'occasione rimane sempre sullo stesso livello, pacata e quieta. Il ritmo ricorda molto quello della ballata precedente, Various Storms & Saints, con cui ha anche alcune affinità sul piano dei contenuti.
La canzone sembra infatti allo stesso tempo sia una continuazione di Delilah, dal momento che si parla si di un amore finito, di cui, in un primo momento, a soffrirne questa volta è la stessa Florence, che cerca in tutti i modi di scusarsi e di farsi perdonare, per ritornare tra le braccia dell'amato. Un testo del genere potrebbe però facilmente essere riconducibile a quello di Various Storms & Saints, visto però dalla parte di chi è rimasto da solo così a lungo.
8. Caught
L'incredibile storia d'amore raccontata fino ad ora, raggiunge un punto di svolta con Caught. In questa canzone Florence capisce effettivamente quanto sia innamorata, quanto i tentativi di ignorare i suoi sentimenti siano miseri e destinati al fallimento perché lei "è presa, dimentica tutto ciò che le hanno insegnato, non riesce a mantenere la calma, a stare ferma, a resistere la sua volontà".
Nonostante ciò, la canzone perde un po' dal punto di vista musicale. La mid tempo, risulta un po' troppo scarna e la durata di oltre quattro minuti non aiuta molto. La buona interpretazione vocale non riesce a colmare il vuoto lasciato da una base un po' troppo monotona e apparentemente incompleta. Caught risulta quindi essere l'unico punto debole del disco.
9. Third Eye
L'album si riprende però immediatamente con la bellissima up tempo Third Eye, che ci riporta ai sound più allegri e coinvolgenti di How Big, How Blue, How Beautiful e Delilah. La traccia parte subito con un ritmo divertente e ispiratore, che pian piano prende ancora più sprint, con l'aggiungersi di altri strumenti oltre alla batteria. Anche la grande voce di Florence aiuta a far diventare questa canzone una delle migliori di tutto il disco: la melodia così intrigante, trascinante e felice diventa infatti una miscela incredibile grazie alla grinta della cantante.
Il testo è una riflessione che l'interprete della canzone fa del suo stato d'animo, della sua vita e della sua relazione. La canzone diventa quindi un'esortazione a non perdersi d'animo, a vedere il bicchiere mezzo pieno, a continuare a vivere e a credere nelle tante possibilità della vita. La voglia di cambiare ciò che si è diventa poi, verso la fine, uno dei motivi portanti della canzone.
10. St. Jude
St. Jude è l'ultima ballata presente nel disco. Come le precedenti ballate, anche questa è caratterizzata da una base semplice che accompagna le parole della cantante. Ancora una volta, il ritmo apparentemente piatto della canzone è totalmente calzante con il testo e soprattutto con l'atmosfera, allo stesso tempo sacra e nostalgica, che la band ha voluto dare a questa canzone. Una voce calma e quieta, sintomo del fatto che si è presa coscienza di ciò che si sta dicendo, fa da assoluta protagonista in questa canzone.
Se con Third Eye avevamo un'esortazione ad andare avanti, con St. Jude abbiamo invece una sorta di confessione con San Giuda, il patrono delle cause perse. La canzone rappresenta dunque la ricapitolazione della sua vita e soprattutto della sua storia sentimentale, la cui fine è stata finalmente accettata. E una volta constata la conclusione di questa fine, non ha più senso domandarsi chi sia stato a lasciare chi, chi abbia rovinato tutto.
11. Mother 
Il disco si conclude con la mid tempo rock Mother, in cui la cantante si arrende alla vita. Mother diventa infatti una preghiera al cielo e alla natura, un'esortazione al lasciar andare via tutto, al ricominciare da capo, ad essere più umili e sinceri.
La canzone ha per lo più un ritmo basso e mantenuto, fino al ritornello, dove un'aggressiva chitarra interviene insieme a Florence, che per l'ultima volta in questo disco ci dimostra la sua grinta, la sua passione, il suo talento. La traccia diventa così la conclusione perfetta per questo disco che con solo 11 tracce riesce ad esprimere un intero mondo, un'intera storia.
Il disco ha anche una versione deluxe che contiene, oltre alle demo di How Big, How Blue, How Beautiful e Third Eye, anche altre tre canzoni: la prima è Hiding, un'allegra mid tempo in pieno stile Florence, che in qualche modo si ricollega al tema centrale del disco. In Hiding infatti è ancora presente quella speranza di poter amare quell'uomo così crudele e malvagio e il sound della canzone evidenzia proprio questa continua fiducia; l'altra traccia è Make Up Your Mind, un'altra bellissima uptempo, pronta a dare una grande carica grazie al suo ritmo coinvolgente e alla grande interpretazione di Florence; l'ultimo inedito è una demo intitolata Which Whitch, che si adegua bene al resto del disco per il sound ma che non spicca, lasciandosi ascoltare piacevolmente ma non lasciando il segno.
Florence è riuscita dunque a creare uno dei migliori dischi del 2015: produzioni ottime, tracklist studiata e concisa, senza la presenza di inutili filler che non fanno altro che allungare il brodo, una grande interpretazione vocale. How Big, How Blue, How Beautiful non è dunque un semplice album. Questo racconta una delle più grandi storie d'amore, e lo fa non solo attraverso i testi, ma anche attraverso la musica, che diventa uno degli strumenti chiave per l'interpretazione delle singole tracce.