GQ stila la classifica: I 21 album del 21esimo secolo che tutti dovrebbero ascoltare
La rivista GQ ha voluto sintetizzare i primi 14 anni e mezzo di questo 21esimo secolo e ha stilato una particolare classifica dei "21 album che ciascuno dovrebbe ascoltare". La classifica cerca di prendere tutti i generi, mantenendosi comunque su album molto commerciali. Ripercorrerò la classifica al contrario, perchè man mano che si sale ci si trova di fronte a qualche album che non ci saremmo aspettati di ritrovare. Accanto a ciascun album è riportato un estratto delle motivazioni dell'autore per la scelta dell'album
21. Fiona Apple -Extraordinary Machine (2005). "Con l'aiuto del produttore Jon Brion, ha costruito un sound molto bello e brillante, era come se nonostante tutta la tristezza, ci aspeteremo che tutto venga spinto oltre i riflettori".
20. The Libertines – Up the Bracket (2002) . "Durante i tempi d'oro, Pete Doherty e Carl Barât hanno racchiuso lo splendore del  rock 'n' roll. Sudando e sputandosi in bocca mentre cantavano. La batteria segnava il tempo troppo velocemente, come se tutto fosse fuori controllo, come se non potesse durare. E infatti non potè."
19. J Dilla – Donuts (2006). "Prima che morisse di una rara malattia del sangue a 32 anni, James Dewitt Yancey, J Dilla, era il produttore preferito del tuo produttore preferito. E "Donuts" era il suo lavoro più raffinato: informale, discorsivo e composto con destrezza. Ci sono sample sovrapposte e batteria fuori ritmo. Senza usare una parola, J Dilla ha fatto una album che ha ancora così tanto da dire."
18. Beyoncé – Beyoncé (2013) . "La più grande artista R&B femminile del secolo alla fine ha fatto un album sexy, ringhiante, tenero, strano e completamente superlativo proprio come è lei. E rilasciandolo senza annunci o fanfare l'ultima notte di dicembre, ci ha dato qualcosa che non vedevamo da moltissimo tempo."
17. Vampire Weekend Modern Vampires of the City (2013). "Ci hanno dato una dichiarazione radicale di maturità. I testi erano più saggi e più navigati, le voci più flessibili, la musica più estesa."
16. Yeah Yeah Yeahs – Fever to Tell (2003). "Uh-huh, uh-huh, uh-huh, ahhhhh! Karen O + batteria + chitarra producono un effetto di attaccare la tua lingua alla presa di corrente, solo per ballare più facilmente!"
15. Gil Scott-Heron & Jamie xx – We're New Here (2011). "I vocals vi schiacceranno con l'acquisita e logorante tristezza che Scott-Heron ha portato al suo ultimo album prima della sua morte nel 2011. Il remix di Jamie xx del lavoro, incerto e delizioso e affondato nell'adorazione per Scott-Heron, vi risolleveranno."
14. PJ Harvey – Let England Shake (2011). "Qui lei affronta niente meno che l'attuale stato inefficiente del territorio inglese, e i risultati sono devastanti".
13. Beck – Sea Change (2002). "Era il momento che lo spocchioso cantante di 'Loser' e 'Where It's At' rompesse con la sua ragazza di allora, lasciasse la propria testa ed estraesse il suo nocciolo di sentimenti più tenebrosi."
12. Jay Z – The Blueprint (2001). "Abbiamo passato gli ultimi tre minuti distruggendo i mobili di GQ HQ, ascoltando l'instancabile inno 'U Don't Know'. Sembra persino strano giustificarlo. E' Jay Z. E Kanye West e Just Blaze, e Eminem e Timbaland. Inventando, e poi subito perfezionando, la trionfante, disinvolta, più-grande-del-rap mitologia che Jay ha confezionato di sè da sempre. (Jay stesso ha classificato questo come suo secondo album migliore, dopo 'Reasonable Doubt'; no, scusa, Jay!)"
11. Amy Winehouse – Back to Black (2006). "Per la sua profondità e il dolore nella sua voce, che somiglia a qualcosa che ha lasciato fuori per una notte, tante notti, e dopo ha strizzato la mattina. Anche per la disinvolta onestà che ha portato a inventariare i suoi difetti. E infine per un piccolo momento in cui ha spinto via i demoni per fare qualcosa pieno di vita."
10. Ghostface Killah – Supreme Clientele (2000). "E' il primo e ultimo classico che l'anarchico, terribilmente intelligente e deliziosamente insano membro del Wu-Tang Clan ha rilasciato quest'anno. 21 tracce e nessuna delle quali è al di sotto dell'elettrizzante, incluso lo skit sul ragazzo che cerca di andare al ribasso sul prezzo della droga di Ghostface."
9. Justin Timberlake – Futuresex/Lovesounds (2006). "Dopo tutte le parti al SNL e le comparse da Fallon e i ruoli da attore, è quasi difficile ricordare quanto radicale fosse questo album quando uscì, il momento in cui un sopravvissuto di una boy band 25enne salta all'avanguardia della musica pop, facendo R&B inzuppato di sesso su una produzione futuristica, cortesia di un rinascente e caldo Timbaland."
8. The White Stripes – Elephant (2003). "Jack e Meg hanno basato sul garage rock i loro primi 3 album in un suono completamente rinnovato, prendendo i loro modi inca***ti ed incanalandoli nell'ambizione: blues scottante, folk stravagante, punk in stile Stooges, pezzi d'amore contemplativi."
7. Frank Ocean – Channel Orange (2012). "Abbiamo aspettato 30 anni per un nuovo Marvin Gaye. E poi, all'improvviso, abbiamo avuto Ocean e il suo debutto, 'Channel Orange', un classico interamente realizzato da un artista che non si preoccupa di essere tra i 'neofiti' e i 'grandi'. Non aspettiamo più."
6. D'Angelo – Voodoo (2000). Questo figlio di un pastore e compositore prodigio ha portato l'anima, sposando rap e R&B e un ampio senso di nulla in arte spettrale e sensuale. Oh, e perchè l'ha detto Justin Timberlake."
5. LCD Soundsystem – Sound of Silver (2007). "Nessun album, nessun altro brano nel caso di 'All My Friends' che dovrebbe essere impacchettato con le chiavi del tuo primo appartamento in New York, ha catturato meglio l'emozione disorientante di essere giovane e intelligente e con un cuore infranto nella prima decade del 21esimo secolo."
4. Daft Punk – Discovery (2001). "Nessuno, inclusi i Daft Punk, hanno fatto un album dance migliore. Grandi, brillanti e malinconici e il maledetto progetto per metà vicino al pop che sia mai arrivato, da Kanye a Skrillex a Pharrell, ciascuno dei quali ancora sfacciatamente pesca oggi da 'Discovery'."
3. OutKast – Stankonia (2000). "Non era hip-hop. Era gospel elettrico, come se il cielo si sia aperto e abbia rivelato che gli angeli sono cyborg e che le Porte del Cielo funzionano a corrente. Con la strana dimensione di 'Skintonia' che ha dominato le radio, per fare un esempio 'B.O.B.', 'Ms. Jackson' e 'So Fresh, So Clean', gli OutKast hanno provato che l'hip-hop non ha confini esterni ed è, in effetti, così dominante e così infinito come nessun altro genere."
2. The Strokes – Is This It (2001). "Quando è arrivato il 2000, i Vj di MTV e gli entusiastici del pop avevano detto che il rock 'n' roll era morto. Ma allora, dal nulla, arriva questo album che riporta alle origini, dominato dalla chitarra, e fatto da cinque hipster vestiti di pelle (prima era diverso). Non vogliamo dire che l'album abbiamo salvato il rock per millenni… Oh, un attimo, sì, lo stiamo dicendo."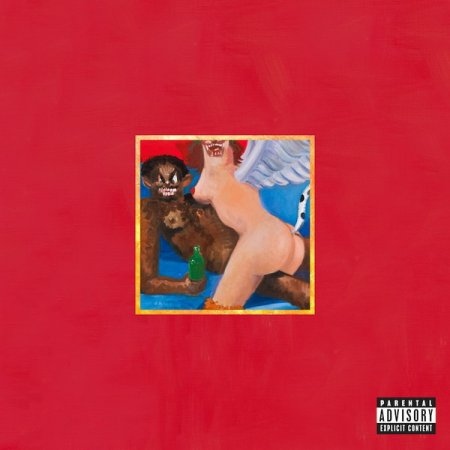 1. Kanye West – My Beautiful Dark Twisted Fantasy (2010). "Sarebbe potuto essere qualunque dei sette album che West ha rilasciato in questo secolo, con l'affascinante catalogo di celebrità, trionfo, amore, giochi di parole fantastici, giochi di parole passabili, tutti dannatamente messi insieme da un solo artista. MBDTF è solo uno degli album dove lui parla di tutte queste cose in un unico ritratto di un uomo che si impadronisce dei riflettori, ci affoga e poi, in qualche modo, riusce a trovare una modo per trasformare quella straziante esperienza in arte. Chiunque voglia essere famoso o fare musica per viverci, o fare entrambi allo stesso tempo, dovrebbe essere obbligato a sentire MBDTF prima. Il resto di noi è libero di godersi il violento, guadagnato coi denti, colossale risultato che è questo."
Questa la classifica di GQ. Personalmente, non condivido alcuni commenti o alcune scelte, ammettendo però di avere conoscenze molto più approfondite nell'hip-hop che nel pop e rock. Sicuramente, apprezzo che nella classifica sia stato messo "Donuts" di J Dilla, album che chiunque voglia cimentarsi nella produzione di brani dovrebbe conoscere quanto meno a memoria! Vanno bene Justin Timberlake (vera rivoluzione la sua!) e gli OutKast, ma davvero l'album di Ghostface Killah merita di essere lì invece di quello di qualcun altro (senza voler sminuire l'importanza del rapper e dell'album)?
Infine, alla domanda se condivido la prima posizione, rispondo "assolutamente sì!". Le abilità di Kanye sono racchiuse lì e, ammettiamolo, anche la perfezione!
Voi cosa condividete e cosa non condividete di questa classifica?