Harvard premia Rihanna: ecco il suo bellissimo discorso di accettazione
Aggiornamento:
Ecco il discorso di Rihanna dopo aver ritirato il premio:
Rihanna ha spiegato che lei ha avuto una passione nell' aiutare le persone da quando era una giovane ragazza, guardando spot su come un quarto di dollaro potrebbe contribuire a salvare la vita di un bambino.
"Pensavo, 'mi chiedevo quanti 25 centesimi potrei risparmiare fino a salvare tutti i bambini in Africa.' E dicevo a me stessa, 'Quando sarò grande e ricca, potrò salvare i bambini di tutto il mondo.' Io proprio non sapevo che sarei stata in grado di farlo, per il momento ero un' adolescente".

[…]

"Tutto quello che devi fare è aiutare una persona, aspettandoti nulla in cambio. Per me, questo è umanitario. Quello che quella bambina guardando questi spot non sapeva è che non c'è bisogno di essere ricchi per essere umanitaria, non c'è bisogno di essere ricchi per aiutare qualcuno. Non c'è bisogno di essere famoso , non c'è nemmeno bisogno di un'istruzione universitaria. Ma comincia con il prossimo … basta fare tutto il possibile per aiutare in qualsiasi tu possa. "
---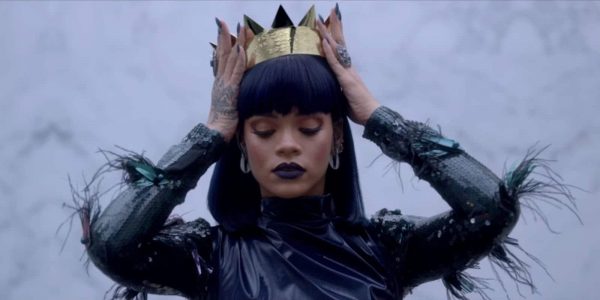 L'impegno umanitario di Rihanna e le numerose iniziative di cui si è resa protagonista in questi anni non sono passate inosservate e sono riuscite ad attirare l'attenzione dell'illustre Università di Harvard, che ha deciso di premiare tanta dedizione e altruismo con l'importante riconoscimento Humanitarian of the Year.
Rihanna è da sempre stata impegnata nell'obiettivo di sostenere chi non ha la possibilità di costruirsi un futuro dignitoso solo con i propri mezzi, partendo proprio dalla sua terra d'origine, le isole Barbados.
La cantante ha costruito un centro per la prevenzione e la diagnosi del tumore al seno presso il Queen Elizabeth Hospital di Bridgetown, mentre negli Stati Uniti ha creato una borsa di studio con il nome dei suoi nonni (Clara and Lionel Foundation Scholarship Program) con cui viene garantito il sostegno economico agli studenti provenienti da Paesi caraibici che vogliono studiare negli USA.
Inoltre, supporta la Global Partnership for Education e il Global Citizen Project, una campagna in 66 paesi in via di sviluppo per promuovere il diritto all'istruzione, per chi non può accedervi.
Tra le varie iniziative a scopo benefico sostenute dalla cantante ricordiamo che di recente Rihanna è  stata promotrice del test fai da te per l'HIV insieme al Principe Harry e già da qualche anno aiuta gli studenti più meritevoli provenienti da aree disagiate con programmi specifici che assegnano borse di studio. Direttamente sul suo account Instagram, la pop star ha condiviso una foto della sua visita in una scuola del Malawi per il suo tour per seguire direttamente i progetti di cui è promotrice. Si tratta di una missione umanitaria organizzata da Global Citizen in favore dell'educazione dei bambini meno fortunati.
Thank you for visiting Malawi Rihanna. Your support as Global Ambassador For Education for girls is incredible. @rihanna @MalawiConsulate pic.twitter.com/bx2HP2wJJo

— Consulate of Malawi (@MalawiConsulate) 5 febbraio 2017
La premiazione si terrà il prossimo 28 febbraio durante una cerimonia al campus di Cambridge (Massachusetts) dove vedremo la cantante ricevere il premio che è stato assegnato, in passato, a personalità eccellenti come il segretario delle Nazioni Unite Ban Ki-moon, Kofi Annan, e Malala Yousafzai.
Congratulazioni alla popstar per questo importantissimo e lodevole riconoscimento!