Justin Bieber – Purpose | Recensione CD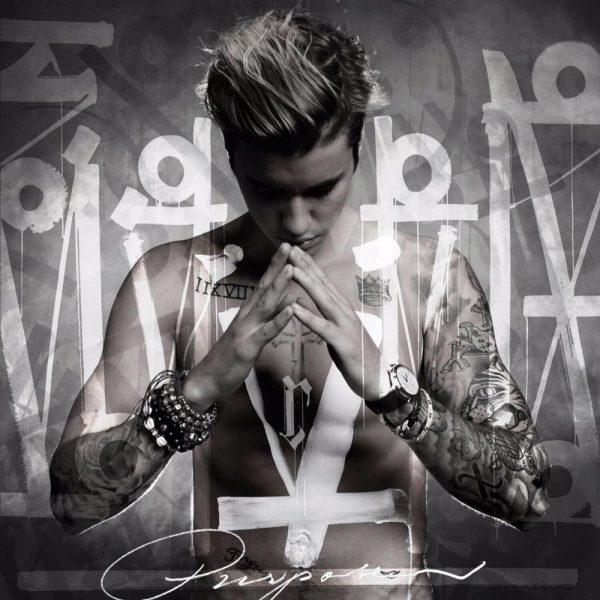 Quando si parlava di Justin Bieber, specialmente qualche anno fa, e si affermava di essere fan del cantante canadese, si era già pronti a ricevere critiche su critiche e considerazioni spiacevoli su una presunta "cultura musicale" carente. Dobbiamo dire che certe opinioni derivavano in modo particolare dalla musica e dall'immagine del "primo Bieber" che ha proposto fin dall'inizio uno stile decisamente infantile e di qualità davvero scarsa.
La carriera del canadese inizia dai siti di streaming, in modo particolare Youtube dove è prematuramente notato dal suo manager prima e da vari esponenti della musica internazionale dopo: la sua ascesa sarà abbastanza veloce soprattutto grazie ad un'ottima sponsorizzazione e il successo della sua immagine presso il pubblico prevalentemente femminile tanto che il suo primo singolo "One Time", rilasciato nel Maggio del 2009, arriverà fino alla #17 in Hot100.
Il primo grandissimo successo del cantante è "Baby", una uptempo pop molto semplice con un ritornello decisamente catchy, ma della quale il successo è praticamente inspiegabile, sicuramente se fosse stata cantata da qualcun altro e non da una stella nascente che fin da subito si è costruita un solidissimo fanbase, sarebbe finita nel dimenticatoio. Il prodotto è decisamente commerciale e quasi fastidioso a tratti, malgrado il suo successo marchierà il cantante con una determinata etichetta (negativa) che lo accompagnerà per tutta la carriera. Anche l'album "My World'', insieme alle varie re-release ed edizioni, otterrà un buon successo.
Tra continui successi, l'album di remix "Never Say Never" (e gli interminabili strascichi di "Baby") arriviamo al 2011 e l'idea del ragazzo "One Hit Wonder" sfuma sempre di più verso quella di una star che continua a fare colpo. Preceduto da un grandissimo nuovo successo che porta il titolo di "Boyfriend", esce 15 giugno 2012 un nuovo album, "Believe',' in cui Bieber cerca un sound meno scontato e più maturo. Sicuramente il lavoro è più curato che in precedenza e i singoli sono efficaci ma l'album, nell'insieme, continua a non convincere e ad avere qualcosa di decisamente "bambinesco".
Mentre "il mito del cantante hip-hop/r&b" con donne e soldi a volontà inizia a farsi strada anche nel mercato europeo, Justin decide di dare una svolta definitiva alla sua carriera per cercare di scrollarsi ancora una volta di dosso quella tanto odiata immagine, che però è stata motivo principale del suo successo: da questo processo nasceranno "Journals'', progetto completamente r&b a metà strada tra album e mixtape, ed appunto "Purpose", un giusto compromesso tra la musica che lo ha sempre caratterizzato e questo appeal più "maturo". Journals è stato per il cantante un vero e proprio flop ed è passato completamente inosservato, nonostante contenesse materiale qualitativamente superiore (seppur poco incisivo) rispetto ai dischi rilasciati in precedenza. In seguito all'insuccesso di questo nuovo progetto e del suo ultimo film / documentario, l'artista ha preso un periodo di pausa nell'attesa che i tempi fossero di nuovo favorevoli.
Per questo Purpose, Justin si è affidato ad un nuovo team di produttori, primo tra tutti Skrillex, definito un "genio" dal candese, che ha prodotto il secondo singolo del progetto ma che ha anche influenzato insieme a Diplo, con la sua "Where Are U Now?", l'intero processo di creazione di questo nuovo disco
Oltre alla sua musica in questi anni Bieber ha stravolto completamente anche la sua immagine, avvicinandola molto a quella del "cattivo ragazzo" e proponendo una svolta simile a quella che caratterizza molto più comunemente le disneyane pop, a cio' si aggiungono comportamenti spesso aggressivi o comunque tutt' altro che maturi, quasi a voler avvalorare il nuovo stile con la componente caratteriale.
Ma questa immagine ci convince realmente? O siamo davanti ad un manichino male abbigliato?
Cerchiamo di scoprirlo.
01. Mark My Words: Se spesso all'inizio dei progetti discografici sono presenti i pezzi migliori, ci auguriamo davvero che non sia questo il caso: l'inizio è davvero tragico, poco più di due minuti di agonia tra una base invadente ottenuta dalle modifiche dei vocalizzi del cantante e un' interpretazione confusionaria nonchè stridula in certi punti. Il fatto che sia breve e disorganica ci fa sperare che si tratti di un' intro malriuscita con il compito di voler testimoniare una sperimentalità che cade nell'r&b più trash. Veramente atroci gli acuti finali, chiusura perfetta per un pezzo terribile.
02. I'll Show You: Prima vera traccia dell'album è questa "I'll Show You". Prodotta da uno Skrillex molto influenzato dall' esperienza con Diplo, gli elementi dubstep tipici della sua prima produzione lasciano spazio ad un concept trap che ha molto da condividere con la musica tropical. L'interpretazione si fa sempre più R&B oriented malgrado la voce di Bieber appaia "stanca" e abbia notevoli problemi a risultare vincente su pezzi che richiederebbero una maggiore presenza, data la base decisamente forte; il risultato sembra, almeno nelle strofe, prima che si perda l'atmosfera r&b, un'imitazione malriuscita di cio' che ha sempre proposto Drake.
Nota positiva del pezzo, insieme al tocco tropical (merito soprattutto della produzione), è il testo che si fa abbastanza profondo e diverso da cio' che il cantante ci ha proposto in passato: 
"This life's not easy, I'm not made out of steel
Don't forget that I'm human, don't forget that I'm real
You act like you know me, but you never will
But that's one thing that I know for sure
I'll show you"
03. What Do You Mean?: Malgrado a produrre il pezzo ci sia MdL l'atmosfera non cambia molto anzi, siamo davanti ad una midtempo dal sound completamente tropical, che si lascia dietro le contaminazioni trap per un risultato che convince soprattutto per la sua particolarità. Ci troviamo davanti ad un genere che è lontano dalla musica mainstream da un po' e quindi la prima cosa che l'orecchio dell'ascoltatore percepisce è una ventata di freschezza e novità, non a caso il brano è stato estratto come primo singolo dal progetto e ha riscosso un ottimo successo in tutto il mondo, entrando a far parte dei best-sellers di Justin.
Dobbiamo però dire ad onor del vero che ciò che ai più può sembrare innovativo e particolare è stato in realtà già ampiamente sperimentato in passato e non presenta chissà quali rischi. Siamo sicuri però che il successo di questo singolo porterà alla ribalta contaminazioni dimenticate da un po' (basti pensare a "Touch", nuovo singolo di Pia Mia). Se nel precedente brano abbiamo visto un testo di livello superiore rispetto alla discografia passata di Justin, qui purtroppo dobbiamo dire che queste liriche sono davvero sciocche. Buon primo singolo comunque, catchy ed intelligente.
04. Sorry: Ritorna Skrillex per il secondo singolo estratto dal progetto. Ancora una volta il genere dominante è il tropical pop con una buona dose di dance, la voce di Bieber seppur ancora sussurrata risulta più presente rispetto alle precedenti tracce, da subito si nota che forse l'interpretazione troppo R&B dei brani precedenti non sia adatta alla sua voce: se la musica dance richiede uno strumento vocale non particolarmente incisivo (anche se una bella voce aiuta sempre) la musica R&B pretende una buona vocalità che possa fare da protagonista sulle basi minimal.
Anche questo secondo singolo sta ottenendo ottimi risultati in classifica malgrado la sua somiglianza non solo col primo singolo, ma soprattutto con "Where Are U Now", esperimento di Bieber con Skrillex e Diplo. Quanto è vero che troppo spesso a determinare il successo di un brano sia il nome di chi lo canta e non la traccia in sè! Il testo o meglio, i testi dell'album si fanno decisamente deboli e non particolarmente profondi via via che si procede e per ora l'unico degno di nota resta quello di "I'll Show You".  Leggermente fastidiosa la voce di Justin nei ritornelli, ma nel complesso il pezzo si lascia ascoltare.
05. Love Yourself (feat. Ed Sheeran): Arriviamo al primo duetto dell' album, quello con Ed Sheeran, uno dei cantanti di sesso maschile più amati dell'ultimo periodo. Appena l'album è stato rilasciato, il pezzo è schizzato in cime a tutte le classifiche, in modo particolare in USA in cui attualmente si trova alla posizione numero 3 di iTunes. Il brano è stato prodotto da Benny Blanco che è abbastanza riconoscibile, ma è evidente la contaminazione del genere di Ed, suoni strumentali si uniscono a chitarre molto soavi, il tutto procede decisamente bene e il contributo nei back vocals di Ed impreziosisce il pezzo ulteriormente.
Il testo, malgrado le interviste contraddittorie degli ultimi giorni, sembra riferito alla celeberrima storia di Justin con la cantante Selena Gomez:
"You think you broke my heart, oh girl for goodness sake
You think I'm crying on my own, well I ain't"
 La release come singolo, e probabilmente come terzo singolo, è decisamente scontata non solo grazie al successo già riscontrato subito dopo la release ma anche perchè è effettivamente uno dei brani migliori del progetto. Decisamente promossa ma un pò lontana dallo stile del cantante, molto Ed e poco Justin.
06. Company: A produrre la traccia numero 6 del progetto troviamo Axident che ha ultimamente collaborato in modo decisamente fruttuoso con Inna, cantante rumena molto famosa in Europa, e Jason Derulo. Forti influenze r&b, molto simili a quelle proposte da Tinashe in "Aquarius" e in modo particolare in "2 On", si mescolano ancora una volta al tocco tropical del ritornello. L'interpretazione di Justin si fa di nuovo affaticata e decisamente poco adatta al pezzo che, per citare nuovamente una delle nostre interpreti preferite nel campo, funzionerebbe benissimo in mano ad una Tinashe.
In ogni caso il brano si mostra come un pezzo urban abbastanza riuscito e il ritornello, malgrado abbia perso la forza dei singoli di "Believe", potrebbe funzionare  nelle radio urban americane, meno in Europa. Promossa.
07. No Pressure (feat. Big Sean): Inizialmente annunciata come secondo singolo, è la traccia numero sette dell'album, secondo featuring del progetto, con l'amico Big Sean. Qui e le contaminazioni pop svaniscono e si rimane in ambito R&B e la base, che unisce suoni minimali e una chitarra di sottofondo, è delicata e per nulla differente da quella della grande moltitudine di pezzi R&B che sono in giro attualmente. Il ritornello, malgrado non sia invasivo, viene ripetuto decisamente troppo spesso, diventando decisamente fastidioso, ciò unito a virtuosismi, assolutamente inadatti, rende il tutto un pesante e meno catchy di quanto sarebbe potuto essere, a concludere c'è Big Sean che non aggiunge praticamente nulla a questi interminabili 5 minuti.
 La scelta come singolo sarebbe stata discutibile ma allo stesso tempo rappresenta molto di più l'album rispetto a "Sorry": i due singoli infatti non hanno fatto altro che mostrare la stessa sfaccettatura di questo progetto, diviso in realtà su due filoni ben distinti. Tra i brani R&B, anche considerando le oggettive difficoltà di Bieber in questo campo e la poca originalità delle tracce, nonostante tutto ciò "No Pressure" è forse uno dei migliori e che avrebbe più possibilità di essere estratto.
08. No Sense (feat. Travis Scott): Un primissimo inizio che ammicca all' R&B della Mariah dell'ultimo album si evolve velocemente nella "Pour It Up" di questo progetto, almeno fino al ritornello, che diventa la parte più debole. I continui cambi di registro e di base uniti da un filo conduttore trappish lasciano decisamente stralunati e pongono non poche difficoltà nell'inquadrare il pezzo. Il fatto che le tracce 7 e 8 siano R&B non le rende di certo simili, anzi, questa "No Sense" è decisamente più dinamica ma allo stesso tempo soccombe alla precedente per la sua disorganicità; altra differenza essenziale è il featured artist: se precedentemente Big Sean non fa che allungare un brodo già lungo di suo, in questo caso Travis Scott appare maggiormente a suo agio, ed il suo verso diventa la parte migliore di tutta la canzone.
Un'eventuale release come singolo ci sembra alquanto assurda ma potrebbe avere buona presa sul mercato R&B/urban che è sempre aperto anche a prestiti da parte di cantanti non propriamente R&B. Ascoltabile ma pesante e disorganica.  
09. The Feeling (feat. Halsey): Skrillex ritorna insieme alla bravissima nuova leva della musica Halsey. Molti, vedendo il nome della cantante di "New Americana", si aspettavano una delle migliori canzoni del progetto e invece dovranno ricredersi! Un inizio R&B che fa a pugni con un ritornello pop/tropical assolutamente fuori luogo in cui la voce della cantante non viene assolutamente esaltata ma anzi viene distrutta da sovrapposizioni assolutamente evitabili. L'unica nota positiva è nel testo, non originale ma abbastanza d'impatto soprattutto nel ritornello:
  "Am I in love with you? Am I in love with you?
Or am I in love with the feeling?
Trying to find the truth, trying to find the truth
Sometimes the heart is deceiving"
Assolutamente inadatta a diventare singolo, è una delle peggiori canzoni dell'intero progetto sia a livello di base, con eccessive variazioni, che a livello di interpretazione dei due artisti che sono assolutamente incompatibili a livello vocale, insomma questo matrimonio non s'ha da fare.
10. Life Is Worth Living: Con i classici accordi che accompagnano le ballad che di solito vengono poste alla fine di ogni progetto inizia la traccia numero 10. La produzione è semplicissima e non ha davvero nulla di particolare, se uniamo tutto ciò ad un'interpretazione carente dovuta anche ad una voce alquanto sciatta questo pezzo diventa decisamente superabile e anche fuori luogo all'interno del progetto. Ancora una volta il testo si presenta decisamente migliore a quanto abbiamo potuto sentire nei precedenti album del cantante (non che ci volesse molto…), a testimonianza che una certa maturazione bene o male c'è stata:
"Life is worth living, so live another day
The meaning of forgiveness
People make mistakes, doesn't mean you have to give in
Life is worth living again"
11. Where Are U Now (With Skrillex & Diplo): Rilasciata come singolo da Skrillex e Diplo, è stata un successone estivo un po' ovunque e ha dato il via libera a Bieber, ancora indeciso su che strada prendere per questo album, che se la traccia non avesse fatto successo probabilmente ora avrebbe una forma completamente diversa. Dobbiamo dire che tra tutte le uptempo tropical è probabilmente quella che funziona meglio in quanto è "l' originale", le parti cantante continuano ad essere decisamente pesanti e poco adatte al cantante ma la base, decisamente innovativa e particolare signoreggia su tutto.
A differenza di molti altri brani dell'album non è rilevante il testo, al contrario il beat e la voce modificata costituiscono la parte più interessante. Molto meglio dei primi due singoli estratti nonchè una delle migliori dell'intero progetto.
12. Children: Chi pensava che l'album stesse scivolando in qualità (non che ce ne fosse tanta) verso la fine dovrà ricredersi, perchè uno dei brani migliori è collocato qui, come penultima traccia del progetto. Questa ''Children" è la testimonianza di quanto Bieber sia decisamente più adatto alla musica dance che all'R&B o alla musica alternativa, la base tropical esplode in un ritornello che all' ormai consumato tropical aggiunge un tocco della dance di Zedd che abbiamo potuto vedere in in pezzi come "Beauty And A Beat" nell'album precedente.
 "Children" è qui e non aspetta che essere estratta come singolo, magari nella prossima estate, non siamo davanti ad un capolavoro ma sicuramente davanti a cio' che può far impazzire le radio e l'audience sia in USA che in Europa.  Assolutamente promossa nel suo genere. "Truzzagine" a mille!
13. Purpose: All'inizio sembra quasi di essere nuovamente davanti a "Life Is Worth Living", una nuova ballad semplicissima è la title track del progetto, coprodotta dal produttore di "Liquor" di Chris Brown. Come spesso capita per le ballad finali, non è materiale da singolo ma una delle tracce più personali ancora una volta con un bel testo decisamente dolce ed è un bel modo per lasciar finire questo album. E vogliamo concludere proprio con una parte del bel monologo finale:
"You can't be hard on yourself
For these were the cards that you were given so you have to understand that these, like…
That's not who you are
You're trying to be the best you can be but that's all you can do
If you don't give it all you got, you're only cheating yourself
Give it all you got
But if it ends up happening, it ends up happening."
A continuare l'esperienza "Purpose" ci sono varie edizioni e varie nuove canzoni. In primis un remix con Ariana Grande del primo singolo "What Do You Mean?", in cui la Grande viene messa totalmente in secondo piano tanto da risultare quasi come una cantante di back-vocals, non aggiunge nulla all'originale. Veramente un remix evitabile, dovuto solo al fatto che i due condividano lo stesso manager. Ariana Grande è costretta a bisbigliare come Justin, ed è veramente ridicolo ed imbarazzante che una grande voce debba limitarsi in questo modo per accompagnare una vocalità così mediocre. "Been You" è un brano semplice pop che ricorda il precedente album di Justin escludendo quasi del tutto i suoni di "Purpose", similmente "Get Used To It", non sono state inserite perchè probabilmente facenti parti del primo nucleo di registrazione del progetto e infatti risentono ancora molto di "Believe". A restare fuori è anche il duetto con Nas, "We Are", in questo caso l'esclusione dall'album è assolutamente inspiegabile visto che probabilmente si tratta di una delle urban jam migliori dell'intero progetto. ''Trust" riprende i suoni trap già presenti nell'album in modo però decisamente inefficace, spruzzi di classic R&B anche per "All In". Skrillex per la sorella gemella di "Where Are U Now", questa "Hit The Ground" non è niente male, pur essendo una midtempo molto semplice, sarebbe potuta entrare nell'album ed essere anche un degno singolo. Parliamo ancora di "Where Are U Now" perchè "The Most" è la sua versione originaria poi scartata da Bieber, conclude l'esperienza ''Home To Mama", pezzo country che sarebbe dovuto essere il primo singolo del progetto con Cody Simpson, cestinato quando si è visto che il singolo non era appetibile per il mercato. 
Possiamo definire questo disco come un concept album, articolato su due filoni, che non di rado si uniscono e si ibridano e spesso anche con grandi difficoltà: quello urban e quello tropical. 
Per quanto riguarda i brani più urban siamo davanti a prodotti mal interpretati in cui, malgrado in "Journals" non fosse così evidente, Bieber non riesce ad emergere e che in mano a molti altri, come ad esempio Drake, Chris Brown et similia, sarebbero potuti diventare dei veri gioiellini.
Le collaborazioni sono alquanto insipide e non donano, nella maggior parte dei casi, quasi nulla di nuovo alle tracce, neanche talenti del calibro di Ariana Grande o Halsey riescono ad emergere in questo tripudio di suoni pesanti e spesso irritanti, anzi vengono addirittura declassati.
L'impressione è che Bieber, dopo un periodo di smarrimento artistico e personale in cui non sapeva che strada intraprendere (ha realizzato e cestinato tre album mentre cercava di ripulire mediaticamente la sua immagine), abbia trovato in ''Where Are U Now" la strada per il successo, e che quindi abbia deciso di confezionare in fretta un progetto improntato completamente su quel genere. Pensate che alla produzione non vi è traccia nè di Kanye West nè di Rick Rubin, lavoro con i quali era stato esaltato dall'interprete mesi prima della creazione della versione definitiva dell'album, in cui i due grandissimi producers sono stati mandati elegantemente a farsi un giro.
La strada dell'alternative, come può ben testimoniare una come Rihanna, è tortuosa e può portare a pericoli non solo nelle vendite in cui Justin resta davvero molto forte, ma soprattutto a livello di qualità. Fare un confronto con i suoi lavori precedenti è difficile: da una parte abbiamo la musica più mainstream di "Believe", dall'altra questo "Purpose" che per certi versi snatura la figura a cui siamo abituati di Justin.
La nota di lode va ai testi che sembrano in vari casi più profondi e meno bambineschi, malgrado il tema dell'amore venga ancora trattato in modo "giovane", come in fondo è giusto che sia vista l'età dell'interprete.
Cercando di giudicare con obiettività questo progetto troviamo grandi pecche, una produzione decisamente monolitica e sbrigativa e un'esecuzione vocale non soddisfacente. 
Per tutti questi motivi, è un disco che non ci ha soddisfatto. Nella formulazione del voto, abbiamo aggiunto mezza stella alla vera votazione che meriterebbe questo progetto, per premiare la maggiore maturità nei testi vista in alcuni brani, tuttavia sia ben chiaro, la qualità si trova da tutt'altra parte.