Kanye West – The Life of Pablo | Recensione CD
Recensione del nuovo album di Kanye West "The Live Of Pablo"
Con un po' di ritardo, dovuto alle incertezze dell'artista riguardo la distribuzione del suo ultimo album, ma anche alla voglia di scrivere una buona recensione, ecco a voi la nostra opinione sul nuovo progetto di Kanye West, "The Life Of Pablo"-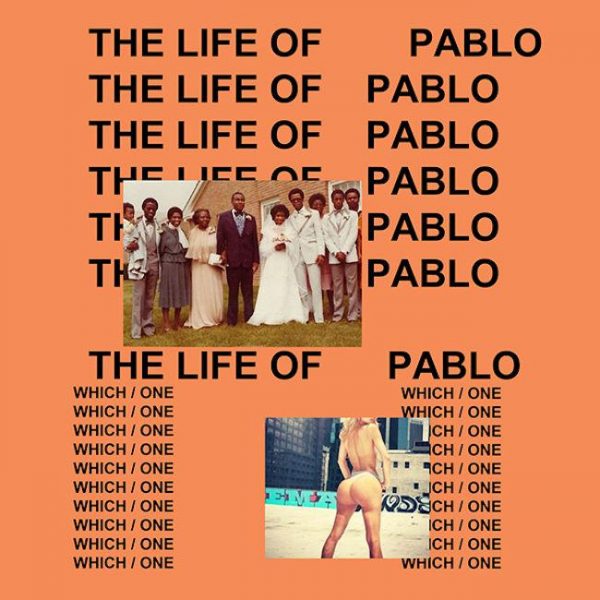 Iniziamo cercando di spiegare la decisione del titolo dell'album, più volte modificato peraltro, fino ad arrivare a quello definitivo, cercando di svelare chi potrebbe essere questo strano individuo di nome "Pablo". Dico cercando perché, si sa, il mondo di Kanye non è mai spiegabile al 100%. "Pablo", si è scoperto, tramite le liriche del CD e i messaggi del rapper, possa essere riferito a quattro personaggi differenti di rilievo, uno diverso dall'altro, ma che eccellevano nel loro campo, in bene o in male:
Pablo Picasso: l'artista/genio vissuto dalla fine del 1800 fino alla prima metà del 1900. Ebbene, il pittore è conosciuto come uno dei più importanti, nonché rivoluzionari, dato il suo modo di concepire e percepire l'arte e il mondo circostante. Una visione futuristica, per certi versi anche "strana", dettata dal movimento del "cubismo". Kanye si vuole magari affiancare a lui proprio per questo modo tutto personale di vedere le cose e anche per il fatto di aver voluto rivoluzionare il mondo della musica, non definendosi semplicemente un rapper, ma un genio.
Pablo Escobar: il criminale e trafficante di cocaina più conosciuto al mondo. Tra sesso, droga, armi e latitanza è certamente il simbolo più estremo di una vita di potere, superiorità e sfarzo.
San Paolo? l'apostolo, uno dei personaggi più influenti della religione cristiana, messaggero di Cristo e della Parola divina. Si dice che, in realtà, sia la vita del Santo il motivo principale del titolo dell'album.
Pablo Neruda: considerato uno dei più grandi poeti nella letteratura dell'ultimo secolo.
"TLOP" è un album completamente diverso dall'ultimo "Yeezus" per temi, ma musicalmente, per certi versi, continua sulla sua falsa riga, evolvendosi e rinnovandosi. Le sonorità che Kanye negli ultimi anni ha deciso di utilizzare, non sono le tipiche del vostro cantate preferito. A me piace definirle "strane", stando attento a riferirmi sempre all'accezione più positiva del termine. Ma in realtà sono futuristiche, visionarie, incasinate. Sono musiche e campionamenti che nessuno mai penserebbe che possano andar bene insieme. E invece…
La mente vulcanica, eccentrica, lunatica e ossessiva del rapper si riversa tutta nell'album. Sembra un continuo flusso, che muta e passa dalle sonorità gospel della prima traccia all'hardcore della terza, provocato dai bassi, dai suoni e dalle voci, le urla in sottofondo che potrebbero persino risultare fastidiose all'orecchio, esattamente come "Feedback", "Highlights", "Freestyle 4". Poi si passa alla bellissima "Waves", inpreziosita dal gigantesco Chris Brown e alla slow jam introspettiva "FML" con l'azzeccatissimo The Weeknd. Le ultime tracce potrebbero risultare pesanti e ripetitive e senza il genio delle precedenti, come "30 Hours", "Fade" e persino "No More Parties in L.A." con Kendrick Lamar.
Ma andiamo con ordine, ed analizziamo ogni singola traccia dell'album:
1 – Ultralight Beam. Si comincia con la bellissima "Ultralight Beam" dove Kanye canta con l'effetto dell'auto-tune e viene accompagnato dalle voci gospel di Kirk Franklin e The-Dream. La parte finale è affidata a Chance The Rapper, che ci regala un verso stupendo, per metrica e liriche. La traccia richiama molto le sonorità religiose di un canto di chiesa ed effettivamente tratta proprio della fede che Kanye ha in Dio: lo ringrazia per il talento e per la vita che gli ha dato. E' proprio qui che riconosciamo le similitudini con la vita di San Paolo Apostolo, che è stato accecato da un fascio di luce divino, proveniente dal cielo, mentre stava viaggiando sulla via per Damasco per perseguitare i cristiani.
Il titolo vuole significare appunto "fascio di luce sottile, leggero". Quel fascio che ha illuminato Kanye nella musica e lo ha portato alla stesura anche di questa traccia, introspettiva, illuminante.
2 – "Father Strecht My Hand". "Father Strecht My Hand" inizia con un sermone di un pastore dal nome T.L. Barrett, in cui esprime la volontà di sottomettersi alla potenza di Dio.
La traccia è stata prodotta dal giovane Metro Boomin, storico collaboratore di Future, di cui si sente la voce nel voice tag del produttore. Nei primi versi troviamo volgarità gratuite riguardo il suo aver fatto sesso con una modella, probabilmente la sua ex Amber Rose (nonché ex di Wiz Khalifa), ma alla fine prevale il "buon senso" e conclude che non c'è niente di più bello al mondo che svegliarsi accanto alla propria donna la mattina.
Kid Cudi aggiunge un ritornello armonioso e allegro alla canzone. Peccato per la breve durata del pezzo, sicuramente ci sarebbe potuto essere un secondo verso.
Il titolo significa "stendere le braccia a Dio", in segno di preghiera e sottomissione.
3 – "Father Strecht My Hand, Part 2". La "Part 2" è una continuazione della precedente, ma qui si cambia totalmente tono sia nelle liriche che nel beat. La canzone gli è stata ispirata dal comportamento che suo padre, Ray West, ha avuto nei confronti di lui e sua madre. Ray li ha lasciati quando Kanye aveva solo 3 anni. La madre successivamente ha spiegato il motivo del divorzio: l'uomo metteva al primo posto il lavoro e in secondo piano la sua famiglia.
In questa traccia il rapper riflette su come non voglia commettere lo stesso errore del padre con la sua Kim e le due figliolette. Proprio Kanye ha rivelato di aver pianto durante la stesura del brano. Il beat e il ritornello, però, a tutto fanno pensare tranne che a lacrime di tristezza: il beat è aggressivo, cattivo e ha una storia molto particolare. Deriva dal sample di una canzone di un diciannovenne di New York di nome Desiigner, prodotta da Menace, un producer inglese di 22 anni. Desiigner compra online il beat per 200 dollari e pubblica la sua canzone originale su Soundcloud. In sintesi, il brano arriva alle orecchie di Kanye che lo contatta dicendo che vuole assolutamente inserire la canzone nel suo album. Pochi giorni dopo Desiigner si ritrova a presenziare in due tracce di "TLOP" e firma un contratto per la G.O.O.D. Music, etichetta di West.
La canzone suscita una forte spinta, quasi rabbia e decisamente liberazione, come Kanye sottolinea dicendo che "vuole soltanto sentirsi liberato". Lo si riconosce nel modo di rappare dell'artista soprattutto nella prima parte in cui sembra voler sputare fuori tutto quella che ha dentro, una parola dietro l'altra, senza sosta. Il beat è di un'altro livello…
4 – Famous Si arriva a "Famous", il brano tanto chiacchierato perché contiene un verso misogino nei confronti di Taylor Swift, in cui West afferma che è grazie a lui se lei oggi è "famous". In generale la canzone tratta di celebrità, auto-celebrazione ed egocentrismo nel tipico stile singolare e unico di Kanye. Rihanna viene inserita nell'intro e nel ritornello, dove campiona "Do What You Gotta Do" di Nina Simona e la sua collaborazione appare molto soddisfacente non deludendo le aspettative, come del resto era già successo nei precedenti capitoli di "All of the Lights" e le altre tracce in cui i due si ritrovano assieme.
Nel finale la canzone si trasforma e assume sonorità reggae grazie al sample della celeberrima "Bam Bam" di Sister Nancy. L'accoppiamento favoloso di questi due sample può essere frutto soltanto di un genio come Swizz Beatz, che rende assolutamente complementari due canzoni completamente diverse all'origine.
5- Feedback: "Feedback", per sonorità quasi techno, richiama molto il vecchio "Yeezus" del 2013. Sembrano suoni di macchine industriali, robotiche, computerizzate, che aiutano molto a far risaltare il flow pazzesco e versatile di Kanye. In più, non mancano urla e voci strambe. In questa traccia Kanye vuole dare la notizia a tutti del suo ritorno:
"Y'all heard about the good news? / Y'all sleeping on me, huh? Had a good snooze? / Wake up, nigga, wake up / It's time to get the paper". 
Solo in questo ritornello troviamo un sacco di messaggi importanti, che vanno analizzati:
In questo tweet antecedente all'uscita dell'album, Kanye afferma che l'album è un album Gospel. Ma ora, mettendo assieme i pezzi, riusciamo a comprendere appieno il doppio significato della parola: "gospel" nell'antica Grecia stava a significare "buona notizia", una combinazione, in inglese, delle parole "good" e "message", "news", proprio come dice nel ritornello.
Ecco la grandezza di Kanye! All'inizio ti sembra di non capire niente; come se tutto fosse un gran casino. Poi, andando a fondo, trovi il significato ad ogni suo piccola genialata.
Mentre dormivate "su di lui" (magari ascoltando "Yeezus") avete sentito lo "snooze" della sveglia, perché è tempo di alzarsi, di prendere il "paper" (newspaper, giornale) e andare a leggere del ritorno di Yeezy, dopo 3 anni. Oppure è il momento di fare "paper", soldi? Chi lo sa…
Nel secondo verso della canzone si riferisce a Pablo Escobar e nel terzo verso la frase "name one genius that ain't crazy" suona come una sfida alla gente: trovare un genio che, contemporaneamente, non sia stato anche pazzo, ma non per forza nel senso di disturbo psichico.
Pablo Escobar, Picasso e San Paolo sono indubbiamente tre personaggi geniali ma, che a loro volta, hanno avuto dei momenti di pazzia. Il genio non può separarsi dalla pazzia. E, con ciò, sembra anche voler "giustificare" le sue (numerosissime) azioni poco ortodosse nel corso degli anni. Kanye è Kanye, prendere o lasciare. Più avanti nomina altri geni come Steve Jobs o Michael Jordan.
Il pezzo è un insieme di suoni stridenti e sinistri che si mischiano con la voce aggressiva, andante e affamata di West, che rappresentano il genio, la pazzia, l'eccessività dell'artista nella canzone.
6 – Low Lights Lo skit "Low Lights" è un' ode a Dio, un ringraziamento per la Sua certa presenza in ogni cosa e in ogni momento della vita. Kanye ha spiegato via Twitter che questi due minuti sono dedicati alle mamme che ogni giorno guidano per portare i figli a scuola e poi vanno al lavoro. La voce è stata accreditata a Sandy Rivera, ma non ci sono conferme a riguardo.
7 – Highlights Dentro troviamo Young Thug, El De Barge e il grande The-Dream. Sostanzialmente, parla della sua carriera e di ciò che ha realizzato, della fama e del successo dei rapper.
Volgare il primo verso, in cui Kanye dice che vorrebbe avere una GoPro sul suo pene per rivedere in slow-motion tutte le sue "gesta" (e che c'entra questa cosa???).
Poi nel secondo ritorna sulla vicenda Ray J: l'ex compagno dell'attuale moglie di Kanye, Kim Kardashian, che in una sua canzone si vanta di esserci andato a letto prima di lui. La canzone è intitolata "I Hit It First". Kanye riprende il titolo e controbatte così:
"I bet me and Ray J would be friends / If we ain't love the same bitch / Yeah, he might have hit it first / Only problem is I'm rich". 
Ovvero:
"Io e Ray J potremmo essere ancora amici, se non avessimo amato la stessa pu****a. Ci sarà anche stato per primo, l'unico problema è che io sono ricco".
Ecco…Ho fatto ascoltare la canzone al mio migliore amico, spiegando la vicenda, e mi ha guardato stupito dicendo: "E chiama sua moglie pu****a?!". Io ho semplicemente risposto: "Ma è Kanye West…"
La canzone risulta positiva e piacevole e scorre facilmente all'ascolto. Kanye forse vuole trasmettere la positività e la gioia che ha nell'essere famoso, nell'avere una bella famiglia, e sembra riuscirci.
8 – Freestyle 4 Arriviamo alla seconda collaborazione con Desiigner, anch'essa breve ma intensa. Il brano è "Freestyle 4", che si appoggia su un beat martellante, dai suoni sinistri, quasi macabri. In più, l'effetto che Kanye dà alla voce rende l'aria ancora più pesante e rimbombante in testa. Anche questo è un sample: di "Human" dei Goldfrapp, in cui Mike Dean, producer sempre al fianco di Kanye, ci aggiunge i "woo" già sentiti in "All of the Lights", di cui lo stesso Dean è stato produttore. All'inizio del brano si sentono i versi "rra", simili a quelli in "FSMH Part 2".
Il tema è l'abuso di droga, soprattutto cocaina, e le sensazioni che si provano, la "fast life" e lo stile di vita "wild" e oltre i limiti. Sembra che a rappare sia la parte fatta, intossicata di Kanye. Si entra nella testa del rapper e l'atmosfera psichedelica creata dal pezzo rende tutto più facile. Interessante traccia…
9 – I Love Kanye. "I Love Kanye" è un altro skit che sembra spezzare nuovamente il ritmo di quest'album pieno di continui cambi di fronte, musicalmente parlando. Qui parla di se stesso in terza persona e si riferisce a tutti coloro che vorrebbero tornasse il Kanye West dei vecchi album e che odiano il nuovo Kanye, col nuovo sound, il nuovo mood, ecc ecc. Poi finisce ridendo: "Ti amo come Kanye ama Kanye". E' stato aggiunto dopo la sua performance al Madison in cui presentava l'album e la sua nuova collezione, assieme.
10 – Waves Il decimo pezzo è "Waves" con Chris Brown. La canzone parla di un amore e dell'amore in generale; di una relazione avuta in precedenza, metaforizzata con le onde, che non muoiono mai realmente. Come il vero amore, l'onda ha flussi e riflussi continui, ma non scomparirà mai. West lo spiega bene nel secondo verso: "anche quando qualcuno va via, il sentimento non è realmente andato via / è soltanto l'onda".
Quando Kanye ha ufficializzato "The Life Of Pablo" come nome dell'album, la canzone non presenziava nella tracklist. Dopo la serata del Madison, però, Chance The Rapper ha insistito e pressato fortemente affinché la canzone ne facesse parte, tanto da ritardare l'uscita dell'album di qualche giorno e scatenare l'ilarità di Kanye su Twitter, che pubblicò questa foto:
La copertina dell'album con la scritta "Blame Chance" al posto del titolo. Ovvero "è colpa di Chance". Ma io direi meglio: grazie mille Chance!
Questa è sicuramente una delle canzoni di punta del disco. E' stupenda, da pelle d'oca, a mio avviso. Molto è anche dovuto al mitico Chris Brown che sviluppa un ritornello magistrale che, a occhi chiusi, può trasportare in una dimensione parallela e può far rientrare e riconoscere chiunque nel tema della canzone.
Il beat trasporta e culla come le onde. La parte finale con le voci create da Kanye suscita e trasmette forti emozioni.
L'unica pecca è forse la poca presenza di Kanye nel pezzo, che arranca soltanto un verso, con poche battute, anche se al posto giusto e con frasi importanti. Probabilmente, l'inserimento all'ultimo della traccia ha comportato la mancanza di un'ultima revisione e magari l'aggiunta di altre barre.
11 – FML. "FML", featuring The Weeknd. Introspettiva. Bellissima la scelta dell'acronimo, che porta a un' ambiguità: "Fuck My Life", come dice nell'hook, oppure "For My Lady"? Entrambe!
Questa canzone tratta delle difficoltà di rimanere fedele alla propria donna, ed anche a quelle di smettere di far uso di antidepressivi. Soprattutto, punta il dito contro i giornalisti, i media e gli haters in generale, che non hanno mai creduto all'amore che lega lui e la sua Kim, dandoli sempre per finiti. "They don't wanna see me love you" è la frase perfetta che racchiude tutto il significato del brano.
Il pezzo si divide in due parti: la prima è calma e lenta, lascia spazio alla musica e le parole cantate sono lontane l'una dall'altra. Qui Kanye esprime l'amore verso la sua donna. Nella seconda parte, dopo il ritornello, accelera, aggredisce e sembra quasi avere un confronto con lei.
Per me, è difficile trovare la migliore canzone dell'album. Ma questa ci va veramente molto vicina… Adoro come si conclude, dopo il breve assolo di batteria. Il sample cambia e l'atmosfera si infittisce: qui Kanye chiede a sua moglie di restare sempre con lui e attacca i media.
12 – Real Friends. Ecco un'altra canzone che amo: "Real Firends", vera, senza filtri, concreta, introspettiva anche questa. E la voce graffiante di Ty Dolla $ign chiude il cerchio.
La canzone tratta delle relazioni false che circondando Kanye (ma anche ognuno di noi) sia in famiglia, che tra le conoscenze. Il titolo è il contrario del significato della canzone: in realtà Kanye chiede a tutti "quanti amici veri hai?".
Parla delle difficoltà che avuto a restare in contatto con quelli che prima erano i suoi parenti e i suoi amici, che ora non capiscono che è troppo indaffarato per prendersi cura come si deve di loro. Si lamenta e pensa: "potreste ricordarvi voi di me, no?", invece di essere gelosi, di non capire questa parte della sua vita, di chiamarlo solo quando hanno bisogno dei biglietti in prima fila alle partite. E Ty nell'hook canta: "suppongo di avere quello che mi merito, giusto?", facendo salire i sensi di colpa per questa situazione.
Kanye va contro l'ipocrisia della gente, la falsità, i doppi giochi e le doppie facce, il non potersi mai fidare di nessuno. Quanti di voi vorrebbero dire qualcosa del genere verso chi si è comportato male? Tutti.
In questa canzone ci possiamo ritrovare tutti, e Kanye è bravissimo nel creare il mood per "abbracciare" tutti. A volte, nella voce, sembra quasi rassegnato, sembra sbuffare, per poi tornare ad essere arrabbiato, ma anche molto dispiaciuto. Riconosce che questa situazione è uno dei brutti risvolti della fama.
13 – Wolves. Una prima versione della traccia l'avevamo già ascoltata più di un anno fa durante la presentazione della prima stagione della sua linea di abbigliamento. In quella versione erano presenti anche Vic Mensa e Sia. Nell'album version invece ritroviamo il breve e quasi insignificante outro di Frank Ocean.
Successivamente all'uscita dell'album, Kanye ha voluto aggiornare la tracklist, facendo diventare l'outro di Frank Ocean una traccia singola che viene dopo "Wolves" e reinserendo in quest'ultima Sia e Vic Mensa. In molti, stufi degli atteggiamenti del rapper e dei suoi continui cambi di fronte e di idee (vedi il titolo dell'album cambiato per 3-4 volte) hanno criticato questa scelta dicendo che fosse eticamente sbagliato modificare un album già uscito. A mio avviso, solo un grande artista decide di aggiornare la sua arte, magari ammettendo un errore.
La canzone tratta di vari sentimenti ed emozioni che Kanye prova e ha provato durante la sua vita: la depressione, la dipendenza da sostanze e il dolore, il pensiero del suicidio, la paura del rimanere solo, ma anche la speranza nell'amore per la donna della sua vita trovata per caso in un luogo sconosciuto.
In questa traccia Kanye vaga da solo come un lupo nei meandri della sua vita, provando e superando tutti questi sentimenti. La donna, poi, lo salva. Arriva a paragonare lui e Kim a Maria e Giuseppe.
Gli ululati di Caroline Shaw inseriti all'interno del beat semplice e basilare, aiutano a creare l'atmosfera giusta. Poi Frank Ocean chiude quasi a cappella…
I "lupi" sono anche i nemici e gli haters e Kanye afferma che siamo costantemente circondati da "fottuti lupi".
14 – Silver Surfer Intermission Lo skit "Silver Surfer Intermission" è una telefonata tra Max B e French Montana quando ancora l'album doveva chiamarsi "Waves".
15 – 30 Hours "30 Hours" si basa completamente sul campionamento di "Answer Me" di Arthur Russell, la cui voce inizia la canzone con le frasi "baby lion goes / where the island goes". La seconda frase, ascoltata attentamente nel brano originale del 1984, suona come le parole "30 hours" e da qui il titolo della canzone di Kanye.
Parla di una vecchia relazione sentimentale avuta con una ragazza a "30 ore" di macchina di distanza, che Kanye percorreva periodicamente per vederla. Questa è la distanza tra Chicago, la sua città natale e città dove risiedeva la sua ragazza, e Los Angeles, città dove Kanye si recava per affermarsi nel mondo della musica. Con molta probabilità, si riferisce a Sumeke Rainey, con cui ha avuto una relazione di 7 anni, terminata nel 2004, dopo che lui ha scoperto di essere stato tradito più volte da lei.
Il featuring di André 3000 sembra quasi non esistere! Appena ho letto che ci sarebbe stata una traccia con lui ero al settimo cielo, visto che si tratta di uno dei rapper migliori e maggiormente rispettati nella scena, ma poi sono rimasto alquanto deluso… Avrebbe dovuto avere più spazio Andre.
E' una bonus track e quindi Kanye nel finale fa anche dei ringraziamenti. Poi la canzone viene interrotta da una telefonata da parte di "Gabe" (Tesoriero), ovvero un membro storico dello staff della Def Jam e che ora ricopre ruoli più importanti. Gabe è stato sempre al fianco di Kanye nella sua carriera.
16 – No More Parties in L.A. Segue "No More Parties in L.A." con Kendrick Lamar. La canzone ha fatto parte dei G.O.O.D. Fridays lanciati da Kim, prima dell'uscita dell'album (ogni venerdì, da inizio gennaio fino al 14 febbraio, giorno della release di "TLOP", sarebbe dovuto uscire un inedito diverso; ma poi non è stato proprio così). Abbiamo capito che a West piacciono i campionamenti e anche questa canzone ne ha un paio. La traccia parla della vita da celebrità e comincia subito col verso di Kendrick. Poi uno molto lungo di Kanye, senza un reale ritornello nel mezzo.
La canzone non è uscita di venerdì, bensì di lunedì, poiché Kanye è dovuto volare con urgenza in Italia, per sistemare delle questioni riguardanti la sua collezione di moda. Per non far attendere molto i suoi fan, durante il volo di ritorno ha completato la canzone, scrivendo le ultime 90 barre in aereo. Con lui, infatti, si è portato Noah Goldstein, uno degli ingegneri musicali che hanno seguito la creazione di "The Life Of Pablo".
La canzone è molto rap old school, classica. Ma in tutta sincerità, mi aspettavo più di qualcosa in più da quei due. Sembra quasi fatta per riempire l'album, per mettere più carne al fuoco. Visti i nomi, secondo me non è sufficiente…
17 – Facts (Charlie Heat Version) La "Facts" che troviamo subito dopo è una versione remixata dell'originale, sentita qualche tempo prima come singolo. Celebra il successo del brand di cui è testimonial, Adidas, e anche quello delle sue scarpe, mentre critica e dissa Nike e Jordan. Anche questa sembra una filler … non mi entusiasma.
18 – Fade L'ultima traccia è "Fade". Qui si campionano due vecchie hit che infiammavano la dancefloor: parliamo di "Mystery of Love (Club Mix)" dei Fingers Inc. del 1986 per la musica e di "(I Know) I'm Losing You" di Rare Earth, del 1974, per la voce. Nel finale si campiona invece Barbara Tucker con la sua "I Get Lifted" del 1994.
Come featured qui abbiamo Post Malone e Ty Dolla $ign. La canzone tratta di un amore distante che Kanye sente scivolare via, ma il brano è molto più basato sulla musica e sugli arrangiamenti qualitativamente altissimi, piuttosto che sulla qualità delle liriche. Anche il mix di voci tra i vecchi sample e i i tre cantanti è fatto molto bene.
Ebbene, il disco termina qui. Un concentrato di suoni immenso, con una mole di sample infinita. Un numero spropositato di produttori, ingegneri, assistenti, scrittori, voci e che più ne ha più ne metta (basta cliccare qui per vedere i credits dell'album, direttamente dal sito ufficiale di Kanye, per rendervi conto di quanta gente è stata dietro questo progetto).
Non si riesce a trovare un filo conduttore in tutto album, la tracklist non segue una logica. A volte sembra che Kanye abbia semplicemente voluto mettere quella canzone lì (cosa che probabilmente è avvenuta davvero).
Parla di tutto e di niente. Trattandosi di Kanye non può non essere confuso, incasinato. Ma pur sempre sorprendente, rivoluzionario, fuori dagli schemi, diverso e innovativo. Geniale per certi versi. Oppure semplicemente folle? Qual è la differenza?
Eh sì, perché, che vi piaccia o no, il modo di fare musica e la visione di essa di Kanye West è questa qui. D'altronde, Kanye ha una dicotomia molto semplice: o lo si ama, o lo si odia. Non sappiamo a voi, ma a noi Kanye piace, e parecchio.