Katy Perry – Prism | Recensione CD
Quando nel 2008 i suoi singoli "I Kissed a Girl" e "Hot 'N Cold" fecero faville nelle charts di tutto il mondo, tutti ci domandammo se Katy Perry fosse destinata a restare o fosse solamente l' ennesima meteora. La risposta arrivò forte e chiara con il suo terzo album di inediti, "Teenage Dream". Il disco, con numeri modesti ma costanti, ha ad oggi venduto più di 6 milioni di copie nel mondo ed i singoli estratti sono stati tutti dei successi, garantendo a Katy numerosi primati. Insomma, dopo anni di tentativi (il suo primo disco risale al 2001), la ragazza californiana è riuscita ad imporsi sul mercato internazionale, mercato che in questi giorni sta accogliendo la sua quarta fatica discografia, "Prism".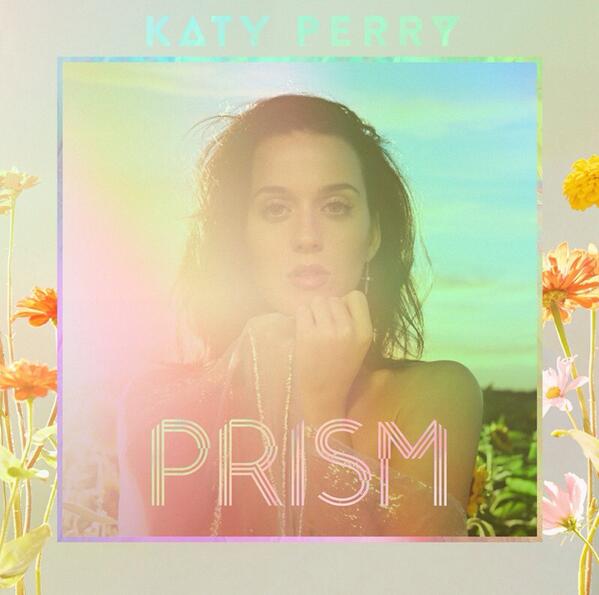 Inzialmente descrittoci come un progetto "dark" e molto introverso, all'incirca in contemporanea con l'uscita del primo singolo estratto, la cantante di "Firework" ci ha comunciato che ha "lasciato entrare la luce" e che è proprio questo il concept dell'album. Iniziamo dunque la recensione di "Prism"… Che più che una recensione, ci tengo a precisarlo, è un commento personale (ovviamente mi impegnerò nell' essere il più oggettivo possibile) da cui mi auguro possiate prendere spunto per dare le vostre opinioni.
1) Roar: apre il disco il primo singolo estratto, che ha riscontrato il favore delle classifiche internazionali. "Roar" è una canzone creata con la ricetta dei precedenti singoli di Katy: base che più pop non si può, testo diretto e perfetto per essere canticchiato, voce allegra ma anche potente. Tuttavia, forse qualcosa è andato storto nel "dosaggio": dopo un'iniziale fase di euforia ed un mese di ascolti non-stop ho cominciato a notare parecchie debolezze in questo brano. A partire dalla base, molto semplice e comune (tanto che in molti hanno notato fin troppe somiglianze tra questa canzone e "Brave" di Sara Bareilles), passando per la voce che è un vero ruggito solo nei ritornelli – specialmente nel finale – e finendo con il testo, in linea con il tema del CD, ma che sarebbe stato più interessante se sviluppato più intensamente e meno giocosamente. Insomma, c'erano le fondamenta per creare qualcosa di più interessante. Fatto sta che rimane un pezzo molto orecchiabile.
2) Legendary Lovers: continuiamo con il secondo brano, "Legendary Lovers". La canzone mi ha rapito sin dal primo ascolto: base con forti influenze orientali, Katy che sfodera una voce molto sensuale, un testo che inneggia all'amore leggendario… Tutti elementi che si uniscono per creare una canzone tanto particolare quanto piacevole all'ascolto. Personalmente la trovo un'evoluzione più matura del singolo "Teenage Dream" e non fatico ad immaginarmi questo pezzo come terzo singolo, accompagnato da un video girato in India, tutt'altro che casto…
3) Birthday: siamo arrivati alla terza canzone. Per quanto riguarda il sound in un Q&A su Twitter, ma anche in alcune interviste, Katy ha dichiarato di essersi ispirata a Mariah Carey, Prince e Wendy & Lisa. "Birthday" è una canzone pop dove la californiana tira fuori la parte di sè che ci ha già mostrato con pezzi come "I Kissed a Girl" o "Peacock".. Difatti la voce giocosa e sensuale di Katy e il testo che non parla proprio di un compleanno tra bambini si mixano per formare un pezzo molto orecchiabile ed un potenziale singolo, ma che in un paese come gli USA potrebbe creare qualche problema. Fatto sta che per me questa canzone è la quintessenza dell'autoironia che distingue Katy, e quindi la trovo irresistibile (specialmente nell'"Happy Birthday" sussurrato alla fine).
4) Walking On Air: per il secondo singolo promozionale Katy, oltre che all'inseparabile Max Martin, si affida a Klas Åhlund. Walking On Air è un brano fortemente influenzato dalla dance degli anni '90 e anche qui, come con Legendary Lovers, mi sono innamorato al primo ascolto. La base è fresca e ballabile e nel pezzo possiamo ascoltare svariate voci oltre a quella – dolce e spensierata – della nostra Perry: infatti la canzone inizia con una voce estranea e verso la fine entra in gioco un coro gospel. Il testo, ispirato da un'esibizione di pattinaggio, è forse un pò ripetitivo ma in sintonia con il resto della canzone. Altre ispirazioni per questo pezzo provengono da Crystal Waters e CeCe Peniston.
5) Unconditionally: secondo singolo estratto (per ora solo per i passaggi in radio) dal disco. Unconditionally è una ballata pop, nonchè il brano preferito di Katy stessa in "Prism". Il testo è ispirato all'attuale compagno della cantante, ovvero John Mayer, ma anche da un viaggio in Madagascar con l'UNICEF, e parla di amore, un amore senza alcun tipo di condizioni. Rispetto alla maggior parte delle canzoni d'amore della Perry, Unconditionally presenta un sound più introverso e cupo e anche la performance vocale di Katy è matura e profonda. Il risultato? Una canzone tanto orecchiabile e canticchiabile quanto profonda e ricca di significato, se ci si informa per bene. Un brano degno della categoria in cui siedono "Thinking Of You" e "Firework". Insomma Katy ci conferma di avere, almeno per quanto concerne la sua discografia, buon gusto!
6) Dark Horse (feat. Juicy J): primo singolo promozionale estratto dal disco – nonchè unica collaborazione presente all'interno del progetto. Se discessi che Dark Horse è hip-hop o rap gli amanti del genere, forse giustamente, mi bastonerebbero, ma le influenze di questi stili nel brano sono innegabili e mai prima d'ora la California Gurl aveva proposto qualcosa di simile nel suo repertorio. Una canzone molto interessante e cupa sotto un certo punto di vista, che parla dell'inizio di una relazione (Katy avvisa il suo amante, lei sta arrivando come un cavallo scuro e lui deve prepararsi!). I punti deboli sono il ritornello, che sembra dover esplodere ma non lo fa e la parte di Juicy J (non che sia colpa sua, ma questo mettere 30 sec. di rap prima del ritornello finale è una brutta abitudine di Katy… i veri duetti sono altri). Il risultato è comunque più che positivo, anche questa mi ha rapito.
7) This Is How We Do: siamo già alla settima traccia. Tutti coloro che hanno partecipato al listening party di Prism ci avevano avvisati: questo pezzo, dicevano, ha tutte le carte in regola per essere un singolo estivo. E mai hanno avuto tanta ragione! This Is How We Do profuma di hit a metri di distanza. Il sound è puro ed irresistibilmente pop (nel ritornello entra in gioco un effetto "bollicine") e la Perry per questo pezzo ha riservato la più stramba performance vocale della sua carriera: dalla voce quasi da teenager viziatella di quando canta "This is how we do, do do do do", a quella provocante e modificata di "It's no big deal", a quando si improvvisa DJ ("This one goes out to the ladies, at breakfast, in last night's dress"). Veramente divertente e coinvolgente, vedo una Perry disinvolta come mai prima d' ora.
8) International Smile: dedicata all'amica DJ Mia Moretti, ecco l' ottava canzone di Prism. Come il brano che la precede, International Smile ha tutte le carte in regola per essere un singolo. Ritornello vivace che ti entra in testa e non ti lascia più, con una Perry che nuovamente si improvvisa DJ (che abbia esagerato con l' alcool quel giorno?) citando svariate città prima dei ritornelli. Insomma, il pop che ha fatto amare Katy al grande pubblico ma già qualcosa di più diverso rispetto ai brani di "Teenage Dream" di quanto non lo sia una "Roar".
9) Ghost: da qui in poi comincia una specie di "seconda parte" del disco. Se fino ad ora abbiamo sentito Katy ruggire, divertirsi troppo ai compleanni, parlare d' amore e sballarsi adesso arrivano i pezzi più lenti. Ghost è una transizione tra le due parti dell' album: il sound rallenta rispetto a prima, ma resta comunque più vivace di quanto segue. Katy canta, con una voce molto pulita rispetto ai pezzi che precedono questo, della sua relazione finita con l' attore Russell Brand. Ora lui è come un fantasma, come "uno straniero, svanito come il vapore". Il testo è veramente lodevole e sarà brutto da dire ma fa piacere vedere che sebbene è entrata la luce, un pò di oscurità è rimasta… A Russell non piacerà, ma a me sì!
10) Love Me: traccia numero dieci, prodotta da Bloodshy. "Love Me" era la traccia che più mi preoccupò quando lessi la tracklist, per via del titolo estremamente comune. Preoccupazioni in parte fondate.. In questa canzone possiamo assistere ad un interessante sound ispirato, come molte altre canzoni del disco, alla musica pop-dance svedese e ad una piacevole performance vocale ma nonostante questo il brano in generale non mi ha preso… Un pò noiosetta nel ritornello, forse…
11) This Moment: sta per chiudersi l' edizione standard di "Prism". This Moment è insieme a Ghost una delle tracce dove si lascia più spazio alla voce di Katy. Troppo spazio forse… A tratti, nel ritornello, mi sembra che urli un pò troppo! La base è molto semplice ma efficace, lega bene con la performance vocale, e il testo è una specie di "Carpe diem". Uno stacco dalla vivacità della prima parte dell' albium e qualcosa di meno noioso rispetto a "Love Me", ma anche qui non sono pienamente convinto.
12) Double Rainbow: eccoci alla traccia scritta con Sia. Personalmente, quando lessi di questa canzone, mi immaginavo di trovarmi davanti ad un potenziale singolo, ma niente di più sbagliato. Double Rainbow probabilmente non diventerà mai singolo, ma non per questo è una canzone meno valida di quelle che invece potrebbero esserlo. Il sound è molto "mistico" (passatemi il termine) e quando ascolto la canzone mi viene in mente il Nord con le sue Aurore (citate nel testo)… La voce di Katy è un dolce sussurro.. Una traccia molto particolare, diventerà la mia preferita di questa "seconda metà".
13) By The Grace Of God: Ultima traccia della versione standard. By The Grace Of God chiude l' album ma è stata la prima traccia ad essere scritta, da Katy in persona (Greg Wells ci ha poi messo un pò le mani), un pò come Not Like The Movies in Teenage Dream.. Ma i temi sono ben altri. Katy ci parla infatti del periodo più buio della sua vita, successivo alla rottura con Brand che avrebbe dovuto ispirare l' album "dark", quando ha pensato di farla finita. La semplicità della sua voce, del piano che l' accompagna, la profondità del testo che è stupendo. Una piccola pecca il coro nel ritornello, l' avrei reso più cupo! Una bella ballata, live rende ancora di più!
Passiamo ai pezzi della Deluxe:
14) Spiritual: Ma è Katy Perry? Spiritual, scritta oltre che da Katy e Kurstin anche da John Mayer, è una traccia che mai mi sarei aspettato da lei! Il testo parla d' amore (e farà felici i genitori crisitiani della ragazza) e merita una lettura, la voce di Katy è a tratti matura e decisa a tratti quasi un debole soffio… Le atmosfere mi ricordano (e qui mi uccidete), seppur vagamente, quelle di "Ray Of Light" della grande Madonna. Piacevolmente sopreso, non me l' aspettavo.
15) It Takes Two: Ecco la traccia scritta con Emeli Sandè. Il tocco di quest' ultima si sente, la base è semplice ma incalzante allo stesso tempo.. Quasi quasi mi ricorda anche i Fun. La trovo la meno particolare tra le canzoni della deluxe e allo stesso tempo la più capace in classifica.
16) Choose Your Battles: Siamo proprio alla fine. Choose Your Battles chiude la deluxe e Prism in generale. Al primo ascolto mi ha lasciato perplesso. Al secondo idem… Poi dal quinto in poi qualcosa è migliorato ed ora… sarò al duecentesimo. Base molo soft con influenze elettroniche, la voce alterna momenti in cui è dolce e quasi "astratta" come in "Double Rainbow" e "Spiritual" ad altri in cui è forte e chiara. Il testo dice "Scegli le tue battaglie tesoro, poi vinci la guerra […] Perchè io non voglio combattere più". Come Spiritual la trovo particolare e non me la sarei aspettata. Un degno finale.
E quindi eccoci giunti alla valutazione finale. Ho dato una letta ai vostri commenti in altri post e mi pare di capire che, generalmente, il disco non è piaciuto molto. Io, ovviamente con il massimo rispetto per i vostri gusti, non condivido.
"Prism" lo trovo un CD magnifico! Ogni traccia ha la sua storia, il suo sound, la sua interpetazione vocale… Diciamo che ogni canzone è al suo posto per un motivo specifico, di tappabuchi non ce ne sono (poi ovviamente il risultato può essere più o meno positivo). Katy non l'ho mai sentita così ispirata, così felice di fare il suo lavoro, così curiosa (perchè qualche timido tentativo di sperimentazione c'è) e così disinvolta. Ci sono canzoni di tutti i tipi, dal pop di marca Perry che in tanti adorano, alla musica con influenze svedesi, alle ballate. Personalmente l'unica pecca la trovo in "Love Me" e "This Moment", che creano sì uno stacco da tutto il "calore" dei primi pezzi ma che trovo noiosette e migliorabili sotto vari aspetti e in "Roar" che ripropone qualcosa di già sentito da Katy senza riuscire ad eguagliarlo. Se fosse per me queste tre canzoni sarebbero nella deluxe, e quelle della deluxe – validissime – nella standard! Il meglio è invece in Legendary Lovers, Walking On Air, Unconditionally, This Is How We Do, Double Rainbow e Choose Your Battles!
Insomma, Katy ci ha regalato un altro disco dei suoi, di quelli che consumi di gusto e in cui ti ci ritrovi, ma facendo comunque un passo avanti rispetto ai precedenti.. Il cammino continua.
Il mio personalissimo voto, perchè ripeto che questo è lungo commento più che una recensione, è 4/5
E voi? "Prism" vi piace o no? Perchè? Il meglio? Il peggio? A voi i commenti!

-contributo esterno – Pubblicato da Faggiolo –