Kesha – Learn To Let Go | VIDEO PREMIERE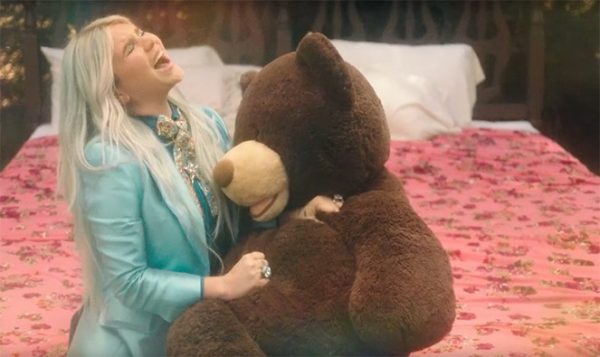 Nuovo singolo e nuovo video per Kesha che sta facendo un ottimo lavoro di promozione del suo prossimo album Rainbow, un progetto che potrebbe rivelarsi uno dei suoi migliori lavori di sempre!
"C'è un mostro sotto il mio letto / che mi mette pensieri strani nella testa (ma) Il passato non può tormentarmi se non glielo permetterò".
Questi sono alcuni versi di Learn To Let Go, nuovo brano che l'artista ha presentato oggi con il video ufficiale; l'intento è quello di portarci indietro nel tempo, tra i ricordi e gli "incubi" del suo tormentato passato. La traccia, prodotta da Ricky Reed, prende le sembianze di un'ode rivolta a noi adulti, affinché impariamo a godere a pieno della nostra vita.
Ecco il video ufficiale di Learn To Let Go!

Kesha sembra voler confermare il suo netto cambio di direzione musicale, abbandonando il pop elettronico per un stile più country e rock che per ora sta riscuotendo grandi consensi.
Al brano è collegata una lettera che la cantante ha scritto per spiegare il senso del suo percorso emotivo e musicale fino ad ora.
Potete leggerla qui:
"Learn To Let Go è più di un titolo di una canzone… è diventato uno dei miei mantra negli ultimi anni. Per quanto il passato ci renda quello che siamo, non possiamo permettere che ci definisca o ci trattenga. E specialmente se avete attraversato un periodo difficile, e lo abbiamo fatto tutti, non potete rifugiarvi nel risentimento perché è un veleno. Dovete imparare a lasciare andare i sentimenti negativi e andare avanti.

Abbiamo tutti i nostri pregiudizi basati su quello che è stata la nostra storia ed esperienza di vita, ma davvero l'unico modo per evolvere veramente è lasciare il passato alle spalle e andare avanti con il cuore aperto. Se permetterete ai demoni di perseguitarvi, lo faranno per sempre. Imparate dai vostri errori ma non rifugiatevi in essi, e se sentite che qualcuno vi ha fatto un torto, lasciate che sia un loro problema, non il vostro.

Il vostro passato influenzerà il vostro futuro solo se glielo permetterete.

Questa è la prima [canzone] che ho scritto per il mio nuovo album, Rainbow. L'ho scritta con mia madre, Pebe Sebert, e il primo giorno in cui ho iniziato a scrivere, abbiamo composto questa meravigliosa melodia ma non avevamo idea del contenuto del testo. Avevamo solo un altro giorno a disposizione con il mio amico e co-autore del brano, Stuart Crinchon. Ero davvero frustrata perché avevamo questa musica meravigliosa ma non le parole, ed ero triste perché mi chiedevo se saremmo riusciti a finirla?

Il giorno dopo ho fatto colazione con una delle mie migliori amiche. Mi aveva colpita quella mattina perché ha un'anima bellissima. Si muoveva nella stanza come un magico fascio di luce – era una dea. Conosco i momenti difficili che ha passato, e mi ha ispirato il modo in cui non ha lasciato entrare nella sua vita i momenti bui del suo passato. Il suo meraviglioso spirito mi ha ispirato, considerando che sebbene le nostre vite sono piene di difficoltà, abbiamo tutti la capacità di decidere di lasciare perdere e andare avanti. Se la mia amica l'ha fatto, allora avrei potuto farlo anch'io.

Quando sono rientrata in studio la canzone ha preso forma. Mia madre mi dice sempre che bisogna imparare ad accettare il fatto di non poter controllare tutto. Quando ti rendi conto che non sei quella che tiene le cose sotto controllo e smetti di aggrapparti ai rimpianti – è liberatorio. Il tuo passato ha effetto sul tuo futuro se lo vuoi tu. Sta tutto nell'accettare il passato ma non lasciare che ti definisca.

Per il video abbiamo avuto l'idea di incorporare video che mia zia Sonia Sebert ha filmato negli anni e poi abbiamo riproposto alcune scene con me adulta in modo stravagante. L'idea è quella di connettermi con la bambina che è in me perché quello è il periodo in cui sei piena di gioia e meraviglia. Puoi scegliere di imparare dalle ca****e che incontri sulla via ma non fermarti a queste, ma connetterti con la gioiosa innocenza della tua infanzia.

Ho lavorato con Isaac Ravishankara, lo stesso regista con cui ho lavorato per il video di un'altra canzone dell'album, Hymn. Volevo che tutti i video del progetto avessero uno stile colorato e stravagante. Questo video in particolare, volevo fosse nostalgico e ultraterreno perché riguarda la mia connessione con l'innocenza dell'infanzia. Considero quest'album, Rainbow, come parte della vera me, Kesha Rose Sebert, il mio nome senza il simbolo del dollaro, per la prima volta davvero. Dico questo ad ogni livello ma soprattutto quello musicale – e mi fa paura. Questa canzone, e le idee alla base, sono state parte integrante del disco e spero che piaccia ai miei fan perché si tratta di un regalo per loro che mi sono stati accanto tutti questi anni. L'idea di lasciarmi alle spalle le cose negative mi è stato di grande aiuto negli ultimi anni, e spero che la mia esperienza sia un esempio per gli altri."
Che ne dite del nuovo video di Kesha?