Lady Gaga al Carpool Karaoke di James Corden (VIDEO completo)
ATTENZIONE! AGGIORNAMENTO A FINE POST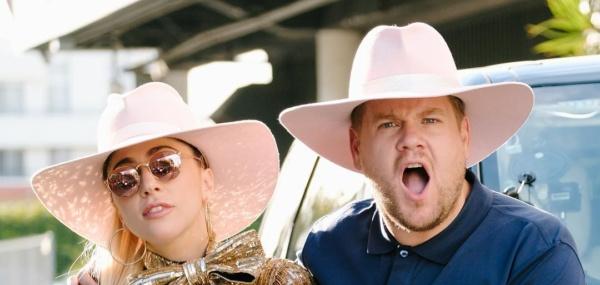 Lady Gaga ha da poco fatto il suo attesissimo comeback sulle scene musicali e nelle prossime settimane sarà nel bel mezzo della promozione del  nuovo singolo e disco. Come Bruno Mars, Lady Gaga sarà infatti infatti al Saturday Night Live, dove probabilmente proporràil suo lead single "Perfect Illusion". Bruno si esibirà il 15 ottobre, mentre Lady Gaga una settimana dopo, il 22 ottobre, giorno successivo all'uscita di "Joanne", il suo quinto lavoro in studio. È probabile dunque che Lady Gaga ci intratterrà anche con dei live di qualche inedito del suo ultimo disco.
Se per Bruno però si tratta del primo impegno promozionale, Lady Gaga invece inizia ad avere un'agenda piuttosto fitta. Probabilmente, la cantante di "Born This Way" aveva pensato che sarebbe bastato solo il suo nome a far decollare "Perfect Illusion" nelle chart ma, a giudicare dai risultati, così non è stato. Per evitare che il flop del lead single affossasse anche l'album, Lady Gaga si sta dando da fare nella promozione, partendo innanzitutto da performance live in dei bar in cui, oltre a "Perfect Illusion", sta proponendo anche altri brani (qui per ascoltare) del disco, probabilmente per far capire al pubblico che lo stile del lead single non è lo stesso del resto dell'album. Oltre poi all'appena annunciato SNL e al Super Bowl, Lady Gaga parteciperà anche ad una puntata del Carpool Karaoke. Quindi sì, Gaga sta promuovendo, ed in vetrine davvero importanti, ovviamente se l'album non dovesse vendere la label ci rimetterebbe anche i soldi di una pubblicità davvero notevole.
Had a lil fun with @JKCorden today! 🚘🎤 coming soon! #JOANNE #CARPOOLKARAOKE #MILLIONREASONS #PERFECTILLUSION pic.twitter.com/QBJh783QyB

— Lady Gaga (@ladygaga) October 8, 2016
Da Corden di solito, oltre a cantare il brano che si intende promuovere, vengono rispolverate vecchie hit. Chissà, magari cantare Alejandro e Judas farà ricordare ai più com'era la vecchia Gaga, tentando così di riavvicinare quella parte del pubblico che è andata persa durante l'attesa per Joanne. Voi cosa ne pensate? Questa tecnica riuscirà a portare Perfect Illusion nella parte alta delle chart o dovrebbe abbandonare questo singolo e rilasciarne un altro?
---
Dopo tanta attesa è finalmente andato in onda il tanto atteso carpool karaoke con protagonista la star del momento, Lady Gaga, fresca di pubblicazione dell'album Joanne. 
Come avevamo pronosticato oltre a Perfect Illusion Lady Gaga e James Corden non hanno mancato di intonare alcune delle hit più celebri della popstar, da Bad Romance (che ha confessato di aver scritto in 10 minuti) a The Edge Of Glory, da Born This Way a Poker Face. A concludere il "viaggio" l'intensa Million Reasons.
Tutte performance vocali ottime, come d'altronde ci si poteva aspettare conoscendo la vocalità della donna.
Per quanto riguarda invece gli argomenti dell'insolita intervista si è passati dal parlare di Donald Trump al fatto che Gaga abbia preso la patente solo poco tempo fa, tanto che il simpatico presentatore ha voluto testare le sue capacità cedendole posto e volante per qualche minuto. Imperdibili infine gli esilaranti look presi in prestito dal passato di Gaga che Corden ha sfoggiato verso la fine della chiaccherata.
Non perdetevi il video completo del carpool karaoke di Lady Gaga: