Le 10 migliori canzoni del 2018 (ad oggi) secondo TIME
Siete soddisfatti della musica uscita da gennaio 2018 ad oggi? La rivista TIME assolutamente sì, e svela le migliori canzoni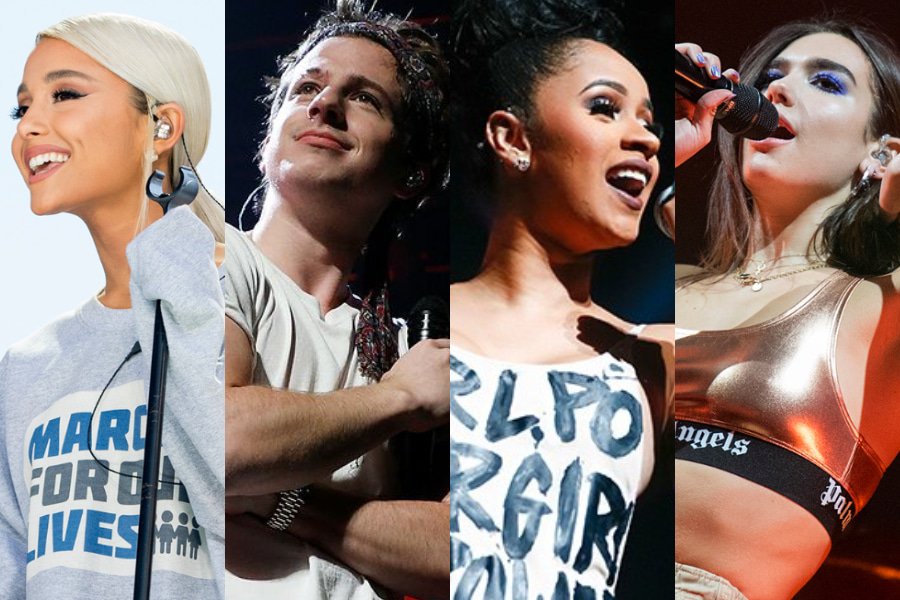 Il 2018 è già arrivato a metà del suo percorso, ed è per questo che la rivista TIME ha voluto fare i primi bilanci di questa prima parte dell'anno. Dal punto di vista musicale questi mesi hanno offerto diversi spunti interessanti, comeback graditi ed altrettanto gradite sorprese. 
Ormai entrati nel pieno  stagione dei tormentoni, vediamo assieme quali sono secondo TIME le 10 canzoni più belle rilasciate dal 1 gennaio al 1 giugno.
---
1

Donald Glover (Childish Gambino) – This Is America

Tra le gradite sorprese c'è sicuramente This Is America, il singolo lanciato il mese scorso dal rapper Childish Gambino. Il brano, che mischia svariati stili, ha messo d'accordo pubblico e critica, e continua a stazionare ai piani alti delle classifiche mondiali. Per la creatività ed il messaggio trasmesso, condividiamo la scelta di TIME.
---
2

Cardi B ft J Balvin & Bad Bunny – I Like It

L'attuale regina del rap si aggiudica un posto tra le migliori 10 grazie alla collaborazione con J Balbin e Bad Bunny, I Like It, scelto come ultimo singolo. Cardi B strizza l'occhio al mercato latinoamericano con un tempismo perfetto visto l'estate che incombe. Certamente un pezzo carino, ma secondo noi non a tal punto da essere considerato uno dei 10 migliori del 2018.
4

Drake – Nice For What

Non poteva mancare Nice For What di Drake, manifesto femminista rilasciato in attesa dell'uscita del disco Scorpion. All'interno del pezzo ci sono campionamenti di varie canzoni del passato, prima fra tutte Ex-Factor, di Lauryn Hill. Non un genere che mette d'accordo tutti, ma nel suo si tratta di lavoro certamente meritevole della top10.
5


Charlie Puth ft Kehlani – Done For Me

Condivisibile anche la scelta di inserire il duetto tra Charlie Puth e Kehlani, Done For Me, tratto dal secondo album del ragazzo, Voicenotes, che ci ha colpiti in positivo. Puth ha fatto notevoli passi avanti rispetto al suo primo disco, mostrando una maturità ed uno stile che forse nessuno si aspettava.
---
6

Tom Misch ft De La Soul – It Runs Through Me

Spazio anche al giovane cantautore inglese Tom Misch, fresco di pubblicazione dell'album Geography, al cui interno c'è It Runs Through Me, duetto con i rapper "vecchia scuola" De La Soul. A detta di TIME, il brano è tra le eccellenze di questi sei mesi:
7


Janelle Monáe ft Grimes – Pynk

Ci trova totalmente d'accordo anche la scelta di inserire Janelle Monae, che ad oggi ha fatto uscire uno dei progetti più interessanti del 2018 (Dirty Computer), e dunque merita questa menzione nella top 10 con il (discusso) singolo Pynk.
---
8

Dua Lipa & Calvin Harris – One Kiss

Dal punto di vista commerciale One Kiss è e sarà una delle hit del periodo, ma da quello artistico sinceramente da Calvin Harris e Dua Lipa ci saremmo aspettati di più. Ottimo brano, ma davvero merita questa top 10?
---
9

Frank Ocean – Moon River

Qualche mese fa Frank Ocean ha rilasciato la cover del classico anni '60 Moon River, divenuto celebre grazie al film Colazione da Tiffany. Quella dell'artista è certamente una versione commovente e profonda, accolta tra i favori della critica e non solo.
---
10

Beach House – Lemon Glow

Il penultimo tassello è occupato dalla band dream pop Beach House, con un singolo facente parte del loro recentissimo lavoro, 7. Lemon Glow è una canzone dal sound psichedelico, non di facile presa. Sarà che non incontra totalmente i nostri gusti musicali, ma avremmo scelto dell'altro.
---
11

Ariana Grande – No Tears Left To Cry

Concludiamo, un po' a sorpresa visti i brani incontrati fino ad ora, con la presenza dell'ultimo singolo della popstar Ariana Grande, No Tears Left To Cry. Tanto significato per un pezzo che ha segnato in grande stile uno dei ritorni più attesi del 2018. Non sempre i cambi di direzione vengono apprezzati e sostenuti, ma per quanto riguarda la giovane cantante così è stato, tanto che anche TIME considera No Tears Left To Cry un'eccellenza.