Lily Allen, tutto pronto per la pubblicazione del suo quarto album!
Lily Allen é pronta per il ritorno in scena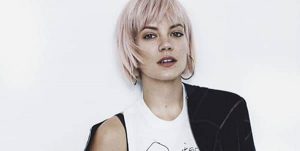 La popstar inglese non ha rilasciato nessun album dal 2014, anno in cui ha pubblicato Sheezus, debuttando al vertice delle classifiche britanniche e vendendo 35.000 copie nella prima settimana.
Il motivo del suo allontanamento dalle scene è stato causato da questioni personali che, come spesso succede, sono diventate argomento di gossip sui social. Lily Allen, infatti, si è dovuta difendere da attacchi ingiustificati su Twitter, dopo aver confessato di essere bipolare e di aver avuto un forte esaurimento nervoso a causa della perdita del suo bambino.
A settembre del 2016 la cantante aveva annunciato che qualcosa di nuovo stava per succedere…
We are closer than you think…..

— Lily (@lilyallen) 20 settembre 2016
E così è stato.
Dopo tre anni di attesa, la cantante ritorna a fare musica con un progetto molto personale, che ripercorrerà le sue esperienze di vita in questo lungo periodo di assenza. Il nuovo LP, che uscirà a giugno e si intitolerà The Fourth Wall, sarà una sorta di "autobiografia" in musica, con brani che parleranno del suo matrimonio, del rapporto con l'ex marito Sam Cooper, dei suoi figli.
Lily Allen ha raccontato a Jolyon & Heydon nel loro podcast "News Roast" che, sebbene ci saranno alcuni testi che tratteranno dell'attuale situazione politica sociale, gran parte del lavoro sarà fortemente incentrato sulla sua vita:
"Stranamente quest'album è piuttosto chiuso. Ci sono alcune canzoni con un taglio "politico" … ma per lo più riguarda me e il rapporto con i miei figli, la fine del mio matrimonio, l'abuso di sostanze stupefacenti."
Ecco il l'intervista completa:
Recentemente Lily Allen ha collaborato con Mark Ronson con una cover di Going To Town di Rufus Wainwright. La versione originale era contenuta nell'album Release the Stars pubblicato nel 2007. Il brano è stato prodotto da Mark Ronson ed è accompagnato da un video girato nel corso della Women's March all'indomani dell'insediamento alla Casa Bianca del nuovo Presidente. La stessa Allen ha preso parte alla Women's March di Londra, lo scorso 21 gennaio.

A propostito del nuovo album, Mark Ronson ha dchiarato al Sun,
"Abbiamo lavorato insieme al nuovo album. Credo che ci siano le migliori canzoni che abbia mai scritto. La sua voce è incredibile. La musica su cui sto lavorando è la più onesta e straziante di sempre. Si percepisce l'onestà in quello che scrive."