Lindsay Lohan e il fidanzato fanno a botte in spiaggia, video shock finisce online!
Lindsay Lohan è nuovamente nell'occhio del ciclone. L'attrice di Mean Girls e catante di "Rumors"  ed il suo fidanzato miliardario russo Egor Tarabasov sono stati ripresi in spiaggia mentre facevano a botte durante una litigata. Linsday qualche giorno fa si era già lamentata di essere stata aggredita in altre circostanze dal fidanzato, sino al punto da temere per la propria vita (trovate approfondimenti su quanto accaduto in precedenza dopo il video). Il video è un po' forte, perciò se non sopportate la violenza non guardatelo.
https://www.youtube.com/watch?v=WVMYyjQxC_E
Pare che la cantante sia stata aggredita tempo fa nella sua casa di Knightsbridge a Londra. Lindsay ha chiesto aiuto urlando dal balcone e accusando il ragazzo di aver tentato di ucciderla.
I vicini svegliati dalle urla e preoccupati per l'incolumità della Lohan hanno quindi chiamato la polizia, che al suo arrivo ha trovato l'appartamento vuoto, ma la porta d'ingresso con visibili segni di danneggiamento.
I due, a quanto riferito dagli abitanti del quartiere, hanno litigato pesantemente prima della presunta aggressione fisica. Il  The Sun ha pubblicato un video registrato da alcuni vicini, che riprende la scena e mostra la Lohan in serie difficoltà urlare
Please please please. He just strangled me. He almost killed me. Everybody will know. Get out of my house''.
Erano circa le 5 del mattino, e solo poche ore prima Lindsay si era scagliata sui social contro il fidanzato, accusandolo di averla lasciata a casa quella sera e di averla tradita con una prostituta in una discoteca di Londra. Nelle immagini pubblicate su Instagram e poi cancellate, ma delle quali rimangono ancora tracce su Twitter ha scritto:
Forse ero anche io così a 23 anni… Brutti tempi, ma si cambia verso i 26, 27. Grazie per non essere tornato a casa, stasera. La fama cambia le persone
E ancora
"Wow, ecco il mio fidanzato con una put**** russa".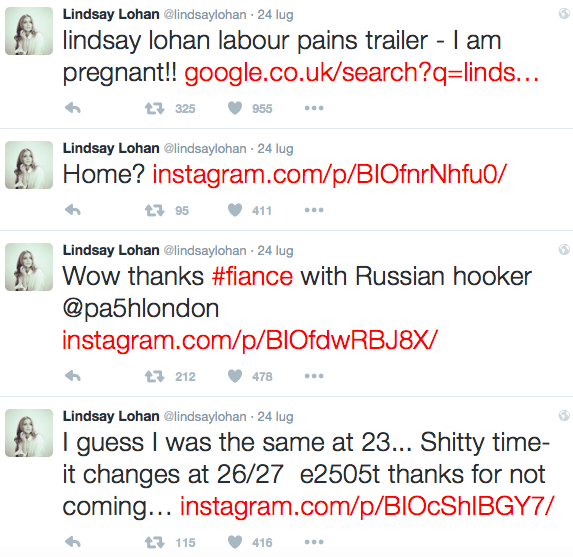 Subito dopo poi ricordando un suo film nel quale recitava la parte di una donna incinta ha affermato 'I am pregnant' e ha pubblicato il contatto della presunta ragazza russa che era in compagnia di Egor.
La coppia stava assieme da 8 mesi e ad aprile Egor le aveva regalato un diamante da 5 carati in vista forse di un futuro matrimonio. E ora che succederà?