Melanie Fiona – The MF Life (Recensione CD)
20 Marzo 2012, esce negli Stati Uniti il secondo album di Melanie Fiona "The MF Life".
Il mio legame con questa artista è davvero speciale. Pensate che proprio Melanie Fiona è stata la prima artista con la quale abbiamo avuto l'occasione di parlare mentre stava presentando il suo primo disco "The Bridge" in Italia. Proprio nel Bel Paese riuscì ad entrare in top10 singoli con il suo brano "Give It to Me Right" nel 2009. Oltre l'intervista ero pure riuscito a vederla live in uno showcase esclusivo, e proprio da quel momento mi accorsi del grandissimo potenziale di questa ragazza.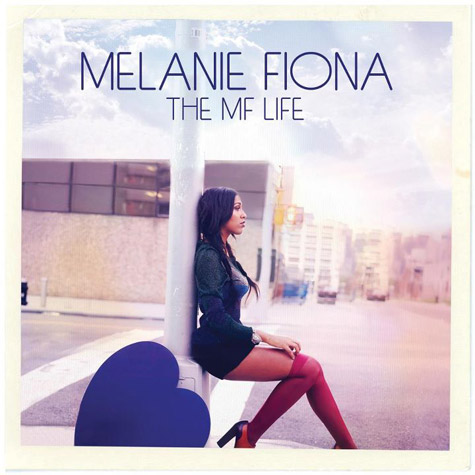 Il nuovo progetto di Melanie stacca completamente dal primo capitolo della sua carriera, ed è decisamente un disco più intimo e personale, che si avvale di produzioni decisamente più fresche ed incollate alla sua voce generosa ed alla sua personalità. Questa freschezza nel progetto è stata apportata senza alcuna infiltrazione elettronica o invasiva per fare più "piacere" al pubblico musicale attuale, sempre più contaminato da un tipo di R&B Music influenzata da beats elettronici.
"The MF Life" è un disco che lascia veramente a bocca aperta, è il classico disco che ti aspetteresti da una navigata artista R&B! Insomma, quel tipo di disco senza tempo, con produzioni che ti sbalordiscono, ed una voce decisamente sviluppata dal primo disco.
Ma veniamo all'analisi di questo album che mi ha aperto il cuore in questo equinozio di primavera 2012:
1) Like This feat. J.Cole: parte con un'energia rara ed un beat HipHop spessissimo la nuova avventura discografica di Melanie. Si chiama "This Time" ed è una midtempo prodotta da No I.D., in collaborazione con il rapper J.Cole. Dentro questo brano sento forte e chiara l'evoluzione vocale di Melanie Fiona, che a tratti nel ritornello mi ricorda la inimitabile Lauryn Hill. Melanie canta "Questa volta farò tutto bene, ti amerò come mai, come mai prima d'ora", una sorta di inno coraggioso, che trasmette una voglia di ripetere le cose per farle meglio. Sembra anche un messaggio, un preludio musicale al progetto che stiamo per ascoltare. Un brano di altissima fattura, e se proprio dobbiamo trovarci un difetto, sembra che il beat a volte copra un po' la performance vocale eccellente di Melanie.
2) 4AM: secondo singolo estratto per questo disco, che dopo diverse settimane nelle classifiche è diventata la Top10 Hit R&B che il management della Fiona cercava. Il produttore Rico Love concede a questa artista canadese un brano suggestivo, misterioso, con sonorità piene e coinvolgenti, quasi cinematografiche. La trama della canzone parla di una ragazza torturata dalla malinconia e dalla tristezza che attende nel suo appartamento il suo amato, che in piena notte non ha ancora fatto il suo ritorno. La voce di Melanie si incolla favolosamente alla track, e trasmette tutte quelle sensazioni di disagio, di dubbio, verso un amore traditore e bugiardo. Il quadro risulta perfetto, ed il brano a mio modo di vedere avrebbe meritato molto di più anche nella Hot100 di Billboard.
3) Break Down This Walls: sempre No I.D. offre i suoi servizi all'interprete di Toronto. Si costruisce così un'altra midtempo di fattura eccellente, accompagnata da un riff al piano deciso, e dei cori gospel che fanno da corolla perfetta alla sublime performance vocale di Melanie. In questo brano risulta liberata e slegata da vincoli, e trasmette alla perfezione il messaggio del brano che invita a rompere ogni barriera tra due persone che si amano e che sembrano bloccate nelle loro posizioni. Il finale del brano viene arricchito da un assolo di chitarra elettrica che rende il brano più aggressivo e deciso. Un pezzo assolutamente meritevole, e questo percorso di ascolto sembra promettere un disco degno di una vincitrice di Grammy.
4) I Been That Girl: è T-Minus che prende le redini della produzione di questa canzone particolarissima, forse una delle meno commerciabili all'interno di questo disco, ma pure una delle più raffinate esperienze uditive del progetto. In questa canzone dal beat astratto e delicato ci si promette di cambiare e non commettere più gli stessi errori in amore. Forse un po' meno "in faccia" rispetto alle altre produzioni, ma un brano lounge comunque molto gradevole.
5) Wrong Side Of A Love Song: ed in questa perla abbiamo tutta la gloria della musica black, quella vera, tramandata sulle labbra e la gola di questa ragazza 28enne. Si respira la grandiosità delle produzioni Motown degli anni '60 e '70, unita a delle tinte country, rock, il tutto aggregato da una vera esplosione vocale di Melanie. Con questo brano non risparmia la sfida a nessuna delle sue "rivali" del panorama attuale in R&B. La sua voce è squillante, ha un'enorme tecnica ed agilità vocale, ed un timbro perfetto per questa produzione di Jack Splash. Musica assolutamente senza tempo, ed ennesima conferma della nascita di una ottima interprete.
6) Running feat. Nas: le mani sapienti di Salaam Remi (Amy Whinehouse, Jazmine Sullivan) forgiano il duetto tra Melanie e l'intramontabile rapper NaS. Si chiama "Running" ed è un tuffo al cuore al primo ascolto. Anche qua si respirano golose riprese della musica Soul che fu, con una voce croccante e nitida che sovrasta, regnando sul pezzo. A metà della track subentra il rap sapiente di NaS, che non distoglie però l'attenzione dal beat attento e di classe. In "Running" Melanie canta l'esasperazione da una storia d'amore che ti lascia sempre sensazioni d'insoddisfazione. Un altro brano che coinvolge al 100%. Ottimo sotto ogni punto di vista.
7) Change The Record feat. B.o.B.: ed eccoci al brano forse più pop e radio friendly per la realtà musicale 2012. Si tratta della collaborazione con il rapper rivelazione B.o.B. e si intitola "Change The Record". Riff al piano veloce, e batteria, ed ritornello orecchiabile e facile, elementi dosati da Los Da Mystro per donare a Melanie una hit perfetta per il mercato internazionale. Personalmente è forse il brano che meno mi ha colpito del progetto, ma ci sta pure questa divagazione un po' più "easy" che diluisce un po' la grandeur vocale di questo disco.
8) Gone And Never Coming Back: primo singolo estratto da questo disco. Si tratta di una ballata potente, una di quelle ballate anni '90 praticamente estinte nelle terrificanti classifiche di oggi. Non per niente il brano ha fallito sotto tutti i fronti, non riuscendo a superare il muro della posizione 37 nella RnB Chart americana. Un vero peccato! Quando arrivò il brano in rete rimasi positivamente colpito dalla voce di Melanie che aveva messo il turbo, che aveva messo le ali. Libera, malinconica, speciale, questa ballad meritava molto di più.
9) Bones: ed è a traccia numero 9 che si intensificano i brividi alla schiena! "Bones", "Ossa", il titolo di questo brano sensuale, carnale, e vocalmente sbalorditivo. Si sente la mano sapiente di Jack Splash, che trasforma Melanie in una femme fatale di altri tempi, con un pianoforte che fa tanto Edith Piaf, ed ispirate sonorità riprese dal baule dei ricordi. Melanie canta "Direttamente attraverso la tua pelle, passando dalla tua anima, dentro di te, più di quanto tu abbia mai provato, ho bisogno delle tue ossa, dammi dammi dammi le tue ossa". Sebbene il testo sia assolutamente sensuale, non si avverte la solita banalità nella produzione su questa slowjam sexy. Il connubio tra testo, voce e produzione ne fa un brano senza tempo, vicinissimo alla perfezione.
10) Watch Me Work: abbiamo elementi Rock in questa uptempo "Watch Me Work". Una vera botta di vita a traccia numero 10, dove si risveglia l'anima più vivace di Melanie. La produzione è stata curata da Infinity ed Antario Holmes che modellano un brano con cui si può scuotere la testolina e tirare fuori tutto il proprio "Swag"! Una sorta di test che dimostra che la voce di Melanie è perfettamente adattabile anche a brani più grintosi. Buon brano!
11) Can't Say I Never Loved You: troviamo una chitarrina acustica spensierata e delle tonalità reggae in questa "Can't Say I Never Loved You". Il risultato è una pop track di qualità, facile ed orecchiabile, secondo me adattissima al mercato Europeo. Viene in mente il profumo della primavera, ti fa venire voglia di sdraiarti ad occhi chiusi su un prato fiorito. Ti avvolge, ti coccola.
12) L.O.V.E. feat. John Legend: si è scomodato anche il grande John Legend per questo squisito sequel di Melanie. I due collaborano ad un brano prodotto da No I.D. intitolato "L.O.V.E.". Un vero inno all'amore! Semplice ed immediata, la canzone fonde alla perfezione le due identità vocali, e trasuda colore, gioia di vivere, senza l'ausilio di parole inflazionate come "club", "dancefloor", o "drink"…! Non c'è dubbio, Melanie sposta la sua attenzione su un pubblico musicalmente più preparato e maturo, e questa collabo con il buon John ne è l'ennesima dimostrazione!
13) 6AM feat. T-Pain: ve lo ricordate quell'R&B midtempo di successo qualche anno fa quando andava alla grande un certo T-Pain? Ebbene, queste atmosfere estinte rivivono in 6AM, un brano che fa da Mash-Up tra la splendida 4AM di Melanie e la hit di T-Pain 5 O'Clock insieme a Lilly Allen. Il risultato è una canzone gradevole e perfetta per le radio USA. La pecca del brano è che si discosta completamente dalla produzione e dalla direzione del disco. Discreto il risultato.
Deluxe Edition:
14) Gone (La Dada Di) feat. Snoop Dogg: aggiunta in bonus track la produzione dei Soundz, una collaborazione con il rapper californiano Snoop Dogg. "Gone" (La Dada Di) dal beat potrebbe sembrare una canzone anonima e basica, ma ascoltandola salta fuori una tragedia ed un messaggio triste, Melanie scopre dal telegiornale la scomparsa del suo amato. C'è contrasto e forte creatività in questo brano, che tuttavia a livello sonoro non appare tra gli elementi che mi hanno ingolosito di più.
15) Rock Paper Scissors: ritroviamo in questo brano la Melanie del debut album "The Bridge". La splendida ragazza di origini caraibiche gioca a "Carta, Sasso, Forbice" con il suo destino e con il suo fidanzato. Una melodia attesa di un verdetto in amore, un gioco di metafore illuminato da l'ennesima performance vocale degna di nota su questo album. Ottimo brano che avrebbe potuto essere incluso nella tracklist normale al posto di 6 AM.
16) Can't Do This No More: sono ben due i brani prodotti da Jack Splash nella Deluxe Version di "The MF Life". Una di queste è "Can't Do This No More". Brano che trasmette rassegnazione, brano meno d'impatto rispetto alle altre produzioni di Splash, ma concepito con grande raffinatezza, ed interpretato impeccabilmente.
17) What Am I To Do: ecco il secondo bonus firmato Splash. Ci si perde nel labirinto tessuto dal pianoforte, in una canzone ipnotica, molto adulta e signorile. La voce di Melanie si fa drammatica e fine. Non è un brano scontato, e non è un brano per tutti.
18) Like I Love You: Dwayne "Supa Dups" Chin-Quee produce questa deluxe track dal beat caraibico che si va ad amalgamare ad una voce possente di Melanie. Si sentono i profumi di fine estate, il ritornello ti cattura al primo ascolto, ed è stupendo il contrasto creato dal sound spensierato sovrapposto ad una voce da ballata malinconica. Melanie invita la sua metà ad amarla nello stesso modo in cui lei sta dando il suo amore. Un brano delizioso che affascina per la sua diversità, ricercatezza e freschezza Jamaicana.
La mia enorme fame di buona musica R&B in questa prima parte del 2012 viene saziata con questo secondo album di Melanie Fiona che mi ha sorpreso positivamente. Non avrei mai pensato ad una evoluzione tanto forte e delineata per questa cantante, che invece ha saputo sorprendermi e coccolarmi con questo progetto, delizioso all'orecchio, all'anima ed al cervello. Dopo aver vinto due Grammy Awards quest'anno grazie alla collaborazione con Cee-Lo Green, la Fiona butta fuori un album che avrà tutte le carte in regola per giocarsela alla prossima edizione dei premi musicali più prestigiosi al mondo.
In questo progetto troviamo una vera crescita a livello vocale dell'artista, delle produzioni uniche e ben confezionate, ed una miriade di emozioni interpretate in maniera autentica e genuina, che difficilmente lasceranno indifferenti le anime degli ascoltatori. Melanie si erge maestosa con questo progetto, senza badare ai trend ed alle mode musicali senz'anima che contraddistinguono questa particolare epoca musicale. "The MF Life" è uno di quei CD senza tempo, capace di emozionare generazioni del passato, del presente e del futuro.
Il CD ha debuttato in top10 nella Chart americana dei dischi, un risultato tiepido, forse dovuto anche ad una promozione piuttosto ad alti livelli quasi assente. Un disco che merita di essere ascoltato, ed un disco che può soddisfare appieno i buoni palati, e le persone che amano l'autentica musica R&B-Soul!
R&B Junk Rating: 4.5/5