Melanie Martinez: reazioni violente nel web dopo le accuse di stupro!
Sui social si stanno scatenando tutti contro Melanie Martinez, la prima donna accusata di violenze sessuali dopo il caso Weinstein.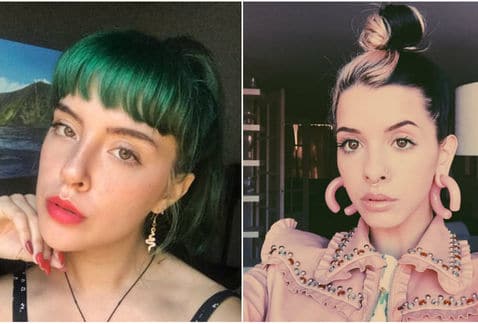 Dopo le accuse della sua ex amica Timothy Heller, si sta scatenando il web contro la cantante Melanie Martinez.
I follower su instagram e twitter stanno diminuendo a decine di migliaia
dopo che lo scandalo ha preso la via del web, e tutta questa storia potrebbe davvero nuocere alla carriera di questa web star di Youtube, ex partecipante di The Voice, diventata cantante solista.
Deve infatti alla sua grande forza sui social, la possibilità di pubblicare nel 2015 il suo album "Cry Baby", un disco che ha raggiunto lo status Platino negli States, e debuttò molto bene, alla numero 6.
La cantante di Astoria sembrerebbe subire ora tutta la rabbia dei suoi stessi fans delusi, delusi dalle accuse che le sono state rivolte, ma soprattutto da una risposta molto vaga, dove Melanie non sembra scusarsi per le angherie perpetrare alla sua ex amante.
FUCK YOU MELANIE MARTINEZ pic.twitter.com/z5LQ4mP1P2

— 𝖆𝖓𝖓𝖊 𝖏𝖔𝖍𝖓𝖘𝖔𝖓 (@annebelacco) December 5, 2017
sto leggendo alcune cose sconvolgenti, non potete assolutamente scherzare su sta cosa é alquanto seria e non ne vedo il lato ironico/umoristico #MelanieMartinezIsOverParty

— morgeh | 44 (@perrysmoschino) December 5, 2017
adoravo melanie, ma quello che ha fatto è davvero orribile e non ci sono giustificazioni #MelanieMartinezIsOverParty

— niní|TOMORROW💧 (@truIybvtera) December 5, 2017
In questa casa non ascoltiamo, supportiamo o sentiamo la mancanza degli stupratori #MelanieMartinezIsOverParty pic.twitter.com/pjZMFhtQlD

— 𝘴𝘢𝘣𝘳𝘪 ♡ [s/h] (@Iovedose) December 5, 2017
Vi definite femministe ma difendete #MelanieMartinez
Il femminismo decanta l'uguaglianza fra entrambi i sessi quindi se una donna (indipendentemente dal fatto che sia famosa o meno) abusa di un'altra donna (o uomo) è colpevole e deve essere punita

— Tearsfalltotheground🔮🌈🐙 (@panic4flloutby) December 5, 2017
https://twitter.com/Ludopietr1308/status/937847139849433090
us waiting for melanie martinez to deny the allegations #melaniemartinez #MelanieMartinezIsOverParty pic.twitter.com/bgWnd0UFjt

— Caitlin ♡ (@dimajkeh) December 5, 2017
https://twitter.com/violetchronicle/status/937880006046441472
me deleting everything #MelanieMartinez related off of every single one of my devices pic.twitter.com/f77NqvGiM7

— ًjah!! (@VOGUESEOKS) December 5, 2017
me: finds out Melanie is a rapist
twitter: throw her whole damn career away
#melaniemartinez pic.twitter.com/v4bqvgwVsd

— Yatzabel 🤘🏽 (@yatzabelll) December 5, 2017
Con un fanbase composto in pratica dalle solite bimbeminkia, questa vicenda diventa sempre più virale, e potrebbe davvero distruggere la sua carriera.
Quello che ci sembra strano in questa storia, é che le accuse mosse dalla ex compagna, arrivano proprio all'avvento del ritorno di Melanie sulle scene, infatti era previsto per il 2018 il suo nuovo album di inediti.
La verità riguardo a questa vicenda non é ancora stata appurata, non si sa se la cantante ha davvero abusato della sua amica, e per ora si tratta solo della parola di una contro quella dell'altra!
Purtroppo affidare il giudizio ai social può fare molto, moltissimo danno, specialmente se i tuoi follower non hanno ancora compiuto la maggiore età, ed hanno dubbie capacità di raziocinio, per l'età, e per la generazione a cui appartengolo.
Voi cosa ne pensate di questa vicenda, che é diventata anche Trending Topic in Italia su Twitter?