Miley Cyrus si esibisce live in uno special per BBC Radio 1!
Miley Cyrus promuove il suo nuovo album "Younger Now" in uscita il 29 settembre, lo fa dalla Gran Bretagna.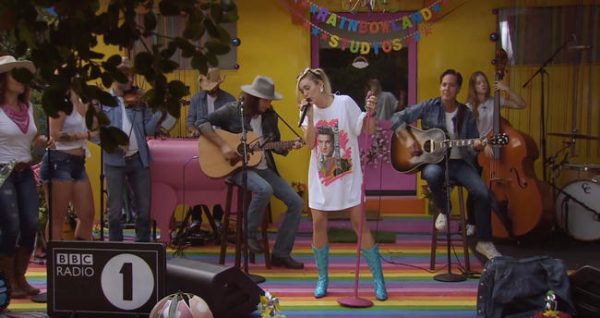 BBC Radio 1 è famosa per i suoi "Live Lounge" in cui gli artisti vengono invitati ad esibirsi con una selezione dei pezzi più belli, spesso riadattati in versioni acustiche.
Questa volta lo special è arrivato direttamente da Malibu, dove Miley Cyrus ha filmato la live session all'esterno del suo studio di registrazione, il Rainbow Land Studio.
Parlando di come ha avuto l'idea di creare uno studio di registrazione a casa propria, la cantante ha rivelato da cosa trae maggiore ispirazione per la sua musica.
"Ho deciso di creare questo personale studio di registrazione perché volevo un posto molto creativo ed è stato veramente utile vivere in un "mondo di colori". Ho un brano nel mio disco che ho scritto con Dolly [parton] intitolato proprio "Rainbow land" e si ispira a questo posto. Persino mentre lavoro all'album o decido cosa indossare, traggo sempre ispirazione da questi colori. […] questo è il mio "ufficio" e non assomiglia a nessun altro. deve essere speciale. è la mia mente che gli dà vita. il laboratorio musicale di miley."
Oltre a proporre gli ultimi due singoli Younger Now e Malibu, contenuti nel nuovo disco disponibile dal 29 settembre, Miley ha cantato le versioni rivisitate di due grandi successi del passato che hanno segnato l'inizio della sua carriera, See You Again estratto da Meet Miley Cyrus e una versione più lenta di Party In The USA perché, secondo la cantante, non c'è molto da festeggiare negli USA in questo momento, a meno che non ci siano presto nuove elezioni. Il tutto è stato arricchito dalla cover di prima di proporre l'obbligatoria cover The First Time Ever I Saw Your Face di Roberta Flack.
Ecco tutte le esibizioni live di Miley Cyrus per BBC Radio 1!