One Direction, Demi Lovato, Little Mix insieme ospiti al "BBC Radio 1 Christmas Show"
Il giorno di Natale la nota trasmittente radiofonica BBC Radio 1 ha in serbo per noi un programma speciale: performance e interviste di grandi artisti durante tutta la giornata, accompagnate da news sulla Official Chart inglese. Vediamo nel dettaglio il programma e le varie star che presenzieranno alla trasmissione.

Il programma comincerà la mattina presto con una trasmissione in compagnia di Scott Mills, il quale intratterrà gli ascoltatori del Regno Unito fino alle ore 10, quando Greg James comunicherà i dati ufficiali della top 40 della classifica musicale britannica.
Dalle 13, orario in cui sarà ormai stata svelata la canzone al primo posto della The Official Chart, cominciano le esibizioni delle star:
13:00 – 14:00 Radio 1 Superstar Playlist con i One Direction.
La band quasi sicuramente si esibirà con gli ultimi successi usciti dal loro ultimo album studio "Made In The A.M." e con il loro ultimo singolo in ordine di tempo,  "History". Il loro ultimo disco è già stato certificato Platino nel paese d'oltremanica, grazie alla vendita di oltre 300'000 copie.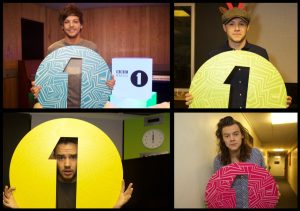 14:00 – 15:00 Radio 1 Superstar Playlist con Demi Lovato. 
La cantante d'oltreoceano non mi ferma nemmeno per il giorno di Natale: la vedremo in questa sede proporre senza ombra di dubbio il suo comeback single "Cool For The Summer", il quale ha ottenuto discreto successo nel Regno Unito, e promuovere altri brani tratti dal suo ultimo album "Confident".
Molto probabilmente la star ci regalerà anche la cover di qualche brano natalizio, deliziandoci con la sua magnifica voce.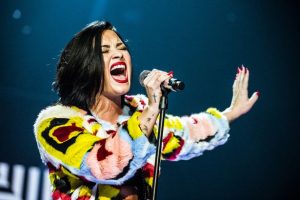 15:00 – 16:00 Radio 1 Superstar Playlist con Troye Sivan. 
Il cantante Sudafricano, diventato famoso grazie al suo canale Youtube, ha da pochi giorni rilasciato il suo ultimo album "Blue Neighbourhood", ottenendo una tiepida accoglienza nel paese. Con le performance che proporrà al BBC Radio 1 Christmas Show questo newbie riuscirà sicuramente ad incantare gli ascoltatori con la sua voce pazzesca e del materiale molto valido.

16:00 – 17:00 Radio 1 Superstar Playlist con le Little Mix. 
Le Little Mix quando si parla di eventi in Regno Unito non mancano mai: le ragazze continuano a ottenere un successo dietro l'altro e siamo quasi certi che anche con il rilascio di "Secret Love Song", terzo singolo tratto dal loro ultimo sforzo discografico "Get Weird", nel quale sarà presente anche una star d'eccezione, tale Jason Derulo, la girl-band riuscirà a farsi apprezzare dal pubblico e dalla critica. Che ci sia in serbo però anche la cover di qualche classico natalizio?

18:00 – 19:00 Radio 1 Superstar Playlist con i The Vamps
I The Vamps hanno affermato di essere veramente emozionati di presenziare a una trasmissione di tale calibro e di non vedere l'ora di chiacchierare sui tipici argomenti natalizi, come possibili regali e la diatriba manzo vs. tacchino (usanza dei paesi anglofoni per il pranzo di Natale).
Il gruppo sicuramente promuoverà anche il loro ultimo album studio "Wake Up", rilasciato da poche settimane e trainato dalla title-track "Wake Up".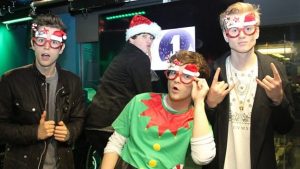 Dalle 19 in poi la trasmissione proseguirà con Danny Howard, il quale proporrà pezzi del passato nel suo Ibiza Rewind.
Ricordiamo a tutti gli interessati che sarà possibile seguire il programma da casa con le diverse applicazioni disponibili per la trasmissione radiofonica internazionale come TuneIn Radio e UK Radios.