Tante star della musica unite per tributare l'immenso Elton John. Ecco il progetto in uscita il prossimo mese
Aprile ci regalerà molte sorprese! Uscirà infatti il giorno 6 del prossimo mese Revamp, il disco tributo all'iconico Elton John. Alla raccolta, che mira a mettere in luce l'apertura stilistica del grande artista, hanno partecipato importanti nomi del panorama musicale attuale. Da Lady Gaga a P!nk, da Ed Sheeran a Mary J. Blige passando per i Florence + The Machine: 13 tracce che soddisfaranno le orecchie ed il cuore di tutti gli ascoltatori.
Come potete vedere dalla tracklist che segue, non si tratta di inediti ma di vecchi successi che il cantautore ha composto assieme al suo braccio destro, Bernie Taupin. A Gaga e Sheeran l'arduo compito (e onore) di reinterpretare i due brani che maggiormente  rappresentano Elton John nella cultura popolare, Your Song e Candle In The Wind.
1. "Bennie And The Jets" / Elton John, P!nk and Logic
2. "We All Fall In Love Sometimes" / Coldplay
3. "I Guess That's Why They Call It The Blues" / Alessia Cara
4. "Candle In The Wind (2018 Version)" / Ed Sheeran
5. "Tiny Dancer" / Florence +The Machine
6. "Someone Saved My Life Tonight" / Mumford & Sons
7. "Sorry Seems To Be The Hardest Word" / Mary J. Blige
8. "Don't Go Breaking My Heart" / Q-Tip featuring Demi Lovato
9. "Mona Lisas and Mad Hatters" / The Killers
10. "Daniel" / Sam Smith
11. "Don't Let The Sun Go Down On Me" / Miley Cyrus
12. "Your Song" / Lady Gaga
13. "Goodbye Yellow Brick Road" / Queens of the Stone Age
In concomitanza con Revamp uscirà anche Restoration, un album che contiene i successi di Elton John rivisitati in chiave country dai più noti rappresentanti del genere:
1. "Rocket Man" – Little Big Town
2. "Mona Lisas and Mad Hatters" – Maren Morris
3. "Sacrifice" – Don Henley and Vince Gill
4. "Take Me to the Pilot" – Brothers Osborne
5. "My Father's Gun" – Miranda Lambert
6. "I Want Love" – Chris Stapleton
7. "Honky Cat" – Lee Ann Womack
8. "Roy Rogers" – Kacey Musgraves
9. "Please" – Rhonda Vincent and Dolly Parton
10. "The Bitch Is Back" – Miley Cyrus
11. "Sad Songs (Say So Much)" – Dierks Bentley
12. "This Train Don't Stop" – Rosanne Cash and Emmylou Harris
13. "Border Song" – Willie Nelson
Queste le rispettive cover: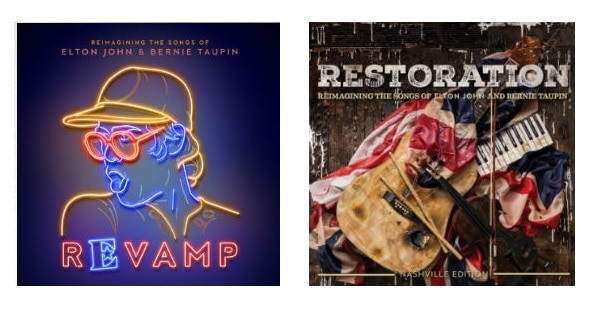 Siete curiosi di ascoltare ciò che ha preparato questa folta schiera di stelle?