Rihanna – ANTi | Recensione CD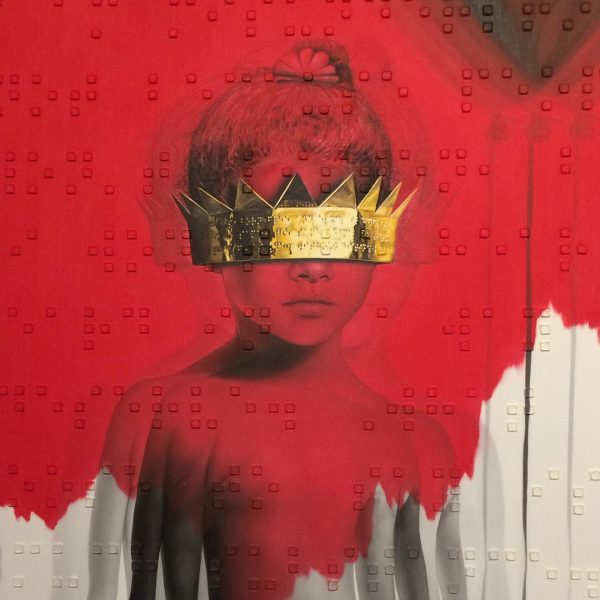 Uno degli album più attesi degli ultimi tempi è stato senza dubbio l'ultimo della bellissima cantante originaria di Barbados Rihanna, l'ottavo, che arriva dopo una carriera ormai pluridecennale e costellata di successi incredibili per Riri, che con il suo timbro e potentissime hits anno dopo anno ed album dopo album è riuscita a stregare una vastissima fetta di pubblico, trasformandosi in breve tempo in uno dei personaggi di punta del music biz per quanto concerne lo scenario pop mainstream.
Un calvario l'attesa che ci ha preparato a questo progetto, ANTi: dopo continui rinvii (in realtà non ufficiali, ma numerose indiscrezioni sulla probabile data di release "a sorpresa" non hanno fatto altro che spuntare in rete quasi incessantemente), il disco è stato pubblicato dapprima gratuitamente il 28 gennaio su Tidal, ed il giorno dopo su tutte le piattaforme digitali.
Fortissimo l'hype iniziale per questo progetto, soprattutto in seguito al rilascio dei brani "FourFiveSeconds" (presunto primo singolo, rilasciato ormai più di un anno fa) in collaborazione con Kanye West e Paul McCartney, e la traccia urban "Bitch Better Have My Money", sempre prodotta da Kanye. Alla fine del 2014 Rihanna aveva promesso un nuovo album ai propri fans in arrivo "presto". Tuttavia, queste due tracce appena citate, ed un altro brano intitolato "American Oxygen", non figureranno nella tracklist del progetto che ci accingeremo ad esaminare oggi, sicuramente perchè esse non sono state in grado di replicare la potenza commerciale di singoli di Rihanna delle precedenti Ere.
Parliamo della gestione di questo disco, veramente caotica, e che ha mostrato evidenti segni di incertezza. Il progetto è il primo ad essere stato rilasciato dopo un periodo prolungato di pausa della cantante. I precedenti sette album furono infatti rilasciati a distanza di un poco più di un anno l'uno dall'altro mentre per rilasciare ANTI, Rihanna si è presa tutto il tempo necessario per poterlo completare al meglio. O così almeno si sperava. Seppur pubblicati con così poco lasso di tempo, i precedenti dischi di Rihanna sono sempre stati caratterizzati da una cura certosina nelle produzioni e nella resa finale in generale.
Dopo la pubblicazione dei tre singoli, tutti molto diversi tra loro, Rihanna è tornata in studio per rimettersi al lavoro sul nuovo disco. Kanye West, che inizialmente doveva essere produttore esecutivo del progetto, è stato sollevato dalla sua mansione, e si è parlato di collaborazioni con altri artisti, da Sia a Kiesza, passando per The Weeknd e Travi$ Scott. In realtà, molti dei nomi di cui si era fatto cenno nei vari rumors non figurano nei credits di ANTi.
E' stato annunciato un imponente tour mondiale, senza ancora un nuovo album fuori, ma alla fine sembra che ce la si sia fatta; ANTi è finalmente uscito, a pochissimi giorni dal suo completamento (tanto che non è stata possibile neanche la stampa e la distribuzione delle copie fisiche, per adesso).
Il disco presenta 13 canzoni nell'edizione standard e 16 nell'edizione deluxe. Questi numeri hanno inizialmente scombussolato un po' tutti, dal momento che i rumor parlavano di più di venti tracce. Quando fu rivelata la cover del disco qualche mese fa, ANTI (precedentemente conosciuto come R8) fu presentato come un disco controtendenza che ci avrebbe fatto conoscere la vera Rihanna, una cantante che osa, che sfida le classifiche, che si sarebbe messa totalmente in gioco per la prima volta, creando buona musica senza pensare alle vendite.
Anti – una persona che si oppone ad una particolare politica, attività o idea
Il brano FourFiveSeconds in effetti ci aveva fatto assaporare una veste del tutto inedita della cantante, più intima e meno esuberante. Non è nostra intenzione definire FourFiveSeconds come un brano estraneo al concetto di commercialità, certamente è una canzone commerciale (per quanto se ne dica), semplicemente manifestava uno sforzo dignitoso di Rihanna nel voler tentare di intraprendere una nuova strada e di rinnovarsi quando forse iniziava un po' a "stancare" il suo pubblico.
Rihanna all'epoca rilasciò delle dichiarazioni che ci facevano ipotizzare un concept album ben preciso, dichiarazioni che non lasciavano spazio ad altre interpretazioni: Riri confidò apertamente di essersi stancata delle canzoni della sua precedente discografia (pur definendole grandi), e di  esibirsi con esse su di un palco. Promise delle canzoni che non si sarebbe stancata di cantare per i prossimi 15 anni.
Volevo solo concentrarmi su qualcosa che fosse reale per me, che sentivo nell'anima,  e che sentirò per sempre. Volevo delle canzoni che avrei potuto performare anche tra 15 anni.  Volevo un album che avrei potuto portare avanti per 15 anni. Mi sono accorta che quando sono sul palco non ho più voglia di cantare molte delle mie canzoni. Non le sento più vicine. Quindi ho voluto creare delle canzoni che fossero senza tempo.
La copertina di ANTi è stata ispirata da un'opera dell' artista israeliana Roy Nachum, che l'ha ridisegnata appositamente per Riri. E' sicuramente molto diversa da tutte quelle proposte dalla Diva sin'ora, e sembra ispirarsi allo stile di Kanye West. Ci mostra una giovane Rihanna con un palloncino ed una corona che copre i suoi occhi.
"A volte quelli che hanno vista sono più ciechi". Ha detto Rihanna.
Una strategia promozionale utilizzata è stata quella del rilascio di una serie di video promozionali realizzati in collaborazioni con Samsung  (AntiDiary) che mostrano immagini dark e misteriose (che rimandano alle atmosfere di Rated R, quarto album di Rihanna) che in realtà sembrano essere piuttosto scollegate da ciò che è l'album vero e proprio. Sembrano più che altro un semplice espediente per accrescere ancor più l'hype che gravitava attorno al progetto, e direi che ci sono riusciti discretamente bene.
ANTi arriva a poche ore di distanza dal nuovo primo singolo in collaborazione con Drake, intitolato "Work", canzone che per le prime ore si è mossa bene nelle classifiche iTunes di tutto il mondo, ma che è stata ampiamente criticata anche da molti suoi stessi fans, che hanno visto venir meno le belle promesse fatte al momento della presentazione del titolo del disco.
Sarà riuscita Rihanna a creare canzoni di cui non ci si stancherà per i prossimi 15 anni? Analizziamo il nuovo progetto traccia per traccia e cerchiamo di scoprirlo.
01. Consideration (feat. SZA) L'inizio del disco è abbastanza problematico. ANTi si apre con Consideration, una traccia prodotta da Kurk Harel (che aveva già creato hit come Single Ladies (Put A Ring On It) per Beyoncé, e il disco vincitore di un Grammy "Growing Pains", di Mary J. Blige) con il supporto di Donaldson. Ci troviamo di fronte ad una midtempo urban con influenze spiccatamente reggae, con un sound molto duro.
Più che cantata, la canzone è a metà tra il parlato e un rap. Come suggerisce il titolo, Rihanna in questa canzone fa alcune considerazioni, sulla sua carriera, sulla sua voglia di poter esprimere la sua indipendenza musicale, sul non essere solo una marionetta che arricchisce la casa discografica. Consideration si pone quindi come una sorta di testamento, in cui Rihanna finalmente, almeno a parole, decide si slegarsi dall'immagine di artista sforna hit che l'ha sempre contraddistinta. Emblematico è il ritornello che recita
Devo fare le cose a modo mio caro, tu dovresti solo lasciarmi essere me stessa. Mi rispetterai mai? No. Perché non mi permetti di crescere?
La traccia presenta ritmo cangiante nel corso della sua durata (poco più di due minuti) ed il ritmo in alcuni punti si velocizza. A parte Drake, in questo disco troviamo un unico featuring, ed è appunto in questa traccia rappresentato dall'artista sconosciuta SZA, che interviene gradevolmente nel post ritornello senza però lasciare nulla di concreto alla canzone.
Nel complesso questa è una traccia che non funziona e non offre nulla all'ascoltatore, se non una stucchevole pesantezza di fondo. Voglio chiarire una cosa, ed è bene farlo subito: il fatto che alcune di queste tracce non vengano considerate soddisfacenti non dipende dal fatto che Rihanna si sia sforzata di fare qualcosa che vada contro-tendenza o di alternativo e sperimentale (ne ho lette veramente tante in giro per la rete): la traccia è una produzione urban come tante (a volte basterebbe allargare un po' i propri orizzonti), semplicemente si tratta di un brano poco ispirato. Rihanna sente davvero queste parole?
02. James Joint Subito una interlude, della durata di circa due minuti (quasi quanto il brano precedente dunque). James Joint fu rilasciata in anteprima sul sito ufficiale di Rihanna nell'aprile del 2015 in occasione della festa della Marijuana (il testo allude al consumo di cannabis), ed è stata l'unica canzone pubblicata in quell'anno ad essere entrata a far parte della tracklist finale del disco.
Il brano è stato prodotto da Robert Shea Taylor e Harrel e presenta una base dal sound pop e dal cantato R&B, molto rilassante. La canzone è composta da due strofe in cui la cantante sembra ritrovarsi in uno stato di trance, completamente presa dall'amore che prova per il suo compagno, un amore fisico che le fa solo desiderare di averlo lì e baciarlo. Una interlude piacevole dunque, ma nulla di eccezionale. Sicuramente la collocazione non è delle migliori, perchè pur reputandola buona, devo dire che aumenta ancor di più il senso di pesantezza della precedente traccia. Qualcuno ci salvi.
03. Kiss It Better. Fortunatamente Rihanna sembra aver ascoltato le nostre preghiere, perchè come terzo brano troviamo quello che è sicuramente uno dei momenti migliori del disco, Kiss It Better. Non in molti si sarebbero aspettati di trovare la traccia su ANTi. Kiss It Better, stando a quanto disse Glass John, uno dei co-scrittori del brano, su Twitter qualche mese fa, sarebbe infatti dovuto essere stato il primo singolo del disco. Dopo la polemica che i tweet del produttore scatenarono su internet, per Kiss It Better sembrava essere finita. Per fortuna non è stato così.
La traccia infatti è abbastanza potente, e come singolo potrebbe ottenere dei riscontri importanti. Composta anche da Harrel e Jeff Bhasker, il sound ricorda molto quello di Music Of The Sun: è una traccia molto particolare, a tratti pop, a tratti R&B, con piccole influenze reggae qua e là, che rimandano ad un'atmosfera esotica e lontana. Un brano in grado di creare per la prima volta vera atmosfera. Kiss It Better è quindi il giusto compromesso tra commercialità e sperimentazione, ed un territorio in cui Rihanna riesce a muoversi agevolmente. Molto incisivo il ritornello, è quel genere di canzone in grado di conquistarti e di cullarti, che ti vien voglia di ascoltare ancora ed ancora in auto e sulla spiaggia, o semplicemente nelle cuffie. Il testo è uno dei punti deboli della traccia, che da questo punto di vista non brilla assolutamente per originalità, anzi. È uno dei soliti testi da hit, senza arte né parte.
04. Work (feat. Drake). Il vero primo singolo del disco è la collaborazione con il rapper Drake, Work. La canzone, prodotta interamente da Boy 1da (producer molto in voga attualmente in ambito urban), è caratterizzata da uno stile tipicamente urban mescolato al pop, con un cantato reggae. Ascoltando il disco, sicuramente Work non era la traccia più adatta per essere scelta come singolo di traino dell'album, ma probabilmente si tratta di una scelta puramente commerciale, nel tentativo di acchiappare una hit tornando a sonorità già esplorate dall'artista in passato con successo.
Purtroppo questo brano, seppur non da bocciare totalmente,  è di gran lunga inferiore ai singoli delle precedenti Ere discografice di Riri. La produzione è troppo lineare, la performance vocale non è brillante e ad un certo punto le ripetizioni di sillabe iniziano a diventare anche fastidiose; il verso di Drake, è abbastanza basic, seppure paradossalmente rappresenti forse il momento migliore dell'intera traccia.
Il ritmo entra in testa dopo diversi ascolti. Con una promozione massiccia ed un buon supporto dalle radio quindi, il singolo potrebbe anche funzionare e avere un buon successo nelle varie classifiche, ma rimane comunque una delle canzoni meno  rappresentative dell'intero progetto.
05. Desperado. Con Desperado il sound ritorna cupo, e ricorda in qualche modo le colonne sonore dei vecchi film country western. La canzone è stata prodotta da Harrell e Mick Schultz  e presenta sonorità che spaziano dal trap all'elettronica, che puntano a rapire l'ascoltatore con un ritmo che vorrebbe imporsi come ipnotico. Il ritornello si differenzia in modo particolare dalle strofe grazie alla voce della cantante, che diventa più marcata e incisiva, e al ritmo crescente della canzone.
Il testo parla di un uomo, che rincorre disperatamente la donna amata, la quale a sua volta ricambia le lusinghe ricevute ma allo stesso tempo è compiaciuta dal fatto che l'uomo sia, appunto, così disperato per lei. Sicuramente il testo, così come anche tutti gli altri, non è nulla di speciale e di particolare, ma si adatta perfettamente alla sonorità della canzone, compito tutt'altro che semplice.
Nel complesso, un'altra traccia che scivola via senza lasciare molto a chi la ascolta. Sembrerebbe essere uno dei brani più sperimentali dell'intero progetto, ma non lasciatevi ingannare: questo ANTi di sperimentale ha ben poco, e questa traccia si inquadra perfettamente nello scenario urban attuale.
06. Woo Prodotta da Hit-Boy e Harrell, Woo è la canzone più brutta inclusa in ANTI. E' una filler, e anche una delle peggiori: una produzione cacofonica e anche scontata, difficile da apprezzare al primo ascolto, ma anche all'ultimo, dura e aspra, che continua con la stessa melodia per tutta la durata della canzone. Woo è quindi uno di quei casi in cui la sperimentazione porta a dei risultati veramente poco dignitosi. Un mix di trap ed elettronico mal riuscito, che risulta fastidioso fin dai primissimi istanti. La produzione pessima non è neanche salvata dalla prova vocale di Rihanna, appesantita da così tante modifiche e autotune che, per quanto possa essere possibile, rovina ancor di più il pezzo.
Il testo è molto esplicito, parla di una storia basata su un amore prettamente fisico ormai conclusa, che però il ragazzo non potrà mai dimenticare a causa di alcune speciali abilità della sua amata. Un testo scontato e banale dunque per una traccia altrettanto noiosa e discutibile, inserita solo per fare numero. Chi l'avrebbe mai detto che un'artista come Rihanna avrebbe mai potuto proporci materiale così scarso?
07. Needed Me Dopo aver ascoltato Woo, la traccia peggiore dell'album, proviamo a riprenderci con la successiva, Needed Me. La canzone è un mid tempo prodotta da Frank Dukes, DJ Mustard, Twice as Nice e Harrell, con un sound elettronico, ma soprattutto prettamente urban.  Il brano per essere stato prodotto da Mustard è abbastanza atipico, si vede l'intenzione di creare qualcosa di particolare per la Diva.
Il pezzo parte molto bene, con un ritmo ipnotico e coinvolgente nella strofa, Rihanna ricorda un po' il Drake o il Chris Brown della situazione, ma purtroppo la canzone non decolla quando dovrebbe, anzi ricade in un'eccessiva sperimentalità, che lo rende praticamente inapprezzabile, e parliamo soprattutto di quei "suoni" in reverse che rendono il tutto estremamente dissonante e soffocante.
Anche la voce di Rihanna rimane abbastanza sotto tono per tutta la durata della canzone, il che non aiuta molto a far entrare il pezzo in testa. La canzone è stata dunque un tentativo di sperimentazione poco riuscito, anche a causa della mancanza di un ritornello più potente ed energico, che non avrebbe assolutamente stonato. Una bella occasione sprecata.
08. Yeah, I Said It Yeah, I Said It è l'ottava traccia del disco e non ci sono sorprese di sorta:  ancora una volta non ingrana mai ed è troppo breve, meno di tre minuti. Attenzione, perchè alla produzione troviamo il grande Timbaland. Effettivamente, se dovessimo considerare solo il beat di questa midtempo, dobbiamo riconoscere che seppur molto lineare e non innovativo, esso non è affatto male.
E' proprio Rihanna a non esserci su questa traccia. La sua performance vocale è insipida, non entusiasma, e sicuramente se affidato ad altri il pezzo sarebbe potuto diventare un vero gioiellino. Il brano come atmosfera ricorda un po' James Joint, dato che trasmette questa idea di calma e di tranquillità. Parla per l'ennesima volta, di un amore fisico, in cui l'atto sessuale è l'unica cosa di rilevante. Passiamo oltre.
09. Same Ol' Mistakes La traccia numero nove è una cover di New Person, Same Old Mistakes. del gruppo rock psichedelico Tame Impala. Dopo aver affrontato svariate tracce dalla durata di poco più di due minuti, arriviamo a Same Ol' Mistakes che invece è il pezzo più lungo del disco (ahimè). Se per Consideration due minuti erano troppo pochi, qui invece sei minuti sono troppi. Essendo una cover, la produzione è di Kevin Parker, il leader del gruppo australiano. La canzone si presenta come una delle più particolari del progetto. Anche qui, la voce di Rihanna è stata modificata per farla aderire di più alle sensazioni cupe e tetre che dà la canzone, e, al contrario di dove accadeva altrove, questa voce più elettronica, trova un suo perché.
Il testo riguarda una donna che, consapevole di quanto l'amore provato nei confronti del suo uomo faccia male, non riesca a smettere di ripetere gli errori del passato, continuando a cadere nelle sue trappole, nonostante sappia che da ciò scaturirà soltanto dolore. La canzone è, come detto prima, forse un po' troppo lunga. Nonostante questo è molto più godibile rispetto ad altre tracce, che, seppur più corte, presentano una produzione troppo statica, per cui è difficile ascoltarle più volte senza stancarsi facilmente. È inoltre l'unica canzone a presentare un bridge.
10. Never Ending Dopo nove canzoni, arriva finalmente una ballata. Never Ending è una semplice canzone acustica, dove la bellissima voce di Rihanna è accompagnata da una chitarra. Dopo le produzioni più impegnate e ostiche precedentemente ascoltate, finalmente Rihanna ci concede una pausa, e lo fa proprio con questa canzone. Composta da Harrell e Sabo, Never Ending dimostra che per emozionare e per stupire bastano una buona prova vocale e un testo vero e sentito, e non produzioni stancanti e stucchevoli.
Nella canzone, Rihanna affronta in modo diverso il tema della rottura. Qui infatti la cantante è affranta e rimpiange quell'amore, che, una volta finito, le ha procurato solo sofferenza, una sofferenza senza fine. Il ritorno ad uno stile più sobrio e semplice, che ricorda un po' il pop di Stay, è, paradossalmente, più d'impatto rispetto a tutte le altre tracce che, bene o male, erano improntate sullo stesso genere. Never Ending diventa quindi una sorta di punto di rottura tra le prime nove canzoni e le ultime quattro, che rispecchiano uno stile decisamente più pacato rispetto alle precedenti. Una traccia che apprezziamo.
11. Love On The Brain. Un mix di eleganza, innovazione (per lei) e una grande prova vocale è la caratteristica di Love On The Brain, una delle tracce migliori e più di rilievo dell'intero progetto. La canzone è stata curata interamente da Fred Ball dal punto di vista della produzione e presenta un ritmo molto particolare. Il pezzo parla di un tipo di amore diverso dal solito, un amore che non gioca sul piano fisico, ma su quello mentale, che non riesci più a togliere dai pensieri.
Il sound anche qui è molto uniforme, ma i cambiamenti vocali che Rihanna riesce a mettere in pratica riescono a rendere la canzone una novità fino alla fine. Il ritmo poi, allo stesso tempo incalzante ma anche pacato e mite, ti entra in testa e non esce più, proprio come l'amore raccontato nella canzone. La traccia diventa così una delle più belle canzoni che Rihanna abbia proposto in quest'ultimi tempi, grazie alla brillante produzione, che non scade mai nella banalità e che difficilmente stanca subito, e grazie al talento di Rihanna, che riesce a brillare.
12. Higher Disastro. Una delle canzoni più attese dai fans, ed una delle delusioni più grandi, Higher è sicuramente una delle tracce da dimenticare di questo ANTi. L'intento è il medesimo del brano precedente, ossia quello di utilizzare la voce in maniera diversa dal solito per mostrarci un lato inedito dell'artista. Qui ritroviamo Rihanna in vesti di urlatrice, un po' come se fosse la Gianna Nannini della situazione. Se il brano precedente ci è piaciuto parecchio, purtroppo non possiamo dire lo stesso di questo. Esagerata, fastidiosa, questa canzone è una vera e propria agonia per i timpani (senza esagerare), e siamo contenti che il brano duri solamente due minuti.
Il testo è come una sorta di confessione scritta dopo aver alzato un po' troppo il gomito: un amore triste e perduto, che però viene ancora cercato da colei che lo ha perso, un amore che faceva toccare il cielo con un dito, che ti innalzava.
La musica, prodotta da Dion "No I.D." Wilson, ricorda un po' quelle colonne sonore dei vecchi film d'amore, quando due innamorati dovevano dirsi addio. Gli archi, potenti e struggenti, fanno da sottofondo a una Rihanna che spinge troppo e senza ritegno a livello vocale: il momento dell'acuto, che dovrebbe esprimere tutta la sofferenza, diventa troppo forzato. Un'occasione sprecata per quella che poteva diventare la migliore ballata di Rihanna dai tempi di Cold Case Love, che dunque rimane a nostro avviso ancora imbattuta.
13. Close To You. Dopo questo scivolone ci riprendiamo con un buonissimo brano, che conclude la versione standard del disco. Si tratta di una produzione di Brian Kennedy e Harrell, Close To You, una dolcissima ed emozionante piano ballad, che affronta il tema del lasciar andare le persone, anche contro la proprio volontà, sottolineando però che quella persona rimarrà sempre nel proprio cuore.
Ancora una volta, la semplicità vince contro il chiasso di altre produzioni, proprio come in Never Ending. Ascoltare la voce di Rihanna, che non si sforza di fare acuti che non può toccare, ma che acconsente a cantare in una tonalità tale da riuscire a emozionare, è uno dei pochi motivi per cui il disco assume un certo spessore, dato che erano anni che non avevamo una Rihanna così dolce e tenera.
Le tracce della deluxe sono abbastanza dimenticabili: Goodnight Gotham è una interlude che usa un sample della magnifica Only If For A Night di Florence + The Machine, riadattata in una canzone dal sound elettronico più cupo e dark; Pose è una traccia dallo stesso sapore di Woo, difficile da ascoltare e da digerire, con un sound troppo duro e aspro; Sex With Me infine è una traccia abbastanza banale, sia dal punto di vista della produzione che da quello del testo, una canzone che non ha né arte, né parte, trascurabilissima.
Cerchiamo a questo punto sulla base di quanto detto di trarre le dovute conclusioni. Se ci leggete da tempo saprete sicuramente che abbiamo seguito passo passo l'evoluzione di questa artista sin dai suoi primi passi nel music biz, ed in passato siamo stati rapiti dalla raffinatezza e dalla cura dei suoi lavori, in particolare da Rated R (quello sì che era un album veramente sperimentale), a nostro avviso il suo migliore in assoluto.
Questo ANTi come avrete capito complessivamente ci ha deluso. Non è certamente il disco che il fan medio di Rihanna (non statunitense) si aspetterebbe. Sicuramente è un progetto improntato sui gusti musicali del pubblico americano, ma lo ribadiamo ancora, anche se molti dei fan di Rihanna che lo hanno apprezzato continuano a presentarlo come alternativo e sperimentale, beh sappiate che le sonorità sono quelle tipiche della urban, trap ed elettronica. E difficilmente se non si apprezzano questi universi musicali sarà possibile comprendere anche solo lontanamente un progetto come ANTi.
Ma non è tutto questo che ci ha fatto rimanere perplessi. Va benissimo rinnovarsi e rivoluzionare il proprio sound, e Rihanna stessa non è rimasta mai del tutto uguale nel corso della sua carriera. Però qui il discorso è molto semplice, non è un disco ricercato, semplicemente è un disco che non funziona. Fine. Al primo ascolto, al secondo, al terzo ed al ventesimo. Dopo tutto questo tempo ci saremmo senz'altro aspettati una maggiore cura nel risultato finale. Non mancano canzoni a nostro avviso veramente valide, come abbiamo messo in evidenza nell'analisi track by track, anche rispetto alla precedente discografia di Riri, ma che purtroppo non riescono a sollevare un album sottotono, e per certi versi proprio brutto.
Dalle grandi della musica ci si aspetta sempre il massimo, è vero, e noi non riusciamo a capire proprio cosa sia andato storto, come sia stato possibile rilasciare un album del genere. Se poi dovessimo considerare le premesse, saremmo doppiamente delusi. Sarebbero queste le canzoni che non dovrebbero stancarla e stancarci per 15 anni? Produzioni stra-sentite e lineari, presenza vocale piatta, pesantezza di fondo, testi ripetitivi e banali, assenza totale di concept. Non so voi, ma io dopo quasi 10 anni ancora non mi sono stancato di Umbrella.
Che cosa dire poi dei singoli rilasciati nel 2015 non inclusi nella tracklist finale? Sembra proprio assurdo, considerando che si tratta di pezzi migliori di diverse tracce contenute in ANTi.  Ritrovarsi con audio addirittura di 2 minuti è stata una spiacevole sorpresa, sintomo questo che probabilmente il disco è stato ultimato in fretta perché il tour si faceva sempre più imminente, e quindi bisognava rilasciare il lavoro. Tanto fumo e poco arrosto: Rihanna ci ha fatto credere che avrebbe creato un disco in cui avremmo potuto assaporare la sua essenza, mentre ci ha presentato canzoni che parlano di sesso e amori troncati, argomenti trattati ampiamente in tutti i suoi dischi precedenti. L'attesa dunque è sì finita, ma ci ha  lasciato con una spiacevole sensazione di amaro in bocca.
Avendo acquistato anche i biglietti per vederla dal vivo durante questo benedetto tour, abbiamo a questo punto seri timori che potrà presentare uno spettacolo non all'altezza dei suoi standard.
Speriamo in un ritorno futuro più ponderato, onesto, gestito meglio, con il giusto team di produttori e la giusta ispirazione. Noi non vogliamo a tutti i costi la Rihanna commerciale. Vogliamo la Rihanna che faccia buona musica.
Detto questo, ci terremmo a conoscere la vostra opinione. Commentate, fateci sapere se la pensate come noi, contestateci, insultateci, ma diteci la vostra, se questo disco vi ha deluso oppure al contrario se lo apprezzate. Saremmo lieti di leggere le vostre opinioni in merito.
Recensione a cura di Lorenzo e Davide.