Taylor Swift: le 5 canzoni con i testi migliori che abbia mai scritto!
La prerogativa di Taylor Swift è sempre stata quella di scrivere su qualsiasi cosa successa nella sua vita.
Spesso la gente si lamenta proprio di questo, criticando l'artista per le modalità simili con cui realizza tutti i suoi progetti, senza considerare tuttavia che inserire le proprie emozioni ed i propri sentimenti nelle proprie canzoni è quello che ogni cantautore di regola dovrebbe fare.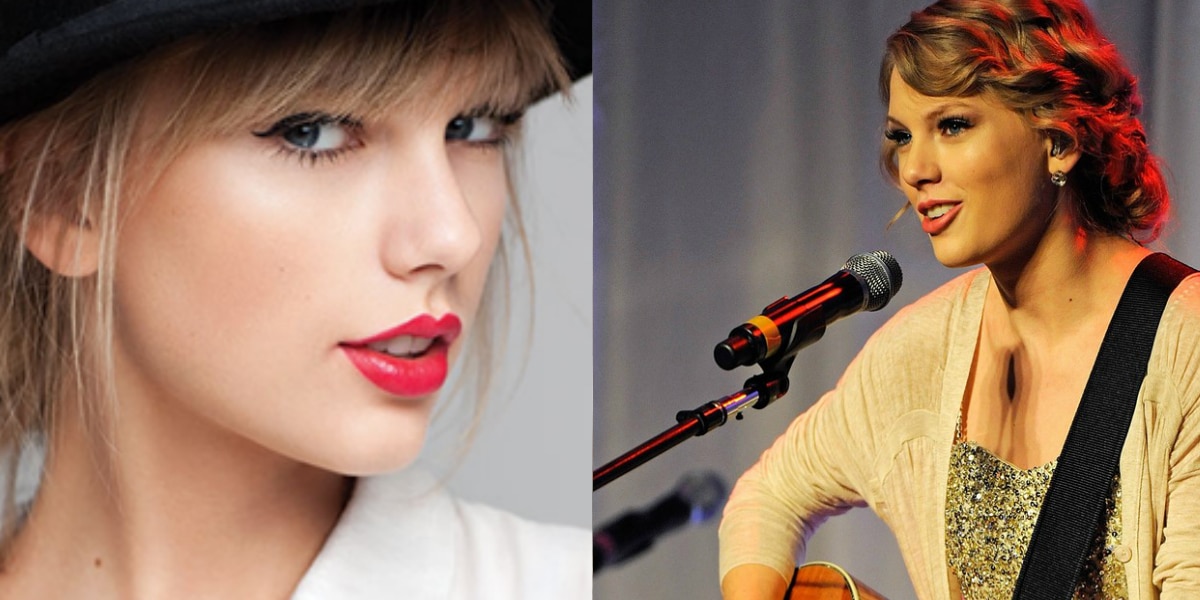 [LEGGI ANCHE: TAYLOR SWIFT, ECCO 10 CANZONI DEDICATE AGLI EX]
Proprio questo, anzi, fa la differenza fra un cantautore ed un cantante, non certo l'aggiungere qualche riga ad un pezzo già pronto, come purtroppo molti finti cantautori fanno nel musicbiz.
In questo articolo ho voluto mettere in evidenza alcuni dei suoi testi migliori e più profondi, forse, sperando che si possa cambiare idea su Taylor Swift artista, e non giudicarla sempre per partito preso. Inziamo subito con la lista di quelli che secondo me sono i brani dai testi migliori che abbia mai scritto:
 All Too Well
Cominciamo il viaggio con questo brano del quarto album ''Red''.
Sebbene ogni album della Swift sia personale, ''Red'' è finora il disco più introspettivo rilasciato dalla cantante e ''All Too Well'' rappresenta il succo dell'intero progetto. Taylor iniziò a scriverla nel lontano 2010: aveva tante idee in testa così chiese alla sua co-autrice di fiducia Liz Rose di aiutarla a metterle insieme per creare una canzone con senso logico.
La traccia stata ispirata dalla sua relazione con l'attore Jake Gyllenhaal, ma a differenza degli altri pezzi nati dalle sue storie d'amore, All Too Well  non si limita a passare in rassegna i sentimenti provati, ma racconta per filo e per segno la loro storia, dall'inizio alla fine, passando per litigi e tira e molla e fino alla rottura definitiva.
Chi conosce il repertorio di Taylor sa quanto questo brano sia di incredibile maturità rispetto ai suoi predecessori che parlavano dello stesso tema in un modo più fiabesco/adolescenziale: qui si vede una Taylor più donna e consapevole anche dei suoi errori e non solo quelli del suo ex.
Oltretutto ci sono anche riferimenti sessuali, All Too Well mostra come questa relazione l'abbia fatta crescere nonostante l'età di allora che era di 20 anni.
Il testo è una vera e propria poesia, uno delle sue migliori composizioni e in classico stile Swift: ricco di parole, aggettivi e metafore. La cantautrice si mette a nudo completamente, scrivendo un testo che anche solo leggendolo è capace di emozionare tantissimo e farti partecipe del suo dolore.
La grande capacità di Taylor è sempre stata quella di riuscire a scrivere pezzi veri e sinceri che nonostante siano così personali possono essere interpretati da chiunque in un modo, a seconda delle proprie esperienze. Questo succede soprattutto con il bridge che è il momento clou del brano, la parte in cui Taylor manifesta tutto il suo dolore con rabbia, grazie anche al cambio di vocalità che diventa più alto, quasi 'urlato':
Maybe we got lost in translation, maybe I asked for too much,
And maybe this thing was a masterpiece 'til you tore it all up.
Running scared, I was there, I remember it all too well.

Hey, you call me up again just to break me like a promise.
So casually cruel in the name of being honest.
I'm a crumpled up piece of paper lying here
'Cause I remember it all, all, all too well.
Anche il sound fa la sua parte, cresce man man che il testo si fa più ''arabbiato''(il bridge), per poi ritornare calmo. E' infine la toccante interpretazione che chiude il cerchio: Taylor esprime in maniera molto sentita ogni parola e ci regala una delle sue interpretazioni. In conclusione, questo brano è un'emblema della discografia della Swift, molti fan lo considerano il suo pezzo migliore in ogni senso: lirico, musicale, interpretativo e non si può certo biasimarli, All Too Well dimostra appieno il talento e la profondità di Taylor.
Long Live
Proseguiamo con questa uptempo del terzo album ''Speak Now'',
disco composto interamente dalla Swift. Solitamente si pensa che le uptempo non debbano avere un testo emozionante che tocchi il cuore ma, con le dovute eccezioni, Taylor non ha mai ragionato in questi termini e ci ha relegato tante uptempo toccanti al pari delle ballate. Una di quete è Long Live.
Questa canzone venne alla luce alla fine del Fearless tour; "Fearless"  è il disco che ha permesso a Tay di diventare una grandissima superstar, quindi la ragazza scrisse per celebrare tutti questi grandi traguardi raggiunti. Taylor dedicò il brano alla casa discografica, alla vecchia band, al suo team e ai fan ovviamente.
Di conseguenza, Long Live fa da sequel a "Change", canzone contenuta in Fearless, appunto, che parla delle difficolà avute stando in una piccola label, di come i no sembravano essere più dei contro che pro e lo si può capire da questi versi
these walls that they put up to hold us back will fall down, che diventa long live the walls we crashed through.
Un'altra caratteristica dello stile di Taylor è quella di collegare molte canzone tra di loro, una sorta di percorso che mostra anche la sua evoluzione artistica e umana.
Il testo è assolutamente una poesia dal primo verso fino all'ultimo, le parole sono scelte con cura, ci sono anche riferimenti letterari, Taylor paragona tutte le persone che l'hanno sostenuta a degli eroi mitici. Ecco il pezzo clou del brano:
Will you take a moment, promise me this

That you'll stand by me forever

But if God forbid fate should step in
And force us into a goodbye
If you have children some day
When they point to the pictures
Please tell them my name
Tell them how the crowds went wild
Tell them how I hope they shine
Ciò che rende questa canzone grandiosa, comunque, è il perfetto connubio tra testo e sound: come già sottolineato precedentemente, Taylor è davvero brava nell'adattare un testo a un sound perfetto per esso e, visto che qui i versi hanno riferimenti 'epici' e trionfanti, il presenta forti riff di chitarra, e anche ascoltando solo la instrumental vengono i brividi.
Dalla prima nota all'ultima, Long Live è un susseguirsi di emozioni da pelle d'oca, difficile non farsi venire qualche lacrima ascoltandola, ma anche solo leggendo i lyrics ci si riempe il cuore di emozione.
 Ronan
Ho scelto questo brano come prova del fatto che Taylor ha scritto anche su temi delicati, in questo caso la morte di un bambino di 4 anni per via del cancro.
Il pezzo uscì nella Red Era come singolo per Stand Up Cancer e fece tirare un sospiro di sollievo a molti fan che erano rimasti 'scioccati' dal primo singolo di "Red", la non esaltante "We ARE Never Ever Getting Back Together".
Taylor aveva appreso la notizia della morte del bimbo dal blog della madre del piccolo e, colpita dagli emozionanti post che la donna scriveva sia durante la malattia che dopo la morte, decise di scrivere il brano dal punto di vista della madre, citandola anche nei credit perchè le storie erano sue. Il testo parla dunque dei ricordi della madre sul figlio, di ogni dettaglio che lo caratterizzava, dei momenti trascorsi in ospedale, fino alla brutta notizia e all'ultimo saluto. Un testo stupendo, emozionante, uno dei più tristi e struggenti che la cantautrice abbia mai scritto.
Il pezzo migliore è sicuramente il bridge, in cui Taylor sembra raccogliere tutto il dolore della madre dentro dentro di sé per poi esprimerlo con 4 domande piene amarezza, 3 cantate con energia ed una quasi sussurrata.
What if I'm standing in your closet trying to talk to you?
And what if I kept your hand-me-downs you won't grow in to?
And what if I really thought some miracle wouldould see us through?
And what if the miracle was even getting one moment with you?
Emozionante l'interpretazione , forse quella più 'deprimente' di tutta la sua carriera: Tay ha usato un tono basso, a tratti con voce pacata, sospirata, ed il suo strumento si sente in tutta la sua pienezza grazie a un sound molto essenziale formato da chitarra elettrica e batteria, giusto l'essenziale per risaltare le parole.
The Best Day 
Proseguiamo con il secondo album ''Fearless'' da cui ho scelto questa splendida ballata, una delle migliori canzoni della Swift.
The Best Day è dedicata a sua madre, è un'ode verso lei in cui la si ringrazia per il suo incondizionato sostegno e per l'amore che le ha garantito per tutta la vita, renendola quella che è. Ovviamente il brano è principalmente incentrato sulla figura materna, ma non mancano di certo riferimenti a suo padre che lo descrivere come ''eccellente'' e suo fratello a cui invece gli riserva uno splendido complimento: ''inside and out he's better than i am''.
Per quanto riguarda il testo, anche in questo caso ci troviamo di fronte a  un gioiello, sempre composto in perfetto stile ''Taylor Swift'': ricco di metafore, di parole, di aggettivi, di dettagli.
A farne da padrone è ancora una volta lo storytelling,
Taylor crea  più un racconto con narrazione cronologica cominciando dall'età dei 5 anni della prima strofa, ai 13 della seconda fino all'età di 18, di quando ha composto il brano; a dimostrazione di quanto sia brava con le parole e di riuscire sempre a comporre un testo che abbia una sua logica narrativa.
La bellezza del brano è perdersi nelle parole, coglierne il significato ed emozionarsi per la dolcezza di alcuni come:
Now i know why all the trees change in the fall, i know you were on my side even when I was wrong,

and I love you for giving me your eyes staying back and watching me shine

And I didn't know if you knew, so I'm taking this chance to say that I hade the best day with you today
Per non tradire la dolcezza del testo, il base è un country tranquillo che accompagna soavemente il dolce timbro di Taylor. In questa traccia si sente in tutta la delicatezza della sua voce e, nonostante la Swift non abbia un timbro originale e uno strumento vocale potente, riesce ad adattarlo al tipo di testo e di messaggio che vuole trasmettere.
Breathe
Come ultima canzone, ho scelto un'altra di Fearless,
disco che merita più attenzioni di quanto non ne abbia. ''Breathe'' è il primo dei 3 duetti che Taylor ha incluso nei suoi album.
E' statacritta a 4 mani con Colbie Caillait dato che Taylor adorava la delicatezza della voce di Colbie e decise così di inserirla come seconda voce in alcune parti.
La traccia parla di un'amicizia conclusa, ma che si cerca in tutti modi di risolvere senza riuscirsi, perché ormai le due parti sono cambiate come recita in questo verso:
people are people and sometimes we change our minds .
Un'amicizia di cui si sente la mancanza, ma Taylor è conscia del fatto di dover andare avanti senza quella persona come canta nel bridge:
it's 2am feeling like i just lost a friend, hoping you know that it's not easy for me.
Ma la vera essenza del brano si trova nel ritornello: I can't breathe without you, but i have to, una semplice frase che crea un impatto incredibile all'ascoltatore. Il testo, quindi,  non è uno storytelling dettagliato, ma ha più una vena semplicistica senza risultare banale. E' uno dei testi più poetici ed evocativi mai scritti dalla Swift e per questo sarebbe stata perfetta per la colonna sonora di un film.
Così come in The Best Day, anche Breathe ha una melodia tranquilla,
più malinconica questa volta, che si accompagna perfettamente al mood della canzone creando così un'atmosfera suggestiva capace di trasportare l'ascoltatore in Paradiso.
Anche l'interpretazione è molto toccante: Taylor si mantiene nel suo tono di voce basso, quasi stesse surrando, la voce di Colbie si sposa molto bene con quella della Swift e le due cantautrici riescono a creare una suggestiva interpretazione anche senza avere doti vocali potenti. In conclusione, Breathe è una gemma nel repertorio di Taylor, anche se non viene considerata quanto dovrebbe.
Ma, questo, lo si riscontra in tutta la sua musica, basta ascoltarla senza pregiudizi.
Grazie a Veronica Gurguis, che ci ha inviato questo approfondimento. Se anche voi volete inviarci materiale, scrivete a [email protected] oppure ad [email protected]