Taylor Swift: la release date di "Reputation" è un colpo a Kanye West?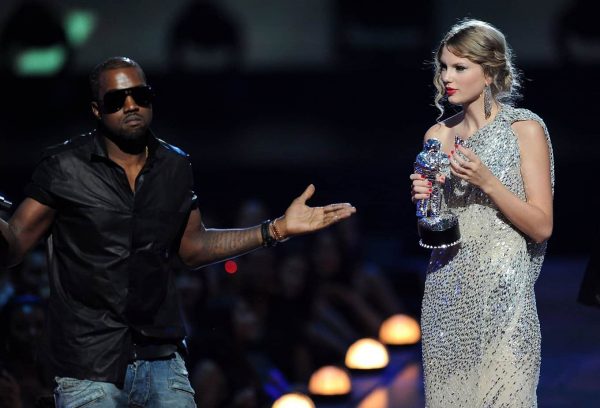 Grandi polemiche sono sorte nelle scorse ore su Twitter per la data d'uscita del nuovo album di Taylor Swift! Come ormai sappiamo, la celebre cantante di Bad Blood è tornata sulle scene musicali nella giornata di ieri con il suo nuovo singolo Look What You Made Me Do (puoi ascoltarlo QUI), brano che in sole 24 ore è riuscito a raggiungere notevoli record sul versante delle vendite (puoi scoprirli QUI). La nuova canzone di Taylor, inoltre, è la prima ad essere stata estratta dal suo nuovo album Reputation, in uscita il prossimo 10 novembre.
Nonostante la stessa Look What You Made Me Do abbia già attirato non poche polemiche per via delle lyrics rivolte molto probabilmente alla sua faida con il rapper Kanye West, questa volta la Rete si è scatenata contro la Swift per un altro motivo. Infatti, la release date del nuovo lavoro discografico, 10 novembre 2017, coinciderà con il decimo anniversario della morte di Donda West, l'amata madre di Kanye a cui il rapper stesso dedicò uno dei suoi album di maggior successo della sua carriera, 808s & Heartbreak.
A tal proposito, il pubblico di Twitter ha accusato la cantante di voler colpire il rapper sul personale, con un album probabilmente incentrato sul dissing e sulle provocazioni, in un momento di debolezza e di dolore per Kanye. Ecco qui alcune di queste reazioni su Twitter:
Also the fact that Taylor Swift is releasing her album on the anniversary of Donda West's passing is non-coincidental and disgusting.

— Michael Schmidt (@onelargeboy) August 26, 2017
Taylor is dropping her diss album on the 10th anniversary of Donda West's death. Wow.

— Bes Becoja (@besbecoja) August 26, 2017
Yup. Reputation drops 11/10/17. Donda West died 11/10/07. I don't care if it's coincidence b/c I KNOW Taylor's dissing Kanye on this record.

— A.J. Morales ☯💀☯💀☯💀☯💀 (@TheRevAJMorales) August 26, 2017
Fun fact: Taylor Swift's new song lyrics seem to reference the stage from Kanye's Saint Pablo tour – an Es Devlin design & DONDA project. ☺️ pic.twitter.com/E2LO04RJNp

— Ayman Itani (@aymandesigns) August 26, 2017
Questi legami tra i due eventi sono stati però subito smentiti dalla Big Machine, casa discografica di Taylor Swift, che ha spiegato a Rolling Stone:
"è un'abitudine che le date di rilascio siano di venerdì e l'abbiamo fissata come data d'uscita basandoci su altre release dell'universal music group. non c'è alcuna correlazione".
Sinceramente non c'era da dubitare che la scelta di questa data fosse una pura coincidenza. Per quanto, secondo molti, Taylor non sia nuova a bassezze e scorrettezze nei confronti di altre colleghe (si potrebbe pensare alla decisione di re-inserire la sua discografia su Spotify nel giorno del rilascio di Witness della Perry), è davvero improbabile che fosse a conoscenza di quest'anniversario e che possa sfruttare una tale ricorrenza per puro spirito di rivalsa.
La scelta del 10 novembre per Reputation potrebbe essere sicuramente giustificata da una strategia promozionale programmata già da tempo e che, forse, prevederà l'uscita di un secondo singolo a ridosso di tale data.
Cosa pensate di questa notizia?