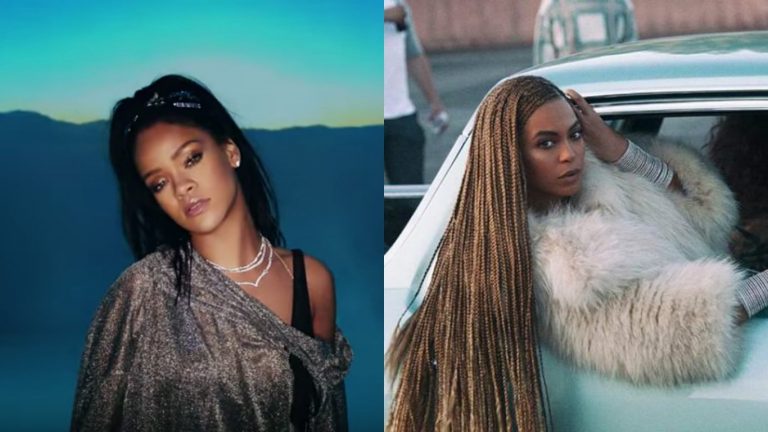 Siamo ormai giunti alla fine di questo 2016. Come ogni anno, dicembre è il mese in cui si tirano le somme e si stilano le classifiche. Dopo la quella dei cantanti più ascoltati su Spotify (QUI per rinfrescarvi la memoria), e quella dei 50 album più belli secondo Rolling Stone (QUI per approfondire), non poteva mancare la classifica di EW, che ci pronone le 100 migliori canzoni del 2016. Clicca qui per ascoltarle tutte!
Ecco le 100 migliori canzoni del 2016 secondo EW
100. The Chainsmokers feat. Halsey, "Closer"
99. Dirty Projectors, "Keep Your Name"
98. Holychild feat. Kate Nash, "Rotten Teeth"
97. Twin Peaks, "Walk to the One You Love"
96. Tourist, "Run"
95. Fujiya and Miyagi, "Freudian Slips"
94. Weezer, "King of the World"
93. DJ Shadow, "Nobody Speak"
92. Bibi Bourelly, "Ego"
91. NxWorries, "Lyk Dis"
90. Holy F—, "Caught Up"
89. Parquet Courts, "Berlin Got Blurry"
88. Delorean, "Epic"
87. Captain Cuts feat. Nateur, "Love Like We Used To"
86. OneRepublic, "Kids"
85. The Avett Brothers, "Ain't No Man"
84. Tyler Glenn, "Midnight"
83. Dolly Parton, "I'm Sixteen"
82. Sampha, "Blood On Me"
81. Jim James, "Here in Spirit"
80. Gallant, "Bourbon"
79. Whitney, "Golden Days"
78. D∆WN, "Not Above That"
77. DJ Khaled feat. Kendrick Lamar, Big Sean and Betty Wright, "Holy Key"
76. Dierks Bentley, "Black"
75. The Range, "Florida"
74. Day Wave, "Deadbeat Girl"
73. All Saints, "One Woman Man"
72. M.I.A., "Survivor"
71. Metallica, "Hardwired"
70. Zayn, "Intermission"
69. Kings of Leon, "Walls"
68. Loretta Lynn, "Who's Gonna Miss Me?"
67. KT Tunstall, "Hard Girls"
66. CL, "Lifted"
65. Kevin Morby, "I Have Been to the Mountain"
64. case/lang/veirs, "Honey and Smoke"
63. Skepta, "Shutdown"
62. Andra Day, "Burn"
61. Diana Gordon, "The Legend Of"
60. Lucius, "Gone Insane"
59. Hinds, "And I Will Send Your Flowers Back"
58. Desiigner, "Panda"
57. JoJo, "F— Apologies"
56. MØ, "Final Song"
55. Rae Sremmurd, "Black Beatles"
54. Sting, "50,000"
53. Charli XCX, "Vroom Vroom"
52. D.R.A.M., "Broccoli"
51. The Weeknd, "I Feel It Coming"
Ed ora entriamo nel vivo della classifica delle 100 migliori canzoni del 2016!
50. Lady Gaga, "Joanne"
49. Bon Iver, "22 (OVER S∞∞N)"
48. The Knocks feat. Wyclef Jean, "Kiss the Sky"
47. Drive-By Truckers, "Ramon Casiano"
46. Nick Jonas, "Close"
45. Empire of the Sun, "Two Vines"
44. Angel Olsen, "Shut Up Kiss Me"
43. Green Day, "Still Breathing"
42. Danny Brown, "Really Doe"
41. Lizzo, "Good As Hell"
40. Drake, "Controlla"
39. Kendrick Lamar, "untitled seven"
38. Justin Timberlake, "Can't Stop the Feeling"
37. Chairlift, "Crying in Public"
36. Gwen Stefani, "Misery"
35. Bruno Mars, "24K Magic"
34. Anohni, "Drone Bomb Me"
33. Tove Lo, "Cool Girl"
32. The 1975, "Love Me"
31. Carly Rae Jepsen, "Body Language"
30. Frank Ocean, "Pink + White"
29. Mitski, "Your Best American Girl"
28. Iggy Pop, "Gardenia"
27. Margo Price, "Hands of Time"
26. James Blake, "Modern Soul"
25. Flume, "Never Be Like You"
24. Maxwell, "Lake by the Ocean"
23. Britney Spears, "Do You Wanna Come Over?"
22. Kim Gordon, "Murdered Out"
21. Maren Morris, "80s Mercedes"
20. Rihanna, "Needed Me"
19. David Bowie, "Lazarus"
18. Nick Cave & the Bad Seeds, "I Need You"
17. Chance the Rapper, "No Problem"
16. Kiiara, "Gold"
15. Beyoncé, "All Night"
14. Radiohead, "Burn the Witch"
13. Ariana Grande, "Into You"
12. Rihanna, "Kiss It Better"
11. Little Big Town, "Better Man,"
10. Calvin Harris, "This Is What You Came For"
9. Savages, "Adore"
8. Frank Ocean, "Nikes"
7. Tegan and Sara, "Boyfriend"
6. Miranda Lambert, "Vice"
5. Solange Knowles, "Cranes in the Sky"
4. Kanye West, "Ultralight Beam"
3. Sia, "Reaper"
2. Fifth Harmony, "Work From Home"
1. Beyoncé, "Formation"
E voi, siete d'accordo con EW? Sono davvero queste le migliori canzoni del 2016? Diteci la vostra nei commenti!