Usher – Hard II Love | Recensione CD
Ecco la recensione track by track di Hard 2 Love, il nuovo disco di Usher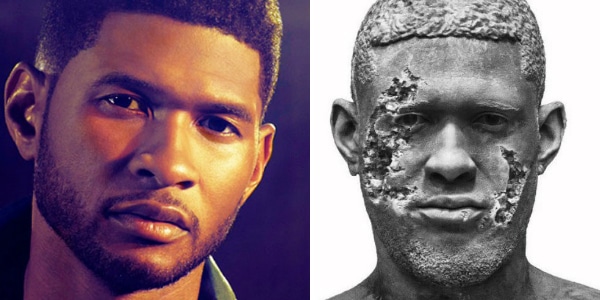 Restare sulla cresta dell'onda nel corso degli anni è sicuramente molto difficile, anche quando sei un artista che è riuscito ad avere un impatto enorme nella storia del tuo genere musicale. Nulla da fare, a volte, nemmeno per chi nella sua carriera è riuscito ad ottenere hit di grande successo ed a proporre album vendutissimi. Ne sa qualcosa Usher, un grande artista che negli ultimi anni è sembrato aver paura di effettuare un comback che non soddisfacesse il gusto del grande pubblico, e così si è ritrovato a cancellare l'album che ci aveva preparato qualche anno fa, UR, ed a tornare in scena dopo anni di silenzio con un progetto completamente rinnovato intitolato Hard II Love.
Recentemente, Usher ha dato sicuramente l'impressione di voler trovare un compromesso fra il suo stile, l'R&B figlio degli anni '90 e 2000 fatto di up tempo grintose ma anche ballad e slow jam emotive, con gli stili più in voga ultimamente, ritmi urban che siano compatibili con i gusti delle radio e dei club odierni. Questo era stato infatti dichiarato dall'artista in una recente intervista in cui ci aveva parlato del progetto:
Non c'è cosa peggiore di andare a divertirti in un club e non ascoltare nemmeno una tua canzone nel corso dell'intera serata
Parole, queste, che lasciano sicuramente intravedere un avvicinamento alla musica che va più di moda nelle radio back odierne, ma parlando di Usher ci aspettiamo comunque un disco che si ponga al di sopra al livello generale che vige attualmente, mostrando ancora una volta al grande pubblico di che pasta è fatto. Ci sarà riuscito? Andiamolo a scoprire con la nostra recensione track by track del progetto, che come sempre analizzerà nel dettaglio tutte le tracce che compongono questo progetto.


1. Need U: il disco si apre con Need U, una delle tracce migliori e maggiormente old school dell'intero disco. Suoni molto raffinati, che invocano un'altra epoca, danno inizio a questa traccia, per poi andarsi a fondere con un beat elettronico delicato ma coinvolgente e che sa rievocare alla perfezione gli stili musicali in voga anni fa nel mondo dell'R&B. Interpretazione meravigliosa e carismatica da parte dell'artista, assolutamente a suo agio con queste sonorità, perfette per il suo timbro ed a cui è abituato da molto tempo. Molto ben fatti anche i cori, che riescono a spalleggiare l'artista e dargli man forte per tutta la durata del brano.
La traccia si interrompe a sorpresa quasi verso la fine e si conclude con un piccolo discorso di una voce femminile, una scelta che stupisce e soddisfa l'ascoltatore. Per quanto riguarda il testo, Ush esprime una dedica ad una ragazza, alla quale ammette di non poter vivere senza di lei e di amarla davvero, definendosi "abbastanza uomo" da capire la serietà di questo suo sentimento. Per rendere al meglio queste sensazioni, Usher sa come dotare di una certa carica sexy la sua interpretazione, ed il risultato finale è molto buono.
2. Missin U: si apre con lo stesso discorso che conclude la traccia precedente, ma pronunciato questa volta da Usher, così come a far capire fin da subito di aver a che fare con una sorta di continuazione di Need U. Ed in effetti, Missin U è un ponte che collega la prima traccia al resto del progetto. Innanzi tutto, qui stilisticamente troviamo davvero un mix fra l'R&B un attimino più classico e sound urban più attuali, più elettronici, con un beat abbastanza invasivo che appare all'improvviso nella strofa, andando a sovrapporsi a suoni più soft che già potevamo ascoltare. L'atmosfera torna a farsi classical e di classe nel ritornello, ma la strofa tradisce chiaramente quella che sarà l'impostazione generale del disco.
Nel testo Usher esprime la sua nostalgia verso una ragazza di cui è innamorato ma che ormai non fa più parte della sua vita. L'interpretazione anche qui è molto convincente, riesce ad esprimere le sensazioni di cui si parla nel testo con un fare abbastanza scanzonato, come previsto dall'impostazione del testo. In definitiva, la traccia è un gradino sotto rispetto alla precedente, ma resta comunque molto buona, un bell'esperimento a livello di sound.
3. No Limt: arriviamo alla prima canzone che conosciamo già, ed al livello successivo in quanto a sound a cui Missin U ci aveva preparato. No Limit è una up tempo urban che segue in tutto e per tutto le mode musicali del momento in campo urban, non aggiungendo praticamente nulla. E' questa una mossa che da uno come Usher delude, soprattutto se consideriamo il ruolo di primo singolo che gli è stato assegnato. Siamo lontani anni luce da tutti i lead single precedenti dell'artista, ci troviamo al cospetto di una canzone che potrebbe essere cantata da qualunque cantante urban, senza anima, sicuramente carina ma che in un album di Usher non ci saremmo aspettati di trovare.
L'interpretazione di Ush questa volta è abbastanza basic, si percepisce chiaramente che l'artista è poco interessato a trasmettere emozioni o sensazioni con questo tipo. Certo, non possiamo affermare che la traccia non comunichi nulla, comunque la base riesce a creare un po' di atmosfera e l'interpretazione è adatta, ma il tutto è di un livello comunque mediocre. Come testo ci troviamo semplicemente davanti ad un'ode al sesso, con metafore e doppi sensi vari. Tutto molto basic, in definitiva.
4. Bump: proseguiamo con una traccia che pure tiene conto delle mode attuali, ma di ben altro livello rispetto alla precedente. Bump è una mid tempo molto soft nella base e nell'interpretazione, che parte con un sound lento e dimesso per poi esplodere con un ritornello energico ed incisivo, con un beat molto forte e l'hook "Bump, bump, bump, bump, bump, bump, bump" che riesce a capitalizzare l'attenzione dell'ascoltatore. Questo nuovo ritmo, questi elementi energici, non modificano comunque la linea guida della traccia, che conserva elementi molto raffinati nella produzione ed un'interpretazione molto interessante, in cui Usher inizia a deliziarci con i suoi bei falsetti, un aspetto della sua voce che abbiamo sempre adorato. Ottime anche le parti a voce piena. Meno brillanti le parti rappate.
A livello testuale, Usher sembra dare il via ad una nuova avventura con una nuova ragazza, una situazione che si ricollega dunque alla perfezione con le prime due tracce, creando dunque una continuity. Peccato solo per l'incursione di No Limit, che guasta tutto anche da questo punto di vista. Con questa canzone, comunque, il livello del disco si riprende abbastanza, ed a nostro avviso Bump ha tutte le potenzialità per essere singolo, ed anche hit.
5. Let Me: restiamo sulla scia delle mid/up tempo urban con Let Me, altra traccia che si inserisce a pieno titolo nel contesto della musica urban attuale, seguendo le mode del momento, ma qui si riesce comunque a rimanere su un certo livello qualitativo, a sperimentare con un bel mix di suoni che riesce a colpire l'ascoltatore. Una base minimale che a tratti crea un'atmosfera caotica viene servita alla bella voce del cantante, che fornisce un'interpretazione coinvolgente alla traccia. La produzione si mantiene su ritmiche pacate, e riesce nel suo intendo di conquistare l'ascoltatore. Diciamo che fra le canzoni che si avvicinano maggiormente all'urban attuale, Let Me è una delle migliori.
A livello di testo, Let Me non si discosta per nulla dai soliti testi urban che vanno per la maggiore: Usher si porta una ragazza a casa, le mostra la sua avvenenza e riesce a portarsela a letto, solito copione da canzone di genere, ed anche da questo punto di vista ci sarebbe piaciuto vedere uno come Usher elevarsi un attimino dal livello generale. La traccia resta buona, assolutamente, però l'aspetto testuale ci fa storcere un po' il naso
06. Downtime: si apre con atmosfere soft anche la sesta traccia Downtime, un brano che punta su un apparente raffinatezza nelle prime note ma che vede la sua atmosfera stravolgersi dal primo ritornello in poi, con un vivacizzarsi progressivo del ritmo, modifiche alla voce ed altri elementi che rimandano chiaramente agli stili musicali attuali. La linea guida resta quella del pianoforte, e questo tuttavia costituisce un aspetto negativo della traccia, che con questa produzione a tratti minimale ed a tratti corposa non sa né di carne né di pesce, e finisce con l'annoiare. L'interpretazione ci sembra poco vissuta, come se Usher non si curasse di trasmettere molto con questa traccia.
Un punto che va invece a favore della canzone è l'ottimo utilizzo dei cori e delle seconde voci: è proprio qui che un'anima artistica riesce ad emergere, e che l'interpretazione si fa convincente. Per quanto riguarda il testo, si parla sempre di una relazione, sempre del rapporto fra un uomo ed una donna, e qui si manifesta comunque un chiaro concept a livello testuale nel disco, elemento sicuramente positivo. Nel complesso, comunque, anche questa è una canzone che potrebbe cantare un qualunque cantante urban.
07. Crash: dopo la poco memorabile Downtime, il livello risale di nuovo grazie ad un altro dei singoli di lancio, un brano che mostra tutto il talento interpretativo di Usher e la sua grande abilità con i falsetti: Crash. Midtempo urban che si rifà alle mode odierne con una forte componente elettronica, Crash possiede una produzione minimale a tratti e sicuramente non molto originale, ma che qui va in secondo piano lasciando tutto lo spazio alla magnifica voce dell'interprete, che sia a voce piena che in falsetto riesce ad eseguire un'interpretazione emotiva e comunicativa, che fa arrivare al nostro cuore ogni singola parola interpretata.
Certo, alcune pecche nella produzione rendono alcune parti meno brillanti di quanto potrebbero essere, ma il livello generale della traccia è davvero buono. A livello di testo, Crash è sicuramente una delle tracce più introspettive dell'album. Il brano parla della solitudine che si prova nel ritrovarsi in compagnia della persona amata, dopo aver guidato per ore per raggiungere la sua abitazione, e nello svegliarsi insieme a lei, senza che nessun'altro sia lì a turbare questa armonia. Un quadro bellissimo, che trasuda sentimento da ogni poro, e che riesce davvero a conquistarci grazie all'intensità emotiva dell'artista.
8. Make U A Believer: proseguiamo con una traccia che segue la scia stilistica di Crash, anche se cambiano decisamente le atmosfere. Si sente, e non poco, la mano di Frank Dukes, produttore che ultimante è uno dei prediletti dagli artisti di genere R&B/urban/hip-hop, da Kanye West a Drake, da Kendrick Lamar a Fetty Wap.
Make U A Belieber è una mid tempo urban dalle tinte cupe/dark, una produzione graffiante e grave, in perfetto contrasto con le note alte del falsetto di Usher. Il mix si fa apprezzare fino ad un certo punto, perché man mano che si prosegue con l'ascolto il tutto risulta essere troppo ripetitivo, a tratti pesante; non c'è mai quel passo in più che permetterebbe al brano di salire di livello. Nel complesso comunque meglio di altri pezzi dell'album, buona anche l'interpretazione dell'artista, che si diverte a giocare con il suo ricco strumento vocale.
Per quanto riguarda la tematica la traccia n.8 di Hard II Love parla di fiducia all'interno di una coppia, con l'uomo che fa una serie di promesse alla sua donna nella speranza di farsi prendere sul serio e far capire l'onestà delle sue intenzioni, nel modo più convincente possibile: "Ragazza se lo penso e lo dico è perché lo credo".
9. Mind of a man: arrivati a questo punto ci troviamo dinnanzi ad un interlude di 54 secondi che, in un certo senso, divide in due parti il disco. E' una breve midtempo R&B che si lascia ascoltare piacevolmente, anche se contornata da tutti quegli effetti sonori con i quali ormai conviviamo, musicalmente parlando, da un bel po', che tendono a rendere troppo robotiche le voci. Un peccato
In questo minuto Usher parla di bugie, di un episodio in cui ha detto alla sua compagna che rimaneva fino a tardi in studio di registrazione anche se in realtà non andò così, in quanto andò a divertirsi e poi prese un aereo privato per Miami.
10. FWM: se la prima metà di Hard II Love partiva quanto meno con il piede giusto, è innegabile il fatto che con questa FWM proprio non ci siamo. Innanzitutto c'è da dire che la traccia è prodotta da Pharrell Williams, il che ci sorprende e non poco visto che da un artista della sua esperienza ci si aspettano cose di ben altro tipo. Si tratta di un'uptempo dalla base caotica e fastidiosa, questo dovuto ad un abuso di synth/drum machine. Un motivetto scolastico che si ripete per tutta la durata e non si sposa per niente bene con l'interpretazione incomprensibilmente debole di Usher, in quale frangente completamente priva di vitalità.
Se dovessimo descrivere questa traccia con un aggettivo diremmo che è decisamente inconsistente; difficile da collocare sia da un punto di vista stilistico che artistico per quanto riguarda la carriera del cantante. Anche per quanto riguarda il testo non si tratta di una composizione memorabile, basti pensare che FWM altro non è che l'acronimo della romanticissima frase "Fuck With Me"…che non ha bisogno certo di traduzioni.
11. Rivals (feat. Future): il livello per fortuna migliora già a partire dalla traccia seguente, con questa Rivals che vede la partecipazione del rapper Future come featuring artist. Rivals è una midtempo che si presenta con un R&B un po' più classico, anche se non manca qualche contaminazione strumentale per non allontanarsi del tutto dallo stile che va di moda oggi. Buona la performance vocale di Usher, finalmente riusciamo a sentire la sua voce in maniera abbastanza pulita, senza troppi ritocchi. Anche il tocco di Future contribuisce alla riuscita della traccia; il rapper-produttore si occupa dei cori e da metà traccia in poi partecipa attivamente sia alle strofe che al ritornello.
Il timbro "acidulo" del rapper si connette bene con il falsetto di Usher ed il connubio che si crea è piacevole all'ascolto. Nel complesso una traccia buona, non la migliore del disco ma neanche una delle peggiori. La tematica del testo riprende quella di una comune dichiarazione d'amore con qualche riferimento e metafora un po' insolita, come ad esempio il verso "i tuoi baci sono come una batteria Duracell". Un bel testo che tratta l'amore senza però non cadere in allusioni sessuali volgari, come spesso accade in questo ambito musicale. Ricordiamo che Rivals è stato estratto il 13 settembre scorso come terzo singolo, accompagnato dal video seguente:
12. Tell Me: arriviamo alla traccia n.12, della durata di 8.29. Solitamente canzoni così lunghe nascondono al loro interno una ghost track o quanto meno verso metà cambiano registro stilistico, velocizzandosi o quanto meno cambiando qualcosa per evitare di cadere nella monotonia, pensiamo ad esempio a Mirrors di Justin Timberlake. In questo caso Tell Me non fa nulla del genere, prosegue dello stesso livello per tutta la durata, senza svoltare mai, ed in effetti 8 minuti e mezzo per una canzone unica sono tanti, troppi. Tralasciando il fattore tempo, questo brano è una downtempo estremamente sensuale attraverso la quale Usher si avvicina con decisione alle slow-jam della Confessions-era.
Il ritmo è un continuo sali e scendi, una produzione decisamente più soft e pacata nelle strofe per poi andare ad esplodere in un ritornello convincente che fa risaltare l'incredibile falsetto dell'artista. Ottima davvero l'esecuzione vocale, purtroppo però la monotonia causata dalla lunghezza eccessiva si fa sentire. Già dalla pacatezza della performance e della base si capisce che si tratta di una canzone incentrata sulla tematica amorosa. L'uomo parla e si confronta con la sua innamorata per quanto riguarda tutte le necessità del loro rapporto, chiedendole di dirgli che ha voglia di fare l'amore con lui.
13. Hard II Love: siamo giunti alla terzultima traccia nonché title track del progetto; un pezzo evidentemente significativo visto che è finito per diventare il titolo dell'intero lavoro.
Purtroppo dalla title track ci si poteva aspettare di meglio. E' una midtempo urban atta a far risaltare lo strumento vocale dell'artista, che però nel complesso non riesce ad esplodere mai. Prosegue infatti per una linea che rimane piatta fino alla fine, in poche parole manca quel tocco energico in più che l'avrebbe potuta far svoltare. Apprezzabili la produzione raffinata e la base minimal, spogliata da tutto, senza abusi strumentali; purtroppo però il ritornello non è incisivo e non rimane in testa. Una traccia che non va da nessuna parte, molto deludente da parte di un grande come Usher.
Il testo riesce a farsi apprezzare già di più; troviamo l'uomo che confessa di essere cosciente di avere un carattere difficile, difficile da amare, e pertanto non biasima la sua innamorata se questa non riesce a lasciarsi andare in toto nella loro relazione perché stare con lui è come un gioco d'azzardo, tutto può andare bene o può solo rimetterci.
14. Stronger: arrivati quasi alla fine della nostre recensione ci spetta un brano che, aldilà della qualità, è sicuramente uno di quelli che ad Usher sta più a cuore, senza ombra di dubbio. Stilisticamente parlando ci troviamo dinnanzi ad una midtempo soft resa particolarmente profonda dai cori gospel e dai riff di piano, che contribuiscono a trasmettere il messaggio di determinazione e forza che vuole dare la canzone. L'esecuzione vocale di Usher è perfettamente a fuoco, una delle più convincenti di tutto il progetto, e non ci vuole molto a capire perché.
Stronger parla del dolore provato dal cantante nel 2012 a causa della prematura scomparsa del figliastro Kile Glover, morto a 11 anni a seguito di un incidente avvenuto in mare mentre si trovava in vacanza con la famiglia. Un episodio tragico che senza dubbio segna per sempre la vita di una persona ; Usher ha voluto trasportare le sue sensazioni ed i suoi sentimenti di dolore in musica e la sincerità del pezzo lo conferma.
Ammette che dopo un periodo buio in cui tutto sembrava non aver più senso, in cui aveva perso sé stesso e la fede, ora si ritrova ad essere più forte che mai.
15. Champions (feat. Ruben Blades): terminiamo la recensione con un pezzo che, sebbene sia stato inserito in coda al disco, è evidente che con il resto del progetto c'entri poco, per non dire nulla. Questo perché in effetti Champions è la colonna sonora dell'acclamato film Hands of Stone, che vede Usher protagonista nei panni del pugile Sugar Ray Leonard.
Champions parte con i cori di Ruben Blades, simili ai canti dei mariachi (gruppi musicali tipici del Messico). Inizia poi a cantare Usher in inglese e si alterna per alcuni versi con Blades, che invece canta in lingua spagnola, e via così per tutta la durata del brano. Orecchiabile il ritornello e molto piacevole e delicato anche il ritmo latino della base, una produzione perfetta per rappresentare Hands of Stone, pellicola che appunto racconta la storia della rivalità sportiva (e non solo) tra il pugile di Panama Roberto Duràn ed il collega americano Sugar Ray Leonard. Anche da qui capiamo la scelta di contrapporre le due lingue, come simboli di due culture differenti. Ecco infatti le parole di Usher sulla creazione di Champions:
"Volevo che rappresentasse le due icone che combatterono per i propri paesi. C'era una relazione profonda all'interno di quel ring tra Duràn e Leonard e io volevo catturarla. Volevo che l'interpretazione di Rubén fosse il più pura possibile così ho lasciato che fosse lui stesso a scrivere la sua parte in spagnolo. Doveva essere più autentica possibile per dare un senso di speranza"
Arrivati a questo punto è arrivato il momento di spiegare perché all'album Hard II Love abbiamo deciso di dare solo 3 stelle su 5. Non c'è bisogno di fare tanti giri di parole per dire che in questo caso siamo rimasti estremamente delusi, specialmente perché quando si aspetta il lavoro di un grande artista come Usher le aspettative sono ovviamente alte.  E' innegabile il fatto che in passato Usher abbia fatto decisamente meglio; Hard II Love non è quello che si spera di ascoltare da uno come lui, che nella sua carriera è sempre stato un passo avanti a molti suoi colleghi per quanto riguarda R&B e sottogeneri.
Togliendo qualche canzone degna di nota ne esce un progetto mediocre, che non fa venire voglia di far ripartire la riproduzione una seconda volta. Le canzoni sono troppo simili tra di loro e, messa una dopo l'altra, creano talvolta quasi un senso di noia. Troppi pezzi non sono assolutamente parte del suo repertorio e questa cosa purtroppo emerge; evidentemente ha voluto avvicinarsi alle mode del momento solo che se certi generi non ti appartengono è difficile far diventare credibile una canzone, anche se ti chiami Usher, hai dalla tua una carriera con i fiocchi ed una voce notevole. In poche parole Hard II Love, secondo il nostro punto di vista, pecca di credibilità.
E' dura dover dare "solo" 3 stelle ad un cantante del genere ma questo è ciò che abbiamo riscontrato traccia dopo traccia. Usher è ancora oggi una delle voci più notevoli ed inconfondibili del panorama ed anche per questo il suo "svendersi" eccessivamente alle mode, facendo musica tutta uguale e tralasciando la qualità che lo caratterizzava secondo noi è stato un grave errore e nel contempo un passo falso notevole.
Ripetiamo, non è un album da buttare, ma non è tanto un meno l'album che si vuole ascoltare quando sulla copertina è inciso il nome di Usher, autore in passato di dischi come Confessions e Here I Stand, che si fanno rimpiangere e non poco.
Recensione a cura di Umberto Olivo e Silvia Mella