2015 in musica: 10 BELLE sorprese arrivate quest'anno
Il 2015 secondo molti non è stato un anno grandioso in quanto a qualità musicale. In effetti ci siamo trovati davanti ad un'annata abbastanza piatta, dai risvolti prevedibili, con pochissima competizione nelle classifiche e con gli unici due fenomeni nelle vendite (Taylor Swift e Adele) che sono esplosi nei due periodi opposti dell'anno.
Ciò non toglie, tuttavia, che alcuni avvenimenti non siano andati proprio come potevamo aspettarci fino a qualche mese prima: a volte positive, a volte negative, le sorprese in questo 2015 ci sono state, ed in questa sede vorremmo parlarvi solo di quelle che per noi di R&B Junk sono state delle belle sorprese, degli eventi che ci hanno rallegrato e ci hanno fatto capire che non proprio tutto va a rotoli in questo musicbiz.
Evitiamo dunque di parlare di soffermarci su "artisti" a nostro avviso non meriterebbero nemmeno di stare nel mondo della musica per soffermarci su cantanti degni di nota che in questa annata hanno avuto un riscontro positivo nelle charts. Let's go!

Carly Rae Jepsen non è più una One Hit Wonder, e nessuno lo può negare. A voler rispettare in modo fiscale il senso del termine, in realtà, Carly non lo è mai stata avendo avuto successo non con una ma con due canzoni diverse, tuttavia il boom enorme di "Call Me Maybe" seguito dal flop del relativo album ha fatto sì che il pubblico la prendesse come esempio principale per questo tremendo status, e che quindi la cantante venisse continuamente presa in giro in ogni luogo virtuale in cui si parla di musica proprio per questa ragione
Eppure, la cantante non si è persa d'animo e, dopo dei notevoli progressi vocali per i quali bisogna ringraziare i suoi progetti con Broadway, è tornata in scena con il singolo "I Really Like You". Partito in sordina, dal brano ci aspettavamo tutti un altro buco nell'acqua che non liberasse Carly da questa condizione, eppure ciò non è avvenuto: fatta eccezione degli States, alla fine il brano è esploso un po' ovunque, ottenendo 5 dischi d'oro e 2 di platino e vendendo solo tra UK e Giappone la bellezza di 700 mila copie. A ciò è seguito un album di ottima qualità, altra cosa che dopo la banalità del precedente album non ci aspettavamo proprio.
In altre parole, questo poteva essere un anno perfetto per la nostra Carly, peccato solo che una gestione imbarazzante della sua carriera da parte del "caro" Scooter Braun abbia rovinato tutto. Pensate solo che per ora l'unico tour previsto per la ragazza si svolgerà solo negli States, unico mercato in cui "I Really Like You" è passata completamente inosservata…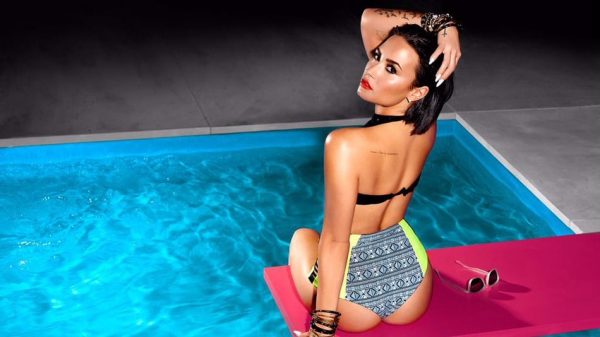 Demi Lovato NON ha mantenuto le promesse fatte per "Confident", né in relazione ai sound né tanto meno in relazione ai testi. Partito maluccio, alla fine il lead single "Cool for the Summer" non ha eguagliato il successo della sua più grande hit "Heart Attack" ma ha comunque acciuffato dei buoni risultati internazionali ottenendo la no.11 della Billboard Hot 100, la no.7 in UK e, più in generale, 1 disco d'argento (UK), 5 d'oro e 2 di platino. Come se non bastasse, il brano si è rivelato uno dei più suonati nelle discoteche di tutto il mondo in questo 2015, ed in particolare negli States ha impiegato solo 5 settimane per ottenere la no.1 della Billboard Hot Dance Club Songs.
In questa situazione, era facile pensare che Demi ed il suo team optassero alla fine per un disco che seguisse l'andazzo dell'orrido singolo, un pezzo che proprio non mette in luce le sue grandi qualità vocali e che ha deluso parecchi fan. Anche i vari servizi fotografici soft porno che la star ci ha offerto subito prima della release del disco sembravano premere in quella direzione, ma per fortuna le cose non sono andate in questo modo, anzi.
Ben variegato in quanto a sound e fornito di ottime prestazioni vocali, "Confident" si è rivelato l'album più maturo di Demi. Alcune tracce (sia ballad che up tempo) sono dotate di testi molto belli e significativi, alcuni autobiografici ed altri strutturati in modo che ciascuno ascoltatore possa farli propri. Non sarà un successo commerciale, ma a noi questo disco ha sorpreso moltissimo, dimostrando come Demi in realtà non sia cambiata e tutto ciò che era stato costruito intorno fosse solo una strategia per strapparle di dosso l'immagine di teen star.
Janet Jackson e Missy Elliott si ricatapultano all'improvviso nello scenario musicale, e riescono a mandare in visibilio tutti gli amanti della musica black di un certo livello. Le due regine erano assenti dallo scenario musicale da tempo: Janet non pubblicava alcun album dal lontano 2008, anno di release di "Discipline"; Missy invece non rilasciava alcun disco dal 2005, anno in cui pubblicò il bellissimo "Cookbook", ultimo album rilasciato prima di affrontare una terribile malattia.
Per entrambe, il come back era nell'aria da anni, ma puntualmente non arrivava mai: Missy continuava da tempo a dedicarsi solo a sporadiche collaborazioni, mentre su Janet, dopo anni trascorsi pensando principalmente alla vita privata (morte di Michael, matrimonio) si sono creati vari rumors che però sono stati sempre smentiti dalla stessa diva, la quale ad un certo punto ha affermato chiaramente "quando starò per tornare, lo sentirete dalle mie stesse labbra". Ebbene, quest'anno sono state proprio le sue labbra (ancora sexy come 20 anni fa!) a comunicarci la bella notizia.
Dopo aver rilasciato una registrazione in cui annunciava il suo imminente ritorno in scena, Janet in un batter d'occhio rilascia vari singoli ed il suo nuovo album "Unbreakable". Tra i singoli, è presente anche una collabo con la stessa Missy Elliott, "Burn It Up", e sul momento in molti abbiamo pensato che si trattasse dell'ennesima collabo pubblicata in questi anni dalla regina dell'hip hop. Invece, dopo pochissimo tempo ecco arrivare anche il lead single della nostra Missy, la fantastica "WTF". Ancora non sappiamo nulla sull'album, ma non sembrerebbe mancare molto…
I Duran Duran ritornano improvvisamente nello scenario musicale mainstream dopo che per anni ne erano rimasti ben lontani. Pur avendo raggiunto il titolo di "leggenda" da molto tempo, il celeberrimo gruppo britannico da molti anni era completamente sparito da tutte le classifiche internazionali, ed i media si comportavano come se non esistessero più nonostante continuassero a rilasciare degli album che spesso erano di ottima fattura.
Questo problema, tra l'altro, non è recente: pensate che l'ultimo album del gruppo che riuscì ad entrare nella top 10 della Billboard 200 risale al 1993, ossia a ben 22 anni fa! Ovviamente, con il passare del tempo, i dischi hanno smesso di poter contare anche sull'influenza di un passato glorioso ormai troppo lontano, e così gli ultimi progetti neanche erano entrati nelle varie classifiche. Una debole ripresa c'era stata nel 2010 con "All You Need Is Now", ma pur entrando in molte classifiche il disco si era limitato comunque a posizioni molto basse.
Nel 2015, tuttavia, di colpo qualcosa è cambiato. Sarà per la scelta di passare alla Warner Bross dopo un'intera carriera vissuta tra Capitol, Epic e Sony ed un solo album rilasciato senza major, sarà per la scelta di collaborare con delle nuove leve, ma in ogni caso il gruppo è riuscito ad ottenere di nuovo una forte attenzione mediatica. Tutti hanno iniziato a parlare di loro, il singolo "Preassure Off" ha conquistato un buon successo in alcuni mercati, e così l'album "Paper Gods" è riuscito finalmente ad imporsi in moltissime top 10 mondiali, tra cui quelle tanto desiderate di UK e USA. A completare il tutto c'ha pensato un premio alla carriera assegnato da MTV per l'importantissimo contributo dato allo sviluppo dei video musicali.
Mariah Carey riprende a cantare da Dio e ritorna in Italia, entrambi regali che proprio non ci saremmo aspettati da questo 2015 per via di come si erano messe le cose negli ultimi anni. Mariah, da sempre vocalist incredibile, in passato ci aveva abituato a serie di live che rasentavano la perfezione, a whistles squillanti come pochi, a performance capaci di far venire la pelle d'oca a chiunque, ma negli ultimi anni (forse per via della passione per gli alcolici) le cose non stavano più messe così bene, e molte performance della star hanno deluso anche i fan di vecchia data.
Per questa ragione, quando quest'anno è stato annunciata una residency a Las Vegas, noi tutti ci siamo preoccupati ed abbiamo temuto che la diva non fosse in grado di eseguire uno show degno del suo nome, ma a quanto pare c'eravamo sbagliati alla grande. Prima con le performance promozionali in TV e poi con lo show in sé, Mimi ha eseguito delle performance vocali a dir poco divine, ritornando spesso agli antichi fasti degli anni 90 grazie ad un'ugola di nuovo pronta a dare il meglio di sé. Ma le belle sorprese non finiscono qua!
Dopo qualche mese, è stata annunciata la possibilità che Mariah tornasse in Europa con un tour dopo 13 anni d'assenza dal Vecchio Continente. Noi tutti eravamo abbastanza scettici nei confronti di questo rumor, anche e soprattutto per via della residency a Las Vegas, e invece proprio questi giorni l'intero progetto è stato confermato, ed è stata annunciata anche una data italiana! Meglio di così…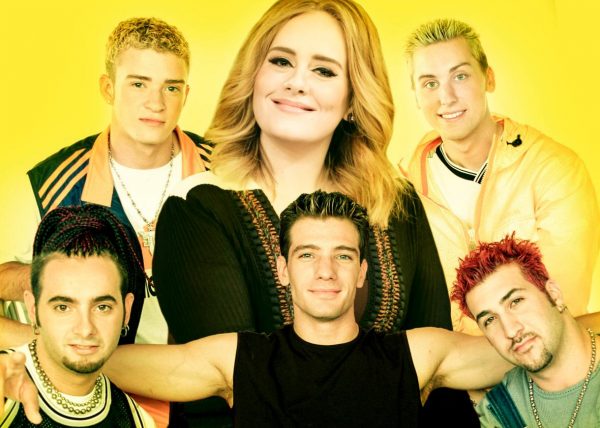 Il record storico degli N'Sync è stato finalmente battuto dopo ben 15 anni, il tutto nonostante l'incredibile calo avuto dalla discografia negli ultimi anni. A batterlo è stata la cantante britannica Adele, l'unica diva musicale in questa generazione, l'unica personalità artistica attualmente capace di fare certi numeri nelle classifiche internazionali, una fuoriclasse per quanto riguarda il successo, tuttavia, per quanto i suoi numeri siano un caso a parte, nessuno poteva immaginare che l'artista sarebbe arrivata a tanto.
In questo senso, è indicativo il fatto che, nelle settimane immediatamente precedenti alla release del progetto, in molti contestassero perfino che l'artista fosse in grado di battere la first week di "Oops I Did It Again" di Britney Spears, album che poteva vantare il titolo di disco con la miglior first week per una solista donna, dunque figuriamoci se si poteva dare per scontato che il disco riuscisse ad ottenere un risultato così forte.
Con il progressivo sgretolarsi del profitto dell'industria musicale, chiunque fino a qualche mese fa avrebbe affermato con fermezza che per ora sarebbe stato praticamente impossibile che qualcuno riuscisse a battere questo record. Ll fatto che ciò sia invece successo dimostra che il pubblico è ancora intenzionato a premiare il talento nonostante le label puntino su altro: seppur moribonda, l'industria musicale ancora non è morta, ed è sicuramente una bellissima sorpresa capire che il pubblico si lascia influenzare relativamente dall'attuale modo di fare marketing delle case discografiche.
Madonna e Britney Spears ritornano a fare promozione in TV, entrambe dopo un periodo più o meno lungo in cui si erano tenute assolutamente lontane da questo mezzo ed avevano sostenuto la loro musica in modi diversi, il che non è stato sempre positivo a detta dei loro fan. Madonna negli ultimi anni ha infatti dato molta più importanza ai tour che al resto ed ha così trascurato molto le performance televisive, ed allo stesso modo Britney, indipendentemente da altri impegni, si è dedicata pochissimo a questo,venendo spesso presa in giro dai suoi stessi ammiratori per tale ragione.
Per entrambe, il clou da questo punto di vista era arrivato durante le rispettive ultime Ere discografiche precedenti al 2015: nel periodo di "MDNA", Madonna è apparsa in TV soltanto in occasione del Super Bowl, per poi snobbare ogni normale programma televisivo possibile e immaginabile; allo stesso modo, durante la promozione di Britney Jean, Brit si è dedicata in maniera esclusiva alla sua residency a Las Vegas, progetto che la legava ad un contratto che le vieta di esibirsi in altri luoghi.
Quest'anno, entrambi i fanbase sono tuttavia stati colti alla sprovvista dall'improvvisa decisione delle due dive di ritornare a proporre la loro musica all'interno di trasmissioni televisive! Per quanto riguarda Madonna, la regina del pop si è sbizzarrita esibendosi in tutte le trasmissioni possibili ed immaginabili, comprese alcune europee (ed una italiana); Britney, dovendo comunque rispettare il su citato contratto, ha semplicemente lasciato che una performance proposta a Las Vegas andasse in onda ai Billboard Music Awards, tuttavia date le condizioni ciò è bastato per mandare in visibilio i loro fan.
Una vocalist dall'incredibile talento come Tori Kelly riesce ad ottenere il pieno sostegno da una major, la Capitol, il che non è scontato in un musicbiz in cui label, che teoricamente dovrebbero saper distinguere i veri cantanti dalle persone leggermente (e scarsamente) intonate, esaltano personaggi come Selena Gomez e Justin Bieber, dando di riflesso meno credito a persone che invece sono dotati di strumenti vocali molto importanti e di un certo spessore artistico. Del resto, basti pensare a come lo stesso manager gestisce Bieber e Ariana Grande…
Partita come tanti altri prima di lei da You Tube, Tori è stata notata da un team di esperti ed è stata dunque scelta come nuova stella da imporre nel musicbiz nel 2015. In altre parole, quelli della Capitol hanno deciso di spingere quanto più possibile per far si che il grandissimo talento di questa ragazza fosse riconosciuto, e per questo non solo l'hanno fatta esibire in svariate trasmissioni televisive, ma anche in tutti (o quasi) gli eventi musicali più importanti: Billboard Music Awards, MTV Video Music Awards, MTV Europe Music Awards, ecc.
Che una casa discografica decida di spingere qualcuno puntando solo sul suo talento, quando invece avrebbe anche altro da offrire trattandosi di una bellissima ragazza, è stata una sorpresa a dir poco strabiliante in un musicbiz come quello attuale, e noi speriamo che anche la concorrenza possa prendere ciò ad esempio negli anni futuri, eliminando progressivamente i "cantanti" scarsamente dotati vocalmente dalla piazza.
JoJo ritorna in scena con uno dei come back qualitativamente più imponenti degli ultimi anni, un risultato che tutti auspicavamo ma che nessuno poteva dare per scontato dopo le interminabili battaglie che la popstar ha dovuto combattere contro la sua prima label. La famigerata Background Records ha gestito l'artista per moltissimo tempo, e verso di lei ha compiuto moltissime scorrettezze le quali vanno ben al di là del semplice non far pubblicare un nuovo album per via del flop dei singoli: per quanto umanamente scorretto, questo non sarebbe stato un atteggiamento da perseguire legalmente, ma altre ignobili gesta dei dirigenti della label sono bastati affinché JoJo muovesse una causa contro di loro.
I capi di imputazione erano due e contestavano rispettivamente il fatto che il contratto stipulato con la star al suo debutto impegnasse la cantante per un periodo di tempo superiore al massimo previsto dalla legge americana per i contratti che mettono in gioco dei minorenni e le modalità attraverso le quali venivano distribuiti i guadagni derivati dalle vendite di JoJo, le cui proporzioni erano talmente svantaggiose per la cantante da risultare anch'esse fuorilegge. Dopo una battaglia legale durata alcuni anni, JoJo ha vinto la causa, e nel 2014 ha finalmente firmato un nuovo contratto.
La vera sorpresa, dopo tutte queste lotte, è stata che l'artista rilasciasse non semplicemente un singolo per testare il mercato come avrebbe fatto chiunque, ma ben 3 singoli pubblicati CONTEMPORANEAMENTE. Nulla di simile si era mai visto in passato, e noi siamo contenti che le sia stata data la possibilità di effettuare una simile mossa, e speriamo che il 2016 porti con sé il suo terzo album. Se poi pensiamo a tutta la musica che ha pubblicato gratuitamente di recente…
Chris Brown, Miley Cyrus ed Austin Mahone rilasciano dei progetti quantitativamente mastodontici ma gratuiti, compiendo un gesto di estrema generosità verso i rispettivi fanbase e verso il pubblico in genere, ma soprattutto ragionando in maniera tale da favorire non il guadagno economico, ma la musica nella sua più intima essenza e completamente distaccata da qualunque logica commerciale. Miley Cyrus dopo i VMAs ha rilasciato l'album "Miley And Her Dead Petz" (QUI per la nostra recensione), Austin Mahone pochissimi giorni fa ha concesso online il mixtape gratuito "This Is Not The Album" (Ascolta QUI), anche Breezy ha fatto lo stesso a fine novembre, pubblicando un corposo lavoro, intitolato "Before The Party" di ben 34 tracce, escluse dalle sue ultime pubblicazioni discografiche (Ascolta e scarica QUI)
Si tratta di un gesto molto bello che nessuno si aspetterebbe in un 2015 in cui il Dio Denaro sembrerebbe dominare in ogni singolo angolo della società ed aver sostituito tutti i valori preesistenti, ma ciò che lo rende ancora più sorprendente sono le condizioni di Chris e Miley gli artisti nel periodo di pubblicazione di tali lavori gratuiti. Difatti, a diifferenza di Austin sia Chris che Miley erano (per ragioni differenti) in situazioni che proprio non ci facevano sospettare minimamente che la loro prossima mossa sarebbe stata quella di regalare una così copiosa mole di musica, e molti di noi avevano beatamente ignorato i rumors che in entrambi i casi avevano preceduto l'accaduto, pentendosene amaramente in un secondo momento.
I motivi per via dei quali nessuno pensava che Chris e Miley potessero davvero rilasciare così tanta musica gratuitamente sono: per Chris, il fatto che avesse già annunciato l'imminente release del suo settimo studio album "Royalty", progetto che pensavamo lo impegnasse troppo perché potesse pensare ad un'altra release; per Miley, l'andazzo della sua precedente Era discografica, periodo in cui l'atteggiamento della superstar proprio non ci aveva fatto vedere in lei l'immagine della cantante generosa che regala il materiale che crea in studio.
Per quanto ci riguarda, questi sono i motivi per cui avremo un ricordo più felice del 2015. E voi? Quali saranno i vostri ricordi migliori di quest'anno?