Ariana Grande: sparisce il sito, nuovo singolo questo venerdì?
Ariana Grande fa sparire il sito ufficiale, venerdì il nuovo singolo?
Come avevano anticipato alcune radio UK, potrebbe essere davvero imminente il ritorno di Ariana Grande!
La cantante di Dangerous Woman ha appena eliminato dal web il suo sito ufficiale, segno che si sta preparando ad una nuova Era discografica!
La speranza di molti era quella di vederla ieri sera ai Grammy Awards, di sorpresa a presentare del nuovo materiale, ma così non é stato!
Tuttavia le date coincidono con quello che avevano detto le radio Britanniche (nuova musica a febbraio), e secondo i rumors, questo venerdì potremmo ascoltare il nuovo singolo di una delle più grandi artiste della nuova generazione.
La Grande ha ottenuto ottimi risultati fino ad ora, ed ha un fanbase solidissimo, siamo davvero curiosi di sapere che cosa avrà preparato questa volta, dopo che "Dangerous Woman" non ha per nulla deluso le nostre aspettative!
Siamo davvero in allerta! Speriamo sia qualcosa di potente e vocale!
Secondo diverse radio UK Ariana Grande rilascerà nuova musica a Febbraio!
La cantante sta preparando il suo comeback con AG4 per questo 2018, ma il suo ritorno potrebbe avvenire ad inizio anno. Secondo fonti radiofoniche britanniche, la cantante ha già del materiale per Febbraio 2018.
A radio station has said that Ariana will have new music coming out in February. However, it has not been confirmed by Ariana's team.pic.twitter.com/VPvxOTpuib

— R💧/ No Tears (@arianaspilltea) January 2, 2018
Una notizia splendida, che renderebbe questo inizio dell'anno tra i più esplosivi di sempre, visto che anche altre grandi star come JT, Iggy Azalea, Christina Aguilera, promettono della musica inedita.
Ariana potrebbe essere una delle grandi protagoniste del prossimo anno, ma la concorrenza sarà davvero spietata!
Vedremo che cosa saprà proporci questo portento vocale….
---
Il sequel di Dangerous Woman arriverà entro l'anno e la stellina del pop Ariana Grande ha già avuto modo di svelare ai fans i primi dettagli sul progetto, che dovrebbe rappresentare una netta svolta verso il genere EDM (sotto per saperne di più).
In un incontro avuto con i fans prima di uno dei suoi show americani, Ari ha parlato con alcuni fortunati di come sarà il suo prossimo disco. Queste le testuali parole:
"La label mi ha pregato di provare a rimanere entro le 15 tracce…io ho detto – ne avrei 25 – e loro, subito, – neanche per idea – . Penso comunque che il mio prossimo lavoro sarà più corto, saranno 10 pezzi ma di valore"
Della serie "pochi ma buoni". L'importante è che sia così…
---
Ariana Grande è momentaneamente impegnata con il Dangerous Woman World Tour ma il suo nuovo disco potrebbe arrivare prima di quanto si immagini…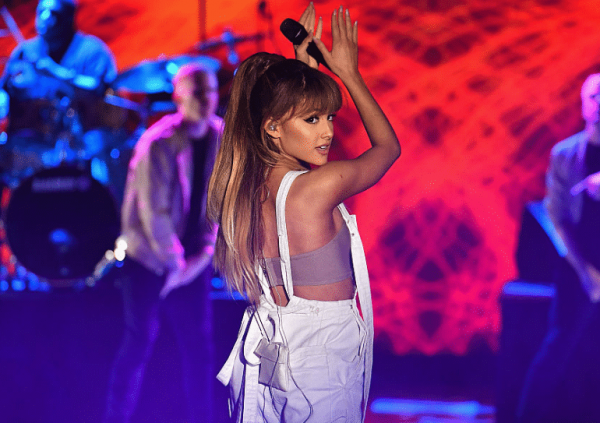 Mentre il Dangerous Woman Tour sta per completare la leg nordamericana, rivelatasi un grande successo, per poi approdare nel Vecchio Continente (l'8 maggio si riparte da Stoccolma), Ariana Grande ha trovato anche il tempo di collaborare con l'hitmaker Calvin Harris, che l'ha arruolata con Pharrell Williams e Young Thug per il suo ultimo singolo, Heatstroke (QUI per ascoltarlo).
Ma gli impegni della giovane popstar non si fermano qui, perché la ragazza sarebbe già pronta a rilasciare il nuovo materiale che ha registrato negli scorsi mesi, tracce che vedono in primis la collaborazione dei Major Lazer. A confermare la cosa è Diplo, fondatore del gruppo, che a proposito di ciò ha detto:
"Abbiamo fatto alcune cose con Ariana. Ha una valanga di nuovi brani in uscita, ma non sono sicuro di come sarà gestita la cosa".
Il problema, a suo dire, è proprio trovare il giusto momento per far uscire queste collaborazioni:
"La cosa difficile con le grandi star è far combaciare i tempi. Ora come ora siamo in competizione con loro nelle classifiche (si riferisce al singolo di Calvin Harris ft. Ariana n.d.r)…vogliamo semplicemente che tutti siano felici, perciò aspettiamo".
Le parole di Diplo lasciano intendere che qualcosa potrebbe uscire non appena Heatstroke avrà fatto il suo corso, probabilmente per l'estate, quando un featuring Ariana Grande & Major Lazer farebbe davvero faville in radio e nelle spiagge. Sarà interessante vedere se le cose andranno realmente così, o se le parole del DJ siano solo un falso allarme.
Ricordate lo stippet che Ari aveva rilasciato questa estate? Le collaborazioni in cantiere seguiranno questa linea stilistica in pieno stile Major Lazer?