BMI R&B Hip Hop Awards: Chris Brown songwriter dell'anno, tributo a Toni Braxton
Sebbene noi tutti siamo abituati a dare un maggior peso a manifestazioni musicali che premiano il lavoro di facciata che riguarda la musica, ossia i premi che vanno agli interpreti, non bisogna nemmeno dimenticarsi dei riconoscimenti che vengono assegnati a chi lavora invece dietro le quinte, ossia agli autori ed i compositori dei brani. In questo senso una grande importanza viene rivestita dai BMI Awards, premi assegnati appunto dalla BMI, associazione che tutela i diritti d'autore in USA, un po' l'equivalente della nostra SIAE.
Si tratta di premi che hanno solitamente una risonanza mediatica minore rispetto VMAs e affini, ma che a differenza di questi negli anni hanno conservato una grande serietà e soprattutto continuano a dare attenzione al talento, cosa che non sempre avviene in manifestazioni più note al grande pubblico. Mentre lo scorso anno la manifestazione aveva omaggiato Taylor Swift, (QUI per scoprire i migliori testi che abbia mai scritto), quest'anno per adesso l'unico l'esponente mainstream premiato è stato Chris Brown.
Il cantante di "Grass Ain't Greener" vince il titolo di "Songwriter of the Year" nella notte dei "BMI R&B HIP HOP Awards" per i brani: "Ayo", "Post to Be", "All Eyes on You", "Fun" e "Hold You Down". Un premio sicuramente meritato quello ricevuto dal performer, che negli anni si è confermato come uno dei pochissimi artisti nella scena attuale (l'unico?) capace di cantare, ballare, scrivere, produrre, dirigere video e perfino disegnare copertine.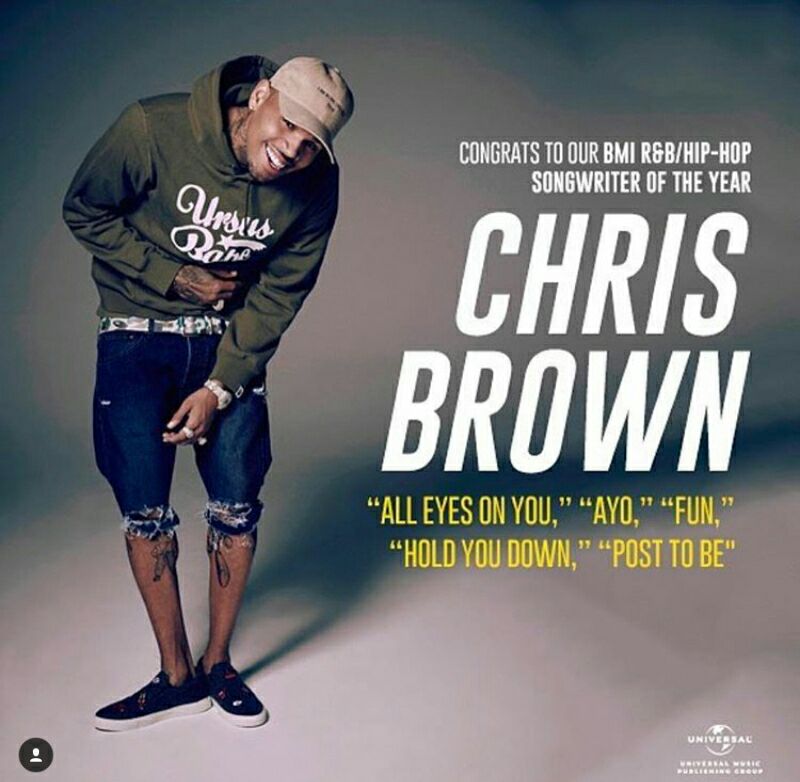 Oltre Chris, comunque, anche una grande diva dell'R&B più classical è stata omaggiata durante la serata: sto parlando di Toni Braxton, alla quale è stato assegnato un premio alla carriera, il "President Award" e che ha ricevuto un tributo in questo evento. Di seguito un'intervista realizzata per l'occasione alla grande artista: