Iggy Azalea risponde ad Halsey: "Hai fumato?"
La guerra tra Halsey e Iggy Azalea continua a colpi di tweet…
Non ha tardato ad arrivare la risposta di Iggy Azalea alle accuse di Halsey (sotto). La rapper ha postato un meme con su scritto:
"E' crack? E' quello ciò che fumi? Fumi crack?"
Come per mettere in discussione la lucidità delle affermazioni della collega. E siamo sicuri che tra le due non sia finita qui. 
Non per prendere le parti di Iggy, ma ribadiamo ancora una volta che Halsey non è stata la prima e non sarà l'ultima ad usare le croci nei suoi video, cosa dovrebbe fare allora Madonna, che le ha usate prima ancora che Halsey nascesse?
---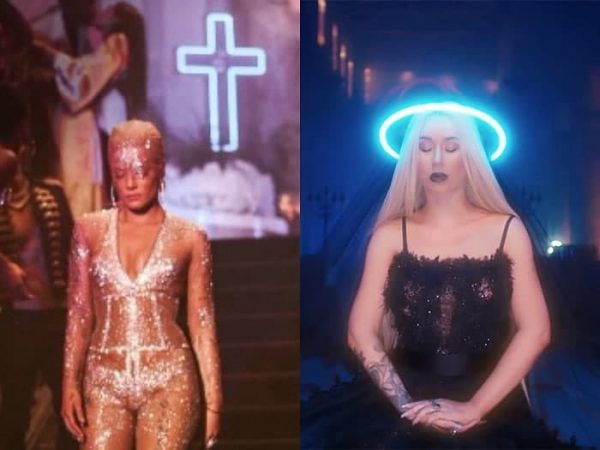 Halsey riporta a galla la faida con Iggy Azalea, e rispedisce al mittente le accuse di aver copiato il concept del video di Savior.
A far esplodere nuovamente la cantante sono stati alcuni utenti che, vista l'anteprima del video di Alone (in uscita venerdì) le hanno fatto notare alcune somiglianze con la clip dell'ultimo singolo della rapper-nemica. La cosa ha fatto letteralmente impazzire Halsey, che è subito scesa in campo tramite Twitter per mettere bene in chiaro che il concept di questo e di tutti gli altri video tratti dal suo ultimo album, hopeless, fountain, kingdom, è ispirato al film Romeo + Juliet di Baz Luhrmann.
My record concept and all my videos have referenced Baz Luhrmann's Romeo and Juliet, neon crosses and church motifs included, since April 2017 🤷🏻‍♀️ and I did so with permission from Baz himself 🤷🏻‍♀️🤷🏻‍♀️🤷🏻‍♀️

— h (@halsey) 2 aprile 2018
Quel "since April 2017" ed il riferimento ai crocifissi al neon fanno chiaramente intendere che casomai le accuse andrebbero fatte ad Iggy (come se nessuno prima di loro li avesse usati).
I dissidi tra le due proseguono ormai da un anno, ovvero da quando Halsey in un'intervista definì la femcee una "fot*uta imbecille", aggiungendo di aver assistito con piacere al "dissolversi della sua carriera". A quei pesanti insulti la Azalea rispose in modo decisamente più maturo e pacato, e la questione sembrava essere finita lì. Fino ad oggi.
L'artista sceglierà a sua volta di difendere l'originalità del suo video o preferirà lasciar stare?